Vapers Digest 30th November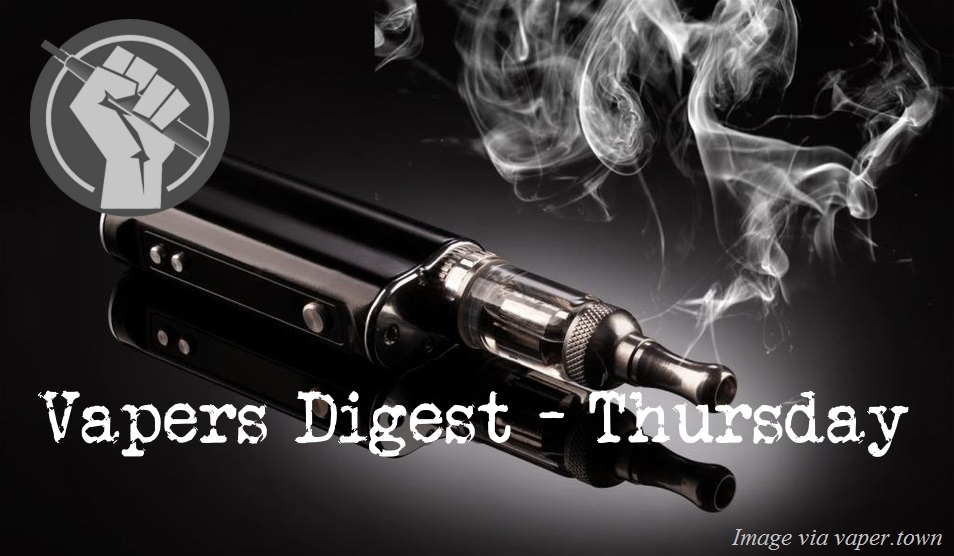 Thursday's News at a glance:
NNA response to Mayor of London Health Inequalities Strategy Consultation – BMA announces support for e-cigarettes – E-cigarettes: Balancing risks and opportunities – A journal editor is being accused of fast-tracking an e-cig emissions study – $1 Billion Research Agenda – Plain packaging not working – Tobacco Control Attacks Malia Obama – 'Tobacco Survivor' Presents to Justice Policy Cmte – CRC Committee Approves E-Cigarette Smoking Ban – Vaping shops set for huge high street growth – Nicotine Science and Policy Daily Digest
New Nicotine Alliance
We are pleased to note the ambition of the Mayor of London's Health Inequalities Strategy. The intention to help Londoner's make healthier choices including those from the most disadvantaged groups is one we particularly applaud. This is an area where we believe the Mayor can and should play an important leadership role in terms of reducing ill health and premature death by endorsing evidence based approaches to support smoking cessation….
Dr Colin Mendelsohn
The British Medical Association released a new and supportive position statement today on e-cigarettes. The BMA was very cautious previously, but has now changed its position to reflect the growing evidence.

The report, E-cigarettes: Balancing risks and opportunities, concludes

'There are clear potential benefits to their use in reducing the substantial harms associated with smoking, and a growing consensus that they are significantly less harmful than tobacco use'.

'With appropriate regulation, e-cigarettes have the potential to make an important contribution towards the BMA's ambition to achieve a tobacco-free society, leading to substantially reduced mortality from tobacco-related disease
Read the full report here (PDF)
---

---
Of fast-tracking an e-cig emissions study
In May 2015, renowned anti-smoking expert Dr. Konstantinos Farsalinos and colleagues published an article in Addiction which reported that e-cigarette emissions only contain alarming aldehydes levels in unrealistic dry puff conditions. Farsalinos and his colleagues have replicated a number of studies to look into the matter, and always derived the same results.

The following September, Dr. Eissenberg and his colleagues wrote a letter to the editor of Addiction in which they accused him of having a "conflict of conscience" that led to an improper peer review of the study and of fast-tracking Farsalinos's study.
The Foundation for a Smoke-Free World
The Foundation for a Smoke-Free World is launching two online processes to inform and guide the Foundation's long-term research initiatives. The first is a public comment period to solicit input on research priorities. The second is a call for letters of intent for early scoping grants that will help assess areas of research with the greatest potential to accelerate the end of smoking. Researchers, policy makers, smokers and others with relevant experience or expertise are invited to contribute.
---
---
Tobacco Reporter
Fifty-nine percent of Australians believe that standardized tobacco packaging has been ineffective, according to a CanvasU poll commissioned by Japan Tobacco International.

JTI said the recent poll had been conducted to provide understanding about Australians' views on the country's standardized-tobacco-packaging policy, five years after its implementation
Sascha Cordner
A proposal to ban the smoking of electronic vaping devices is now heading to the full Constitution Revision Commission—the panel that meets every 20 years to change Florida's constitution.

Under CRC Commissioner Lisa Carlton's proposal (Proposal 65)—any location where smoking is prohibited by the constitution, vaping your electronic cigarette would also be banned. Currently, smoking tobacco inside any enclosed workplace is not allowed in Florida. But, if you want to vape, you can.
---

---
Tobacco Control Attacks Malia Obama
Carl V. Phillips, Daily Vaper
It is almost cliché to observe that American society has recently experienced a loss of common decency and civic virtue unlike any time in living memory. It is qualitatively different from mere political struggle. Fierce and bruising political fights can occur among people who recognize that, win or lose, they would not want that battle to tear the fragile fabric of society.
Brent Stafford, Regulator Watch

Talking Retail
The UKVIA estimates that there are currently more than 2,000 stores across the country, but that this is likely to grow over the next 2-3 years as retail brands embark on major store investment programmes. The prediction comes as the industry is forecasting record Christmas sales.
A first-of-its-kind study has found that there are no health concerns for relatively young daily e-cigarette users who have never smoked tobacco.

The research, which was presented at the 2017 Congress of Asian Pacific Society of Respirology (APSR), looked at non-smokers who used e-cigarettes on a daily basis and tracked their health over three-and-a-half years.
---
A look back at how things have moved on or otherwise….
Dick Puddlecote
It seems that another daft council is proposing to waste taxpayer cash on illiberal, incoherent, unenforceable and pointless outdoor smoking bans, this time it's Sheffield.
Council chiefs are considering whether to ban lighting up outside hospitals and other NHS buildings, universities, council offices and leisure centres – and they are seeking the public's views on the proposal.
Seeking the public's views, did they say? That sounds right up our street, I reckon.

The consultation can be found here and only consists of six questions, so let's have a bash at it, eh?
Linda Bauld et al, IEJRPH
The UK is a global leader in stop-smoking support—providing free behavioral support and cessation medication via stop smoking services (SSS) without charge to smokers. This study aimed to explore the client and service characteristics associated with abstinence 52 weeks after quitting. A prospective cohort study of 3057 SSS clients in nine different areas of England who began their quit attempt between March 2012 and March 2013 was conducted. Important determinants of long-term quitting were assessed through quit rates and multivariable logistic regression. Our results showed that the overall weighted carbon monoxide validated quit rate for clients at 52 weeks was 7.7% (95% confidence interval (CI) 6.6–9.0).
---
Visit Nicotine Science & Policy for more News from around the World

---