Vaping Digest 4th December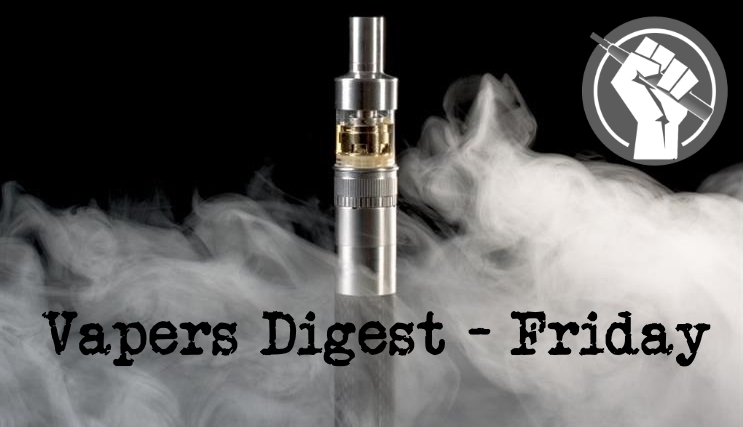 Friday's News at a glance:
Global nicotine prohibition with the WHO – Dear Canadian Smokers: Please Follow Britain's Guidance – E-cigarette summit: Day one – Dodgy stats on the Gateway Hypothesis – INNCO's Concern – The Philippines FDA Funding Issue – NNA Webinar on EU Restrictions – Spain's Shame – Mark Pawsey MP Calls For Action – Vaping Offers Better Value for the NHS – Bloomberg Pushes for Google App Ban – New survey charts nicotine consumption across Europe – "Vaping" demonstration for EU Parliament – Improving Cooperation – San Francisco Board Votes – Smoking, tobacco use among teens – Trends in Tobacco Use – Nicotine Science and Policy Daily Digest
Christopher Snowdon, Velvet Glove Iron Fist
The useless and corrupt World Health Organisation has published a new Global Youth Tobacco Survey (in 'selected countries of the WHO European region', so not very global). It finds that cigarette smoking among 13-15 year olds has declined in nearly every country studied, but there are some telling remarks in the press release.

New WHO report reveals that while smoking continues to decline among European adolescents, the use of electronic cigarettes by young people is on the rise

How can this be when the WHO reckons that vaping is a gateway to smoking? Or could it be that the fall in smoking is partially related to the rise of vaping?
Please Follow Britain's Guidance – Brad Rodu
I sent the following message to Canadian smokers.  It appeared in a Maclean's magazine health supplement, with sponsorship by the Canadian Vaping Association (available here).

You may wonder why an American professor accepted an invitation from the Canadian Vaping Association to author an article about e-cigarettes. In part, it's because I want to apologize to you for the way my government, which is engaged in a coordinated, expensive campaign to create a tobacco-free society, has wrongfully destroyed the prospect of a smoke-free future for millions. Don't listen to American health officials, who emphasize only the negatives, untruths, and urban myths. Don't let their campaign stop you from stepping away from the fire.
---

---
Michael Landl – World Vapers' Alliance
Day one of the e-cigarette summit has wrapped up! It is disappointing that we were not able to attend in person, but the e-cigarette summit team managed exceptionally well and facilitated what was an extremely interesting day of discussions on everything vaping.

Throughout the day, scientists and experts from all around the world spoke about topics as varied as EVALI to the faults in SCHEER's opinion on vaping.

Knowing that many of you will not have been able to follow it all, we've put together a short blog of the highlights of the day! We hope you find it useful and please share it widely among your fellow vapers.
Sinclair Davidson
Once upon a time the Gateway Hypothesis* related to the fact that people who smoked cigarettes might at some point attempt to consume marijuana and/or cocaine. Cigarette consumption has collapsed in many countries, yet people still seem to consume marijuana and cocaine. So now the Gateway Hypothesis is that people who vape (i.e. consume electronic cigarettes) might take up the consumption of combustible cigarettes.

We are treated to shock-horror headlines such as:
---
---
INNCO – Diane Caruana
Two members of the House of Representatives were recently forced to suspend public consultations on vaping and heated tobacco products, after the Philippines FDA, was forced to admit that it had received a grant from the Union and Bloomberg Initiative.

Both groups are known to be against all forms of nicotine products, including safer alternatives which are helping millions quit smoking. "The Union co-manages the Bloomberg Initiative to Reduce Tobacco Use Grants Program, which awards funds to projects delivering high-impact tobacco control interventions in low- and middle-income countries," said Rep. Estrellita Suansing during a virtual consultations' session, which took place on October 8th.
Across Europe – Snusforumet
Tobacco harm reduction advocates are conducting an ambitious, pan-European survey in hopes of painting a more accurate picture of nicotine consumption patterns across the continent.

Launched in October by the European Tobacco Harm Reduction Advocates (ETHRA), the survey is available in 16 languages, with responses being collected until December 31st, 2020.

"Our primary motivation is to bring the voice of users into discussions about tobacco regulation across Europe," says Atakan Befrits, chair of New Nicotine Alliance (NNA) Sweden which partners with the ETHRA.

Five from Dave Cross, Planet of the Vapes
Last week, The New Nicotine Alliance (NNA) hosted another successful Zoom webcast looking at whether UK nicotine consumers can escape forthcoming EU Restrictions under the third version of the Tobacco Products Directive (TPD). Guests included Mark Pawsey MP, harm reduction expert Clive Bates, and the NNA's vice chair Louise Ross.
Clive Bates, a leading global expert in tobacco harm reduction, recently co-authored a letter with the NNA to the Department of Health [link].

Bates began in his trademark inimitable fashion: "The TPD review is lumbering towards a conclusion in May next year. The most visible sign is the preliminary report [link] from the SCHEER scientific committee, which is just a huge overflowing dump of garbage!"
The Spanish Ministry of Health has been slammed by Spain's ANESVAP and the European Tobacco Harm Reduction Advocates consumer groups for releasing a report on vaping that is "horrifyingly biased". The Ministry appears to be lining itself up to support much harsher EU legislation restricting vaping flavours and making it prescription-only.

The Spanish Ministry of Health's report warns the public of "the risks of smoking electronic cigarettes". Losing all sense of evidence, it camps in an alternate reality where scientific evidence is apparently growing daily about the "short-term risks" of vaping. It takes a ridiculous stance in stating vaping is acting as a gateway into tobacco use for youth and that "there is no solid evidence that they are useful as tools to quit smoking".
Mark Pawsey, MP for Rugby, Pawsey, set up the All-party Parliamentary Group (APPG) for Vaping to support ecig users and appraise the ongoing evidence being produced. Taking part in a webinar organised by leading nicotine consumer charity The New Nicotine Alliance (NNA), Pawsey called for vapers to help educate MPs and encourage them to support the APPG.

In October, the NNA and Clive Bates wrote to the government with a list of ten proposals it could adopt to help achieve No.10's stated aim of achieving a smoke-free UK by 2030:
The NHS spent £22.5m in England on traditional nicotine replacement therapies (NRT) last year, according to consumer group We Vape. It believes that vaping would be a "more successful solution" and offers "better value for the taxpayer". Research from the UK has shown that vaping works well as a way to quit smoking and some studies show it works twice as well as NRT.

The NHS has published its statistics on Stop Smoking Services in England between April 2019 and March 2020.  Despite the positive news that 70,000 people quit smoking, We Vape says the results weren't great for the taxpayer and the number of successful quit attempts could have been higher.
Campaign for Tobacco Free Kids, the University of Bath Tobacco Control Research Group, Truth Initiative, and Vital Strategies have coerced a number of organisations who benefit from Bloomberg's billions to sign a letter to Google demanding it bans all vape related apps from its store. Consumer groups have responded directly to Google's CEO Sundar Pichai.

Bloomberg's gofers wrote: "We represent tobacco control, public health, corporate accountability, and consumer protection organizations fighting to reduce tobacco use and its deadly toll around the world. We are writing today to urge Google to immediately remove and adopt a policy to prohibit applications that encourage purchase or consumption of smoking and vaping products in the Google Play store."
---

---
Martin Banks
The World Vapers' Alliance staged a 'covid-friendly' demonstration at the European Parliament to highlight the importance of vaping to beat cancer in the EU.

The demonstration coincided with a meeting of the Parliament's Special Committee on Beating Cancer, at which a number of MEPs highlighted the potential of vaping in addressing the harm of tobacco use in Europe.

Speaking about the demonstration, Michael Landl, Director of the World Vapers' Alliance said: "While we can't be there in person, we wanted to make sure that MEPs hear us and see us. 700.000 people die every year in the EU due to smoking induced cancer but as vapers, we have seen first hand how vaping helps to quit smoking. Europe's Beating Cancer Plan must endorse vaping as an effective method to help smokers move to a safer alternative and reduce cancer in Europe."
Between the Nicotine Industry and the Scientific Community: The Swedish Match Science Advisory Panel Experience
Jim Solyst, John Hughes, & Karl Fagerström
The Swedish Match Science Advisory Panel meeting in Stockholm in mid-June 2019 focused on the company's preparation of a Premarket Tobacco Application (PMTA) for its tobacco-free nicotine pouched product, ZYN. Staff chemists and toxicologists had just finished presenting data from stability, toxicity, extraction, and oral health studies, and, after Panel members and guests expressed high regard for the presentation, they made the seemingly reasonable suggestion that the studies should form the basis of a published article on the pharmacokinetics of ZYN.
E-cigarettes may help smokers quit: A commentary on Naidoo et al
In a recent article on the risk factors and perceptions of e-cigarettes in South Africa, researchers led by Mageshree Naidoo concluded that e-cigarettes could cause harm to both users and non-users, and public health would be improved if these products were not available. This conclusion ignores the growing scientific evidence that e-cigarettes are less harmful than traditional cigarettes and offer smokers, including the millions of smokers in South Africa, a tool that will help them quit using combustible tobacco products.

To Ban Smoking, Vaping in Residential Apartments – Michael McGrady
The San Francisco, Calif., board of supervisors voted overwhelmingly to approve legislation that prohibits the smoking and vaping of tobacco products in private, residential, multi-tenant apartment buildings. Supervisors voted 10-to-one in favor of the new ordinance introduced by board President Norman Yee a few weeks ago.

"The problem is smoke easily moves between units, and there is no way to contain it," Yee told the San Francisco Examiner.

However, smoking cannabis products was exempted from the ban after marijuana advocates lobbied hard against the bill.  The original draft of the ordinance applied to all smoked and vaped inhalants of a recreational nature.
PETALING JAYA: A new study by a body which advises the United Kingdom's Department of Health seems to provide the answer to the hotly debated topic of whether vaping is all that it is hyped up to be.

For several years now, critics have disputed claims that vaping is a better alternative to cigarettes.

Some vapers swear that vaping has helped them cut down on the habit and wean off traditional cigarettes which produce 7,000 chemicals, more than 70 of which are linked to cancer.
Continues to drop even as use of e-cigs grows – Rafael Meza
Despite the increase in use of e-cigarettes among adolescents, cigarette and smokeless tobacco prevalence declined more rapidly between 2012 and 2019 than in previous periods, according to a new study.

The analysis by the University of Michigan and Georgetown University shows that past 30-day and daily use of both cigarettes and smokeless tobacco fell more rapidly since 2012, even as e-cigarette use began to increase—leading to historical low levels of both cigarette use and smokeless tobacco among teens in the United States.
Among Adolescents by Grade, Sex, and Race, 1991-2019
Since 1991, 487 335 8th-grade, 447 310 10th-grade, and 424 236 12th-grade students have completed the Monitoring the Future survey (including 663 663 girls and 632 698 boys [those who did not respond to the sex question in the survey were excluded from the sex analyses]). Past 30-day and daily smoking prevalence increased in all groups analyzed from 1991 until 1996 and 1997 and has been decreasing ever since, with more rapid reductions in recent years.
Saddle Horse Blues
Another month, another round-up of the most interesting articles and updates from the world of vape and tobacco harm reduction. Articles are listed from newest to oldest, with a short excerpt from each for easy browsing.
---
A look back at how things have moved on or otherwise….
Clive Bates, The Counterfactual
I just filed a submission with the Philippines House of Representatives for its Joint Trade & Health Industry Committee hearings on e-cigarettes, to be held 10 December.

The full submission (PDF) starts with an introductory Q&A and then goes on to provide more detail about specific issues with some backup material. I thought the 15 questions and answers might be of more general interest, so I have reproduced it below.
Sarah Jakes, 105FM
In response to our Health and Wellbeing expert, Kate Shemirani, and her thoughts and views on vaping, Sarah Jakes from the New Nicotine Alliance took up our invitation to put the other side of the issue.
Knowledge Action Change
We are looking for proposals that will inspire change! We have developed a scholarship package to ground scholars in the theory and practice of tobacco harm reduction (THR). Go to prospectus page The scholarships will commence at the Global Forum on Nicotine Conference (GFN), which will be held in Warsaw, Poland, between 10th & 13th June 2020
---
Visit Nicotine Science & Policy for more News from around the World

---