Vaping Digest 7th December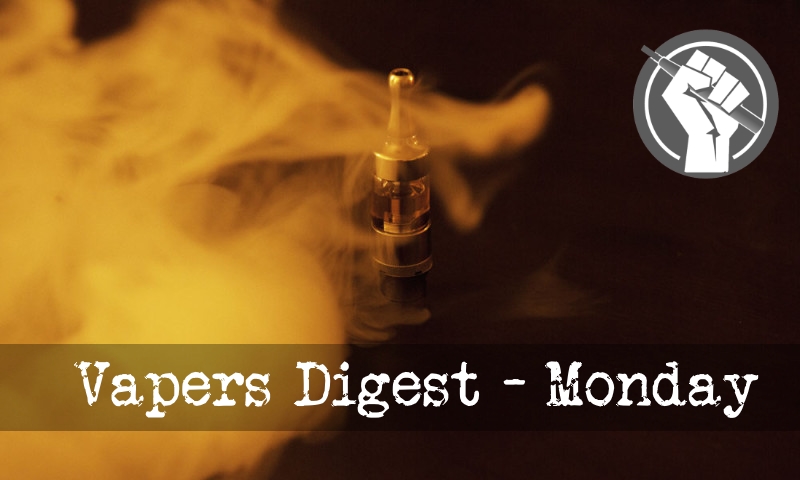 Monday's News at a glance:
Harry's Blog 107: Tobacco 'out of' Control – My Study of Providing Vapes to Unhoused Smokers in Ireland – Look Out! Short-sighted Docs About – MEPs urged to make cancer report "as accurate as possible" – The Advocates Voice Newscast – 'Most smokers are low income': Dr Alex Wodak – New Administration Must Embrace Science – Associations between vaping and COVID-19 – San Francisco Poised to Ban Smoking and Vaping in Private Apartment Homes – Nicotine Science and Policy Daily Digest
Harry Shapiro
COVID has accelerated the speed of fake news around the world much to the delight of the dangerous and delusional. In such times, the lay person could be forgiven for thinking that when the media cite 'peer-reviewed' papers, the publishing journals in which they appear would be an oasis of unbiased evidence and probity. The expectation is that the editors would have sufficient gravitas to weed out those papers which should never see the light of day. If only.

Richard Smith is the former editor of the British Medical Journal. On leaving his post, he wrote a refreshingly honest book entitled, The trouble with medical journals. Commenting on the quality of much research that manages to get into print, often after multiple rejections. he quoted Drummond Rennie, deputy editor of the Journal of the American Medical Association who observed,
To Unhoused Smokers in Ireland – Florian Scheibein
While I was volunteering at an Irish homelessness service called Dublin Simon Community a couple of years ago, I helped work on their harm reduction policy. One day, a staff member said "What about tobacco smoking?"

This led me down a rabbit hole which changed the way I thought about this issue. I eventually applied for a tobacco harm reduction grant and conducted a small study—looking at the challenges, opportunities and efficacy of tobacco harm reduction in the very supported temporary accommodation (STA) service  in inner-city Dublin where the staff member had asked the question. The study, which was run by Waterford Institute of Technology's School of Health Sciences, was recently published in Harm Reduction Journal.
---

---
Dave Cross, Planet of the Vapes
In a very short-sighted announcement, doctors treating an old man following a fall say that "vaping may be hazardous to your eye". While an injury may have been sustained from a piece of an electronic cigarette, conflating accidents and human error as something caused through vaping isn't a new phenomenon.

Doctors Cindy Ocran, Edward Chaum, and Rachel Sobel reported the case in the journal of the American Academy of Ophthalmology. In it, they detailed how a 71-year-old man presented with eye pain and vision loss six days after sustaining an injury to his left eye.
---
Have you done ETHRA's EU Nicotine Users Survey, yet?
Available in multiple languages, only takes a few minutes to do.
DO the survey, SHARE the survey! https://t.co/DTfwmDLuAn pic.twitter.com/wxeAaNehy6

— European Tobacco Harm Reduction Advocates (@europethra) October 14, 2020
I criticise @BathTR and @ASH_LDN for focussing on repression (taxes) and omitting potential for tobacco harm reduction (legalise snus, abandon irrelevant e-cig regulations, speak up for THR at FCTC COP) post-Brexit – see my comments to this article https://t.co/TVgeiI13yh

— Gerry (@GerryStimson) December 7, 2020
THR COMMENTARY: "So, now you can go to any convenience store in San Francisco and buy a pack of Marlboros or Camels, no questions asked. But if you want an electronic cigarette to try to quit smoking, you can't buy that in San Francisco. And that makes no sense whatsoever." https://t.co/AJtxPRStio

— CASAA (@CASAAmedia) December 7, 2020
---
"As accurate as possible"
MEPs and health experts have joined forces in urging the European Parliament's Special Committee on Beating Cancer (BECA) to ensure its final report "is as accurate as possible."

The demand came at a meeting in the European Parliament which debated cancer-related lifestyle risk factors.Several participants said it was important that the BECA's report includes "the right things on vaping."

They included Italian MEP Pietro Fiocchi who, when asked about the position of experts on vaping, said that scientific studies had showed a "much lower incidence of lung cancer" among vapers.

Tobacco Harm Reduction News and Information from Asia Pacific
---

---
And Vaping in Private Apartment Homes – Michael McGrady
The Board of Supervisors in the U.S. city of San Francisco, Calif., is poised to ban smoking and vaping in private apartment homes within city limits.

The supervisors voted 10-to-one in favor of an ordinance that was proposed by Board President Norman Yee prohibiting the vaping and smoking of tobacco and nicotine products in private dwellings, even if the home is rented or actually occupied by the owners. Initial action was taken on December 1, with a final reading of the proposal and a vote set for the following week.
Dr Alex Wodak
Should ways of taking nicotine be made more inexpensive, attractive and less harmful?

Should Australia follow the example of other countries who are decriminalising drug use in order to help people seek treatment?

Dr Alex Wodak is President of Harm Reduction Australia and he has some very bold ideas.

Not Fearmongering, On Vaping – Tim Andrews
In the lead-up to the 2020 presidential election, former Vice President Joe Biden frequently spoke of the need to "follow the science" and make decisions on the basis of evidence, not ideology. It is probably for this reason that his candidacy was widely supported by the scientific community, and the prestigious journal Nature, along with other publications such as Scientific American and Lancet Oncology, endorsed his candidacy.

It would certainly be welcome news if the new administration would return the embrace of science and decouple it from politics. Biden can live up to this vision by listening to academics, not activists, and quickly reversing one of the deadliest, most disastrous policies of the Trump administration.
Cross-sectional findings from the HEBECO study – Dr. Ramya Dwivedi
Even though tobacco smoking is harmful to the lungs, some research suggests that smokers may be at reduced risk of the coronavirus disease 2019 (COVID-19) infection. COVID-19 primarily attacks the human respiratory system, causing mild to severe illness and death.

While using e-cigarettes, or vaping, is not harmless to lung function, based on various studies it appears that the COVID-19 pandemic may have affected rates of vaping. So far there are contradictory observations; changes in vaping due to COVID-19 are inconclusive.
---
A look back at how things have moved on or otherwise…
So you may as well read this – New Nicotine Alliance
With a general election imminent, we are all awaiting what landscape harm reduction in the UK may face under a new administration. Options for engaging with policymakers have been sparse but the NNA has been engaging where we can, nonetheless. 2020 could present some major challenges for which we will have to be ready so please keep watching our website and social media for news very soon, we will be asking for your help.

For now, though, Christmas is almost upon us and the weather is getting chilly, so stay warm inside and read a round-up of what the NNA has been up to in November.
USA, Philippines, Indonesia – Fergus Mason
With the US presidential election less than a year away, vapers are struggling to find anyone they can vote for. On one side is Donald Trump, a controversial figure who's almost certain to be the Republican nominee and who has delivered very mixed messages on e-cigs. On the other, a collection of increasingly left-wing Democrats who're almost universally hostile to tobacco harm reduction.

Meanwhile the autocratic leader of the Philippines is pushing forward with a total ban on public vaping that doesn't seem to be backed up by any actual laws, and Indonesia's government looks set to go down the same route.
---
Visit Nicotine Science & Policy for more News from around the World

---