Vaping Digest 9th December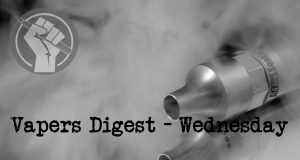 Wednesday's News at a glance:
Nicotine, the Perfect Psychotropic? Dr. Paul Newhouse # 494 ~ Importance of harm reduction to countries such as Zim ~ Study: Youth Vaping Rates Decline During COVID-19 Pandemic ~ Special Committee on Beating Cancer hearing on prevention ~ Mike Yardley: Government's Smokefree goal has run out of puff ~ ASH's Cosy Relationship ~ Biden's Health Team and Vaping: What Do We Know? ~ SF's proposed ban on smoking in apartments fails to pass in second vote
Dave Asprey, daveasprey.com
Nicotine and your brain! Don't worry, we aren't talking about cigarettes.

Today's guest on Bulletproof Radio is Dr. Paul Newhouse. Dr. Newhouse has a broad background in human cognitive medicine and neuroscience and has 40 years of studying cognitive models in humans under his belt. He has spent a lot of that time studying nicotine's effects on the brain.

He's the director of the Vanderbilt Center for Cognitive Medicine in the department of Psychiatry and behavioral science at Vanderbilt.

Dave Asprey and Dr. Newhouse get into how cognition works and how specific receptors are important for things like Alzheimer's Disease or ADHD.
The Sunday Mail
Combustible tobacco products are harmful not only to smokers but their smoke has prejudicial effects on non-smokers, says Professor David Nutt, an English scientist specialising in drug research.

Prof Nutt made the observation in his presentation entitled "Estimating the harms of nicotine products in the 21st century" at the recent Global State of Tobacco Harm Reduction (GSTHR)-Burning Issues virtual conference.
---
Michael McGrady, Vaping Post
---

---
---
Dr. Newhouse talking about nicotine and the human brain on Bulletproof Radio 👇

Nicotine, the Perfect Psychotropic? Dr. Paul Newhouse # 494 https://t.co/wHO2gq7QHo

— Sonja Marx (free spirit) (@SonjaMarx9) December 8, 2020
---
Mike Yardley, NewsTalk ZB
You can see why Jenny Salesa was unceremoniously dislodged as Associate Health Minister. She simply wasn't up to snuff. Part of her portfolio was to oversee the mission of driving New Zealand to being Smokefree in 2025.

In May 2018, Salesa said she was developing a new action plan. 10 months later, she advised Cabinet it would be locked and loaded by October 2019. However, 14 months on from that deadline, there's still no plan. Not even a draft.
---
Dave Cross, Planet Of The Vapes
Action on Smoking and Health (ASH) was an anti-tobacco charity that supported vaping as a means to tobacco harm reduction. As time has gone by it appears to have suffered from mission creep and has taken to making some outlandish announcements on what legislation is required next. Denying Michael Bloomberg is the threat many recognise him to be, ASH's closeness to the academics he funds is evident in its proposals and an article in The Conversation this week.
---
Jim McDonald, Vaping 360
President-Elect Joe Biden named several key members of his healthcare team Monday, and although there is still one major position to be filled that could affect vaping (FDA commissioner), we decided to go over the appointees and consider how they might affect the vaping debate and future policy. We've also discussed how some of the FDA possibilities might fit in.

---
Joshua Sabatini, San Francisco Examiner
In an unusual turn of events, the Board of Supervisors on Tuesday rejected a proposed ban on smoking or vaping tobacco in apartments that it voted for just last week.

The board must approve legislation in two separate votes. Ordinarily, the second vote is perfunctory.
---
Brad Rodu, Tobacco Truth
The U.S. Food and Drug Administration for the last year has been investigating JUUL for targeting teens in their advertisements.  Then-FDA Commissioner Scott Gottlieb blamed JUUL in September 2018 for what he called an epidemic of high school vaping.

JUUL denies it targeted teens.  Writing in TheCut on August 27, 2018,, Katie Heany noted that "Juul's initial ad campaigns from 2015 included only models age 21 or over," but she suggested that the company was guilty of attracting teens through the use of "splashy design, minimalist lettering, and youthful styling."
In Effort to Make Conventional Cigarettes Obsolete – J.J. Rich
Amid an unprecedented percentage of teens reporting that they had vaped at least once during the past month, the Trump administration seemed poised to announce a ban on flavors in all nicotine vaping products earlier this month.

Yet after the American Medical Association (AMA) and other leading health organizations urged the White House to finalize the ban, President Donald Trump dissented and chose to delay the proposal. This prompted a temporary sigh of relief among many vaping advocates, but now the AMA is calling for a complete ban on all e-cigarette products, and many are worried about the public health implications of President Trump's impending final decision.
---
Visit Nicotine Science & Policy for more News from around the World

---