Vaping Digest 11th December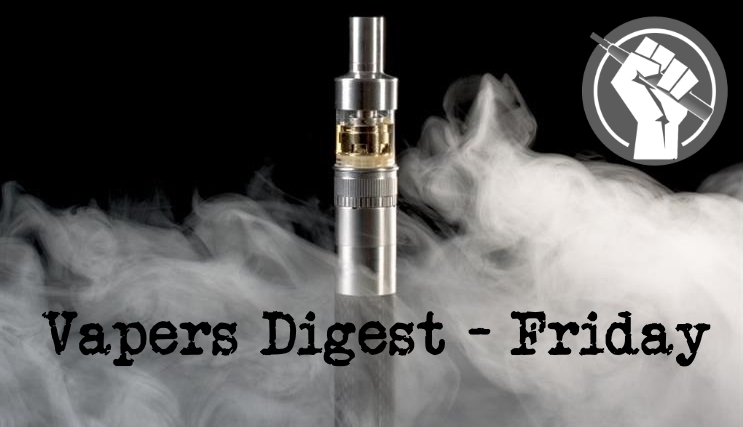 Friday's News at a glance:
Vape Predictions 2021: Expert Roundup – How Federal Funding Influences Tobacco Research: GroupThink & Group Authorship – Vaping market between restrictions and unintended consequences – Voke goes up in smoke – AVCA Unhappy With Smokefree Progress – Where Is The Gateway? – French Study Can't Find A Gateway – Sweden Hits Harm Reduction In The Pocket – Parliament – E-Cigarettes to Become $20.8B Worth Industry – Nicotine Science and Policy Daily Digest
James Dunworth, Ashtray Blog
When I first launched a vape predictions post in 2012, I had no idea what a mammoth post this would end up being.

I did consider shortening it considerably this year and asking fewer people to share their predictions. But that would lose the invaluable perspective I think we can gain when people from diverse fields, countries and perspectives look at the current state of vaping.

This post is structured differently, however. I've broadly grouped people by specialism. If you don't have the time to read the whole post, this should allow you to navigate to the section most relevant to you. I've also created separate posts for longer predictions, and linked out to them from an excerpt.
Tobacco Research: GroupThink & Group Authorship
Dr. Brad Rodu, Tobacco Truth
I recently critiqued a study by Dr. John Pierce and 35 co-authors of the FDA's Population Assessment of Tobacco and Health (PATH) data that found, per their press release, "E-cigarettes Don't Help Smokers Quit."  My analysis showed their data supported a finding that e-cigarettes are as helpful as medicines and other aids promoted by anti-tobacco crusaders.

In my blog post, I advised that investigators at New York University, Ohio State, Georgetown and Columbia, led by Dr. Allison Glasser, concurrently co-authored another study finding that "…consistent and frequent e-cigarette use and increasing use over time, as well as flavors and device type, are associated with smoking cessation among adult smokers."  Glasser was not a co-author of Pierce's "Don't Help" study, but two of Glasser's colleagues were.
---

---
Mark Kleinman
The maker of a nicotine-inhaling device which won backing from the one-time star fund manager Neil Woodford has gone up in smoke after failing to secure a fresh round of funding.

Sky News understands that Kind Consumer, which manufactured products under the Voke brand, called in administrators from Smith & Williamson last week.

The company's collapse will trigger tens of millions of pounds of losses for investors, who included Mr Woodford's former investment management group and the former Tesco chief Sir Terry Leahy.
---
---
And unintended consequences – Catania Conversation
Bans, duty tax, and strict regulations on vaping have been used by many governments as a tool to limit smoking amongst youths and to curb smoke habit for adults. However, data demonstrate that restrictions on the access of nicotine products have unintended consequences such as illicit trade and limiting safer alternatives to combustible tobacco products. While associations and citizens challenge the decisions, what's the reality behind a business of 24,5 billion yearly?

Patricia Kovacevic, the founder of RegulationStrategy.com, is a global legal and compliance FDA-regulated industry expert. Ms Kovacevic served on the board of directors of the Vapor Technology Association, on the advisory board of the Global Tobacco & Nicotine Forum, and is a member of the Society for Research on Nicotine and Tobacco (SRNT).

Five from Dave Cross, Planet of the Vapes:
Aotearoa Vapers Community Advocacy (AVCA) has said it is "deeply disappointed" that there remains no action plan to achieve the ambitious New Zealand goal of Smokefree 2025. AVCA was formed in 2016 by vapers across New Zealand wanting their voices heard in local and central government.

"Back in 2011 when Smokefree 2025 was launched, it was viewed as doable albeit requiring serious and deliberate government programmes and intervention. However, nine years on we're still sadly miles off," says Nancy Loucas, co-director of AVCA.
The World Health Organization (WHO) says vaping is a gateway to smoking but its own figures show an accelerating decline in teens using tobacco – so where is this gateway? It helps their argument to claim that e-cigarettes are a tobacco product despite the lack of tobacco. It has released findings as part of the Global Youth Tobacco Survey.

The Global Youth Tobacco Survey (GYTS) is a standardised survey forming part of the Global Tobacco Surveillance System. The GYTS is a school-based survey that collects data on tobacco use among children aged 13–15 years. The latest publication summarises the results of descriptive analyses of GYTS data from 25 European countries.
A study led by Stéphane Legleye from the Faculté de Médecine at the Université Paris‐Sud has not been able to find evidence of a teen gateway from vaping into smoking. She worked alongside Henri‐Jean Aubin, Bruno Falissard, François Beck, and Stanislas Spilka and found that vaping worked to keep kids away from smoking initiation.

They write: "E-cigarette use, especially among adolescents, remains a controversial topic in public health. The first problem is the intrinsic danger of vaping. Vaping is predominantly considered to be safer than conventional cigarette smoking, although there is currently insufficient evidence for disregarding any long-term toxicity.
The Swedish government voted to implement a swinging tax on eliquids. The blinkered policy is set to punish those needing higher strength liquids the most meaning that current smokers and recent quitters may be dissuaded from trying or continuing with vaping. It comes on the back of years of negative news stories whipping up fears of teen epidemics.

Planet of the Vapes was reporting about the move to paint vaping as an evil back in 2018 [link]. Atakan Befrits told us: "Swedish media was filled with articles stating there was an e-cig epidemic among its youth and snus use was not decreasing at the desired rates. Government ministers neither released graphs to support such claims, nor did they brief journalists with contextualised data interpretations.
Alex Norris wants new vaping legislation to be as tough or tougher than the Tobacco Products Directive. He also wanted to know how many companies had been prosecuted for breaching legislation. Olivia Blake thought vaping might spread COVID-19 and wanted to know what the Department of Health was doing.

Labour's Alex Norris asked the Secretary of State for Health and Social Care is the Department is going to undertake a review of the tobacco and related product regulations after the transition period and whether tobacco free nicotine pouches and other novel nicotine products are going to be covered in that review. He also asked if the Department was going to ensure that new UK regulations would not be weaker than the current or future EU Tobacco Products Directive.
---

---
APN News
Recent years have witnessed a surge in the use of e-cigarettes, with millions of people choosing them as an alternative to conventional cigarettes and other tobacco products. The entire industry continued its steady growth in 2020, despite the effects of the COVID-19 crisis.

According to data presented by Finaria.it, the revenue of the global e-cigarettes industry is expected to grow by 10% year-over-year and hit $20.8bn in 2021.

For 3.6 Million New SPECTRUM® Variable Nicotine Cigarettes for U.S. Government-Supported Research
22nd Century Group, Inc. (NYSE American: XXII), a leading plant-based, biotechnology company that is focused on tobacco harm reduction, announced today that the U.S. Food and Drug Administration (FDA) in coordination with the National Institute on Drug Abuse (NIDA) and others, has submitted an order to 22nd Century for 3.6 million variable nicotine research cigarettes. The Company's research cigarettes will continue to fuel numerous independent, scientific studies to validate the enormous public health benefits identified by the FDA and others of implementing a national standard requiring all cigarettes to contain minimally or non-addictive levels of nicotine.
---
A look back at how things have moved on or otherwise….
Clive Bates, Drug Science
Foreword by Professor David Nutt

Lies, damn lies and vaping statistics- To paraphrase Disraeli's famous critique of statistics the so-called science of vaping now seems to have become even worse than dishonest. In the past 6 months we have seen across the world a deliberate attempt to mislead the public over the harms of vaping nicotine and other cigarette substitute products by conflating them with the recent deaths from vaping d9THC I vitamin acetate oil. This set of FAQs by a leading tobacco harm expert Clive Bates sets out to put the record straight. We believe they need maximal exposure so have put them up on the Drug Science website to facilitate this.

Clive Bates is a former Director-General with the Welsh Government and has worked with the United Nations to formulate sensible policy.  Recently, he has written extensively on the topic of vaping and has kindly agreed to share some of his most frequently asked questions.
Joseph Magaro, Medium
Cigarettes are smoked by over 1 billion people, which is nearly 20% of the world's population . Smoking increases your risk of developing more than 50 serious health conditions,some may be fatal, and others can cause irreversible long-term damage to your health.Repressive tobacco control policies and practices create and exacerbate the harms associated with smoking. One of the barriers to smoking cessation via product switching is misinformation about nicotine products. Cigarette smokers can benefit from safer nicotine products even before abstaining from nicotine use, and the denial of access to these products makes them more vulnerable to a range of health and social problems.
Lee Johnson, Ecigarette Reviewed
™
Carbon monoxide is one of the many dangerous chemicals found in cigarette smoke, and the fact it isn't found in e-cigarette vapor has long been touted as one of the main benefits of switching. When you inhale carbon monoxide, it mixes with hemoglobin and disrupts the ability of your body's cells to carry oxygen, and this is why avoiding it is a big benefit of vaping.
---
Visit Nicotine Science & Policy for more News from around the World

---