Vaping Digest 14th December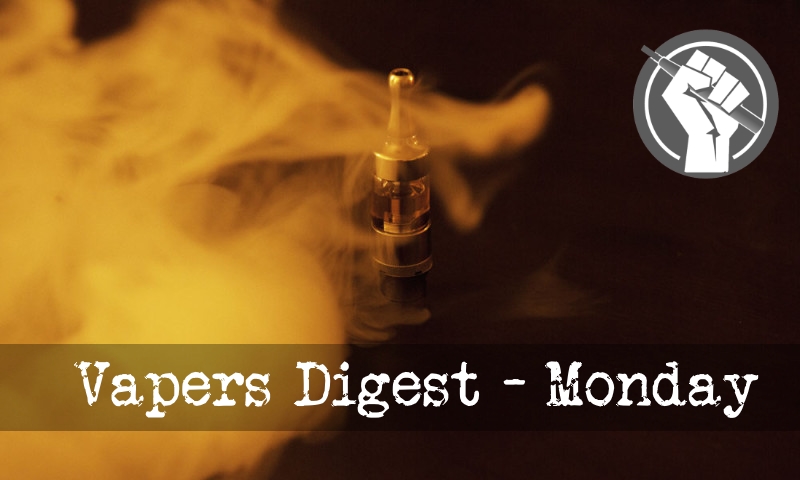 Monday's News at a glance:
Anchorage Absurdity – China: Most E-Cigarette Users Are Former Smokers – Something new is needed to cut Tasmania's smoking rates – Has government dropped the ball on Smokefree 2025? – On vaping, choice and responsibility – Despite Evidence to The Contrary Australian Study Reiterates Flawed "Gateway Theory" – The War on Vaping – Nicotine vaping helping more smokers in UK kick habit – Reject Additional Online Sales Restrictions – Unpacking the Nicotine Controversy – Vaping most effective way to quit smoking – The Advocates Voice Newscast – Health warnings for vapes should be different – Burning issues around tobacco value addition – Nicotine Science and Policy Daily Digest
Dave Cross, Planet of the Vapes
Alaska stacks up 700 tobacco-related deaths and meets a $575 million health care cost bill every year. The bright sparks in the Anchorage Assembly have decided that the best thing they can do to combat the physical and financial toll smoking takes is to attack vaping.

Anchorage city officials have decided to treat the best form of tobacco harm reduction as being exactly the same as tobacco. Vaping products will now be placed under the tobacco tax regime which means eliquids and devices will now carry a ridiculous levy of 55% on the wholesale price.

The measure was put forward by Suzanne LaFrance and Christopher Constant, arguing that the city had seen a dramatic rise in the number of teens vaping – claiming that 25% of school children now vape.
Diane Caruana
Data released by the Electronic Cigarette Industry Committee earlier this year, suggested that the combination of the media scrutiny in the US, and the online e-cig sales ban in China had caused the demand for vaping products to drop. Since then, with China being the country of origin of the coronavirus, the local vaping industry has taken another and even greater hit.

The study titled, "E-cigarette use among adults in China: findings from repeated cross-sectional surveys in 2015–16 and 2018–19," aimed to determine the trend in e-cigarette use in China before policy implementation and associated factors. The researchers assessed two nationally representative cross-sectional datasets from the China Chronic Disease and Nutrition Surveillance (CCDNS) surveys, initiated in 2015 (June, 2015 to May, 2016) and 2018 (August, 2018 to June, 2019).
---

---
On Smokefree 2025?
Emeritus Professor and Chair of Action for Smokefree 2025 (ASH) Robert Beaglehole tells Kathryn Ryan the government is in danger of missing the goal of New Zealand becoming smokefree within five years, and that unless the new Minister responsible acts now, communities and health services will suffer. In March 2011 the then National Government adopted the Smokefree 2025 goal for New Zealand, in response to recommendations from a select committee – that fewer than 5% of adults should be smoking cigarettes by 2025. In 2015 an action plan was formed by public health experts and community groups in the tobacco control sector. In 2018 the Ministry of Health said it was developing a draft action plan. Robert Beaglehole says work just needs to start.
---
---
Don Overcash
How did the Loveland City Council go from discussing teen vaping to a ban on dozens of products legal for adult purchase? To get to the root of this controversy, I'll refer to two positions regarding choice and responsibility.

The first position: As an adult, I can think for myself and make informed decisions. My body, my choice.

The second position: Adults are not capable of making good choices. We need to protect people from themselves.

Noah Rothman
Necessity is the mother of invention, and cigarette smokers are in dire need of invention.

Few stigmas are as pervasive today as the one surrounding tobacco use, but it serves a valuable purpose. "Cigarette smoking is responsible for more than 480,000 deaths per year in the United States," the Centers for Disease Control warned in 2018. "Tobacco-related deaths account for about one in five deaths annually, or 1,300 deaths every day."

Smoking has become burdensome for smokers, and not just when it comes to breathing. The turnaround began in the 1970s, at a time when 40 percent of the population smoked daily. It declined to 32 percent in the 1980s, and as taxes on its consumption as well as restrictions on its public use became increasingly onerous, fell to 21 percent by the turn of the 21st century.
Australian Study Reiterates Flawed "Gateway Theory" – Diane Caruana
In line with previous studies looking into the relationship between vaping and smoking, an earlier review also conducted by Australian researchers had debunked the infamous Gateway Theory. Titled, "Does the gateway theory justify a ban on nicotine vaping in Australia?," this earlier review was conducted by renowned THR expert Colin Mendelsohn and Wayne Hall.

The authors had explained that a more plausible explanation as to why young people who vape are more likely to smoke, are personality factors. This means that those teens who vape are risk-takers and are therefore also more likely to smoke, drink alcohol, use cannabis and other substances, as well have unprotected sex. This argument has already been emphasized by other experts in multiple studies.
---

---
Helping more smokers in UK kick habit
PETALING JAYA: For decades, governments around the world have been trying to get smokers in their countries to quit through various tobacco control measures.

While some measures have worked and some produced less than fulfilling results, discussions on the solution in recent years have shifted to nicotine vaping as smokers and ex-smokers are heavily favouring it as an alternative to smoking for various reasons.

Numerous studies, including a recent toxicological assessment by the Committee on Toxicity of Chemicals in Food, Consumer Products, and the Environment in the United Kingdom, indicated that nicotine vaping is less harmful than smoking.
Manila Standard
Cochrane, a British international charitable organization comprising of health professionals, researchers, and scientists from over 130 countries that has a specialization in organizing medical research findings in order to facilitate evidence-based policymaking on health interventions, evaluated 50 studies globally to conclude that e-cigarette use or vaping, is far more effective than any other nicotine replacement therapy (NRT) method.

The original study analyzed randomized controlled trials (RCT) that provided the most reliable evidence of treatment, and it was found that more people managed to stop smoking for at least 6 months using nicotine e-cigarettes as compared to other nicotine replacement therapies.

Additional Online Sales Restrictions for Adults Who Buy E-Cigarettes
This week, the Senate will consider legislation sponsored by Senator Diane Feinstein (D-Calif.) and Representative Rosa DeLauro (D-Conn.) that would both prohibit the United States Postal Service from shipping electronic cigarettes and vapor products to adults and increase the cost of the products delivered by other companies. These bills will have a significant impact on millions of adults who rely on the availability of vapor products purchased online to quit smoking cigarettes.
Dr. Karl Fagerstom – RegWatch
To cut Tasmania's smoking rates – Alex Wodak
An eminent Australian physician says Tasmanians who switch from smoking to vaping would add years to theirlives and save thousands of dollars.

Dr Alex Wodak, who has been in Tasmania this week meeting MPs and stakeholders, said lung cancer rates inall Tasmanian electorates, except Clark, were 15 per cent higher than the national average.

He said a person who smoked 20 cigarettes a day spent $12,500 a year whereas vaping would cost $1500annually.
John Eric Mendoza
Indonesian Professor and medical expert Tikki Pangestu sought a distinction on the health warnings during the second Philippine Harm Reduction Online Forum held by Harm Reduction Alliance of the Philippines recently.

"Health warnings on combustible cigarette packs should not be the same as those on the packaging of e-cigarettes and HTPs (heated tobacco products). This is because e-cigarettes and HTPs have been shown to be 90- to 95-percent less harmful than combustible cigarettes," Pangestu, visiting professor at the Yong Loo Lin School of Medicine at the National University of Singapore and former director for research policy and cooperation of the World Health Organization, said.
Around tobacco value addition
ZIMBABWE might be well on its way to reclaim its status as one of the top producers of tobacco in the world in the 2020/2021 cropping season.

As at 25 November, about 28 292 hectares had been planted compared to 27 181 ha in the previous season.

Last year, output declined 27 percent to 183 million kilogrammes from a record 252 million kg realised in 2018.
---
A look back at how things have moved on or otherwise…
Brad Rodu, Tobacco Truth
Michelle Minton, senior fellow at the Competitive Enterprise Institute, is the author of an informative and insightful report, "Fear Profiteers: How E-Cigarette Panic Benefits Health Activists."  It is a must-read for any tobacco harm reduction proponent who wants to understand the powerful opposition to this life-saving strategy.

Minton asks why "the public perception of e-cigarettes diverts so radically from the actual evidence."  Her succinct answer: "the confusion is the intended result of an orchestrated disinformation campaign led by individuals and groups that ought to be among the most supportive of lower-risk tobacco alternatives—anti-smoking health advocates.
thatgotmethinkingblog
Sometimes I can get slightly irate, sometimes slightly more than irate and sometimes, well let's just say you don't want to be around. It never helps when I'm in this state to hear the words "breath deeply and count to 10 dear" to be honest I think it's said to see if I will literally explode as opposed to figuratively.

I heard it said to me several times before I finally exhausted myself and fell into a fitful sleep. I had spent most of Monday cutting firewood, removing fallen trees after the previous nights storm. I was away from TV, radio and internet's most of the day. So I missed the big presentation by the Irish Heart Foundation and Cancer Society on 'E-cigarette packaging and Flavour research'. Once I did hear of it I checked it out and could not believe the bullshit that these two charities thought to pawn off as research. Ok OK, breath deeply and count to 10……….
---
Visit Nicotine Science & Policy for more News from around the World

---