Vaping Digest 16th December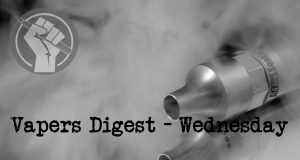 Wednesday's News at a glance:
Nitric oxide dosed in short bursts at high concentrations may protect against Covid 19 ~ Quebec misrepresents the lung illness outbreak EVALI to justify its harmful policy proposal ~ Endorsing vaping to successfully fight cancer ~ Africa: The E-Cigarette Market Struggles More Than Ever to Find its Place ~ Rhode Island's E-cigarette Flavor Ban: A Discussion ~ FCTC Secretariat relaunches plan for accelerated tobacco control, highlighting WHO's bureaucratic inaction ~ On Alien-Designed Studies, E-Cigarettes And Researchers Who Won't Ask For Help ~ Documentary Exposes Global Nicotine Misinformation Campaign ~ PMTA Pains and Gains ~ World Vapers' Alliance Takes Action ~ Online Vendors Pay $132k, Admit Underage Sales to Washington State AG ~ Changing the Language of How We Measure and Report Smoking Status: Implications for Reducing Stigma, Restoring Dignity, and Improving the Precision of Scientific Communication ~ Senate bill seeks regulation of vape products
Göran

Hedenstierna,

Luni

Chen,

Magnus

Hedenstierna,

Robert

Lieberman,

David H.

Fine, Science Direct
It has long been suggested that NO may inhibit an early stage in viral replication. Furthermore, in vitro tests have shown that NO inhibits the replication cycle of severe acute respiratory syndrome coronavirus. Despite smoking being listed as a risk factor to contract Covid-19, only a low proportion of the smokers suffered from SARS-corona infection in China 2003, and from Covid-19 in China, Europe and the US. We hypothesize, that the intermittent bursts of high NO concentration in cigarette smoke may be a mechanism in protecting against the virus.
John Xydou, Global Banking and Finance
On Wednesday, December 9th, Minister Christian Dubé announced his proposed policy to further regulate vaping. Minister Dubé cited increased youth vaping rates and the American lung illness outbreak EVALI as the rationale for the prohibitive restrictions. The Canadian Vaping Association (CVA) has repeatedly shared the science with the Government of Quebec and health authorities demonstrating the outbreak was not caused by nicotine vaping
Michael Landl, World Vapers Alliance, The Parliament Magazine
Cancer is the second leading cause of death in the EU. 1.3 million people die from cancer each year. Therefore, the upcoming European Beating Cancer Plan is a historic opportunity to improve public health in Europe, but to be successful the EU must be brave enough to endorse new approaches. Vaping must finally be endorsed to beat cancer, writes World Vapers' Alliance's Michael Landl.
---
Harry Shapiro, Nicotine Science and Policy
This blog is inspired listening to Mark Carney, former Director of the Bank of England give the BBC 2020 Reith Lecture named after John Reith, the first Director-General of the BBC.

Carney's theme was how moral values have morphed into market values, a way of economic and financial thinking which ultimately led to the financial crash of 2008. Years of uninterrupted economic growth led bankers to believe they were masters of the universe, that markets were always right. Unlike say teachers and farmers who can directly see the impact of their work through the development of children and the growth of crops respectively, those in the financial world became entirely disconnected from the communities, small businesses, and families they ultimately served.
---

---
Marie Camara, All Africa
The often controversial subject of tobacco was discussed during the virtual e-cigarette Summit which took place on December 3rd and 4th 2020. Many experts and scientists were part of the conversation around public health, regulations, policies and harm reduction.

Some challenging questions have arisen over the last few years about whether innovative tobacco products such as electronic cigarettes and heated tobacco are really efficient alternatives to combustible tobacco.
---
TWO from Foundation for A Smoke-Free World
Ayda Yurekli
Smoking remains a major public health challenge in Rhode Island. While Rhode Island has one of the lowest reported youth smoking rates in the US at 4.2%, and smoking rates have declined from 17.4% to 14.4% from 2011-2016 for adults and 13% to 4.2% from 2009-2019 for high school students, roughly a quarter of RI's low-income population still smokes. Tobacco use caused 1800 deaths per year and cost $640 million in health care expenses in Rhode Island in 2009, and as of 2019 the state had 174,400 adult tobacco and e-cigarette users, 27% of whom used electronic cigarettes.
highlighting WHO's bureaucratic inaction
Ehsan Latif
In 2018, the World Health Organization (WHO) adopted the Global Strategy to Accelerate Tobacco Control 2019-2025 (GS2025). Described as "a blueprint for the global tobacco control community," this strategy sought to accelerate implementation of the WHO Framework Convention on Tobacco Control (FCTC). Two years later, one cannot help but notice the absence of any report on progress toward this goal—an absence that was made all the more glaring when the WHO relaunched GS2025 last month. Intended to coincide with what would have been the Ninth Session of the Conference of the Parties to the FCTC (COP9), this relaunch only highlighted ongoing failures in policy implementation.
---
Nicotine and Nitric Oxide. A reason behind paradoxical COViD-19 protective effects seen on smokers. December 2020 summary. By Dr Roger Seheult Medcram pic.twitter.com/QrjIBjGtQG

— Eliana Golberstein Rubashkyn 👩🏻‍🔬⚗🔬 (@ElianaRubashkyn) December 15, 2020
---
There is a HUGE difference between "smoker" and "person who smokes".

"Changing the Language of How We Measure and Report Smoking Status: Implications for Reducing Stigma, Restoring Dignity, and Improving the Precision of Scientific Communication"https://t.co/gUiNVQPlAm

— Safer Nicotine Wiki (@SaferWiki) December 16, 2020
---
Resident Contrarian
It's ham-handed metaphor time!

Imagine a group of alien scientists has arrived at our galaxy and is eager to study our society, with a specific interest in our eating and drinking customs. The concept of warmed drinks is foreign to them, as they find all sensations of heat unpleasant and are typically damaged by things we'd consider to be just-more-than-warm. Stimulant use is similarly harmful to their systems. Hoping to kill two birds with one stone, they decide to study coffee.
---
Michelle Minton, Competitive Enterprise Institute
What if, instead of a deadly "addictive" chemical, nicotine was a revolutionary therapy able to treat several debilitating conditions and, potentially, save billions of lives? A new documentary, You Don't Know Nicotine, (now streaming on WatchIbex) posits that everything we thought we knew about nicotine could be wrong. More provocatively, it makes the case that our ignorance is the intended result of a deception campaign, fueled by ego, greed, and dark money.
---
TWO from Dave Cross, Planet Of The Vapes
The U.S. Food and Drug Administration (FDA) is struggling to process premarket tobacco product applications (PMTA). More than two months after the deadline, The FDA's Center for Tobacco Products still hasn't managed to deal with them all. Milton Keynes-based Riot Labs is one of the fortunate companies to have received an acceptance letter.
The World Vapers' Alliance (WVA) says it amplifies the voice of vapers around the world and empowers them to make a difference for their communities. It recently announced the formation of an Advisory Board and demonstrated its resolve by conducting a COVID-friendly protest at the European Parliament.
---
Jim McDonald, Vaping 360
Five vaping companies have settled with the state of Washington and agreed to pay more than $130,000 to avoid lawsuits for illegal online sales. Washington Attorney General Bob Ferguson announced the penalties Tuesday, along with describing the sting conducted by his office.

"Parents are working hard to combat the youth vaping epidemic, but it can be a challenge," Ferguson said. "That challenge becomes more difficult when companies don't respect the rules. Companies that sell vapor products in Washington must follow our laws."

---
Implications for Reducing Stigma, Restoring Dignity, and Improving the Precision of Scientific Communication
Nicotine & Tobacco Research
Accurate classification of smoking status has long been regarded as an essential prerequisite for advancing tobacco-related epidemiologic, treatment, and policy research. However, the descriptors we commonly use to classify people who smoke may inadvertently perpetuate harmful, stigmatizing beliefs and negative stereotypes. In recognizing the power of words to either perpetuate or reduce stigma, Dr. Nora Volkow—Director of the National Institute on Drug Abuse—recently highlighted the role of stigma in addiction,1 and the movement encouraging the use of person-first language and eliminating the use of slang and idioms when describing addiction and the people whom it affects.2,3
Philstar
Senate President Pro Tempore Ralph Recto wants to regulate vaping and vape products in the country to reduce the harm caused by smoking.

He filed Senate Bill No. 1951 under which "the government shall regulate the importation, manufacture, sale, packaging, distribution, use, advertisement, promotion and sponsorship of Vaporized Nicotine Products."
---
Clive Bates, The Counterfactual
In this post, I try to anticipate what Brexit means for the UK, for the Tobacco Products Directive and what that might mean for UK and European vapers. it's in two parts because we need to speculate a little on how Brexit will play out and then how that will affect the TPD compliance in the UK as the TPD evolves from TPD2 to TPD3.

Part 2. Brexit, Tobacco Products Directive and vaping – the outlook

PART 1. Brexit: what next?

Now we have clarity: the United Kingdom will leave the European Union on 31 January 2020.  We can now turn our attention to what this might mean: both in general, and specifically for vaping and tobacco harm reduction. To understand the latter, we need some understanding of the former. At this stage that will involve some guesswork…
Dave Cross, Planet of the Vapes
India's Parliament continues its war on common sense, declaring itself in direct opposition of tobacco harm reduction, as it passes the Prohibition of Electronic Cigarettes Bill 2019. Limp arguments and fraudulent claims have achieved the almost impossible: prompting Indian doctors to speak out against the nonsense.

Following Parliament's vote, Doctor Bharat Gopal, a Senior Pulmonologist and Director of National Chest Centre in Delhi, said: "There is data available regarding e-cigarettes as smoking cessation devices from the UK, so Indian studies should have been taken up by the government as well as health organisations."
---
Visit Nicotine Science & Policy for more News from around the World

---