Vaping Digest December 16th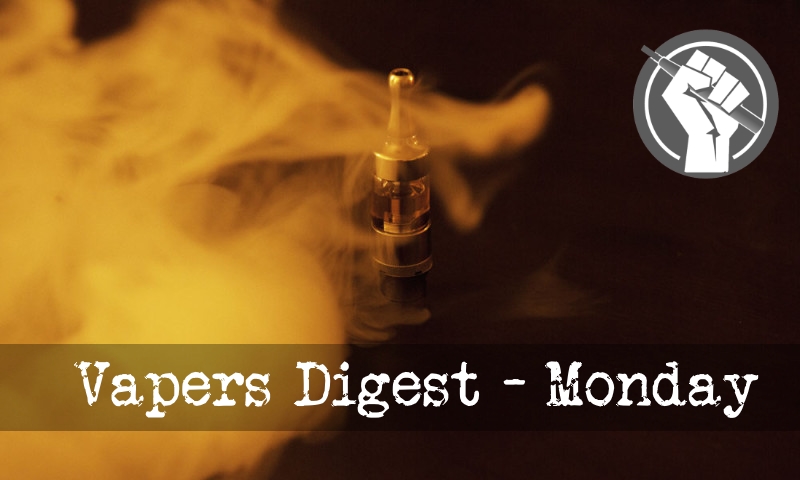 Monday's News at a glance:
Brexit and vaping – The State of Conversation – Indian Docs Damn The Ban – Vaping In The News – December 14th – Massachusetts DPH Admits – Duterte's Vaping Ban – A Ban on Flavored E‑Cigs Will Put Adolescents in Greater Danger – 'emotional, irrational hysteria' against nicotine vapes needs to stop – Nearly 40% of Belgian smokers – Evaluation of the impact – Characterization of Nicotine Salts – NZ launches world-first recycling initiative for vapes – New bill would make e-cigarette companies pay – Take Several Seats Over Vaping Panic – Evidence, alarm, and the debate over e-cigarettes – Research Fuels Debate – Nicotine Science and Policy Daily Digest
Clive Bates, The Counterfactual
In this post, I try to anticipate what Brexit means for the UK, for the Tobacco Products Directive and what that might mean for UK and European vapers. it's in two parts because we need to speculate a little on how Brexit will play out and then how that will affect the TPD compliance in the UK as the TPD evolves from TPD2 to TPD3.

Part 2. Brexit, Tobacco Products Directive and vaping – the outlook

PART 1. Brexit: what next?

Now we have clarity: the United Kingdom will leave the European Union on 31 January 2020.  We can now turn our attention to what this might mean: both in general, and specifically for vaping and tobacco harm reduction. To understand the latter, we need some understanding of the former. At this stage that will involve some guesswork…
Kevin Crowley, Vaping Links
As I've done before – I posted an example of timeless advice I read early on in my journey of advocating on my Facebook page last week called "The Vaping Advocate's Rules For Campaigning" created by one of my idols, Chris Price.

In that post, I had a conversation with someone I adore, gets it, engages, understands what some of us forget about 'community', and is already going to meetings, all the while – she's teaching some of us "old dogs" new tricks.

As I posted it, I stated "I am particularly fond of #9."
---

---
Dave Cross, Planet of the Vapes
India's Parliament continues its war on common sense, declaring itself in direct opposition of tobacco harm reduction, as it passes the Prohibition of Electronic Cigarettes Bill 2019. Limp arguments and fraudulent claims have achieved the almost impossible: prompting Indian doctors to speak out against the nonsense.

Following Parliament's vote, Doctor Bharat Gopal, a Senior Pulmonologist and Director of National Chest Centre in Delhi, said: "There is data available regarding e-cigarettes as smoking cessation devices from the UK, so Indian studies should have been taken up by the government as well as health organisations."
Kevin Crowley, Vaping Links
The vaping crisis – Questions and answers by Clive Bates ~ Tobacco harm reduction and human rights ~ CDC Survey: Flavors Aren't the Main Reason Kids Vape ~ Here's More Evidence That Flavors Aren't the Reason Teens Vape ~ Profiting from E-Cigarette Fearmongering ~ Tweet(s) of the week ~ How to Spot and Avoid Vape Advocacy Scams ~ New FDA Chief Stephen Hahn Will Get Credit (or Blame) for New Vaping Rules ~ "Dependence" and the danger of adopting the language of your oppressors ~ Trump aides hold daily meetings on vaping as White House scrambles to formulate policy
---
---
That Rescinding the E-Cigarette Sales Ban "Will Almost Certainly Lead to More Cases of Severe Illness, and Potentially Deaths"
Michael Siegel, The Rest Of The Story
In court filings–both in state and federal court–the Massachusetts Department of Public Health strongly argued that allowing e-cigarettes to be sold in the Commonwealth, as it did by rescinding the emergency sales ban on December 11, will almost certainly lead to more cases of severe respiratory illness and possibly death.

According to statements by both the governor and the Department of Public Health on December 11, the cause of the respiratory disease outbreak remains unknown and officials have not yet been able to pinpoint the specific source of the vaping-related illnesses. Therefore, according to the Department of Public Health's statement before a federal judge:
Propagates the Drug War in the Philippines – Michael McGrady
The discussion over tobacco harm reduction in the United States is an emotional demonstration of dogmatic assumptions. It is true that smoking kills, nicotine does not come without risks to the human body, and that youth should do their best to refrain from the use of tobacco and smokefree products like e-cigarettes. However, there are lines of unethical public health practice. At least in the U.S., smokers don't risk the pains of potentially being killed just for gunning a stick on their lunch break.

Will Put Adolescents in Greater Danger – Jeffrey A. Singer
As of December 2019, eight states have acted to ban the sale of flavored e-cigarettes. Other states are contemplating bans in 2020.

I have pointed out here and here why banning flavored vaping products will deny adult tobacco smokers a proven means of quitting harmful tobacco smoking.

In fact, nicotine e-cigarettes—of which more than 90 percent of adult tobacco quitters prefer the flavored kind—are twice as effective as nicotine gum or patches in helping smokers stop. We recently learned from the Centers for Disease Control and Prevention that virtually every case of EVALI is due to bootleg THC vaping cartridges containing vitamin E acetate.
Against nicotine vapes needs to stop – Dr Farsalinos
Since the recent outbreak of a mysterious lung disorder allegedly linked to "vaping," public health experts around the country have been coming to the defense of nicotine-base e-cigarettes. While the U.S Centers for Disease Control and Prevention (CDC) officially announced last week that 124 THC-containing brands were directly linked to the affected patients, many experts believe that this admission is too little too late.

In September 2019, Dr. Michael Siegel of Boston University said that the CDC's failure to alert the community immediately of the dangers of vaping THC-enhanced cartridges was tantamount to "playing with children's lives."
See vaping as a good way to quit smoking – Gabriela Galindo
Nearly 40% of Belgians see picking up vaping as a good way to drop their smoking habit, according to a new survey conducted on behalf of a major tobacco multinational.

Out of the around 2 million smokers in Belgium, the proportion of those who use an electronic cigarette has been annually increasing by around 10%, the survey by Insites Consulting shows.
For teenage anti-vaping campaign – Kimberly Leonard
Lawmakers want the government to get the word out about the dangers of teenage vaping, and they want e-cigarette companies to pay for it.

Under a bill introduced Friday, e-cigarette makers and importers would pay a quarterly fee to the government, just as tobacco companies do, that would pay for anti-vaping campaigns in schools. The measure is expected to collect $200 million per year, which would be directed to the Centers for Disease Control and Prevention and the Food and Drug Administration.
---

---
Of a regional educational advertising campaign on harm perceptions of e-cigarettes, prevalence of e-cigarette use, and quit attempts among smokers
Harry Tattan-Birch, Sarah E Jackson, Charlotte Ide, Linda Bauld, Lion Shahab
We evaluated how effective an advertising campaign that was piloted by Cancer Research UK in January/February 2018 was at promoting quit attempts by increasing awareness of the relative harms of e-cigarettes compared with smoking.
In 23 Electronic Cigarette Refill Liquids
Arit M Harvanko, Christopher M Havel, Peyton Jacob, Neal L Benowitz
Many electronic cigarette manufacturers have begun offering liquids containing 'nicotine salts,' which are formed when an acid is mixed in a solution with free-base nicotine. Type of salt could play a significant role in the abuse liability of electronic cigarette liquids. As a first step to understanding nicotine salts, this study sought to identify the types of acids present in 23 commercially available electronic cigarette liquids.
Amy Fairchild, Cheryl Healton, James Curran, David Abrams, Ronald Bayer
This is a moment for legitimate alarm at the intersection of two distressing but distinct epidemiological patterns involving e-cigarettes ("vaping"): an increase in vaping among youth and a sudden outbreak of acute lung injuries and deaths in the United States, associated most strongly with vaping tetrahydrocannabinol (THC), the main psychoactive compound in cannabis. Discussions of vaping, however, often neglect distinctions between nicotine and THC; between adults and youth; and between products obtained through the retail and black markets.

Alex Norcia
A group of prominent public-health experts on the vape crisis in the United States had a message to share in one of the country's leading academic journals this week: Don't panic.

The op-ed published Thursday in Science, perhaps the most substantial and forceful academic memo on the matter to date, is an attempt to address and reframe a narrative that has spun out of control. Alarm morphed to panic this summer following a spike of vaping-related illnesses (now largely linked to illicit THC carts) and an ongoing "epidemic" of teenage e-cigarette use, the blame for which has constantly fallen on the powerhouse JUUL, despite its denials of targeting teens.
Will Enforce Vape Ban Despite Pending Lawsuit
Montana's health department says it will begin enforcing its emergency ban on the sale of flavored vaping products beginning Dec. 18. The agency today said a temporary restraining order preventing the ban from taking effect expired October 28.

Six weeks ago Ravalli County District Judge Jennifer Lint heard arguments on a motion by industry groups seeking a preliminary injunction against the ban. Lint has not yet issued a ruling.
Over E-Cigarettes as Smoking-Cessation Device – Brianna Abbott
Researchers and public-health experts are locked in a debate about whether e-cigarettes should serve as a harm-reduction tool for smokers, as a new generation of young people becomes addicted to nicotine and roughly half a million people in the U.S. die each year of smoking-related causes.

New regulations and reports keep fueling the debate, including an editorial in a prestigious academic journal last week that said the prohibitionist vaping bans threaten public health. A paper, being published Monday in the American Journal of Preventive Medicine by researchers at the University of California, San Francisco, reports a link between e-cigarette use and increased respiratory diseases.
Vatican votes no, and bans e-cigarettes – Crux
In a move cheered by Vatican City's non-smokers, the world's smallest country has applied its smoking ban to electronic cigarettes.

In a Dec. 9 communique, Bishop Fernando Vérgez, the Secretary General of the Governatorate of Vatican City State, reminded employees of the 2002 law passed by the city state banning smoking on its territory, and extraterritorial offices of the Holy See.
More than £100,000 has been spent buying vaping kits for inmates in Scottish jails, it has emerged. It follows a nationwide ban on smoking in prisons which came into force at the end of November. The Scottish Prisoner Service has given out about 7,500 of the vaping kits.

It said it would make long-term savings through improvements to the health of staff and prisoners. However, campaigners have questioned whether this is good value for money. About 72% of inmates smoke compared with 16% of Scots in the wider population.
Scoop
New Zealand now has the world's only free nicotine vaping products recycling programme. A new world-first partnership between leading vape company Vapo and Alt New Zealand, and innovative recycling giant TerraCycle, means that Vapo and Alt brands of e-cigarette waste can be dropped off at any Vapo store for recycling.

The drop off facility is the first phase of the programme, which will be expanded next year to enable individuals to send their vaping equipment direct to TerraCycle, with the mailing costs covered by Vapo and Alt.
Noor Zainab Hussain
Philip Morris' (PM.N) new UK life insurer, Reviti, is looking to take its "get a discount if you vape" model to Japan, where the tobacco giant has a more than 70% share of the heat-not-burn market.

Reviti Chief Executive Dan Pender told Reuters that the insurer was spending time looking at the Japanese market because it has a significant number of people who smoke and boasts many vaping products.
---
A look back at how things have moved on or otherwise…
Expert Round Up from Scientists, Industry Leaders, Advocates & More
James Dunworth, Ashtray Blog
For the last seven years, we've been publishing expert predictions on the future of vaping.

The aim is to get a range of perspectives that stretches across geography and interest groups. This year we've stretched further around the globe featuring experts from the UK, France, Canada, the USA, Australasia and Asia. Each expert here has been involved in tobacco harm reduction for a number of years and is able to bring a unique perspective to the challenges and opportunities facing vaping.
First time on a Priority Setting Partnership Group
Louise Ross, UKCTAS
Louise Ross – Clinical Consultant, National Centre for Smoking Cessation and Training.

When I first got the invitation to join the Priority Setting Partnership (PSP) on electronic cigarettes, I had no idea what a PSP was or did, nor had I ever heard of the James Lind Alliance (JLA), the organisation that runs the PSPs.

However, because of what I do, I'm intensely interested in e-cigarettes as a means of stopping smoking and staying stopped, so I read on…
---
Visit Nicotine Science & Policy for more News from around the World

---