Vaping Digest 18th December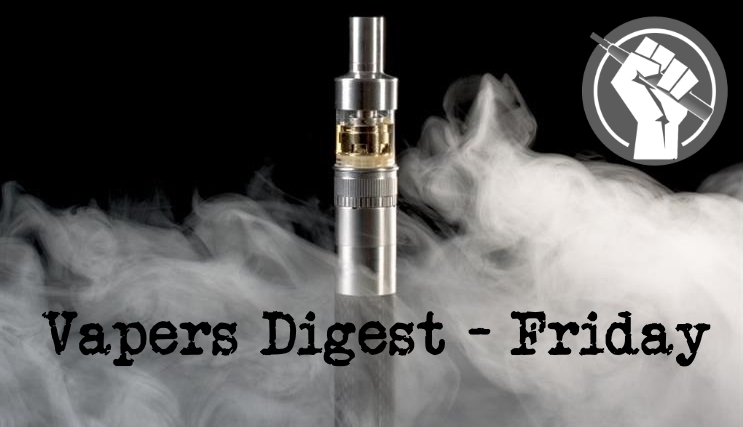 Friday's News at a glance:
Closing Soon: The EU Nicotine Users Survey – High School Seniors Vaping Less While Smoking, Drinking, Getting Drunk More – Denmark Will Ban Flavors and Impose a Huge E-Liquid Tax – Public Health and Vapers Rights: what is the balance? – COVID-19 and Vaping – WHO FCTC COP Inquiry Launched – WVA on the Ecig Summit – Unintended Consequences – Teenage Rates On The Slide – Fate of half a million vapers hangs in the balance – Coalition rebels' move to overturn policy hits a wall – Vaping laws could be about to change – Tobacco Transformation Index – Congress replaces war on marijuana with a war on nicotine – Amendment to exempt e-cigarette liquids from excise duty passed – Nicotine Science and Policy Daily Digest
Diane Caruana – Vaping Post
Last October, ETHRA, an association bringing together 22 European groups representing consumers of safer nicotine products, launched a questionnaire that aims to gather data pertaining to nicotine use behaviours within Europe. The questionnaire will close at the end of this month on December 31st and is available in ten languages. ETHRA is urging European consumers to take part, calling for maximum participation and assistance in distributing the survey by sharing it on social media.

Another aim of the survey is gathering public opinions about possible changes in regulations for safer nicotine alternative products within the EU. Currently, the European Commission (EC) is preparing proposals to amend two European Union directives: the infamous Tobacco Products Directive (TPD), and the Tobacco Excise Directive (TED).
While Smoking, Drinking, Getting Drunk More – Brad Rodu
Just-released 2020 Monitoring the Future survey results (here) indicate that all forms of vaping among high school seniors declined (as seen in chart at left), even as alcohol use, getting drunk, and cigarette smoking all increased.

Prior to this year, the rate of current smoking (i.e., past 30 days) had been on a precipitous decline.  Smoking rates fell by half from 2015 to 2019, from 11.4% to 5.7%.  Unfortunately, smoking rose to 7.5% in 2020.  At the same time, general vaping declined from 31% to 28%, and nicotine vaping also dropped.

Past 30-day alcohol increased from 29% to 33%, accompanied by a similar rise in getting drunk.  The only good news for intoxicating drugs was a single percentage point decline in marijuana use.
---

---
And Impose a Huge E-Liquid Tax – Jim McDonald
Denmark is following through on its promise to prohibit flavored vaping products beginning next year. The Danish Parliament approved the Danish Health Authority's "Tobacco Action Plan" on Dec. 15, and the new restrictions will begin to go into effect on April 1, 2021.

The new rules prohibit the manufacture of e-liquids in flavors other than tobacco and menthol after April 1, 2021—but they may be sold for one year, until April 1, 2022.

Denmark had already announced an e-liquid tax of 2.00 Danish kroner (about $0.32 US) per milliliter, which will take effect in 2022. According to Dansk e-Damper Forening (DADAFO), the Danish vaping consumer group, the tax will increase the cost of a typical 10 mL bottle (the maximum legal bottle size in the EU) of e-juice from 30 kroner to 50 kroner (about $8.25).
---
---
What is the balance? – Catania Conversation
Vapers' experience and several scientific research suggest e-cigarettes are helping people stop smoking, delivering public health benefits. Yet governments still fear vaping, particularly for the youngster, and contribute to increasing restrictions. On the other side, the vapers community reacted by forming self-help groups and providing alternative cessation support to smokers. Is it possible a compromise between the two parties?

Dr. Roberto A. Sussman is a full-time senior researcher and lecturer in physics at the National University of Mexico. He is the founder and Director of Pro-Vapeo Mexico, an association representing Mexican consumers of noncombustible nicotine products, and is a member of INNCO. He is actively advocating for an appropriate regulation of Tobacco Harm Reduction products in Mexico. He directs and supervises the effort to spread scientific information on these products and advising consumers about them.

Five from Dave Cross, Planet of the Vapes:
A study from the Children's National Hospital in Washington D.C., in which it refers to the authors as "experts", warns that vaping is a gateway for American teens into tobacco use. Unfortunately for them, the findings fly in the face of what is actually happening in the real world as shown by other recent studies.

Speaking about her new study in the anti-vaping journal Pediatrics, lead author Doctor Olusegun Owotomo, said: "Research is showing us that adolescent e-cigarette users who progress to cigarette smoking are not simply those who would have ended up smoking cigarettes anyway. Our study shows that e-cigarettes can predispose adolescents to cigarette smoking, even when they have no prior intentions to do so.
A new paper from researchers at University College London looked at COVID-19 and vaping. It rounds off a year where many have sought to demonise electronic cigarettes, yet this study showed no association between vaping and being diagnosed/suspected contraction with/of the virus. It followed a study from Germany that showed smokers were far less likely to be diagnosed with the infection too.

Vaping is widely accepted to be far less dangerous than smoking and yet it still became a key concern as the COCID-19 pandemic grew. Many public health bodies failed to report facts and it came down to Public Health England to offer some clear guidance [link].
British MPs have launched an inquiry into the forthcoming World Health Organization (WHO) Framework for Tobacco Control's (FCTC) Conference of Parties (COP) – known as COP9. It seeks to examine and evaluate how the proposals at COP9 could affect domestic legislation and the Government's own 2030 smoke free target.

Speaking on a recent New Nicotine Alliance webinar [link], Mark Pawsey MP said how British legislation needs to address the issues of packaging waste, small bottle sizes and the limit to nicotine content in order to maximise vaping's potential to help smokers switch to reduced harm.
Following the recent online E-Cigarette Summit, the World Vapers' Alliance (WVA) says its imperative that science and evidence replace vaping scare stories as lives are at risk. The organisation says what viewers heard contrasted starkly with what is heard about vaping in mainstream media and politics.

The E-Cigarette Summit saw contributions from over 35 experts about vaping and novel nicotine products, almost all agreeing that they are key in the fight against smoking.
The Canadian Vaping Association has warned about anti-vaping policy changes that will result in increased smoking rates and negative public health outcomes. It warned that the review by the Quebec Coalition for Tobacco Control (QCTC) could have serious unintended consequences.

The QCTC demanded a prohibition of all flavours apart from tobacco, a hike in tax on eliquids, a ban on certain packaging appearances and health risk warnings.
---

---
Hangs in the balance – ATHRA
The Australian Tobacco Harm Reduction Association (ATHRA) has today welcomed the Chair's report from the Senate Select Committee on Tobacco Harm Reduction which has pragmatically recommended vaping should be legalised for specialist vape retailers and treated as a consumer product similar to cigarettes.

ATHRA Chairman, Dr Joe Kosterich, said careful market regulation of vaping products was a sensible approach and should be adopted by the Australian Government as way forward for vapers.
To overturn prescription-only e-cigarettes policy hits a wall – Paul Karp
Liberal senator Sarah Henderson has combined with Labor and Centre Alliance to shut down an attempt by two Coalition rebels to upturn the government's prescription-only policy on e-cigarettes.

In a Senate inquiry report to be tabled on Friday, the cross-party majority rejected calls from Liberal Hollie Hughes and National Matt Canavan to allow vaping devices and fluid to be imported for personal use.

The pair have been openly campaigning against the prescription-only model backed by the health minister, Greg Hunt, and Therapeutic Goods Administration.
Making it illegal to import nicotine fluid – Anna Henderson
According to the latest national drugs survey, more than half a million Australians are current vapers and 2.4 million people have tried it at some point.

Later this month, the Therapeutic Goods Administration (TGA) will decide whether to make it illegal to import nicotine liquid for vaping without a doctor's prescription.

It's a move that vapers say would completely change the way e-cigarette users access liquid nicotine and could push people back to smoking cigarettes instead. Here's what you need to know about what might change and when.

With a war on nicotine – Guy Bentley
Earlier this month, the House of Representatives voted to end the 83-year-old federal criminalization of marijuana. The passage of the Marijuana Opportunity Reinvestment and Expungement Act marks an important milestone in ending the war on drugs. On the House floor, numerous congressmen and women gave impassioned speeches as members urged their colleagues to vote for the bill in the name of racial justice, personal choice, public health, scientific research, and protecting youth from unregulated black markets.

Ironically, these are the exact arguments that Congress is ignoring in their pursuit of flavored tobacco prohibitions.
Discuss their Cochrane Review and emerging evidence.
Jamie Hartmann-Boyce and Nicola Lindson discuss their Cochrane Review and emerging evidence. Links to studies discussed: Czoli et al: 10.1093/ntr/nty174 ; Bonevski et al: 10.1093/ntr/ntaa143 https://dx.doi.org/10.1093/ntr/ntaa143>; Eisenberg et al: 10.1001/jama.2020.18889
Progress and Next Steps – David Janazzo
Launched in September of this year, the Tobacco Transformation Index is a comprehensive evaluation of the world's 15 largest tobacco companies. The first tool of its kind, the Index documents companies' sales, investments, and strategies related to the transition away from combustible cigarettes and other high-risk tobacco products—with the ultimate goal of accelerating the reduction of harm caused by tobacco use.

More than a research project, the Index presents a practical framework and set of metrics that can be used by institutional investors. It also provides a potential roadmap for tobacco companies on the path toward sustainable harm reduction. Given that more than a billion people smoke worldwide—and that more than eight million smokers die each year—the stakes of this initiative could not be greater.
From excise duty passed
On Wednesday, the Riigikogu passed a law amendment exempting e-cigarette liquids from excise duty until the end of 2022.
Tarmo Kruusimäe, chairman of the Riigikogu's smoke-free Estonia support group, said that this amendment will help save the health of the Estonian people.

"From June 1, 2018, an extremely high excise duty on e-cigarette liquids came into force in Estonia, as a result of which the black market and cross-border trade flourished. By suspending the collection of excise duties for two years, we are giving traders the opportunity to lower the prices of e-liquid products," Kruusimäe said.
---
A look back at how things have moved on or otherwise….
A submission to the Philippines government – Marewa Glover
In December 2019, the Philippines House of Representives Committee of Trade and Industry and the Committee of Health jointly convened to hear submissions on a proposed Act to regulate the manufacture, distribution, sale, importation, use and advertisement of electronic nicotine delivery systems and heated tobacco products.

One of the barriers to reducing smoking among indigenous peoples in New Zealand (NZ), Australia, the United States of America (USA), Canada and Greenland, has been the lack of recognition of socio-historical and cultural differences between indigenous peoples and the Euro-Western dominated tobacco control movement that thinks all peoples of the world are like them, or should live like them. The World Health Organisation's Framework Convention on Tobacco Control (FCTC)(1) is Eurocentric and this is one of the reasons why non-European non-Western sub-groups have not found the FCTC strategies as effective for them.
Queen Mary University of London
Research around e-cigarettes led by Professor Peter Hajek from Queen Mary is among the year's 20 most discussed papers around the world, independent analysis suggests.
Michael Siegel, The Rest of the Story
A new study published in the American Journal of Preventive Medicine purports to show that the use of e-cigarettes causes long-term lung damage. The study found that adults who used e-cigarettes at baseline and had never been diagnosed with lung disease were more likely than non-vapers at baseline to be told that they have lung disease after three years of follow-up. The study controlled for whether or not a person reported smoking at baseline, but not for their lifetime history of cigarette consumption.
---
Visit Nicotine Science & Policy for more News from around the World

---