Vaping Digest 21st December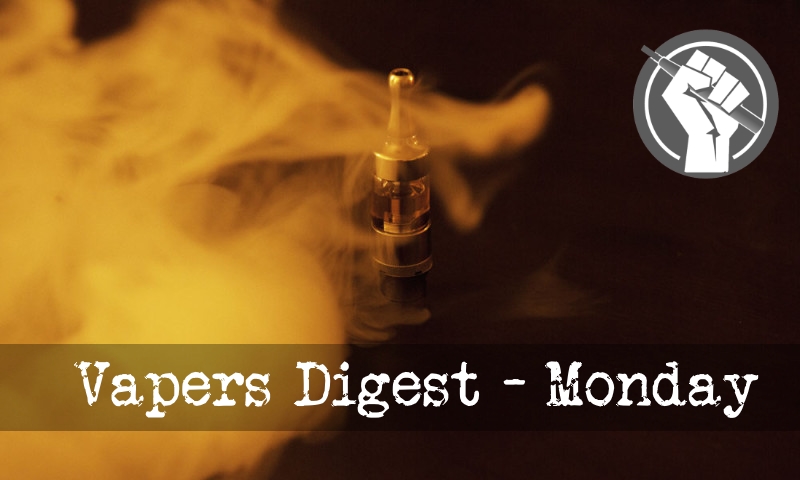 Monday's News at a glance:
Canada Proposes Limiting E-Liquid Nicotine to 20 mg/ml – Nicotine e-smokes OK 'with a script' – Nicotine-based e-cigarettes will only be legal through doctor's prescriptions – UKECRF Research Roundup – Beating Cancer – Tobacco Control and "Right of Pleasure" – Editorial board discusses vaping legislation  – Nicotine Science and Policy Daily Digest
Nicotine to 20 mg/ml – Jim McDonald
Following similar actions by two provinces, the government of Canada is proposing to set a nicotine limit of 20 mg/mL for all vaping products and bottled e-liquid sold in the country. The action is described in draft regulations released today by Health Canada.

The limit applies to commercial e-liquid and bulk DIY nicotine sold in Canada, but manufacturers will still be allowed to make products in higher strengths for the international market. The current limit in Canada is 66 mg/mL.

The rule is described as a tactic to reduce youth vaping, which has increased in recent years. Authorities blame high-nicotine pod-based devices like JUUL for the growth of adolescent vaping.
---

---
Joseph Lam
Australia will ban liquid nicotine used for vaping, without a prescription from a doctor, from next October in a bid to stop teenagers taking up smoking. Under the decision by the Therapeutic Goods Administration it will be illegal to possess and import liquid nicotine unless it has been properly prescribed by a GP.

But child-resistant closures for liquid nicotine will be mandatory.

The TGA said its decision "balances consumer demand for nicotine e-cigarettes to support smoking cessation and the public health need to reduce and prevent the initiation of nicotine addiction among non-smokers, in particular in adolescents."
---
Have you done ETHRA's EU Nicotine Users Survey, yet?
Available in multiple languages, only takes a few minutes to do.
DO the survey, SHARE the survey! https://t.co/DTfwmDLuAn pic.twitter.com/wxeAaNehy6

— European Tobacco Harm Reduction Advocates (@europethra) October 14, 2020
You will undoubtedly receive a huge number of responses, especially directed at the ludicrous 'ending nicotine addiction' comment.
Whether you like it or not, there will always remain a demand for nicotine.
"Joe Soap" will by and large ignore this de facto ban! https://t.co/l3v07W2Kox

— Alan Beard (@Alan_Beard1) December 21, 2020
---
Will only be legal through doctor's prescriptions – Rachel Clun
People importing nicotine for e-cigarettes will need to have a prescription from October 1 next year, the national medical watchdog has decided.

Child safety caps will also be mandatory on nicotine products, and nicotine has been downgraded from schedule 7 to a schedule 4 drug.

The Therapeutic Goods Administration's decision followed consultations, public submissions and a report by the Senate select committee on tobacco harm reduction.

Dave Cross, Planet of the Vapes
The UK E-Cigarette Research Forum (UKECRF) is an initiative developed by Cancer Research UK in partnership with Public Health England (PHE) and the UK Centre for Tobacco and Alcohol Studies (UKCTAS). Among other things, it brings together genuine experts to look at research related to vaping and tobacco harm reduction.

The UKECRF [link] has looked at another overwhelming number of vape-related studies and passed comment on a select few. Its suggested reading list "does not cover every e-cigarette-related study published".

Effect of e-Cigarettes Plus Counselling vs Counselling Alone on Smoking Cessation: A Randomized Clinical Trial [link]
---

---
Dave Cross, Planet of the Vapes
Last Wednesday, the Special Committee on Beating Cancer of the European Parliament (BECA) held a meeting and invited leading cancer experts to discuss methods of prevention. Titled "Facilitating a healthy lifestyle: how to reduce cancer related lifestyle risk factors", the session focussed on the fact that 40% of cancer-related deaths in the European Union are preventable.

European Tobacco Harm Reduction Advocates (ETHRA) reports that Professor Ute Mons argued to strengthen current EU legislation, in particular the Tax Directive and Tobacco Products Directive. She said that cigarettes are the most dangerous product because of the toxins created during combustion.

Catania Conversation
In the last decade, many attempts to limit the use of cigarettes have been made by international bodies and governments to curb the dangerous effects of smoking. Many claims nicotine is a highly addictive substance, both mentally and physically, and its consumption through tobacco cigarettes should be made illegal by authorities. However, is it right to regulate the "right of pleasure"?

Axel Klein is a social anthropologist with a strong interest in mind altering substances, the social rituals surrounding their consumption and the political frameworks to control and repress them. He has published studies on medical cannabis in the UK, the production and use of khat and on drugs, drug trafficking and politics of control in the Caribbean and West Africa.
And its public health, economic impacts – Aaron Curtis
Ulrik Boesen, a senior analyst at the Tax Foundation, says the state's ban on flavored vape products in 2019, along with menthol cigarettes this past June, has caused a drop in state revenue, but not a drop in smoking.

Massachusetts collected about $550 million in cigarette excise-tax revenue during fiscal 2019, Boesen said. Even with the 75% excise tax placed on electronic cigarette sales, lawmakers predict a loss of $93 million of revenue in fiscal 2021 due to the ban on flavored tobacco.

"If all those people had outright quit, I'd assume lawmakers would take that as a win," Boesen said.
---
A look back at how things have moved on or otherwise…
Expert Roundup From Scientists, Advocates, Analysts and more…
James Dunworth, Ashtray Blog
What a year it's been for the vaping industry. In the first half of the year it seemed nothing could stop vaping, with smokers switching from tobacco to electronic cigarettes in droves.

Then an outbreak of serious respiratory illness broke out in the USA. While the illness was caused by the use of Vitamin-E acetate in illicit cannabis products, early CDC reports conflated this with vaping. Sources tell me that this conflation was deliberate, and that many in the CDC were appalled at how the situation was handled.
And the Effort to Destroy It – Clive Bates
Imagine a new miracle drug with the potential to prevent one third of fatal cancers, to avoid one in four deaths from cardiovascular disease and to provide relief for six million Americans suffering from  serious lung disease. The side effects of this hypothetical treatment appear to be minimal and people can carry on with normal life while under treatment.

Imagine, too, that ordinary people will purchase this affordable drug at their own expense and on their own initiative in order to take personal responsibility for their own health—and even because they like it. That would be quite a breakthrough.
Dick Puddlecote
Today saw a lot of media coverage over a new report from the World Health Organisation claiming:

Number of males using tobacco globally on the decline, showing that government-led control efforts work to save lives, protect health, beat tobacco

It further boasts that …

[P]ositively, the new report shows that the number of male tobacco users has stopped growing and is projected to decline by more than 1 million fewer male users come 2020 (or 1.091 billion) compared to 2018 levels, and 5 million less by 2025 (1.087 billion).

Wow! A million globally, they say? That is a lot, isn't it? The Director General of the WHO – who once recruited Robert Mugabe as a goodwill ambassador before worldwide disgust forced him to backtrack – is ecstatic …
---
Visit Nicotine Science & Policy for more News from around the World

---