Vaping Digest 23rd December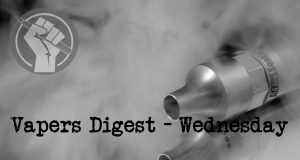 Wednesday's News at a glance:
NNA Smoke Free Estonia Commends Estonia's Decision to Suspend E-liquid Excise Duty, Says Other Countries Should Follow and Embrace Less Harmful Nicotine Alternatives ~ Seasons Greetings, calls to action, news round up and 2021 ~ Health Effects and risk of vaping: is the SCHEER report accurate? (Dr. Renèe) ~ Using COVID-19, Congress Bans USPS Vape Shipping ~ Congress Will Ban Vape Mail & Force Online Sellers into the PACT Act ~ Rigotti Tells American Docs The Truth ~ 2020: Part 1 ~ Great Vaping Reset | Canada Moves to Restrict Nicotine Levels
Merry Christmas to all of our contributors, readers, subscribers, tweeters, and sharers!
---
Says Other Countries Should Follow and Embrace Less Harmful Nicotine Alternatives
New Nicotine Alliance
NNA Smoke Free Estonia announced that the Estonian Parliament voted to suspend the collection of excise duty on e-liquids in order to reduce cross-border trade and illicit trade. Excise duty will not be collected from 1 April 2021 until 31 December 2022. According to various estimates, self-mixed, cross-border and smuggled e-liquids account for 62-80% of the entire Estonian e-liquids market.
European Tobacco Harm Reduction Advocates
2020 has been a busy year for tobacco harm reduction in Europe. Here we give you some of the news from December and look ahead to what is expected in 2021. Most importantly, there are 3 calls to action: 1) give your feedback to the EU tax roadmap, 2) respond to the NL consultation and 3) share our big consumer survey.
---
Center of Excellence for the Acceleration of HArm Reduction (CoEHAR), Catania Conversation
The European Commission and its Scientific Committee on Health, Environmental and Emerging Risks (SCHEER) has recently published a preliminary Opinion on electronic cigarettes.

The report mainly focused on adverse health effects and the risks associated with e-cigarettes.

Following the publication, three leading scientists contesting the conclusions of the report.
---

---
Gregory Conley, American Vaping Association
Earlier today, the text of a 5,500+ page package of COVID-19 stimulus, government funding, and tax extenders was released by committees in the U.S. Congress. This comes just hours before members are expected to vote for the package to become law.

Buried in this massive bill is a provision (see page 5,136) that will harm public health and small businesses by, among other things, banning the United States Postal Service (USPS) from shipping vaping products to adult consumers. And due to sloppy drafting, the effects of the law will be felt beyond the world of nicotine.
---
Jim McDonald, Vaping 360
Along with welcome coronavirus economic relief, the 2021 omnibus spending bill that Congress must pass today contains an unwelcome holiday gift for vapers: serious restrictions on vape product shipping that will change the retail vape market for the worse.

The "Preventing Online Sales of E-Cigarettes to Children Act" was described by many (including me) as the "vape mail ban." The law does in fact require the U.S. Postal Service to create its own regulations within 120 days banning U.S. Mail delivery of vaping products—whether they contain nicotine or not. (You can read the exact wording of the bill here on page 5136.)
---
Watch now – GREAT VAPING RESET | Canada Moves to Restrict Nicotine Levels | RegWatch (Live) *Guest: Darryl Tempest, Canadian Vaping Association @thecvaofficial @cvafrancais @GovCanHealth #Vaping #vapefam #cdnpoli #onpolihttps://t.co/f9yOaFhSy3 pic.twitter.com/8LTEkqjvwp

— Regulator Watch (@RegWatchCanada) December 23, 2020
---
Australia has just enacted a law requiring a prescription to buy e-cigarettes. However, real cigarettes don't require anything and are now the ONLY freely available type of tobacco product. The cigarette industry couldn't have written a more favorable law if it were allowed to!

— Michael Siegel (@mbsiegel) December 23, 2020
---
TWO from Dave Cross, Planet Of The Vapes
Dr Nancy Rigotti works at Massachusetts General Hospital and Harvard Medical School. She writes in the journal of the American Medical Association (AMA) that "the accumulating evidence from clinical trials suggests that e-cigarettes will likely turn out to be safe and effective tools to aid smoking cessation". The AMA has been outspoken in its opposition to vaping.
Phew, 2019 was over. It was a grim year as Stanton Glantz fed lies to the anti-vape machine and bans crept out across the world. 2020 would be a challenge for tobacco harm reduction, but there was no way it was going to be 2019 bad. Sit down, I thought, grab a turkey sandwich (nut roast leftovers are available), a glass of wine, and relax in the knowledge that 2020 will be a jolly spiffing year full of free thinking, positivity, and larks by the bucketload.
---
Brent Stafford, RegWatch
Another hammer has dropped on the Canadian vaping industry. The Federal government announced it is moving to restrict nicotine levels to a maximum concentration of 20mg/mL for vaping products manufactured, imported, or packaged for sale in Canada.

For many Canadian vapers, the proposed new limit would slash (by half for some) the amount of nicotine consumed when vaping and (by Health Canada's own projections) cause some vapers to return to smoking.

---
Dave Cross, Planet of the Vapes
Supportive research, vape shops in hospitals and more organisations vocalising a support of vaping in the U.K., but it wasn't the same story elsewhere. Liars in America drove a global movement to clamp down on harm reduction and emboldened the outliers in England. What does this all mean for 2020?

2019 for vaping opened up pretty much how it finished, with Stanton Glantz making absurd claims and monstrous statements. Glantz said: "Using e-cigs increases exposure to toxic chemicals for most users; they would be better off just smoking."
Respiratory Disease Outbreak was Caused by Vitamin E Acetate Oil in THC Vaping Cartridges
Michael Siegel, The Rest Of The Story
The CDC has released new data which almost definitively confirm that the respiratory disease outbreak was caused by vitamin E acetate oil in THC vaping products (and perhaps some CBD vaping products as well).

I came to the same conclusion on August 25th, as did many experts from the cannabis industry who helped to inform my conclusion. Why it took the CDC four additional months of intensive investigation to discover something that cannabis industry experts had recognized much earlier is mystifying.
---
Visit Nicotine Science & Policy for more News from around the World

---