Vaping Digest 30th December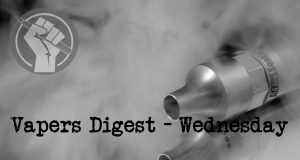 Wednesday's News at a glance:
Cochrane Review says nicotine vaping helps smokers stop smoking ~ Tobacco lobby objects to proposed plan to lower nicotine vaping levels ~ FSFW in 2020: Progress Amid a Pandemic ~ COVID-19 State Of Smoking Poll ~ How a bungled vaping bill got Hollie Hughes off cigarettes ~ Senator Rand Paul Highlights Fake Heart Attack Study in Government Waste Report ~ Signs and customer behaviors at vape shops: Multivariate multilevel model analysis ~ 2020: Part 2 ~ 2020: Part 3 ~ Wigan mum who almost died pleads with smokers to quit ~ Filipinos warming up to better alternatives to cigarettes
Happy New Year to all of our contributors, readers, subscribers, tweeters, and sharers!
New Straight Times
MANY smokers try to start the New Year with a resolution to kick the habit but doing so, either with nicotine-replacement patches or simply going cold turkey, is easier said than done.

Just ask the next person you see lighting up a cigarette if they've tried quitting.

While there is no faulting their motivation to kick the habit, it could be that they are going about it the less effective way, or so a newly updated review by Cochrane would suggest.
, Toronto Sun
Reducing nicotine levels won't stop kids from vaping, a tobacco company insists.

Imperial Tobacco Canada also says lowering nicotine levels in vaping products will prompt fewer adults to switch from smoking tobacco to safer alternatives.
---
Foundation for a Smoke-Free World
2020 was a year unlike any other. Between a global pandemic, political chaos, and a civil rights reckoning, "business as usual" was not an option. Losing momentum in our ongoing effort to end smoking was not an option, either. The pandemic highlighted and exacerbated many challenges that lie at heart of the Foundation's work, including inadequate access to healthcare, the impact of non-communicable diseases, the needs of vulnerable populations, and the importance of sound public health policy.
Foundation for a Smoke-Free World
Due to the COVID-19 pandemic, hundreds of millions of people around the world are staying home.
These conditions create unique challenges for people who are dependent on combustible cigarettes, e-cigarettes, heated tobacco products, or bidis (India)
Stay-at-home orders may also yeild challenges for people living with those who use such products.

The Foundation's poll was conducted in: Italy, India, South Africa, UK and US (New York and CA). These countries were selected based on their governments requring or urging that people remain at home to slow the spread of COVID-19. Respondents were limited to users of cigaretts, other combustible tobacco products, and nicotine vape products (e-cigarettes).
---

---
Rachel Clun, The Sydney Morning Herald
Hollie Hughes was not particularly interested in giving up smoking, and had no idea about vaping. But since nicotine e-cigarettes became a hot button issue in June, the NSW Liberal senator has become somewhat of a vaping evangelist.

"I won't go back to cigarettes at all," she says.
---
Dr. Brad Rodu, Tobacco Truth
U.S. Senator Rand Paul just released his Festivus Report 2020, describing some $55 billion in "government waste".  One stand-out example he cites is a fake heart attack study authored by Dharma Bhatta and Stanton Glantz (exposed by me here, here and here).

Senator Paul mentions that "the NIH's Office of Research Integrity has a process for banning individuals for 'research misconduct'."  Actually, I called for a federal investigation in June 2019 (here), and I laid out all of the evidence in a medical publication (here).
---
RESULTS of Stan Glantz' meta-analysis of RCTs on use of e-cigarettes for smoking cessation: E-cigarettes are much more effective than the nicotine patch for smoking cessation.
CONCLUSION of Stan Glantz' meta-analysis: E-cigarettes are not effective for smoking cessation. #?Logic

— Michael Siegel (@mbsiegel) December 24, 2020
---
Dear vape shop owners:

If researchers want to observe what's going on inside your business, they're likely to use any & all information they find against you.

My suggestion: just say no.

Regards,
Philhttps://t.co/LYzQOY7Wye

— Phil (@phil_w888) December 24, 2020
---
US National Library of Medicine, National Institutes of Health
Introduction: This study examined vape shop customers' behaviors in relation to shop display practices. We hypothesized that display of signs conveying supportive attitude toward vaping at vape shops would be positively associated with customer purchasing and in-shop vaping behaviors.
---
TWO from Dave Cross, Planet Of The Vapes
OK, settle down. Yes, we all thought this year was going to be awesome but, as Part 1 appears to show, things aren't going too well. No doubt the next three months will be utterly different: the virus will be defeated, vaping will be accepted by all major governments and public health bodies, and toilet paper will come back into stock in the supermarket. Like Terry Scott returning home from work, we're on a journey to June.
It is now abundantly obvious that the first half of 2020 has not been a bundle of giggles. Like a gambler betting on red with a succession of white coming up, we know it's all going to change. Remember? That glorious summer weather, wasn't there. And there was the…err…and the sunny days. So wonderful that July to September will always be remembered as those three months in 2020.

---
Gaynor Clarke, Wigan Today
Lisa Fildes, 49, suffered a heart attack, stroke, multi-organ failure and sepsis in June 2018, which left her in a coma for four-and-a-half weeks. It inspired her to address her smoking addiction and change her life so she would be able to spend many more years with her four sons. Lisa, who lives in Hindley, is sharing her story as part of Greater Manchester Health and Social Care Partnership's New Year quit campaign.
Inquirer Business
Current strategies to get smokers to drop their habit — including going cold turkey, counseling, and nicotine replacement therapy — have not been very effective, according to Peter Paul Dator, president of The Vapers PH, as quoted in a joint statement issued on Tuesday by various groups advocating safer alternatives to cigarettes.

About 15.9 million Filipino adults smoke, with a quit rate of only 4 percent, the statement said, citing the results of the Global Tobacco Survey of 2015, which was conducted by the Department of Health and the Philippine Statistics Authority.
---
Jacob Sullom, Reason
When tainted lettuce causes an outbreak of gastrointestinal disease, the federal government does not issue general warnings about the hazards of eating. Nor does it order a recall of all fresh vegetables. Instead it focuses on the specific products consumed by the people who got sick.

After doctors began to report respiratory illnesses among vapers last summer, by contrast, federal agencies urged the public to avoid all vaping products, including legal e-cigarettes that deliver nicotine, even though it was clear early on that the vast majority of cases involved black-market cannabis extracts. That indiscriminate approach undermined public health in two ways.
Saddle Horse Blues
Overwhelmed by all of the negative headlines around nicotine vaping? With some of the biggest networks in North America publishing and/or broadcasting a series of (largely uninformed and misleading) hit pieces against vaping, it can feel as if the only news on vaping is bad news- something both surprising and disheartening to advocates who see vaping as being a hugely promising off-ramp for millions of smokers around the world. But a look back at December 2019 shows that there were also some really great articles, opinion pieces, and studies that should give us some hope that if the tide isn't turning quite yet, it may be on the verge. We've collected some of them and included excerpts. Links are provided so that you can read the full articles.
---
Visit Nicotine Science & Policy for more News from around the World

---