Vapers Digest 4th January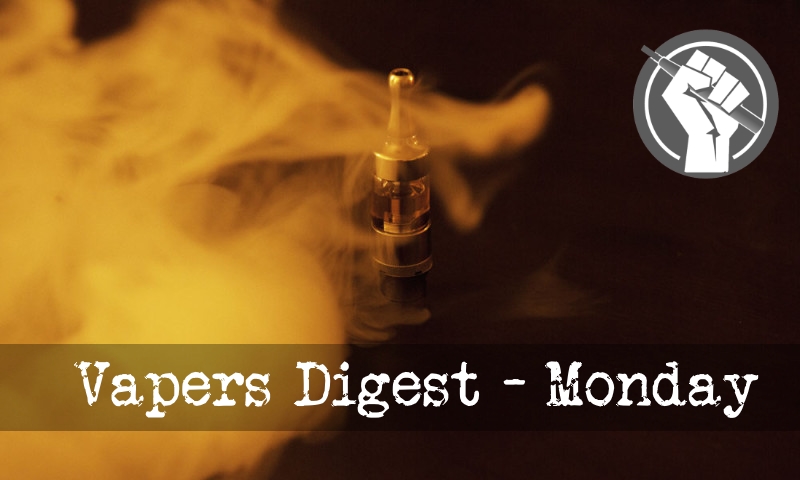 Monday's News at a glance:
Vape Companies That Made Hand Sanitizer Avoid $14K FDA Surprise – Exposing Nicotine – Tobacco-Free Kids Board Member Joins Biden COVID-19 Team – Vaping is safer than smoking but needs to be regulated – 2020: Part 4 – Looking To 2021 – Top Vape-Related Articles from December 2020 – Misinformation, pandemic hard on vape shop owners – Pushing Vapers back to cigarettes? – Nicotine Science and Policy Daily Digest
Avoid $14K FDA Surprise – Jim McDonald
The Department of Health and Human Services has reversed an FDA plan to charge a $14,060 fee to businesses that converted their manufacturing facilities to hand sanitizer production during the early days of the coronavirus pandemic. The FDA had published notice of the fee in the Federal Register on Dec. 29.

"Small businesses who stepped up to fight Covid-19 should be applauded by their government, not taxed for doing so," HHS chief of staff Brian Harrison said in a statement. "I'm pleased to announce we have directed FDA to cease enforcement of these arbitrary, surprise user fees."
Timothy S. Donahue
The nicotine industry is a complicated one. Nicotine may be considered the vilest of industries on Earth. However, the global tobacco market size was estimated at $849.09 billion in 2019 and is expected to reach $878.35 billion in 2020. Around the world, combustible cigarettes are the leading cause of preventable death. Tobacco use causes more than 7 million deaths per year worldwide, according to the U.S. Centers for Disease Control and Prevention (CDC). If the pattern of smoking combustible cigarettes for nicotine doesn't change, more than 8 million people a year will die from preventable diseases by 2030.

It doesn't need to be that way, according to director Aaron Biebert, who is probably best known for his 2016 documentary A Billion Lives. The film earned several awards for its in-depth investigation into the history and corruption in the tobacco industry and how the vapor industry, a safer alternative to combustible cigarettes, was being attacked through a concerted effort of bad science, misinformation and outright lies.
---

---
Joins Biden COVID-19 Team – Jim McDonald
A well-known anti-vaping activist will join the Biden administration health team, although not in a position that will affect vaping or tobacco policy. The Biden transition announced yesterday that Campaign for Tobacco-Free Kids board member Bechara Choucair will join the administration's COVID-19 Response Team as Vaccinations Coordinator.

Dr. Choucair was trained as a family physician at the American University of Beirut. He was Chicago's health commissioner from 2009 to 2014, serving under mayors Richard M. Daley and Rahm Emanuel. During his time with the Chicago Department of Public Health, Choucair advocated for policies that would regulate vaping products as tobacco and add vapor to the city's public smoking ban.
---
: the roadmap consultation on tobacco taxation closes tomorrow. Let the Commission know that extra expense in the form of taxation should not be applied to safer nicotine products & consumers must be consulted throughout this process
https://t.co/MV3WWCnnAw pic.twitter.com/eHkZ5zpzcg

— European Tobacco Harm Reduction Advocates (@europethra) January 4, 2021
A previous accusation of 'writing' for @vapersorguk was made by @SherryNewsViews, clearly without any knowledge of how that resource is assembled. Floundering and flailing around to demonstrate her non-existent impartiality

— Alan Beard (@Alan_Beard1) January 3, 2021
The next episode of The Advocates Voice will be premiering on 7 January 2021 at 7pm Hong Kong Time. https://t.co/azHza3UOK0. Please share this in your networks and let us know of any topics you would like to see covered in upcoming bulletins. Thank you pic.twitter.com/FXW9879kTm

— CAPHRA (@caphraorg) January 4, 2021
---
But needs to be regulated – Alex Wodak
This year will be remembered by most Australians for the summer bushfires and the pandemic. For the 500,000 nicotine vapers in this country, it will mark the year Australians rallied to make their voices heard to save their new lifesaving, harm-reduction tool.

Nicotine vaping has gained in popularity over the past several years as the technology advances. Switching to vaping allows Australia's almost three million smokers to continue enjoying nicotine but without the dangerous tars and other toxins responsible for the death of 21,000 smokers every year. Enabling the continued enjoyment of nicotine while minimising the adverse health consequences of smoking, the conventional way of ingesting nicotine, means that vaping is a form of drug harm reduction.

Two from Dave Cross, Planet of the Vapes
The final quarter of the year would prove to be like the other 75%: a collection of days that repeat on a calendar. These days would fall in different months and have different events associated with them. But, ultimately, they all make up Planet of the Vapes' amazing vaping news of 2020.

We celebrated ETHRA's first birthday, an organisation now powered by 22 European consumer groups [link] and readying itself for a fight over the next generation of the Tobacco Products Directive. With barely time to digest the birthday cake, ETHRA set about calling for help with responses to the SCHEER report [link]. If anyone doubted organised groups were needed then proof came with the news that 80% of French people believed that nicotine is carcinogenic and a shocking 75% do not know that vaping is less dangerous than smoking [link].
The next year brings headline issues: the UK faces the threats and opportunities of Brexit, America has a new President, the EU continues to work on the next iteration of the Tobacco Products Directive (TPD) and the World Health Organization's (WHO) Framework Convention on Tobacco Control (FCTC) Conference of Parties (COP9) will be taking place behind closed doors. Also, we still have a pandemic to address while all of this is going on.

COVID – The two COVID-19 lockdowns caused all vape shops to be closed despite the clamour to recognise them as being important for public health. Those stores lost a large amount of income. With this being written at the end of 2020, current news is discussing spiralling infection rates in many parts of the country and the government are talking about a new strain of virus. The last thing vape stores need is the prospect of another period of enforced closure. While this has benefitted online retailers, non-chain brick & mortar stores don't have any fat left to trim. Another period of closure would see them not opening up again.
---

---
Saddle Horse Blues
We've got one more round-up of the top news in vaping and tobacco harm reduction before we leave 2020 in the rear view. December was an eventful month for vaping, with serious moves to limit the appeal and accessibility of vapour products in countries around the world and particularly North America. Read all about the issues and get involved where you can.

Happy new year, everyone! Take care, stay informed, and stay safe.

Dimitris Agrafiotis
The COVID-19 pandemic has changed the conventional wisdom about many things, and upended the world and our economy in ways we could not have imagined in January. The proliferation of misleading, conflicting and sometimes outright false information, coupled with the constantly changing norms brought on by the pandemic, have hit business owners particularly hard.

The Tennessee Smoke Free Association is an advocacy group and trade organization with a focus on tobacco harm reduction through the use of personal vaporizers (electronic cigarettes) and other smokeless tobacco products shown to reduce the morbidity and mortality associated with smoking.
Trevor Burrus
On about page 5,000 of the 5,500-page federal COVID relief law is a hidden and largelyundiscussed section that could push thousands of vapers back to traditional cigarette smoking. I know, because I'm one of them. The new restrictions on vaping equipment and supplies, inparticular the ban on mailing them, will force me and thousands of others to look forsubstitutes to the products we prefer. In many instances, we will return to dangerous combustible cigarettes.

Title VI of the COVID relief bill was first introduced to Congress in April as the Preventing Online Sales of E-Cigarettes to Children Act. The bill redefines the term "cigarette" to include all types of vaping devices and accessories, even those that do not contain nicotine. Yes, under the new law, a CBD vaping device — a non-psychoactive chemical in marijuana — is now considered an "electronic nicotine delivery system" because it is "any electronic device that, through an aerosolized solution, delivers nicotine, avor, or any other substance to the user

EU Readers Click Here
---
A look back at how things have moved on or otherwise…
New Nicotine Alliance
As 2020 approaches we can look back at what the NNA has been up to in the last 12 months. It has been a difficult year, but we expect an even more difficult one to come and we will need all your support to get through it. Please share our posts, make a financial donation, but most of all in 2020, be prepared to get active as there are momentous challenges ahead. To learn how to donate to the NNA and support our work, please see the bottom of this page. In the meantime, here are highlights from 2019.
European Harm Reduction Advocates
ETHRA founder partner, the New Nicotine Alliance in the UK, is calling on European Harm Reduction Advocates to prepare for worrying developments in the new year.

In an article just before Christmas, they urged vapers, especially, to "prepare for battle" in the coming year. The European Union is currently gathering evidence for a review of the Tobacco Products Directive and meetings have already been planned to discuss how misinformation emanating from the US can be used to close down the sensible regulations Europe has enjoyed since 2014.
---
Visit Nicotine Science & Policy for more News from around the World

---