Vaping Digest 6th January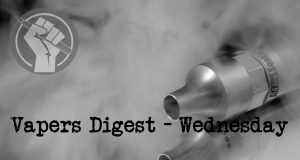 Wednesday's News at a glance:
Experts Question Study Claiming E-Cigarettes Are a COVID-19 Risk Factor ~ Vaping most effective way to quit smoking ~ The truth about vaping ~ Big Time Vapes Appeals FDA Lawsuit to the Supreme Court ~ Association of Cigarette and Electronic Cigarette Use Patterns With Levels of Inflammatory and Oxidative Stress Biomarkers Among US Adults ~ WVA Survey Finds Vaping Helps Smokers Quit ~ US Vapemail Ban ~ Bhadriraju + Glantz + Wang = Curs ~ Unfair Newfoundland Tax Increase on Vaping ~ Petition calls on province to repeal vaping tax
Jacob James Rich, Reason Foundation
In its Jan. 2021 issue, the Journal of Adolescent Health tempered the conclusions of its most cited study from 2020, which originally claimed, "e-cigarettes and cigarettes are significant underlying risk factors for COVID-19." After receiving numerous letters critical of the study's methods, the authors finally conceded "our study does not imply causality."
Business Mirror
In a groundbreaking study by Cochrane published in October 2020, vaping was found to be the most effective method for cigarette smokers to quit the habit.

Cochrane, a British international charitable organization comprising of health professionals, researchers, and scientists from over 130 countries that has a specialization in organizing medical research findings in order to facilitate evidence-based policymaking on health interventions, evaluated 50 studies globally to conclude that e-cigarette use or vaping, is far more effective than any other nicotine replacement therapy (NRT) method.
---
Milly Evans, Patient
"The 95% estimate was developed by independent academics," explains a spokesperson for Public Health England (PHE). "PHE's 2015 independent e-cigarette evidence review agreed that, based on the available evidence, the figure was a reasonable estimate. The Royal College of Physicians came to a similar conclusion in its 2016 report."

Despite these statistics and the evidence available, in light of vaping-related deaths in the United States, the proportion of smokers correctly believing that vaping is less harmful than smoking has fallen to just 48%.
---

---
Jim McDonald, Vaping 360
A Mississippi vape shop has petitioned the U.S. Supreme Court to review its lawsuit against the FDA, which failed in two lower federal courts. The odds are stacked against the court granting the petition, but the attorneys for the small business are hoping the unique legal basis of their challenge will catch the eye of conservative Supreme Court justices.
---
With Levels of Inflammatory and Oxidative Stress Biomarkers Among US Adults
American Heart Association, Journal
The cardiovascular toxicity of electronic cigarettes (e-cigarettes) is not well understood, and population data assessing the cardiovascular effects of e-cigarette use are sparse. In the present study, we used nationally representative data to examine the association of cigarette and e-cigarette use behaviors with biomarkers of inflammation and oxidative stress. Inflammation and oxidative stress are key contributors of smoking-induced cardiovascular disease, and related biomarkers have been studied as predictive factors for cardiovascular events.
---
The utter cretins at the @WHO are urging governments worldwide to ban open vaping systems. https://t.co/ZWh12fgFuN #NotAboutHealth pic.twitter.com/2dV7NQ1TeA

— Dick Puddlecote (@Dick_Puddlecote) January 6, 2021
---
Three from Dave Cross, Planet Of The Vapes
A survey by the World Vapers' Alliance (WVA) has found that ex-smokers say vaping worked to help them quit tobacco. Moreover, it discovered that out of all of the respondents, most only vaped because it was a cigarette cessation method.
Over the holiday period, American opposition ramped up to the inclusion of provisions in the 2021 Omnibus Appropriations Bill to ban vape mail. Letter writing campaigns and online petitions were organised but came to nothing. Quite how this small part of the five and a half thousand-page package will be enforced is open to debate, but probably ranks as the worst thing to happen to tobacco harm reduction in the United States.
Wang, Glantz (yes, he's still not faded from view), and Bhadriraju produce another piece of research that would be better being distributed in The Beano than the American Journal of Public Health. "E-Cigarettes, as Consumer Products" makes the forced conclusion that vaping does not help people quit smoking. The finding will surprise everyone who has switched successfully and also those behind studies showing it is three times more successful than traditional quit methods.

---
Jody Forristal, Change
The Newfoundland government introduced a new sin tax on all vapour products on January 1, 2021. The tax increase of 23% (20% + HST) now puts vaping products at an alarming 38% provincially.

Cigarette tax revenue in Newfoundland and Labrador has almost decreased by 25% since vape shops appeared in this province and have been on a steady decline.
Leila Beaudoin, Newfoundland Herald, NTV
A new petition is calling on government to reverse its tax on vape products, saying the new tax is a win for big tobacco and those struggling to quit. NTV's Leila Beaudoin reports.
---
Visit Nicotine Science & Policy for more News from around the World

---