Vapers Digest 8th January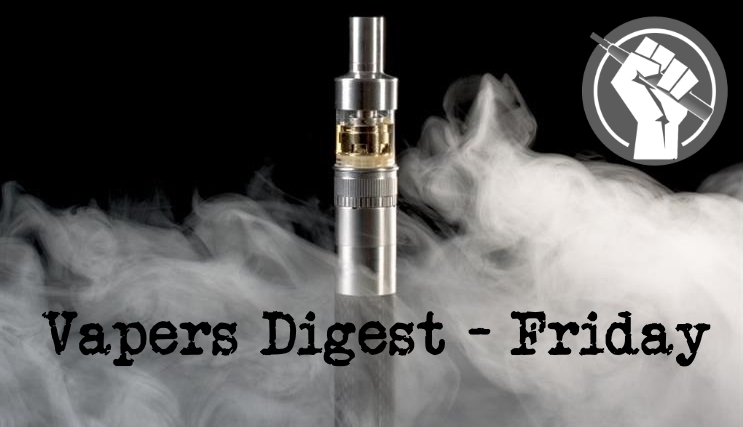 Friday's News at a glance:
Tobacco Excise Directive consultation – Mississippi Corrections Makes the Correct Call – Vape store body lobbies government for essential retailer status – RELX Will Launch on U.S. Stock Market – Hunt's Ban In Ruins – Call To Target Maori and Pasifika Smoking Rates – UKVIA Calls For Essential Status For Vape Stores – Tobacco Harm Reduction's Prospects Under the Biden – Can Nicotine Pouches Alleviate Harm Reduction Hurdles in Emerging Markets? – Dependence on nicotine in US high school students – Banning Flavored Tobacco Products is Just Blowing Smoke – Nicotine Science and Policy Daily Digest
83% of submissions warning about higher taxes on vaping
Commenting on the consultation, WVA Director Michael Landl said: "Making vaping less appealing to smokers by higher prices will discourage current smokers from switching to less harmful alternatives. This is certainly not going to be of any public health benefit. Additionally, high taxes on vaping products are particularly harmful to the lower income brackets of the population, which make up the largest proportion of current smokers."

The consultation ended on 5 January and out of 134 responses from citizens, associations and industry, 113, or 84% referenced the positive impacts of vaping and the serious negative impact that taxing it the same as cigarettes would have.
Makes the Correct Call, Ends Tobacco Prohibition – Brad Rodu
Mississippi Corrections Commissioner Burl Cain made an extraordinary announcement on December 23, noting:

For the first time in 10 years, Mississippi prison inmates who smoke will be able to do so legally, beginning February 1, 2021.

Name brand cigarettes, cigars and smokeless tobacco products will be sold at current prices in prison canteens, along with snacks and toiletries.

Inmates who smoke are smoking anyway, but they're having to smuggle in tobacco to do it.

Cain reported that the ban has forced inmates to pay "as much as $500 a pound" for cigarette tobacco.  The new policy, he said, "will save [them] money and the state will make money," and, "By selling [cigarettes], we are breaking the contraband tobacco trade, designating smoking areas outside, clearing the air inside for the majority of inmates who don't smoke, reducing inmate contraband violations, and recouping for taxpayers some of the dollars it takes to run prisons."
---

---
For essential retailer status – George Nott
Trade body the UK Vaping Industry Association is lobbying government to classify vape shops as essential retailers.

The lobbying effort has been ongoing since the first national lockdown in March, but the association has redoubled its efforts, warning that former smokers who have made the switch to electronic alternatives "could be tempted back".

Furthermore, UKVIA says, many smokers will have made new year's resolutions to quit, with vaping a good way to help them achieve this ambition.

"It's not just about providing a lifeline to vape businesses during lockdown, but also to vapers and smokers for whom vaping represents a life-changing decision," said John Dunne, director general of the UKVIA.
---
---
Jim McDonald, Vaping 360
The parent company of RELX e-cigarettes has filed with the U.S. Securities and Exchange Commission (SEC) to raise $100 million for an initial public offering (IPO) in the United States. RLX Technology is the leading brand sold in China, and is seeking to break into the U.S. market.

The company, which launched in 2018, has partnered with Citigroup for its IPO, and is aiming to raise $1 billion in share sales after the IPO, according to Bloomberg. RLX Technology will be listed on the New York Stock Exchange under the symbol RLX. The company's founder and CEO Kate Wang was previously the general manager of Uber China.

Three from Dave Cross, Planet of the Vapes
In June, Australia's Minister for Health Greg Hunt, a member of the illiberal Liberal Party, was forced into a humiliating U-turn with his plan to ban the importation of liquid nicotine. Having implemented a delay to that aspect has now been compounded by him being compelled to abandon his plan to ban the importation of vape kit.

For a short while before Christmas is looked possible that Hunt's humiliation could get even worse as some politicians with a dose of common sense sought to overturn the government's prescription-only policy on vaping.
Despite New Zealand launching Smokefree 2025 in 2011, smoking rates among Maori and Pacific people remains stubbornly high according to the Aotearoa Vapers Community Advocacy (AVCA). The group believes addressing them with urgency must now be a priority in the government's imminent Smokefree 2025 Action Plan.

AVCA's comments follow the Parliamentary Library publishing a research brief titled 'Progress towards a Smokefree Aotearoa 2025'. The research notes that the Ministry of Health initially formed two interim targets for 2018 which were to have overall daily smoking prevalence down to 10%, and Maori and Pacific rates halved from their 2011 levels.
The UK Vaping Industry Association (UKVIA) has called on the government to reconsider classifying vape shops as essential retail. Boris Johnson failed to protect the sector during the first two lockdowns and has overlooked the important role shops play in smoking cessation yet again.

UKVIA states: "At this time of the year many smokers are making New Year's resolutions to quit, and vaping has proved to be, and is acknowledged as, one of the best ways to achieve this. Ensuring that smokers can access the customer service, experience, knowledge, and advice that is offered in stores, is vitally important in helping smokers achieve their New Year resolutions."
---

---
Under the Biden Administration – Michael McGrady
Joe Biden and Kamala Harris will assume the offices of president and vice president at a time of great societal division as the pandemic continues to ravage the United States.

It is unsurprising, therefore, that tobacco harms have been largely overlooked amid the unfolding political drama. Yet almost half a million Americans—more even than have so far died of COVID-19—lose their lives to smoking-related causes every single year.

The Biden-Harris administration will take office with a mission to promote public health based on scientific evidence. While tobacco harm reduction (THR) remains controversial in the US, the lower risks of nicotine products like e-cigarettes and snus compared with smoking are well demonstrated.
CAPHRA Asia Pacific
Alleviate Harm Reduction Hurdles in Emerging Markets?
There is a significant role for nicotine pouches in tobacco harm reduction in Emerging Markets, particularly in countries where oral tobacco use is prevalent.

In theory, regulators should look more favourably on the category, but this has not proven to be the case. In part, the industry needs to take a more proactive approach and engage with regulators and local stakeholders, where appropriate, before launching new products.

Nicotine pouches don't require consumers to buy often prohibitively expensive devices. Still, relatively high current production costs make it challenging to earn the returns needed to facilitate meaningful investment in many developing countries. Over time, this could be addressed by a combination of appropriate excise-tax regimes and reduced input costs.

In US high school students in the context of changing patterns of tobacco product use
Sarah E Jackson, Jamie Brown, Martin J Jarvi
Background and aim: There have been substantial recent changes in youth tobacco product use in the USA – including, notably, a rapid increase in use of e-cigarettes. It is not known whether, and if so how far, these changes are reflected in levels of nicotine dependence. This study used data from a large, nationally-representative sample of US adolescents to (i) estimate the annual prevalence of nicotine dependence in relation to current use of tobacco products, (ii) describe trends in dependence over time, and (iii) evaluate whether the increase in youth use of tobacco products has been paralleled by a similar increase in the population burden of nicotine dependence.
There is an Irish registered charity called the New Nicotine Alliance (NNA) that advocates on behalf of Irish people who vape. I am involved with this group. We receive no funding from any scourge whatsoever. I read with interest the article about the RCPI's Policy Group on Tobacco on the Irish Medical Times website ('Call to ban fruit, mint flavoured e-cigarette cartridges', published 12/10/20) and would make a couple of brief comments.

Firstly, the NNA has been calling for a ban on e-cigarettes to those under the age of 18 for the past three years and would obviously be happy to support this.
Is Just Blowing Smoke – Edward Longe
On September 20, 2019, Governor Andrew Cuomo of New York announced that his state would be the first in the country to ban flavored electronic cigarettes. In a statement announcing the new rules, Governor Cuomo stated "It is undeniable that vaping companies are deliberately using flavors like bubblegum, Captain Crunch and cotton candy to get young people hooked on e-cigarettes – it's a public health crisis and it ends today." Since New York passed its ban, Massachusetts, Rhode Island, New Jersey, California, 300 localities and the federal government have passed restrictions or outright bans on flavored electronic cigarettes, or vapes. Washington, Michigan, Connecticut, and Utah currently have flavor bans under review in the courts.
---
A look back at how things have moved on or otherwise….
Kevin Kunzmann, MD Mag
A combination of reduced-harm, non-cigarette nicotine products could provide a small improvement to a person's smoking cessation efforts, according to a new study.

A team of investigators from the University of Auckland's National Institute for Health Innovation found that combining nicotine patches with an electronic cigarette which includes nicotine could slightly improve a person's nicotine cigarette smoking cessation with no risk of serious, short-term harm.
Prof John Britton, Prof Peter Hajek, Dr. Lion Shahab

A study, published in the American Journal of Preventive Medicine, reports that use of e-cigarettes and traditional cigarettes increases risk of stroke.
---
Visit Nicotine Science & Policy for more News from around the World

---