Vapers Digest 11th January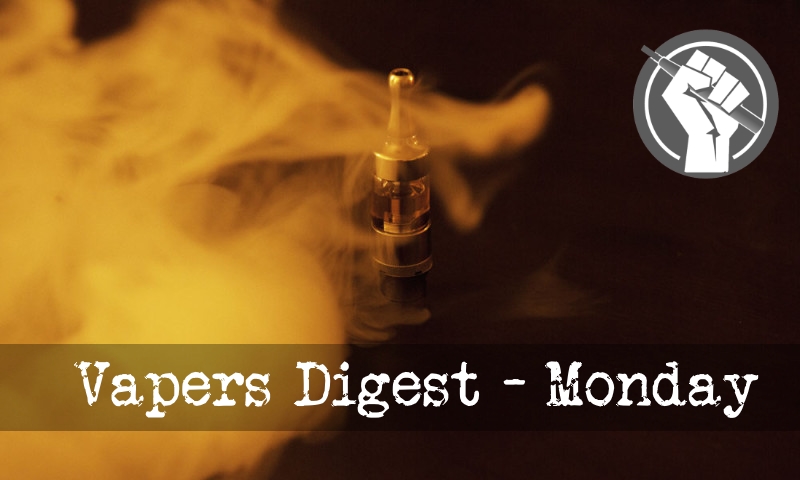 Monday's News at a glance:
NNA Success in Estonia – Vietnam Plans to Ban Sales of Vaping Products – Sneaky consultation backfires in the Netherlands – Vape Mail Ban Will Hurt Vulnerable Adults – #FlavorsSaveLives: An analysis of Twitter posts opposing flavored e-cigarette bans – Nicotine Science and Policy Daily Digest
Dave Cross, Planet of the Vapes
New Nicotine Alliance Smoke Free Estonia (NNA Suitsuvaba Eesti) commended Estonia's decision to suspend an excise duty on e-liquids and said that other countries need to follow the example and embrace the full gamut of less harmful alternative nicotine products.

NNA Suitsuvaba Eesti works to achieve a smoke-free Estonia, where people live healthy and happily, by reducing the health damage caused by tobacco smoke, and encourages mature discussion about vaping and alternative novel nicotine products.

The organisation said that the Estonian Parliament voted to suspend the collection of excise duty on e-liquids as it feared passing it would result in increased cross-border trade and promote a black-market.
Jim McDonald, Vaping 360
Vietnam will ban the sales, purchase, manufacture and importation of e-cigarettes and heated tobacco products, according to a story published last week in the state newspaper of Dong Nai Province. The country's Ministry of Health claims "studies have proven that electronic cigarettes and heated tobacco are as harmful as traditional cigarettes," according to the article.

According to a more recent story in Tuoi Tre News, the Vietnam Tobacco Control Fund (VNTCF) will develop the vaping regulations. The VNTCF is the government tobacco control agency, created by Vietnam's 2013 tobacco legislation and managed by the health ministry. Like the American FDA Center for Tobacco Products, the VNTCF is primarily funded by compulsory contributions from tobacco companies.
---

---
Netherlands
We have covered in the past (here) the irresponsible and dangerous fight against vaping that Dutch State Secretary for Public Health, Paul Blokhuis is waging. Just before the Christmas holidays we had a breaking announcement – after a long period of hush about the subject for months on end, a public consultation arrived, asking people about their opinion on the proposal to ban vape flavours in the Netherlands.

The bad timing of this, together with the very short consultation period, seems to be a deliberate attempt to silence the voices of thousands of vapers. In the Netherlands, a consultation lasts usually six weeks. This time vapers can only submit their opinion for four weeks, and two of those weeks coincidentally happen to be between Christmas and New Year. Well, thank you for this present, State Secretary!
---
: The Dutch government has proposed a flavour ban that would drastically restrict adult access to #vaping products. Let them know how important flavours are by submitting to the consultation. Closing date Tuesday 19th https://t.co/vsdCkpRmjM

— European Tobacco Harm Reduction Advocates (@europethra) January 11, 2021
"The Government should look at the facts and benefits of allowing snus sales back within the United Kingdom"

Petition: Legalise the Sale of oral snuff/Snus – Please sign and share https://t.co/q3qw0klymQ

— NNAlliance (@NNAlliance) January 8, 2021
---
Won't Prevent Online Sales to Youth – Michelle Minton
The COVID-19 pandemic has inflicted a brutal toll on businesses. But one industry that is not only surviving but thriving is the cigarette industry. This is in part due to government policies that made it harder to buy safer alternatives, like nicotine vapor products, forcing many adults who relied on them to revert back to cigarettes. Now, a measure slipped into the 2021 omnibus spending bill in Congress would reduce access to these life-saving options even after the pandemic ends.

Buried within the omnibus spending bill, signed by outgoing President Trump at the end of December, the "Preventing Online Sales of E-Cigarettes to Children Act." The Act, known as the "vape mail ban," prohibits the U.S. Postal Service (USPS) from delivering nicotine or cannabis vaping products.

An analysis of Twitter posts opposing flavored e-cigarette bans
Starting in 2019 policies restricting the availability of flavored e-cigarette products were proposed or implemented in the U.S. to curb vaping by youth. People took to Twitter to voice their opposition, referencing the phrase "Flavors Save Lives". This study documented the emerging themes pertaining to "Flavors Saves Lives" over a 12-month period.

The study period was from May 1, 2019 to May 1, 2020. A stratified sampling procedure supplied 2500 tweets for analysis. Posts were classified by one or more of the following themes: 1) Political Referendum; 2) Institutional Distrust; 3) Individual Rights; 4) Misinformation; 5) THC Vaping is the Real Problem; 6) Smoking Cessation; 7) Adult Use; and 8) Not a Bot. The temporal pattern of tweets over the year was examined.
---

---

---
A look back at how things have moved on or otherwise…
Robert Innes, Vaping Post
The American Heart Association (AHA), when discussing e cigarettes, warns that e cigarette use, "is a dangerous trend with real health risks", and that, "e cigarettes should not be promoted as a safe alternative to smoking."[1] Is this the case?

The AHA go on to list a number of, 'dangers' from e cigarette use. These include, under the sub-heading, "Many downsides. Few potential upsides," the claim that e cigarettes are not effective as smoking cessation tools. It also supplies a link to, 'proven methods to successfully quit smoking.' [2] I would not go there, it is just a glitzy version of the, '…is vaping safer than…' page; indeed, repetition is a hallmark of ignorance production.
Democrat hopefuls want total vape ban – Fergus Mason
Recent studies hint at links between vaping and both lung disease and depression – but, as usual, there are some serious caveats. One study admitted that it couldn't prove causality, while the other was published by an unqualified activist notorious for his hatred of vaping. Meanwhile New York City is pushing ahead with a total ban on flavours – a fate that US vapers narrowly escaped having imposed at the federal level last month.

A new study has found a link between vaping and clinical depression – but, like several studies that showed a link between vaping and heart attacks (all written by Stanton Glantz) it fails to identify which direction causality is pointing.
---
Visit Nicotine Science & Policy for more News from around the World

---