Vaping Digest 13th January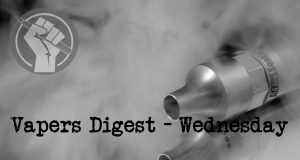 Wednesday's News at a glance:
WHO Doesn't Help You Quit Smoking ~ COMMENTARY: Pandemic, Nova Scotia policies have perverse effect on tobacco use ~ Concerns Over 18650 Batteries Aren't News to Vapers ~ Why the restrictions on e-cig in India won't curb the burden of smoking-related illness in the country ~ New data shows UK's vape 'friendliest' cities ~ Electronic Cigarettes (Regulation) Bill 2019-21 ~ Flavour Research Leaves A Bad Taste ~ Vape Business Collapse Predicted ~ Gut Reactions ~ The Best Ways To Quit ~ The Smoker's Show! – S03E05 – Guest Gregory Conley ~ Nicotine Naysayers – Could Nicotine Restrictions Do More Harm Than Good? ~ Monday 20 – Aaron Biebert
, Business World
New Year resolutions always include commitments to quit smoking. Most people fail not for want of trying but for want of options that can help them. Our interventions to date are not good enough. Will the World Health Organization's (WHO) campaign to help 100 million people quit tobacco (WHO News Release Dec 8, 2020) make a difference? Is the WHO willing to embrace new methods and emerging scientific data to course correct and in the process save millions of lives
Anne Kothawala, Mike Hammoud, The Chronicle Herald

As we enter a new year, the Atlantic Convenience Stores Association (ACSA) and the Convenience Industry Council of Canada (CICC) urge the Nova Scotia government to reconsider policies related to tobacco taxation and vaping legislation, which will help smokers with their new year's resolutions.

It appears that the current policies are, in fact, having the unintended consequence of increased cigarette sales and consumption
---
Jim McDonald, Vaping 360
A federal agency has warned vapers and other consumers to not buy or use individual 18650 lithium ion batteries, which they say pose unique safety hazards. While well-intentioned, the warning is overly broad, and draws some incorrect conclusions, at least for vapers.
---

---
Samrat Chowdhery, Catania Conversation
Mr. Chowdhery, in October 2019 New Dehli banned all e-cigarettes over fears about youth vaping, saying the devices posed a health risk. One year later, did the government meet its goal of curb smoking habits among youngsters?

Though no prevalence data is available post the ban in late 2019, there is no indication of any major reduction in either smoking or vaping among the underage. The ban itself has been wholly ineffective as there was a weak mechanism to enforce it. The police have been charged with implementation, but no major arrests or seizures of e-cigarettes or e-liquids have been made since the ban. This could be because nicotine is freely available in many forms, from cigarettes to smokeless tobacco products, and singling out one variant for punitive action is practically unenforceable and difficult to justify as a top priority when the police force is already overburdened.
---
Vape Business
The data shows that between January and October, UK vapers spent £7 million on products, with 3 million adults now vaping regularly. Alongside London, Birmingham and Glasgow residents were among the biggest spenders on vape. Brighton meanwhile is the city most "unbothered" by people vaping nearby (43 percent).

The findings are based on a survey of 2,000 UK adults.
---
Ridiculous. @Twitter, why is @MarewaGlover 's account suspended? @jack https://t.co/1QTJSxVPS9

— Mridul (@vaperoski) January 13, 2021
---
FIVE from Dave Cross, Planet Of The Vapes
The Electronic Cigarettes (Regulation) Bill 2019-21 is to be presented to the House for its second reading on Friday 15th January. The Bill was sponsored by Sir Christopher Chope and supported by Peter Bone MP and Philip Davies MP. It marks the first step of changing vape regulations following the United Kingdom leaving Europe.
A team from University of California San Diego and the University of Adelaide are worried about "multiple chemicals" used to create eliquid flavours and their work ignores the reduced harm exposure by stopping smoking. A second paper from the University of South Florida used petri dishes and mice to say flavours "have a potential for cardiac harm".
Dutch State Secretary for Health Paul Blokhuis has introduced measures that consumer group Esigbond says will herald death for many vape businesses. Grasping at debunked straws, Blokhuis justifies his flavour ban on the back of misplaced EVALI and child epidemic fears. The move signifies a direction of travel for the next iteration of the Tobacco Products Directive.
Researchers at University of California San Diego need to speak to experienced vapers about subohming because taking their guidance from other ignorant self-appointed experts isn't working out for them. Having poisoned more mice, the team have decided that vaping impacts the colon. Is this how they think vape devices are used?
Dr Jamie Hartmann-Boyce, managing editor of Cochrane Tobacco Addiction Group and senior research fellow of the University of Oxford, will be discussing the science behind the most common and most successful ways of quitting smoking for good.

---
Dimitris Agrafiotis,

Phil Busardo, The Smoker's Show
---
Brent Stafford, RegWatch
The Canadian federal government announced late last year that it's moving to restrict nicotine levels in vaping products that are manufactured, imported, or packaged for sale in Canada.
Nick Orlando, James Jarvis, Aaron Biebert, Monday 20
Join us Monday morning at 10am as we have special guest Aaron Biebert to discuss his latest film You Don't Know Nicotine.
---
Of the War on Smoking – Jacob Sullum
When Clara Gouin started running the Group Against Smokers' Pollution (GASP) out of her College Park, Maryland, living room in 1971, she was rebelling against social norms she deemed oppressive. "Gouin was a housewife and the mother of two daughters, the youngest of whom had an allergy to smoke," University of Virginia historian Sarah Milov writes in The Cigarette: A Political History. "The child's reaction to cigarettes was so severe that it prevented the family from going out to eat. Even worse than being restricted in public was the expectation that nonsmokers had to accommodate smoking guests in their own homes. Ashtrays in the homes of nonsmokers were monuments to smokers' supremacy…
Of the US outbreak of lung diseases in vapers by public health authorities and the media
Coral Gartner, Billie Bonevski, Wayne Hall
Nicotine vaping has become a popular alternative to tobacco cigarette smoking worldwide. In the USA, where vaping nicotine e‐liquid is legal for people aged over 18 years in all states, around 6.9 million adults vape nicotine 1. Cannabis or tetrahydrocannabinol (THC) oil vaping is also popular but less common and its legal status depends on the state, the concentration of THC and the type of hemp used to manufacture the oil. Penalties for THC vaping vary state by state
---
Visit Nicotine Science & Policy for more News from around the World

---