Vapers Digest 15th January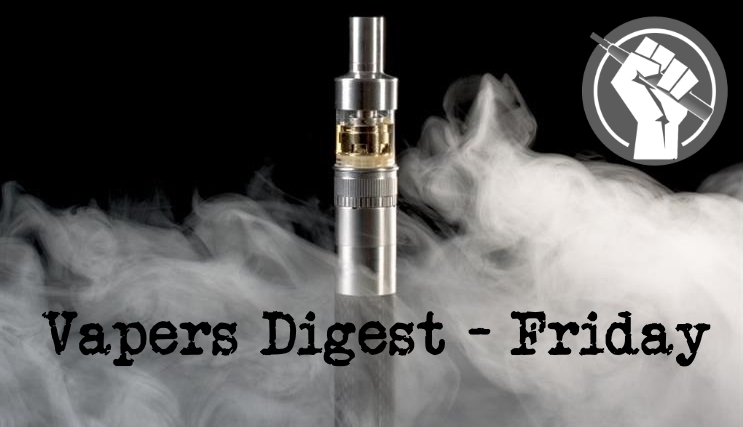 Friday's News at a glance:
Urgent Call to Action for Flavour ban – E-Cigarettes flavours ban in the Netherlands endangers Public Health – Dutch Urged to Ditch Planned Flavor Ban – High School Vaping: There's Good News & Bad in the 2020 NYTS Data – Biden Picks FDA Veteran Janet Woodcock as Acting Commissioner – Man Still Seeks Oxygen of Publicity – Does Vaping Regularly Cause "Leaky Gut Syndrome"? – Text messages to support e-cigarette use for smoking cessation – New Year, New Regulations – Empowering consumers to control pandemics – Vaping Flavor Chemicals In Huge Quantities Can Damage Heart Cells In A Dish, But Where Is The Human Relevance? – Tobacco harm reduction research plagued by 'zombie' theories – Nicotine Science and Policy Daily Digest
ETHRA
The Dutch Minister for Health is proposing to ban all e liquid flavours (except for tobacco flavour).

There is a consultation open until 19 January so please give your views. It is an easy consultation to do – you only have to answer this one question:

"What do you think of the draft regulations?"

You can either type your answer into the text box or upload a document.
After putting your details in you will be presented with some settings, including whether to make your response public. Please make your response public if you wish it to be included on the consultation webpage.

After submitting your response you will receive an email and you will need to click on the hyperlink in there to confirm your submission.

The Overheid.nl website is only available in Dutch so please use Google translate or similar to translate the page into your language. Here it is in English:
Endangers Public Health – Independent European Vape Alliance
Around 65 percent of adult vapers in Europe use fruit or sweet liquids. [1] The variety of flavours is one of the most important reasons for smokers to switch to e-cigarettes and for vapers not to go back to smoking.

Without paying attention to this fact, the Dutch State Secretary Paul Blokhuis has announced to ban all e-cigarette flavours except tobacco flavours in the Netherlands, as they are supposedly particularly attractive to young people.

This measure risks very negative consequences for Public Health and tobacco harm reduction: With only tobacco flavours left vaper's threshold to relapse on tobacco smoking dangerously lowers. A public consultation on the plan will run until January 19, 2021.
Tobacco Reporter
A recently proposed ban on vaping flavors in the Netherlands will endanger public health, according to the Independent European Vape Alliance (IEVA).

Around 65 percent of adult vapers in Europe use fruit or sweet liquids. According to the IEVA, the variety of flavors is one of the most important reasons for smokers to switch to e-cigarettes and for vapers not to go back to smoking.

Ignoring this fact, the Dutch State Secretary Paul Blokhuis announced a ban on all e-cigarette flavours except tobacco flavors in the Netherlands, to discourage youth smoking.
---

---
There's Good News & Bad in the 2020 NYTS Data – Brad Rodu
Data from the 2020 National Youth Tobacco Survey (NYTS) (charted at the left) confirms the CDC finding that "19.6% of high school students (3.02 million) … reported current (past 30 day) e-cigarette use." (here).  This is a reduction in high school vaping from peak prevalence of 26.3% (or 4.1 million) in 2019.  The survey also indicates that high school cigarette smoking declined to 4.6%.  That's good news, but there's also some bad in the following table.

The table documents that there was a 40% increase in underage "virgin" (i.e., not using any other tobacco products) high school vapers, from 1.15 million in 2019, to 1.61 million in 2020.  There was also a three-fold increase in frequent underage high school vapers – those who vaped for 20 or more days in the past month – from 171,500 to 486,500.
---
---
As Acting Commissioner – Jim McDonald
The incoming Biden administration will put veteran FDA administrator Janet Woodcock in charge of the agency on an acting basis, until a permanent choice can go through the confirmation process. Sources say Woodcock is also a finalist for permanent leadership of the FDA.

Woodcock's positions on vaping and FDA regulation of e-cigarettes, if she has any, are unknown. But as a longtime FDA leader, she may be less inclined to wade into pointless political controversies and more likely to allow the agency's Center for Tobacco Products to do its work without micromanagement.

Two from Dave Cross, Planet of the Vapes
Public conversation about the viral pandemic has recently been rivalled by a debate over the role of social media in modern society. What better time for a trio of researchers to drop their study about vapers on Twitter discussing the evidence surrounding vaping and developing severe Covid-19 symptoms.

The study is published by JMIR Public Health and Surveillance journal, which describes itself as: "A multidisciplinary journal that focuses on public health and technology, public health informatics, mass media campaigns, surveillance, participatory epidemiology, and innovation in public health practice and research".
In 2015, Texan Tommy Lowrance claims he tried vaping once. The professor at McLennan Community College says he is the only person in existence to contract 'popcorn lung' and resulted in a "near death" experience. No doctor has been able to confirm Tommy's self-diagnosis but that hasn't stopped him from speaking to the press and urging others never to vape.

In September 2017, Tommy told his local television station that vaping had caused "a serious lung condition". He told them he, "developed a condition called 'popcorn lung' after starting to vape for a short period of time in order to help quit cigarettes. Now, most likely as a result of the chemicals found in those e-cigarettes, he has to use an oxygen machine to function. And, his lungs are in worse condition than people who suffer from some of the most severe lung diseases."
---

---
Lee Anderson Conservative, Ashfield
To ask the Secretary of State for Health and Social Care, what assessment he has made of the health benefits of ensuring that smokers have (a) information about and (b) access to a wide range of reduced risk smoking-related products; and whether the Government's next Tobacco control Plan plans to take steps to ensure that such (i) information and (b) access is more readily available.
Cause "Leaky Gut Syndrome"? – Diane Caruana
The study titled, "E-cigarettes compromise the gut barrier and trigger inflammation," was led by Soumita Das, PhD, an associate professor of pathology, and Pradipta Ghosh, MD, professor of cellular and molecular medicine at UC San Diego School of Medicine and Moores Cancer Center, at UC San Diego School of Medicine.

By generating 3D models of human intestinal tracts from patient cells, and testing how vapour interacts with them in a lab environment, the research team concluded that chronic (not acute) exposure to nicotine-free e-cigarettes led to "Leaky Gut" Syndrome. The condition is know to contribute to a variety of diseases and conditions, including inflammatory bowel disease, dementia, certain cancers, atherosclerosis, liver fibrosis, diabetes and arthritis.

For smoking cessation: a tool for researchers
Sharon Cox, Felix Naughton, Catherine Kimber, Vassilis Sideropoulos, Eleni Vangeli, Caitlin Notley, Jamie Brown, Daniel Frings, Lynne Dawkins
E-cigarettes are now the most popular quit aid chosen by smokers in England. Mobile phone text messages have been shown to be a useful tool in facilitating smoking cessation attempts by providing behaviour change support. To date, no published examples of text messages exist specifically aimed at smokers attempting to quit with e-cigarettes (vaping). As part of a parent study, we led an online call to vapers asking what advice and information they would give, in the form of a text message, to smokers wishing to quit smoking by vaping. We received 102 initial suggestions.
And Big Government's Attempts to Block Tobacco Harm Reduction
Lindsey Stroud Inside Sources
A new year and new resolutions. In 2021, many Americans will attempt to lose the weight gained after weeks – and months – of stay-at-home orders. Some may have been inclined to reduce their Zoom time, but for many smokers the beginning of a new year marks a resolution to quit smoking.

This particular resolution is difficult. A 2016 study from the UK's Royal Society for Public Health (RSPH) reported that "quitting smoking is the most difficult resolution to keep," and that among Brits who reported making a resolution to quit smoking, "41% kept this for a month, [and] 13% [stuck] with it after a year." A study from the University of Scranton found "only 8 percent of people who make resolutions [to quit smoking] meet their goal."
David T. Sweanor
The Covid-19 pandemic has focused global attention on the need for rational measures to reduce risks, effectively treat those afflicted and develop vaccines. This is entirely consistent with longstanding public health goals of reducing risks wherever they are found, and the importance of empowering people to improve their health.

Yet at the same time another pandemic, one claiming over 20,000 deaths a day globally, rages on despite being something that can be easily addressed through effective public health policy. The cause is the use of toxic tobacco products as a way of obtaining nicotine, and India is well positioned to be a world leader in addressing it.
Can Damage Heart Cells In A Dish, But Where Is The Human Relevance?
A new paper claims that people vaping instead of smoking are putting their hearts at risk but their study does not show that. Instead, they mixed chemicals in Petri dishes with heart cells and used mice. Both of those are fine exploratory experiments but they are scientifically invalid to make the conclusions the authors make in their press release.

At a time when distrust of journalism and science has increased due to increased efforts at politicization of, well, everything, it is important that the public be shown the difference between clinically relevant work and papers that claim relevance while being nothing of the kind. Mice are not little people. No drug can get into the approval cycle at the US Food and Drug Administration if it only studied them or cells in dishes.
Plagued by 'zombie' theories
AN expert on tobacco dependence and treatment from the New York University's (NYU) School of Global Public Health has voiced concern over "zombie theories" which plague tobacco harm reduction (THR) research.

In his presentation at the Virtual E-Cigarette Summit 2020, Dr. Raymond Niaura, a professor of Social and Behavioral Sciences at NYU, said the scientific agenda on THR research was being driven by interest groups rather than scientists.

As such, he said, the agenda comprised "zombie theories", which "cannot be killed by evidence and refuse to die".
---
A look back at how things have moved on or otherwise….
Brent Stafford, Regulator Watch
Dr. Polosa is an expert in lung disease and over numerous studies, his research provides clinical evidence supporting the health benefits of vaping; not only to reduce harm but in some cases, even reverse the harm caused by smoking.

What does he think about the CDC sponsored smear campaign that falsely implicated nicotine vaping as a cause of the deadly lung-illness? What does science say about the relative harms (and benefits) of vaping on the lung? And, is the damage done to vaping's reputation permanent?
Editorial Board, Pharmacy Business
E-cigarette starter packs should be made available to smokers for free to encourage them to quit, a joint report by two leading anti-tobacco groups has said.

Many Ways Forward: stop smoking services and tobacco control work in English local authorities was co-authored by Action on Smoking and Health (ASH) and Cancer Research UK (CRUK). It recommends: "Local authorities which do not currently provide e-cigarette starter packs as part of their cessation offer should consider doing so to give local smokers the best possible chance to quit".
Clive Bates, Tobacco Reporter
For those of us who support the public health strategy of tobacco harm reduction, it has been a tough few months. Several crises emerged suddenly and the boundaries between them have become blurred: an outbreak of severe lung injuries and deaths, a sharp rise in youth vaping in the United States and the claim that e-liquid flavors are the problem and should be banned.
---
Visit Nicotine Science & Policy for more News from around the World

---