Vapers Digest 18th January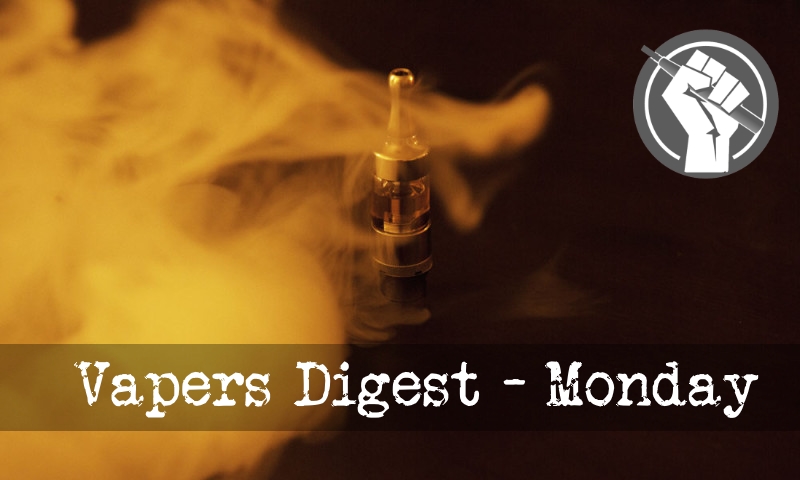 Monday's News at a glance:
Netherlands: Flavor Ban Comment Deadline is Jan. 19th – Harry's blog 109: The myth of the vaping controversy – Canadian Vaping Association will challenge any vape regulation that prevents access to harm reduction – Can vaping reduce inequality? – Top UK Vape Cities – US Teens Not Dependent On Ecigs – IBVTA Establishes Alternative Link For Payments – FDA Launches PMTA Enforcement with Warning Letters – Vaping Reduces Inflammatory Biomarkers – Electronic cigarettes as a smoking cessation aid for patients with cancer: beliefs and behaviours of clinicians in the UK – Massachusetts Tobacco Flavor Ban Simply Shifted Markets – The need for an ontology of consensus scientific terms in e‐cigarette research – 2021 Key To Getting Smokefree NZ Back On Track – Nicotine Science and Policy Daily Digest
Comment Deadline is Jan. 19th – Jim McDonald
The Netherlands is planning to ban all vape products in flavors other than tobacco, a policy long urged by State Secretary for Public Health Paul Blokhuis. The proposed law, which modifies the country's Tobacco and Tobacco Products Decree, bans flavors in all e-liquid—even e-juice that contains no nicotine.

A public consultation, which launched just before Christmas and is open until Jan. 19, is the final hope for Dutch vapers. European vaping consumer and trade organizations are urging all European vapers and vape businesses to take advantage of the opportunity to make public comments. According to Dutch trade group Esigbond, about 600 comments have been received so far.

The European Tobacco Harm Reduction Advocates (ETHRA) call to action (link) explains how to find and navigate the consultation form.
Harry's blog 109:
We are now used to hearing experts of all disciplines, from virologists to behavioural psychologists, interviewed in the media about COVID-19. There is general agreement on personal safety measures like social distancing and hand-washing. But even at this basic level, questions arise. As it becomes clear that the virus can be carried in airborne droplets, should the recommended distance in the UK remain at 2 metres rather than I metre plus or even 3 metres?

Beyond that, is mask wearing an effective barrier? If so, what kind and where should they be worn? Do you render the vaccine less effective by extending the time between each dose? How long is the vaccine effective? Can you contract the virus more than once? How strong is the evidence that the new variant is 70% more transmissible?
---

---
Will challenge any vape regulation that prevents access to harm reduction
The past year has been challenging for the vape industry, with the federal government and many provincial governments creating additional policy to regulate the industry. The Canadian Vaping Association (CVA) has been a consistent advocate for strong youth protection measures that balance youth prevention with adult access to harm reduction products. Provinces such as Ontario and British Columbia have taken adult harm reduction into consideration and implemented equitable policy. Yet, provinces such as Nova Scotia and Prince Edward Island have failed to follow the science and instead have jeopardized the health of thousands of smokers.

The Canadian Constitution Foundation found that banning flavoured vape products or restricting nicotine content "may violate s. 7 of the Canadian Charter of Rights and Freedoms, which safeguards the right to life, liberty and the security of the person, because the nicotine ceiling and flavour restriction may potentially make vaping products a less attractive or effective quit-aid for smokers."
---
Never ceases to amaze me how it's "save the innocent children facing a lifetime of addiction," yet once they turn into adults, they're considered weak and subhuman, not worthy of sympathy. Or (apparently) medical treatments. https://t.co/2h28kAYl4D

— Kristin Noll-Marsh (@Noll_Marsh) January 15, 2021
How to not help smokers quit 🚬🚭

"Many clinicians providing cancer care to pts who smoke do NOT recommend e-cigarettes as a smoking cessation aid & were unaware of NATIONAL GUIDANCE SUPPORTING (…) #eCigs as a smoking cessation aid."#InformedDecision https://t.co/fBDP6mwEjV

— Dr. Alexander K. Nussbaum (@NussbaumDr) January 18, 2021
---
Mark Oates
Covid-19 has affected different groups in different ways and thrust the issue of health inequality into public debate. Whilst people are mistakenly concerned with inequality itself, there are good reasons to make it as easy as possible for those with worse health outcomes to lead healthier lives by expanding choice. This doesn't have to come from top down state control or regulation, which is often unsuccessful, but can be driven by invention and the market.

In England those in the least deprived parts live, on average, 19 more years in good health than people in the most deprived areas. Some would jump for the easiest explanation, perhaps discrimination.

Three from Dave Cross, Planet of the Vapes
New survey data and sales insights from Vype uncovers the cities around the UK which have taken to the vaping culture the most. Its analysis highlights the places where most people vape at home or feel the least judged, what flavours are the most popular, and where the purchasers are.

UK adults spent close to £7million pounds on vape products between January and October of 2020. With nearly 3 million adults now vaping, Vype was curious to find out which UK cities had embraced vaping the most. The company took a comprehensive look into the vape industry both on and offline, delving into which of the UK's cities were the biggest buyers of their products, and where is home to the most physical vape shops in the UK.
"Vaping could nearly triple the chance of smoking in teens", says a group from Ohio State University. Their false fears over a non-existent epidemic, addiction, and a gateway to smoking has been quashed by work by Jackson, Brown, and Jarvis at University College London (UCL).

The clever folks at Ohio State identified two groups of young people "who were equally likely to start vaping based on a number of factors". Those factors included "alcohol use, marijuana use, impulsivity and their parents' education levels and tobacco history."
The Independent British Vape Trade Association (IBVTA) trade organisation has established a partnership with WorldNet Payments for its members. The move comes as PayPal continues to close the accounts of online vendors and businesses are rapidly arranging alternative secure payment methods.

In November, Planet of the Vapes warned [link] business owners of the many companies which reported experiencing issues with their PayPal accounts. Companies were having their accounts frozen with no reason given and the balances locked for up to 180 days.
---

---
Jim McDonald, Vaping 360
The FDA Center for Tobacco Products has begun enforcing against e-liquid manufacturers selling products without having first submitted Premarket Tobacco Applications (PMTAs). The agency sent 10 warning letters to small e-liquid manufacturers on Jan. 15, and issued a press release trumpeting the action.

No product is allowed to remain on the market if a PMTA was not submitted by Sept. 9, 2020, and only products that were on the market before Aug. 8, 2016 are allowed to be sold (if a PMTA has been submitted) without having FDA marketing approval first. The FDA has still not approved a PMTA for any e-liquid-based vaping product.
U.S. Vape Industry In 2021 | RegWatch
LIVE (With Dr Hartmann-Boyce)
Chuck Dinerstein
Remember vaping? Remember, before COVID-19 took all the oxygen out of the room when vaping was a big fear. A new study shows what we have claimed all along is true; vaping reduces inflammatory biomarkers associated with smoking tobacco.

Inhaling combustion products is always a bad idea. Ask a firefighter. So before jumping into this new study, let me be clear: vaping is a gateway to better health for those smoking cigarettes – it is harm reduction, not necessarily elimination.

For patients with cancer: beliefs and behaviours of clinicians in the UK
Jo Brett, Emma L Davies, Fiona Matley, Paul Aveyard, Mary Wells, David Foxcroft, Brian Nicholson, Shiroma De Silva Minor, Lesley Sinclair, Sarah Jakes, Eila Watson
Objectives: To explore UK clinicians' beliefs and behaviours around recommending e-cigarettes as a smoking cessation aid for patients with cancer.

Design: Cross-sectional online survey.

Setting: England, Wales, Scotland and Northern Ireland.

Participants: Clinicians involved in the care of patients with cancer.

Primary and secondary outcomes: Behavioural Change Wheel capability, opportunity and motivation to perform a behaviour, knowledge, beliefs, current practice around e-cigarettes and other smoking cessation practices.
Simply Shifted Markets – Elizabeth Wright
On November 27, 2019, Massachusetts became the first state to permanently ban the sale of all flavored tobacco products.  This includes mint and menthol cigarettes, flavored electronic cigarettes (vaping and heat-not-burn), and smokeless tobacco.  The law also includes a 75 percent excise tax on e-cigarettes.  The stated purpose is to stop an epidemic of youth vaping and prevent teenagers from beginning a lifetime of addiction.

In 2020, Maryland attempted to implement a similar ban and faced strong opposition, particularly from vapers.  It is expected the Maryland legislature will introduce legislation again this year and other states are considering doing so as well.
The need for an ontology of consensus scientific terms in e‐cigarette research
Sharon Cox, Caitlin Notley
Hall et al. [1] provide a detailed account of the US public health response to the e‐cigarette or vaping associated lung injury (EVALI) cases, including how a spurious association with the concurrent increases in youth e‐cigarette use in the United States meant that e‐cigarettes were considered the primary cause of the injuries. Although the US Centre for Disease Control (CDC [2]) has correctly identified illicit tetrahydrocannabinol (THC) vaping as the cause of the injury, research reports are still being published which implicate e‐cigarettes. Given the widespread prevalence of nicotine vaping with e‐cigarettes and the geographically focused outbreak of the injuries, it is surprising that so many researchers published reports making such claims.
Aotearoa Vapers Community Advocacy
2021 is shaping up to be the most critical year to achieving a smokefree country. However, it will take a lot of determination to deliver on a national ambition that's already 10 years old, says a leading New Zealand tobacco harm reduction advocate.

"Smokefree 2025 is sadly unlikely to be achieved, but all is not lost. The Government's draft smokefree action plan will be released for public consultation in the coming months and it's a priority workstream for new Associate Health Minster Dr Ayesha Verrall," says Nancy Loucas, co-director of Aotearoa Vapers Community Advocacy (AVCA).
---
A look back at how things have moved on or otherwise…
Not "Vaping," Caused Outbreak – Michelle Minton
A new report from the U.S. Centers for Disease Control and Prevention (CDC) puts the final nail in the coffin of the idea that the spate of lung injuries that occurred beginning last summer were caused by "vaping." The CDC admitted this week that the injuries appear to be exclusively linked to marijuana vapes—not nicotine e-cigarettes, most of which were purchased on the black market, a fact that CEI knew nearly six months ago.

According to the latest CDC findings, only one in six of the patients with the vaping-related lung injuries reported purchasing THC vapes from commercial sources. Some news outlets have interpreted this to mean that approximately 16 percent of the cases involved legally purchased cannabis vapes. But, as Jacob Sullum at Reason points out, this is incorrect.
Tale of Two State Health Departments – Brad Rodu
"The Michigan Department of Health and Human Services (MDHHS) [announced] the third death associated with the outbreak of vaping-related lung injuries in the state" on January 10. Dr. Joneigh Khaldun, MDHHS Chief Medical Executive and Chief Deputy for Health, said "We extend our deepest condolences to the family. I urge people not to use THC-containing e-cigarettes or vaping products until the specific cause of these vaping-related severe lung injuries being reported nationwide has been identified."

MDHHS recommendations start with the following: "People should not use THC-containing e-cigarette or vaping products, particularly from informal sources such as friends, family or in-person or online sellers."
---
Visit Nicotine Science & Policy for more News from around the World

---