Vapers Digest 20th January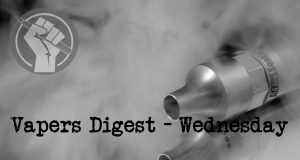 Wednesday's News at a glance:
CAC gives vapers a voice in a report about the benefits of vaping devices ~ Smoking, Vaping, and Tobacco Industry During COVID-19 Pandemic: Twitter Data Analysis ~ Biden Has a Duty to Nicotine Users ~ Tobacco Tally ~ AVCA Believes 2021 Is Key ~ Organisations Call Out Google ~ Leaving No Smoker Behind ~ Urgent Calls to Action: Kansas, Maryland, North Dakota ~ Bloomberg donation to Philippines FDA may have violated US laws, say experts
Consumers' Association of Canada
Vapers who have quit smoking and tobacco harm reduction experts are concerned with the harmful consequences of proposed ban on flavoured vaping products, most immediately in Quebec but increasingly in other provinces as well. Consistent with its belief in defending the rights of all adult consumers to access their preferred products, the Consumers' Association of Canada gives vapers a chance to speak in a new video report that sheds light on the benefits of vaping for ex-smokers who want to quit smoking for good.
Mikołaj Kamiński, Agnieszka Muth
Paweł Bogdański,
The reports suggesting a beneficial effect of nicotine on coronavirus disease 2019 (COVID-19) severity may encourage smoking. We aimed to analyze tweets on COVID-19 and smoking coming from casual Twitter users and Twitter accounts representing the tobacco industry. We collected tweets on COVID-19 and smoking from January 1 to May 1, 2020, using Twitter application programming interface. We analyzed sentiment, likes, or retweet to followers ratios, and the posts coming from the casual users to find pieces of news that could affect the discourse. Tweets coming from industry were analyzed manually. We analyzed n = 33,890 tweets on COVID-19 and smoking. The sentiment of tweets was negative, hitting a nadir in mid-March, but became less negative in April when preprints suggesting benefits from smoking on COVID-19 were released.
---
Michael McGrady, Inside Sources
The coming presidency of Joe Biden is a new chapter in American history, hopefully closing a divisive chapter of hate among fellow citizens and a lack of basic human decency in the Oval Office. That means new regulations, new executive orders, and President-elect Biden's highly anticipated legislative priorities for domestic policy. Since the world has faced the scourge of the deadly COVID-19 pandemic, one of the main issues for voters is the protection of the public's health during turbulent times.
---

---
After evaluating all statewide #Tobacco21 laws, we have found that many states lack proper enforcement. A comprehensive Tobacco Retail License can help protect kids from the harms of tobacco and nicotine addiction. #LicenseToProtecthttps://t.co/2mqXCsf3K9

— Tobacco21 (@Tobacco21) January 13, 2021
---
I'm putting out the invitation again to "public health warriors" to sit and chat over a cup of coffee and talk about solutions. Threatening adult access to reduced harm products to reduce youth use will hurt adult quit attempts. #tobaccoharmreduction #vaping pic.twitter.com/6iw4NbLoMD

— #sonoflibertyradio (@nachtnoir) January 14, 2021
---
This time last year, convenience store owners and operators were dealt a double whammy: First they had to adapt to the recently passed federal minimum tobacco purchase age of 21; then they had to pull product in accordance with the Food and Drug Administration's (FDA) ban on most flavored electronic nicotine delivery systems (ENDS). Next, the coronavirus swept the country, and no one knew how the category would fare during lockdowns.
---
Three from Dave Cross, Planet Of The Vapes
2021 is shaping up to be the most critical year to achieving a smokefree country. However, it will take a lot of determination to deliver on a national ambition that's already 10 years old, says New Zealand's Aotearoa Vapers Community Advocacy (AVCA).
35 organisations representing millions of vapers around the world urged Google to not ban vaping related apps from Google Play and to ensure that adults can keep rely on facts when trying to quit cigarettes. The message comes in response to a request from Tobacco Free Kids to ban all vaping related apps on Google Play.
The Leaving No Smoker Behind event took place on Tuesday and was for anyone interested in finding solutions to smoking-related death and disease in adults presenting with substance use, mental illness and homelessness. It was chaired by Martin Dockrell, Tobacco Control Lead for Public Health England and featured presentations from Professor Lynne Dawkins, Dr Allison Ford, Dr Deborah Robson, and Louise Ross.

---
Jim McDonald, Vaping 360
Three newly proposed anti-vaping laws need action by vapers and vaping businesses in Kansas, Maryland and North Dakota. It is much easier to stop a bill early in the process—by showing strong opposition while it is still being studied and heard in a committee—than waiting until it is voted on by the whole body of a legislature, when opinions are usually already formed.

Most readers in North Dakota will not see this article until after the Jan. 19 morning committee hearing. However, messages to the state senate opposing restrictions on vaping can never hurt, even if the bill has been approved by the committee or does not pass.
---
Manila Standard
International public health policy experts called for a deeper investigation on the receipt of funds by the Philippines Food and Drug Administration from the anti-tobacco Bloomberg foundation to determine whether it violated both Philippine and United States laws.

Dr. Joel Nitzkin, a US physician who was cross-trained in public administration, cited the need to shed light on the filing of a resolution by two Filipino congressmen last month calling for a congressional probe on the Philippines FDA's acceptance of foreign funding from Bloomberg in possible breach of the 1987 Constitution and several laws.
---
Than smoking – debunking a feeble and empty critique
Clive Bates, The Counterfactual
This paper turned up in my weekly search of PubMed.

Invalidity of an Oft-Cited Estimate of the Relative Harms of Electronic Cigarettes.
Eissenberg T, Bhatnagar A, Chapman S, Jordt SE, Shihadeh A, Soule EK.
Am J Public Health. 2020 Feb;110(2):161-162. doi: 10.2105/AJPH.2019.305424.

The commentary claims to show the "invalidity" of the statements made by Public Health England (PHE) and the Royal College of Physicians (RCP) regarding the relative risk of vaping and smoking – in short that vaping is likely to be at least 95% lower risk than smoking.  As this is an important harm-reduction risk communication, it is worth asking: how valid is this critique?

I thought this might be a better critique than it actually is. But somewhat to my surprise, it is very poor indeed.
Christopher Snowdon, Velvet Glove Iron Fist
It took five months, but the US Centers for Disease Control has finally faced reality:

CDC no longer recommending people avoid all e-cigarettes, focuses on THC-containing products

The U.S. Centers for Disease Control and Prevention removed verbiage from its website this week suggesting that people refrain from all vaping products during its investigation into vaping-related lung injury.

The CDC previously urged people to consider refraining from the use of all e-cigarette or vaping products. Now the agency is focusing on THC-containing products.

This, and the role of Vitamin E acetate in the epidemic, was obvious a very long time ago to anyone who was paying attention. Donald Trump reportedly regrets getting involved…
---
Visit Nicotine Science & Policy for more News from around the World

---