Vapers Digest 22nd January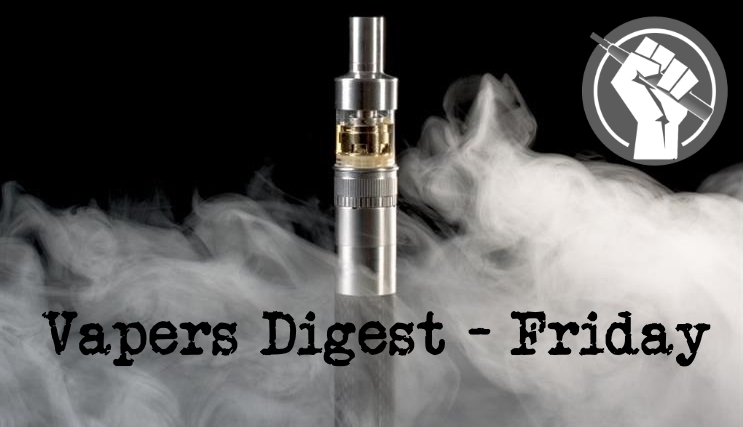 Friday's News at a glance:
How We Vape is trying to save vaping – Final PMTA Rule Offers No Help for Small Vape Industry – A new year's resolution for Australia – INNCO Submits Comments to World Health Organization – Accident In The News – The FDA Issues Threat Letters – Farsalinos, COVID-19 and Vaping – IEVA Slams Dutch Ban – 98% against Dutch Ban – Ottawa Model Conference Release – Calls for click-and-collect reprieve in Scotland – Use of E-cigarettes Among Youth in the United States Declines – Tobacco Litigation, E-Cigarettes, and the Cigarette Endgame – Nicotine Science and Policy Daily Digest
James Dunworth, Ashtray Blog
During 12 years in this industry, I have seen numerous attempts to derail and destroy vaping. These attempts have often had some success.

Today, in many countries, vapers face restrictions, flavour bans and even criminal prosecution. Some vapers have been fined or sent to prison for daring to use e-cigarettes to try and stop smoking and save their lives. Even in the UK, nicotine levels and tank sizes are limited and the 10ml limit on e-liquid bottles creates both pointless expense and needless plastic waste.

The battle goes on, and the next major attack on vaping is likely to happen at the WHO Conference of the Parties (COP) on tobacco later this year.
For Small Vape Industry – Jim McDonald
Nearly five years after the FDA Center for Tobacco Products published the Deeming Rule in May 2016, the FDA has issued the final Premarket Tobacco Application (PMTA) rule. A PMTA—intended to prove to the FDA that a product is "appropriate for the protection of public health"—must be submitted to receive marketing approval from the agency for vaping products (and other tobacco products).

Nothing in the final rule will provide any relief to the small e-liquid manufacturers that have been the pioneers and standard-bearers of the American vaping industry. The difficult and expensive PMTA process has not changed in the final rule, and the cost and complexity of the requirements will drive many independent manufacturers out of business.
---

---
ATHRA
Quitting cigarettes is one of the most popular resolutions for the new year. But an overwhelming majority of Australia's 3 million smokers will still be smoking by year's end without the aid of less harmful smoke-free alternatives.

Significant strides were made in 2020, which saw Australia take positive steps toward the legalisation of vaping. In July, a massive outcry put an end to a hastily proposed nicotine import ban. Mounting focus on the issue subsequently saw the formation of a Senate Select Committee on Tobacco Harm Reduction. The Committee's Chairman's report concluded, without a doubt, that vaping will save millions of Australian lives if approved for commercial sale and regulated similar to cigarettes.
---
---
INNCO
The World Health Organization's Executive Board is considering a number of items at its January meeting, one of which is Provisional Agenda item 22  EB148/47 regarding the Report of  the Tenth Meeting of the WHO Study Group on Tobacco Product Regulation. Only the Study Group's recommendations have been published. The Study Group failed to provide not only the report itself, but also failed to disclose the experts and research it relied upon to make its recommendations. These lack of disclosures demonstrate a disturbing lack of transparency, especially troubling given that these recommendations will serve as the basis for many countries to effectively ban or dramatically reduce adult access to a wide variety of safer nicotine products.

Five from Dave Cross, Planet of the Vapes
After almost total silence about accidents with lithium-ion cells, the media is carrying another story of a mod incident. The Manchester Evening News fails to provide balance that vaping causes far fewer home fires or give reasonable advice on how new vapers should treat their equipment with respect and care.

2017 was the peak of anti-vaping explosion stories in the United Kingdom. Local and national newspapers leapt on tales of woe to deliver negative coverage to drive clicks to their websites and social media accounts. Not once did they mention that the batteries they vilified could be found in all of our portable devices.
The U.S. Food and Drug Administration (FDA) has sent warning letters to ten companies which manufacture or operate websites selling vape equipment and juice. It has told them that selling products which lack premarket authorisation is illegal and the products cannot be sold or distributed in the United States.

The FDA says this is the first set of warning letters which implies more are to come to other firms that have not submitted premarket applications.
Harm Reduction journal has published an expanded re-analysis of a recent publication by Konstantinos Farsalinos, Pantelis Bagos, Theodoros Giannouchos, Raymond Niaura, Anastasia Barbouni and Konstantinos Poulas. They examined smoking prevalence among hospitalised COVID-19 patients. Next week, Konstantinos Farsalinos will host a press conference for the launch of a Declaration on E-Cigarettes and Public Health.

A number of prominent public health bodies in the United States who regularly indulge in anti-vaping nonsense have used the COVID-19 pandemic as an opportunity to further smear everything containing nicotine running contrary to an unusually low prevalence of smoking among hospitalised patients.
The Independent European Vape Alliance (IEVA) is a pan-European association aimed at uniting national associations, companies, manufacturers and wholesalers in the vaping industry. It has lambasted the Netherlands government's decision to implement a ban on eliquid flavours.

IEVA's founding principle is to contribute to harm reduction and public health. It believes e-Cigarettes have a significant positive impact and should be recognised as a harm reduction tool because vaping is not smoking.
The Netherlands is seeing the largest number of responses ever collected in a public consultation on health matters. The inquiry asks people if they agree with a ban on flavoured e-liquids for e-cigarettes (also known as vape flavours), and the overwhelming answer has been "No!"

From the 757 submissions recorded on the official website, 746 (98.54%) opposed the ban, with 9 void entries and just two submissions supporting the government's proposal. The consultation, which was meant to end yesterday (19 January), has been extended to 2 February "due to popular demand," according to a statement just published on the Government website.
---

---
Rights 4 Vapers
Ottawa, Ontario – January 21, 2021 – For the second year in a row, Canada's vapers are not represented at the major smoking cessation conference, the 13th Annual Ottawa Conference: State of the Art Clinical Approaches to Smoking Cessation.

"It is another demonstration of how little value the smoking cessation community puts on vaping," said Maria Papaioannoy, spokesperson of Rights4Vapers, the country's largest consumer vapers' rights organization. "Thousands of Canadians have stopped smoking thanks to vaping. We hear their stories every day. Don't we deserve a place at the table?"
Liz Wells, Talking Retail
The call comes as smoking rates in Scotland have been shown to be increasing for the first time in seven years, despite government aims to see it tumble over the next decade.

A quarter of Scottish smokers (26%) also said that they had been smoking more heavily since the first lockdown began in March. This rise coincided with the closure of stop smoking services and specialist vaping retailers during the pandemic

Declines Early in COVID-19 Pandemic – Mary Stroka
More underage and young adult e-cigarette users reported reducing or quitting e-cigarettes since the COVID-19 pandemic began than those who reported increasing their use or switching to other nicotine and cannabis products. Researchers conducted a national cross-sectional anonymous online survey study of 4351 participants in May 2020, including 2167 youth and young adults who use e-cigarettes. The research, published in JAMA Network Open, also explored why these changes occurred.

The researchers surveyed participants aged 13 to 17 years, 18 to 20 years, and 21 to 24 years, with a 50:50 ratio of ever-e-cigarette users to never-e-cigarette users through Qualtrics.
And the Cigarette Endgame – Micah L. Berman
Professor Richard Daynard was an early proponent of the view that tort litigation could lead to the "undoing of the tobacco industry," just as litigation had helped drive asbestos and other dangerous products from the market.2 Despite some notable litigation successes—and litigation's crucial role in revealing the tobacco industry's previously-hidden misconduct—this outcome has not materialized. To the contrary, in many cases courts have instead distorted legal doctrine in order not to hold the tobacco industry accountable for its wrongdoing, in part because judges viewed it as beyond their proper role to effectively put the tobacco industry out of business.
---
A look back at how things have moved on or otherwise….
Christopher Snowden, Velvet Glove, Iron Fist
The deadly coronavirus that has infected hundreds of people in China and has now spread to the USA is the biggest global public health threat we have seen for some years. Naturally, therefore, the World Health Organisation spent yesterday putting out a series of deranged tweets about vaping.
Harry Shapiro, Nicotine Science and Policy
On 10th  December 2017, the Director General of the WHO Tedros Ghebreyesus released this statement on Human Rights Day. It was headed "Health is a fundamental human right". He said:

"The enjoyment of the highest attainable standard of health is one of the fundamental rights of every human being without distinction of race, religion, political belief, economic or social condition".

Almost 70 years after these words were adopted in the Constitution of the World Health Organization, they are more powerful and relevant than ever.
Dr Nick Hopkinson, Prof Peter Hajek, Prof John Britton, Science Media Centre
The World Health Organisation (WHO) have run a Q&A via their website on electronic cigarettes. (Here are expert reactions.)
---
Visit Nicotine Science & Policy for more News from around the World

---