Vapers Digest 27th January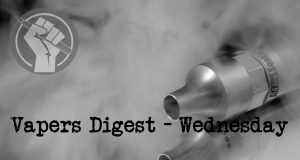 Wednesday's News at a glance:
E-Cigarettes, Harm Reduction, and Tobacco Control: A Path Forward? ~ The Ethics of Tobacco Harm Reduction: An Analysis of E-Cigarette Availability From the Perspectives of Utilitarianism, Bioethics, and Public Health Ethics ~ Press release: Leaked European Commission plans for Beating Cancer Plan a threat to vaping ~ MOH Draft Vaping Regulations Could Stub Out Smokefree 2025 Success ~ Anti-tobacco lobbyists, health authorities spread misinformation about vaping ~ I Switched From Vaping Back to Smoking, Thanks to India's Government ~ Parliament ~ BLF Highlights GP Knowledge Shortfall ~ Bloomberg Attacks FSFW ~ Professor Robert Beaglehole Interview – Revised and Final ~ The Advocates Voice – Episode 3 ~ Dartmouth vape shop co-owner seeks injunction against Nova Scotia's vaping restrictions ~ Lawsuit, Legislation Delay Missoula Vape Ban Enforcement ~ Big Time Vapes, Incorporated, et al.Petitioners, v. Food & Drug Administration, et al. Respondents.
Thomas J. Glynn, MA, MS, PhD; J. Taylor Hays, MD; and Katherine Kemper, MBA, Mayo Clinic
The 34th Surgeon General's Report on Smoking and Health, published early in 2020, prominently noted that prevalence of cigarette smoking among US adults has declined from nearly 43% in 1964, to a low of 14% in 2018. This represents the smallest percentage of adult smokers in the United States since just afterWorld War I, a century ago, and has resulted in saving millions of lives and debilitating illnesses.
An Analysis of E-Cigarette Availability From the Perspectives of Utilitarianism, Bioethics, and Public Health Ethics
, Nicotine & Tobacco Research
Much evidence suggests e-cigarettes are substantially less harmful than combustible cigarettes. Assuming this is true, we analyze the ethical case for a policy of e-cigarette availability (ECA) as a tobacco harm reduction strategy. ECA involves making e-cigarettes available to allow smokers to switch to them, and informing smokers of the lower risks of e-cigarettes vis-à-vis smoking. After suggesting that utilitarian/consequentialist considerations do not provide an adequate ethical analysis, we analyze ECA using two other ethical frameworks.
---
World Vapers' Alliance
The EU Commission's upcoming "Europe's Beating Cancer Plan" proposal considers vaping the same as tobacco, seeks to ban flavours and could ban vaping in public. A leak of the Plan due for launch on 3 February is causing major concern amongst Europe's Vaping groups.
The Ministry of Health is today drawing backlash from the local New Zealand vaping industry following its release of proposed regulations for the Smokefree Environments and Regulated Products Act.

Vaping Trade Association New Zealand (VTANZ) President, Lawrence Coe, says the Industry has long called for positive legislation and regulation that would control the wild-west marketing environment, and would protect consumers from unsafe or dodgy products.
Asanda Gcoyi, The Star
With South Africa moving towards the promulgation of the Control of Tobacco and Electronic Nicotine Delivery Systems Bill (Ends) (2018), health organisations and tobacco-control lobbyists are failing to acknowledge the benefits of harm-reduction products such as electronic vapour products (EVP).

The vaping industry is alarmed by the false parallel that the government and anti-tobacco activists are drawing between the different products.
---

---
Interesting excerpt from @SteveFDA on his way out the door regarding a proposed limit on the nicotine in cigarettes.https://t.co/8l5BvC5oDh pic.twitter.com/cfOpBPuEnv

— Paul Blair (@gopaulblair) January 20, 2021
---
Aruna Narayan, Filter
I remember fumbling with the lighter so much that a friend had to light my first smoke for me. I was in my early 20s and was throwing a party. Alcohol flowed and classic rock flooded through tinny speakers into my tiny one-bedroom apartment in Bangalore, India. I was on the hunt for new experiences. Cigarettes were uncharted territory, and I was invincible.
---
Three from Dave Cross, Planet Of The Vapes
In the House of Commons, Gavin Robinson is concerned about "hybrid nicotine-based products". Owen Thompson was worried about passive vaping causing increased rates of transmission of COVID-19. Lee Anderson wondered if the government is going to use Europe's Tobacco Products Directive when forming new legislation and asked about their plans for reduced risk products.
The British Lung Foundation (BLF) has published a report highlighting that our doctors still have a poor level of training in and understanding of vaping. It states that we are unlikely to become a smokefree nation without increased action from the health service. It concludes too few are given the essential training in advice delivery.
The network of Bloomberg's anti-vape organisations have leapt on the news that the Foundation for a Smoke-Free World (FSFW) is to be taken to court. The case revolves around allegations of "improper coordination" between some tobacco companies and the Foundation by a bitter ex-employee. The smears continues in a Bloomberg publication and gets expanded to cover a number of leading harm reduction organisations and experts.

---
The Advocates Voice sat down late last year with Professor Robert Beaglehole, Board Chair of ASH NZ to discuss the differences between approaches to THR between Australia and New Zealand and why it is so important to give people choices.
The Advocates Voice, Episode 3 will be premiering on 28 January 2021 at 7PM Hong Kong Time.
---
The co-owner of a vape shop in Dartmouth is seeking an injunction against Nova Scotia's newest restrictions on vaping, arguing they unfairly burden adults who are trying to kick a bad habit.

William MacEachern of the Cloud Factory Vape Shop has launched a constitutional challenge against increased taxes on vaping products, a ban on flavoured e-cigarettes and vaping juices, and a prohibition on sampling such items in vaping shops.
Edward O'Brien, Montana Public Radio
Missoula's ban on the sale of flavored e-cigarette and vape products is now postponed until May. Enforcement of the first-of-its-kind ban in the state was slated to go into effect Monday, but a legal challenge and pending legislation prompted the city council Monday evening to defer its rollout until May 1.

Missoula City Council Rep. Mirtha Becerra, tells MTPR that local officials have little choice but to pay close attention to unfolding legislation in Helena, where lawmakers are considering a bill to prevent local government and health officials – even the state health department – from regulating e-cig and vape merchandise.
MOTION FOR LEAVE TO FILE Amici respectfully move for leave to file a brief as amici curiaein support of Petitioners' Petition for Certiorari. Amici respectfully request that the Court consider the arguments herein and in the enclosed amici brief. There are myriad reasons to grant certiorari. This amici brief seeks to inform the Court about the facets of the specific industry, Electronic Nicotine Delivery System (ENDS) products, which is the subject of the challenged governmental action addressed in the Petition.
---
Information on Youth Marijuana Vaping to Over-hype Harms of E-Cigarettes
Dr. Michael Siegel, The Rest Of The Story
The Centers for Disease Control and Prevention (CDC) is concealing and suppressing information on the number one cause of severe, vaping-related health harm to youths in order to deceive the public into thinking that e-cigarettes are at the top of the list.

In fact, the number one cause of severe, vaping-related health damage to youths is not electronic cigarettes, although you would not know that from reading the CDC's literature on youth vaping.
Deceptive Vaping Release – Helen Redmond
The World Health Organization (WHO) published an astonishingly bad Q&A on electronic cigarettes on January 20, full of lies of omission, outright falsehoods and hyperbole.

While the WHO has plenty of past form on this issue, it remains shocking that a prestigious organization employing some of the world's foremost experts on health whose work has improved or saved the lives of billions of people, have jumped on the regressive anti-tobacco harm reduction bandwagon.

Here's one deceptive whopper in the new release: "There is no doubt that they [e-cigarettes] are harmful to health and are not safe, but it is too early to provide a clear answer on the long-term impact of using them or being exposed to them."
---
Visit Nicotine Science & Policy for more News from around the World

---