Vapers Digest 29th January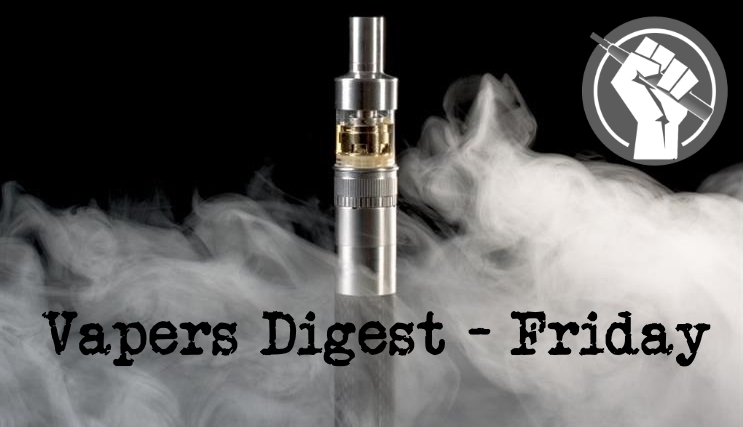 Friday's News at a glance:
The Netherlands is proposing to ban e-cigarette flavours – Policing the COPs – Vaping and Tobacco Harm Reduction with Clive Bates – A consultation on the TRPR 2016 – Dutch vapers strike again in a protest – Juul Study Looks Into Dependence and Use – Italy's budget brings in new taxes – FDA Seizures – European Cancer Plan Threat – Malarkey in Manilla – Dutch Vapers – A Light In The Dark – Chicago Crackdown – WHO asked to stop peddling lies – Bloomberg faces mounting pressure – Danger & Delusion | Is Tobacco Control Out of Control? – PMTA Included in White House Rules Freeze – Maryland's Proposed Death Sentence – Experts Say 'Fight Smoking, Not Nicotine' – Vaping is the gateway out of smoking – Are You Among The Misinformed? – Targeted health messaging needed – Access to safer nicotine products in Africa more vital than ever – Unambiguous Investor Support for THR – Nicotine Science and Policy Daily Digest
What could possibly go wrong? – Clive Bates
The government of the Netherlands,  led by Paul Blokhuis, State Secretary for Health, Welfare and Sport, is in imminent danger of fooling itself into becoming an unwitting ally of the cigarette trade.  By taking measures to make vaping less attractive (notably by proposing a ban on all non-tobacco flavours for e-cigarettes), it threatens to degrade the appeal of a low-risk rival to cigarettes, provide regulatory protection to the cigarette trade, prolong smoking, obstruct quitting, and add to the burden of disease and death. All this in the name of protecting youth, while managing to harm both adults and adolescents. Quite a feat for any politician.
Christopher Snowdon, Velvet Glove Iron Fist
The All Party Parliamentary Group on Vaping is holding an inquiry into the Conference of the Parties (COP) meetings held by the WHO's Framework Convention on Tobacco Control. If you hurry, you can send a submission (it closes on 1 February).

The meetings are notoriously secretive and undemocratic. The photo above shows me as close as I've ever got to one. I have written before about the shenanigans at COP6 (in Moscow), COP7 (in Delhi) and COP8 (in Geneva).

This is what I sent to the inquiry…
With Clive Bates
Nicotine without smoke? This discussion will take a brief tour through the science and policy controversies surrounding the concept of tobacco harm reduction: the idea of delivering the mild recreational drug without products of combustion of tobacco leaf.

The WHO reports that 8 million deaths are caused annually by tobacco, the overwhelming majority arise from cancers, cardiovascular disease and respiratory conditions caused by inhalation of tobacco smoke.

Could smoke-free products like e-cigarettes, heated tobacco products, smokeless tobacco and new oral nicotine pouches ultimately render the cigarette obsolete and avoid millions of premature deaths in the next few decades?
---

---
And the Standardised Packaging of Tobacco Products Regulations 2015
The UK now has a suite of tobacco control legislation which is among the most comprehensive in the world. Smoking rates are at their lowest ever on record in the UK. Despite this positive news, smoking still remains one of the biggest causes of death and disability across the UK.

Over recent years a range of legislation has been introduced to discourage young people from taking up smoking or vaping, encourage existing smokers to quit, and to protect others from the harmful effects of cigarette smoke. This has included a curb on advertising, establishing smoke-free places, introduction of prominent graphic health warnings, a ban on proxy purchasing of cigarettes and e-cigarettes and a ban on smoking in cars with children as well as the introduction of standardised packaging.
Against the 'war on vapes'
After the success of the previous lightshow in November, Dutch vapers once again took to the streets and buildings of the Dutch political capital, the Hague, on Tuesday evening campaigning against State Secretary Blokhuis' draft law to ban vape flavours.

The installation was organised in light of a public consultation on the proposed flavour ban, which has already seen more than 800 submissions, 98% of them in opposition to the ban and in support of vaping flavours. The huge public interest for the matter forced the government to extend the consultation by two weeks.
---
1/2
In rats. No human study has ever demonstrated brain harm from nicotine. 1/3rd of all US adults are current or former smokers. Most started in their teens. If there were brain harms, we would detect that.

Caffeine, THC and nicotine ALL evolved in plants to deter insects. pic.twitter.com/f6C7ug5KvD

— ClovisSangrail (@ClovisSangrail4) January 29, 2021
---
And Use Characteristics of Adult Juul Users – Diane Caruana
The researchers recruited 76 adult Juul users via Amazon Mechanical Turk, to complete an online survey about their use patterns. The participants were asked to complete the Penn State Electronic Cigarette Dependence Index (PSECDI) and to answer questions about their Juul and tobacco use behaviours.

Titled, "Dependence and Use Characteristics of Adult JUUL Electronic Cigarette Users," the study found that Juul users reported low to medium nicotine dependence on the PSECDI. The researchers equated the level of dependence on Juul as being more similar to the dependency on other types of e-cigarettes, than to that on regular cigarettes.
With and without nicotine – Antonia di Lorenzo
Italy has entered 2021 with new excise duties on e-liquids after the Senate passed the 2021 Budget law (Legge di bilancio) last week.

From 1st January, the duty on nicotine-containing e-liquids has been raised to 15%. The amendment also lays down a subsequent increase of 5% each year until 2023 (20% in 2022 and 25% in 2023).

Nicotine-free e-liquids are subject to a new excise tax of 10%, rising to 15% in 2022 and 20% in 2023.

Five from Dave Cross, Planet of the Vapes:
The United States Food and Drug Administration (FDA) is taking a tough line on tobacco harm reduction products as a result of the Federal Food, Drug, and Cosmetic Act (FD&C Act) and the Family Smoking Prevention and Tobacco Control Act (Tobacco Control Act). It confiscated 33,681 products from 42 individual shipments at the Dallas Fort Worth International Airport

The seizures were carried out by U.S. Customs and Border Protection officers, who estimated the total value of the shipments from China to be $719,453. It is believed all of the orders were heading to Texas. The FDA says it is part of an ongoing joint operation with its officers and agents who are, "looking to intercept counterfeit or other violative e-cigarettes, including certain flavoured e-cigarettes imported to the U.S."
In a leaked document, shared with Planet of the Vapes, the EU Commission's upcoming "Europe's Beating Cancer Plan" proposal considers vaping the same as tobacco, seeks to ban flavours, and could ban vaping in public. The Plan is due for launch on 3rd February is causing major concern amongst Europe's vaping groups.

Europe's beating cancer plan aims to reduce the cancer burden for patients, their families and health systems. It will address cancer related inequalities between and within Member States with actions to support, coordinate and complement Member States' efforts.
Advocacy organisations CAPHRA and ETHRA have attacked Pinoy plans to attach graphic health warnings on reduced harm products. Meanwhile, the decision made by the Philippines' Food and Drug Administration to accept money from an anti-vape Bloomberg foundation is now raising eyebrows and questions in the United States.

"We understand that the Department of Health is planning to issue health warnings for e-cigarettes and heated tobacco products and we are writing today to urge you to adopt warnings which will encourage smokers to use safer nicotine products to quit smoking," the European Tobacco Harm Reduction Advocates (ETHRA) write in a letter to Secretary Duque.
Last Tuesday, Dutch vapers took to the streets and buildings of the Dutch political capital, the Hague, to protest against State Secretary Blokhuis' draft law to ban vape flavours. The protest included a light installation to ram the point home to politicians and the public that flavours play a role in vaping working for smokers and ex-smokers and are essential.

Organised by the World Vapers' Alliance (WVA), a COVID-friendly lightshow was projected onto landmark buildings in the Hague, starting at 18.00 and ending before curfew.

Spurred on by what WVA Director Michael Landl has called an "incredible public consultation response", Dutch vapers delivered a vital message to country's lawmakers based in the Hague:
Customs officers at Chicago O'Hare's International Mail Branch have been keen not to let their colleagues at the Dallas Fort Worth International Airport hog all the glory. In a jobsworth triumph of diligence, they have ensured that fifty thousand smokers will be denied access to tobacco harm reduction thanks to them implementing searches in accordance with the Federal Food, Drug, and Cosmetic Act.

The U.S. Customs and Border Protections officers impounded a shipment they labelled, "misbranded consumer goods being imported by an unauthorised agent". The shipment from Hong Kong was labelled as lithium-ion batteries on the manifest but was "intentionally improperly labelled in order to avoid detection" the Mail Branch said, "a common practice used by smugglers".
---

---
About vaping and COVID-19 risks – CAPHRA
The Coalition of Asia Pacific Tobacco Harm Reduction Advocates (CAPHRA) asked the World Health Organization (WHO) to stop peddling lies about the risks of contracting Coronavirus disease 2019 (COVID-19) through vaping or the use of electronic cigarettes.

In a 103-page white paper, CAPHRA said the vaping/COVID link is the latest dangerous lie being spread by the WHO as part of its anti-smoking agenda.  The group noted that the WHO, in its quest to rid the world of smoking, has once again sought to deliberately prevent millions of adult cigarette smokers from getting access to safer vaping products.
To explain funding of Philippines' FDA
Anti-tobacco Bloomberg foundation faces mounting pressure to explain the release of funds to the Philippines Food and Drug Administration which international public health experts and tobacco harm reduction advocates said could be tantamount to influencing the decision of the regulator.

University of Ottawa Center for Health Law and Policy advisory committee chair Prof. David Sweanor said the donation made by Bloomberg groups to the Philippines FDA could sway the regulatory agency's future decisions and take away its independent judgment when it comes to tobacco control.
Is Tobacco Control Out of Control? | RegWatch
Tobacco Reporter
The new U.S. administration has frozen all new and pending rules introduced in the last days of the Trump administration. Included in the freeze are the new finalized rules for premarket tobacco product applications (PMTA) and substantial equivalence (SE) that were announced on Jan. 19, the last full day of the Trump administration.

The Food and Drug Administration's CBD enforcement policy draft guidance, which had been under review at White House Office of Management and Budget (OMB) since July, was also withdrawn.
Michael McGrady
As the percentage of Americans smoking has fallen to below 14 percent, and tobacco giant Philip Morris has even declared it is trying to "achieve a smoke-free world," it's tempting to think the public health debate over smoking, tobacco and nicotine is over.

It's not. Instead, the battle has largely shifted to a new debate over prohibition vs. mitigation: Should smoking, vaping etc. simply be banned? Or should governments treat products that lower risks of bad health outcomes differently than they treat traditional cigarettes?

For Smokers and Businesses
The Maryland Senate Finance Committee is holding a hearing on two bills, SB 177 and SB 273, tomorrow that pose a significant threat to the state's economy and also public health.

These bills, sponsored by Democratic Senators Mary Washington & Benjamin F. Kramer, not only go against all science and evidence, but also go against calls from groups as diverse as the ACLU and the Law Enforcement Action Partnership who note similar proposals "disproportionately impact people and communities of color" .
Maria Chaplia, Michael Landl
The innovative nature of vaping has contributed to its success and allowed it to quickly gain popularity among smokers. At the same time, because it is a novel technology, it has also been met with suspicion across the world – especially in the European Union.

Aside from targeting the harm-reduction nature of vaping, some of the recent criticism has also sought to frame vaping as a gateway to conventional smoking. However, that couldn't be farther from the truth, and the longer the European Union continues to demonise vaping, the fewer smokers get a chance to switch to a safer and healthier alternative. We know enough about vaping to endorse it at EU level.
Are You Among The Misinformed? – Joseph Magero
The biggest misconception is policymakers and smokers believe that nicotine is the cancer-causing culprit in cigarettes. A south African-born Professor by the name of Michael Russell once said, "people smoke for the nicotine but die from the tar".

This sentiment needs to be echoed more in today's society where there's a gross misunderstanding when it comes to nicotine. Nicotine is an alkaloid found in the nightshade family of plants, predominantly in tobacco, and in lower quantities in tomato, potato, eggplant, and green pepper.
In era of vaping, researchers say – Professor Janet Hoek
Health authorities should develop targeted health messages for vaping product and e-liquid packaging to encourage smokers to switch from cigarettes to e-cigarettes and to prevent non-smokers from taking up vaping, a researcher at the University of Otago, Wellington says.

Professor Janet Hoek, a Co-Director of the University's ASPIRE 2025 Research Centre has led new Health Research Council-funded research analysing the impact of on-package messaging on e-liquids.

The research team found messages presenting electronic nicotine delivery systems as a lower risk alternative to smoking could encourage about a third of smokers to trial them. On the other hand, messages about the increased risks of taking up vaping appeared to strongly discourage non-smokers from trying e-cigarettes.
More vital than ever
About 80% of smokers live in low-and middle-income countries and have no access to safer nicotine products – resulting in greater pain and suffering, prolonged illness and preventable deaths. Health professionals and Policy makers in Africa find themselves confronted by a phenomenon of rising cigarette smoking rates.

Despite some effort by African governments in achieving some of the Sustainable Development Goals, reducing tobacco smoking has proved the hardest to deliver. Although the prevalence rate of cigarette smoking in Africa today is only 14%; low, compared to North America (23%) and the Eastern Mediterranean (31%), its growth is the highest on the planet!
Idwala Research
The highly successful listing of RLX last week and continued appreciation in Smoore's valuation shows ongoing and growing investor appetite for reduced-risk nicotine product businesses.
It provides an enticing opportunity for inventors and entrepreneurs to raise capital and accelerate new product development. On its own, this process could serve to quicken the pace of tobacco harm reduction by delivering more satisfying alternatives to smokers at lower prices.

But a meaningful increase in the quality, variety and availability of reduced-risk products would also raise the threat of disruption and likely speed up the tobacco industry's transformation. The somewhat eye-watering valuation multiples achieved by Smoore and RLX should provide further motivation and could see shareholders becoming more vocal supporters of transformation.
---
A look back at how things have moved on or otherwise….
Australian Tobacco Harm Reduction Association
IN A MAJOR POLICY SHIFT, the Royal Australian College of General Practitioners has supported vaping nicotine as an option for some Australian smokers in the latest national smoking cessation guidelines published today.

The peak GP organisation has carefully reviewed all the evidence on the effectiveness and safety of vaping and has determined that it is a legitimate quitting aid for adult smokers.
Rachel Clun, The Sydney Morning Herald
The use of nicotine-based e-cigarettes has been cautiously recommended as a potential second-line aid for people who want to quit smoking.

In an updated guide on supporting smokers to stop, the Royal Australian College of General Practitioners (RACGP) also said prescribing options for nicotine replacement therapies should be widened.
, Totally Wicked
Public health experts have responded rapidly and assertively to unfounded claims about vaping from the World Health Organisation (WHO). Just days after WHO claimed that 'e-cigarettes are not safe' scientists have responded to put things right.

WHO famously holds a firm anti-vaping stance. The organisation's recent outbursts are all too familiar and follow a pattern of spreading misinformation about e-cigarettes.
---
Visit Nicotine Science & Policy for more News from around the World

---