Vapers Digest 1st February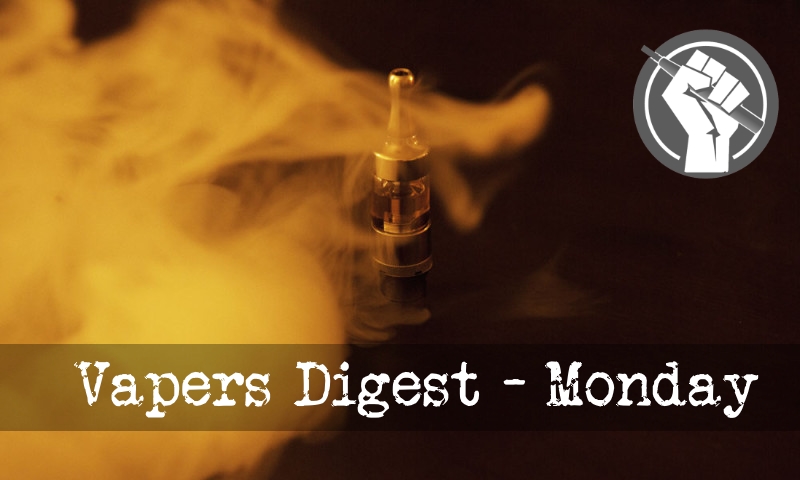 Monday's News at a glance:
ETHRA January news roundup – UK Government Vape Review Launched – UPS Will End Home Delivery of Vaping Products – Getting Vaping Regulations Right – Teens, Binging and Faux Fear – INNCO Submits to WHO – EU vill bergänsa e-cigaretter ytterligare – One State's Flavored Tobacco & Vape Ban Is A Cautionary Tale For The Nation – Indian government's budget dilemma – January 2021 with special guest Professor Jasjit Ahluwalia – Nicotine Science and Policy Daily Digest
European Tobacco Harm Reduction Advocates
EUROPE'S BEATING CANCER PLAN REPORT – ETHRA NICOTINE USERS SURVEY FIRST DATA – FLAVOUR BANS AND OTHER ANTI-THR MEASURES – TAX – ACCESS TO THR PRODUCTS IN LOCKDOWNS – UK GOVERNMENT LAUNCHES CONSULTATION ON TOBACCO AND RELATED PRODUCTS – WHO STUDY GROUP ON TOBACCO REGULATION MEETING – WHO 2 – COMING UP – ETHRA WATCHES THE BREATHE VISION LAUNCH
Neil Humber
The long awaited UK Government vape review into the current Tobacco and Related Products Regulations [TRPR] has been launched.

The TRPR is the UK's version of the TPD – the EU's e-cigarette and tobacco legislation, and following Brexit we are now at liberty to set our own laws.

As a vaper YOU can have your say on how the new TRPR should be written and you can do so on the government's website:

Tobacco and related products legislation introduced between 2015 to 2016: reviewing effectiveness
---

---
Jim McDonald, Vaping 360
Following congressional passage of the "vape mail" ban that will end U.S. Postal Service shipping of vaping products to consumers, UPS has joined Fedex in announcing it too will end shipping of vapes. The ban covers shipping to both consumers and businesses.

"Effective April 5, 2021, UPS will not transport vaping products to, from, or within the United States due to the increased complexity to ship those products," a company spokesperson told Vaping360 by email. The policy, which will soon leave no major shipping service willing to deliver vaping products to homes, has left online vaping retailers scrambling to find a solution.
---
---
Is 'absolutely Critical' – AVCA
A leading tobacco harm reduction advocate is encouraging New Zealand's smokefree supporters and vapers to have their say on the Ministry of Health's latest draft vaping regulations.

"Regulations are necessary, but they need to be proportionate. Restricting the choices, access, and visibility of vaping – which is a much safer option for smokers – will only add harm. Hence, we are urging the Ministry of Health to tread with caution," says Nancy Loucas, co-director of Aotearoa Vapers Community Advocacy (AVCA).

Two from Dave Cross, Planet of the Vapes
American speakers have invoked the spirit of Graham Lineham's IT Crowd with their speech to educators. Up in Canada, make up something about coping strategies during the COVID-19 pandemic to imagine that teens are now "binge vaping". Meanwhile, at the Food and Drug Administration (FDA), someone thought that they could claim kids are disguising vape devices as backpacks and not be pointed and laughed at.

Staff working in Baton Rouge public schools were recently subjected to an online training event where Dr Lauren Tillery, a family medicine resident at Baton Rouge General Medical Center, and Travis Costanza, a certified tobacco training specialist with Ochsner Health, scared the heck out of them.
The International Network of Nicotine Consumer Organisations (INNCO) has submitted comments to the World Health Organization's (WHO) Executive Board about the report of the Tenth Meeting of the WHO Study Group on Tobacco Product Regulation. It expressed its "dismay" that the lack of transparency on the part of the WHO made it impossible to respond in depth.
INNCO says WHO's Executive Board was set to consider a number of items at its January meeting including Provisional Agenda item 22 EB148/47 [link], regarding the Report of the Tenth Meeting of the WHO Study Group on Tobacco Product Regulation. The consumer organisation added that only the Study Group's recommendations had been published, failing to provide the whole report and not disclosing the experts and research it relied upon for its recommendations.
---

---
Stefan Mathisson
Att begränsa användadet av e-cigaretter ingår i EU:s nya plan för att motverka cancer i Europa. Detta enligt läckta uppgifter till media. "De väljer att gå helt emot alla vetenskapliga rön" menar organisationen ETHRA.

EU:s nya plan för att besegra cancer i medlemsländerna kommer att bli offentlig i början av februari. Men redan nu har uppgifter läckt om vad som ingår i planen. Ett huvudmål är att minska mängden rökare från dagens 20 procent till 5 procent 2040. Enligt kommissionen orsakar rökning 90 procent av alla lungcancerfall och det är därför en prioritet att begränsa rökningen i regionen. Utöver cigaretter vill kommissionen även begränsa alternativen till cigaretter: e-cigaretter och andra nikotinprodukter.
Is A Cautionary Tale For The Nation – Patrick Gleason
Just because a policy has already been documented to be a proven failure doesn't mean politicians will cease proposing it. Maryland, Washington, Connecticut and a handful of other states are considering bills to ban flavored tobacco and vaping products, even though this same prohibition has backfired elsewhere.

Early results from the flavored tobacco & vaping products prohibition enacted in Massachusetts show such bans deprive adults of less harmful alternatives to cigarettes, crush small businesses, depress tax collections as commerce shifts across state lines, and fail to curb smoking.

Sanchita Dash
The over $12 billion Indian tobacco industry has a new problem at its doorstep, as the government is set to enforce strict regulations around the consumption of tobacco, mainly cigarettes. While the need for regulations around tobacco is to be lauded as it impacts the health of millions, in a year where the government has to ensure its cash flow remains strong, it remains to be seen whether Finance Minister Nirmala Sitharaman will hurt the likes of India's big tobacco companies, ITC. For ITC, cigarette sales alone account for 46% of its total revenue – a whopping $6 billion in FY20.

The Indian government has proposed several changes to the Cigarettes and Other Tobacco Products (Prohibition of Advertisement and Regulation of Trade and Commerce, Production, Supply and Distribution) Act, 2003.
Jamie & Nicola review 4 new studies & interview Prof Jasjit Ahluwalia
In this episode Jamie Hartmann-Boyce and Nicola Lindson interview Professor Jasjit Ahluwalia about his team's recent study on the effect of pod e-cigarettes vs cigarettes on carcinogen exposure among African American and Latinx smokers (Pulvers, 2020, see links to all studies in short description above). They also talk through three other studies: Schiebein et al, an exploratory non-randomized study of an e-cigarette intervention with people accessing a homeless supported temporary accommodation service; Orga-Hess et al's study which tested a method for evaluating the effects of e-cigarettes on quit-related motivation and behaviour; and a study by Yingst et al which explored the acceptability of electronic nicotine delivery systems (ENDS) among HIV positive smokers.
---
A look back at how things have moved on or otherwise…
And fails at propaganda – the sad case of WHO's anti-vaping Q&A
Clive Bates, The Counterfactual
On 20 January 2020, the World Health Organisation published a question and answer page on "ENDS" (Electronic Nicotine Delivery Systems) or e-cigarettes and vaping products for nicotine as they are more commonly known: E-cigarettes: how risky are they? (current live version)

Update (31 January 2019) – WHO's amended version: almost certainly in response to severe criticisms, WHO published an update to its Q & A some time on 29 January.  The 20 January original version, (archived) which WHO heavily publicised (e.g. see Twitter thread) is the subject of this blog, not least because it allows debunking of some especially absurd anti-vaping statements.  WHO has not notified readers of the changes or issued any acknowledgement of correction or error. So for comparison purposes, I have compared the original and updated versions side-by-side in the final section of this blog: go to Update: what WHO has changed.
IBVTA
Despite the occasional barrage of newspaper headlines alluding or directly reporting to the contrary, the facts as seen by the overwhelming majority of credible medical and scientific researchers are as follows…

The IBVTA is aware of a number of newspaper articles and other reports that produce "evidence" that appears to counter the facts as stated above, including publications by international government agencies. The IBVTA believes these agencies and publications to be acting irresponsibly in presenting these views, which are quite frankly not supportable. A concise (but not short) explanation of the reality of the situation can be found here.
---
Visit Nicotine Science & Policy for more News from around the World

---