Vapers Digest 3rd February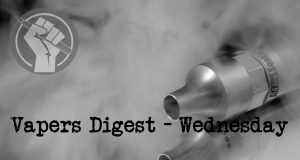 Wednesday's News at a glance:
Anti-smoking has gone too far: Harm reduction is better than prohibition ~ Let Them Vape Cake ~ INNCO Calls for Sensible Regulation of Nicotine Alternatives in Vietnam ~ INNCO Submits Comments to UK All Party Parliamentary Group for Vaping ~ Consumer Group Worried About WHO THR Stance ~ U.S. Preventive Services Task Force on E-Cigarettes: We Just Don't Know! ~ Get It Right ~ WHO: End The Lies ~ UPS To Block Vape Deliveries ~ What proposed Tobacco Bill means for vaping in South Africa ~ Do health halos and conspicuous consumption influence the appeal and risk perceptions of e-cigarettes among young Cambodian men? ~ Top Vape-Related Articles from January 2021
Thomas Brown, Medium
After decades of declining smoking rates among all ages, smoking is going up again. A combination of life in lockdown and a media inexplicably hostile to safer alternatives has been pushing Americans back to cigarettes. To save lives anti-smoking advocates need to step back and look at harm reduction instead of prohibition to save lives. Hyperbolic rhetoric attacking electronic cigarettes is not defending public health — it's causing public harm.
I am a 24-year-old, and I love flavored vapes—grape, chocolate caramel ice cream, and watermelon, to be precise. Too bad five states and numerous cities across the United States have banned flavored vapes, assuming these flavors are 'meant for kids.' And worse, now the FDA is expanding that ban.
---
INNCO
The International Network of Nicotine Consumers Organisations (INNCO) is urging the Vietnamese government to exercise "true independence" in its regulation of tobacco harm reduction (THR) products, warning that failure to adopt evidence-based guidelines will lead to substandard products and economic development losses.
INNCO
On 1 February 2021, INNCO submitted comments to the U.K. All Party Parliamentary Group for Vaping Inquiry. INNCO has grave concerns regarding the World Health Organization (WHO) and the Framework Convention on Tobacco Control (FCTC) treatment of low-risk nicotine products and the refusal to recognize harm reduction principles to lower the disease and premature death caused by use of high-risk forms of tobacco such as combustible cigarettes and certain forms of toxic oral tobacco products.
Tobacco Reporter
In a submission to the U.K. All Party Parliamentary Group for Vaping Inquiry, the International Network of Nicotine Consumer Organizations (INNCO) has expressed its concerns about the World Health Organization's stance on tobacco harm reduction.
---

---
Washington flavor ban sponsor talking about "toxic toxicology."

Toxic Toxicology is the name of my garage band.

— Gregory Conley (@GregTHR) February 2, 2021
---
Brad Rodu, Tobacco Truth
The U.S. Preventive Services Task Force (USPSTF) released its updated recommendations for smoking cessation (here), and the outcome is utterly unsurprising and unacceptable: "the current evidence is insufficient to assess the balance of benefits and harms of e-cigarettes for tobacco cessation in adults."

The task force claims that "Recommendations made by the USPSTF are independent of the U.S. government. They should not be construed as an official position of the Agency for Healthcare Research and Quality or the U.S. Department of Health and Human Services."
---
Three from Dave Cross, Planet Of The Vapes
The leading New Zealand tobacco harm reduction advocacy organisation is telling the government's smokefree supporters to get vape regulation right and is asking vapers to get involved and have their say on the Ministry of Health's latest draft vaping regulations. Aotearoa Vapers Community Advocacy (AVCA) says forging the correct approach on vaping is "absolutely critical".
The Coalition of Asia Pacific Tobacco Harm Reduction Advocates (CAPHRA) has called upon the World Health Organization (WHO) to stop hawking lies about the risks of contracting Coronavirus disease 2019 (COVID-19) through vaping or the use of electronic cigarettes.
A month ago, American vapers were coming to terms with the government instructing the United States Postal Service (USPS) that it was no longer allowed to ship vape products including eliquid. The delivery company UPS has announced that it will cease carrying shipments in, across, or out of the USA.

---
Medico-Legal Analysis, Medical Brief
With the Control of Tobacco and Electronic Nicotine Delivery Systems Bill (2018) on the horizon, health organisations and tobacco control lobbyists are failing to acknowledge the benefits of harm reduction products such as electronic vapour products, writes Asanda Gcoyi, CEO of the Vapour Products Association of South Africa (VPASA), in BizCommunity.
the appeal and risk perceptions of e-cigarettes among young Cambodian men?
Tobacco Control, BMJ
Introduction: Reduced risk perceptions influence young people's consumption behaviours of e-cigarettes, suggesting that a health halo effect may be associated with these devices. Product, performative, and social factors contribute to the appeal of e-cigarettes, with young people using e-cigarettes with friends as part of social interactions. This study explored the factors that influence the appeal and risk perceptions associated with e-cigarettes among young Cambodian men.
---
Saddle Horse Blues
Another month, another great line-up of articles. Before you dive in though, we have a favour to ask. If you live in Canada, you may have heard that the Canadian government has proposed cutting the nicotine in e-liquids by 70%. Experts agree that this will impact heavy smokers and resistant quitters the most, along with people who rely on vapour products to remain cigarette-free. Please visit the Reduce the Harm website to read more about what's been proposed. There is an easy to fill form that will allow you to make your own opinion known. This is important- your voice can make a difference. If you would prefer to contact the government directly, follow this link to be brought to the public consultation page.
---
New Nicotine Alliance

As mentioned in our round-up of 2019, the coming year will present many sinister challenges. We need to be ready for them and the NNA has been preparing for momentous threats from the EU and the WHO. 2020 will require consumers to be vigilant and active, so do keep watching for updates. Here are just some of the activities we have been involved with at the start of a new year.

With clear and present dangers to harm reduction looming, an NNA delegation met with three MPs at the House of Commons on 28th January. Mark Pawsey, MP for Rugby, Adam Afriyie, MP for Windsor, and Gareth Johnson, MP for Dartford met with us to discuss how to best address threats to the very successful UK government strategy towards vaping and other reduced risk products.
Daniel Pryor, Adam Smith Institute
Unsurprisingly, a new NBER working paper has found that e-cigarette taxes result in more people smoking cigarettes. The authors examined vaping taxes enacted in eight U.S. states and two large counties, concluding that e-cigarettes and traditional cigarettes are substitutes.

This result is hardly surprising— in the UK, 94% of our 3.6 million vapers are former or current smokers. More than half have quit smoking completely. A large body of evidence shows that vaping is at least 95% safer than smoking. Randomised control trials have demonstrated that they are a highly effective quit method. The idea that we should make vaping more expensive through a targeted tax hike is absurd.
---
Visit Nicotine Science & Policy for more News from around the World

---