Vapers Digest 6th December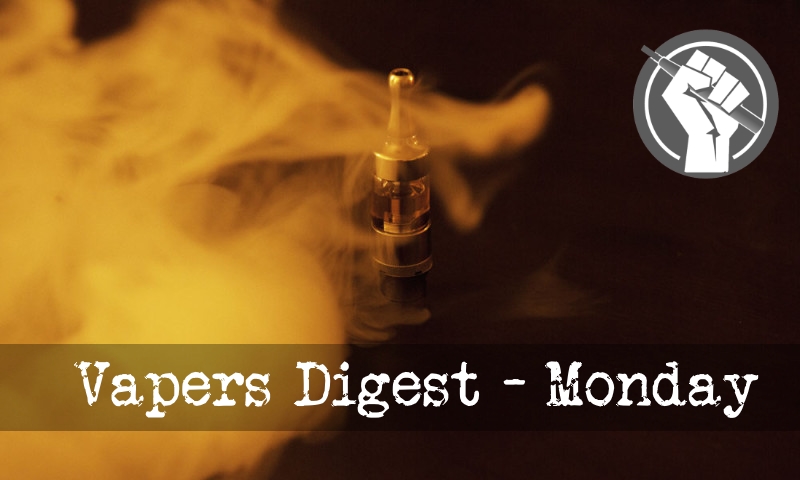 Monday's News at a glance:
E-Cig Summit 2021 Roundup – Part 1 – MEPs have an opportunity – In Dubai, Polosa is the only expert on Harm Reduction – WVA Concerned About The War On Vaping – Flavour Bans Increase Smoking – Why China Could Revolutionize Global THR – Will China's Tobacco Regulators Outlaw Refillable Vapes? – China's Recent Vaping Regulations – New Zealand places a historical record for THR – Does vaping really damage DNA – Groups allegedly funded by Bloomberg – Politicians are still stuck on Prohibitionist policies – Smoking is injurious to health – Build Back Better package's added vape tax – Doctor releases book 'dispelling myths' around vaping – Nicotine Science and Policy Daily Digest
James Dunworth, Ashtray Blog
Since 2013, the E-Cigarette Summit has been shaping the vaping debate, bringing key scientists, policymakers and public health professionals together. It's an incredible opportunity to learn a huge amount about vaping in a very short period of time, and as usual Amanda Strange has done a simply superb job putting it together.

In these posts, we'll be aiming to summarise key points both for those who don't have the time/funds to attend the conference or watch every talk. You can find previous Summit write ups (bar last year's) here. We'll be covering day 2 of the Summit in a separate post tomorrow. Panel discussion summaries will also be added tomorrow.
To make EU lifestyle regulation more evidence-based
Christopher Snowdon
On Thursday, MEPs will vote on amendments and the final report by Rapporteur Véronique Trillet-Lenoir for the Beating Cancer special committee (BECA). MEP Trillet-Lenoir has described BECA as 'the first step towards a European Union for Health' and it is certainly ambitious. It sets a goal of creating a 'tobacco-free generation' by 2040 – in which the EU's smoking rate falls below five per cent, down from the current 25 per cent. By 2025 – barely three years away! – it wants to see a reduction in the harmful use of alcohol of ten per cent. Other goals include phasing out the use of sunbeds and restricting advertising of 'ultra-processed foods'.

Many of the ideas in the draft Beating Cancer Plan, such as scientific collaboration on genomics and diagnostics, have great potential, but others are more troublesome. Proposed restrictions on cross-border shopping for tobacco and alcohol would undermine the integrity of the single market. The proposal for plain packaging of tobacco across the whole EU is baffling given the total lack of evidence that the policy has had any positive impact in countries such as France, Australia and the UK.
---

---
CoEHAR
During the second international conference on Otorhinolaryngology, held in Dubai, prof. Riccardo Polosa (CoEHAR founder) was the only international expert on Harm Reduction.

With a speech entitled: "Impact of e-cigarettes and heated tobacco products on saccharin test: Evidence for harm reversal", the Italian scientist underlined that the damage caused by smoking, in the Otorhinolaryngology too, is not due to the intake of nicotine but to combustion.

Simple clinical observations on smokers have shown that quitting smoking causes almost immediate health benefits as evident improvement in gustation and olfaction.
---
---
Two from Dave Cross, Planet of the Vapes:
The World Vapers' Alliance (WVA) is deeply concerned that politicians who don't have enough knowledge and have not seen the evidence about the issue want to decide the future of vaping. It says that many European politicians have little or no knowledge of any type of new nicotine product but wish to regulate it nonetheless.

The WVA's comments follow a survey conducted by ECigIntelligence where it asked Members of the European Parliament (MEP) for the second time about their knowledge. The results demonstrated that many MEPs continue to be misinformed or uninformed about vaping and other less harmful alternatives to smoking.
Research conducted by the University of Waterloo has found that bans on e-liquid flavours would simply serve to drive ex-smokers back to tobacco products. It says that most adult vapers of non-tobacco flavoured e-cigarettes overwhelmingly oppose flavour restrictions.

The work was carried out by the International Tobacco Control (ITC) Policy Evaluation Project, based in the Department of Psychology at the University of Waterloo.

The research team asked Canadian, English, and American regular vapers who only use non-tobacco flavoured e-cigarettes if they would support or oppose a ban on all non-tobacco flavours. They were also asked what they would do if a ban was ever enacted.

Global Tobacco Harm Reduction – Martin Cullip
China has just amended its tobacco monopoly law to include e-cigarettes, as Filter reported. This means that vaping products and their manufacturers will be regulated strictly by the Chinese government under the same process as cigarettes. It is unclear exactly what the new regulations will mean in practice—we know that companies will be required to obtain production licenses. But it could be that China is about to revolutionize global tobacco harm reduction.

China National Tobacco Corporation (CNTC), the world's largest tobacco company, sells more than 40 percent of the world's cigarettes and is wholly owned by the Chinese government. So it would be fair to contend that the government has a lot to gain from slowing or prohibiting the growth of safer alternatives such as vapes and heated tobacco products.
Outlaw Refillable Vapes? – Jim McDonald
Soon after announcing that vaping products will be regulated by the State Tobacco Monopoly Administration (STMA), the Chinese government has begun to assert control over the industry. There is concern that the U.S. and European vaping markets could be negatively affected if China's new rules are applied to exported products.

Late last week the STMA issued draft rules that require manufacturers to meet mandated production and design standards before being registered with the monopoly. Companies must obtain a license from the STMA after proving they have sufficient funding for legal production and a facility that meets required standards, according to Reuters. The Monopoly Authority also said it will create a "unified national electronic cigarette transaction management platform" that licensed wholesalers and retailers must sell through.
Frankie Chen
On December 2, 2021, China's State Tobacco Monopoly Administration issued the draft rules governing e-cigarettes while the regulator has just released the exposure draft of national standards of e-cigarettes on November 30, 2021. Previously, China announced to bring e-cigarettes under tobacco monopoly law on November 26, hence the legal status of e-cigarettes.

The recent regulation updates have eliminated the uncertainties about the future of Chinese vaping industry, paving the way for the industry's sustainable development.

According to iiMedia Research Group, the size of Chinese' e-cigarette market has grown from RMB 550 million (USD 86 million) in 2013 to RMB 8.38 billion (USD 1.31 billion) in 2020, witnessing an eight-year compound annual growth rate of 72.5%.
---

---
For Tobacco Harm Reduction – Catania Conversation
Could a five-million inhabitants island, with an already extremely low incidence of smokers among its population, set an example to the rest of the world in curbing the tobacco epidemic? Looking at the results and the data provided by New Zealand's health authorities, the answer is YES.

While the World Health Organization postponed discussions on e-cigarettes, thanks to New Zealand, 2022 could become a cornerstone for a global implementation of Tobacco Harm Reduction.

And increase the risk of cancer?
Caitlin Notley, Konstantinos Farsalinos
Vapers experience DNA changes, according to a recent paper published in Nature, and the changes are similar to those seen in smokers – although much less pronounced.

Crucially, this evidence was based on a few people by examining changes in their DNA at the time of the analysis, similar to creating a snapshot image, without considering any potential future change in vaping or smoking behaviour. The study does not provide real-world evidence of vaping-associated ill health in humans.

Positively, the study attempts to separate the effects of vaping itself from the effects of damage caused by tobacco smoking. This is difficult because most vapers use e-cigarettes to help them stop smoking and so are likely to be ex-smokers.

Accused of demonizing vaping bill – Jan V. Escosio
Philippines — Local anti-vaping groups identified in a congressional investigation as being funded by American charity Bloomberg Philanthropies are spreading lies to discredit a Senate bill that aims to regulate e-cigarettes and heated tobacco products in the country, according to consumer advocates.

The National Consumers Union of the Philippines (NCUP) and Vaper AKO in a joint statement challenged anti-vaping organizations to substantiate their allegations against Senate Bill No. 2239 with scientific evidence, and not with pure insinuations.  They issued the statement as the Senate continues to deliberate on the bill that aims "to objectively regulate a much better option to cigarettes."
On Prohibitionist policies – Steven Greenhut
Few explanations about the ultimate pointlessness of Prohibition are better than the one found in the 1969 Creedence Clearwater Revival song, Bootleg: "Take you a glass of water, make it against the law. See how good the water tastes when you can't have any at all. Bootleg, bootleg, bootleg, howl."

That's a howling good way of saying that when government bans stuff, people still want it – and they'll do almost anything to get it. If you don't believe the CCR lyricists, then you haven't watched enough Netflix shows about the Mexican narcotics trade, which show how drug-eradication efforts boost demand, corrupt officials and reward the most ruthless suppliers.
---
---
No less is govt's missing roadmap for tobacco industry – Shantanu Guha Ray
The repeal of the proposed farm laws has given hope to many, among them the tobacco industry that remains constantly at the crossroads because of various decisions taken by the government.

It is a very significant industry, it has a Rs 53,000 crore plus turnover.

But strangely, India never has had a clear roadmap for tobacco and tobacco related products. It is only now that the health ministry is studying patterns of various types of smoking tobacco, cigarettes, beedis and e-cigarettes, the last remains banned in India.
Leaves House Dems under scrutiny – Samuel Dorman , Andrew Murray
House Budget Committee Chair John Yarmuth, D-Ky., is facing accusations that he is helping tobacco interests with a tax on vaping after the House removed another tax on cigarettes from its Build Back Better spending package.

In doing so, critics say Yarmuth is assigning extra costs to the vaping industry, that not only competes with tobacco, but is thought to benefit public health by providing an alternative to smoking. These types of taxes have also been criticized as highly regressive as they tend to disproportionately impact low-income Americans.
---
A look back at how things have moved on or otherwise…
Christopher Snowdon, Velvet Glove Iron Fist
The useless and corrupt World Health Organisation has published a new Global Youth Tobacco Survey (in 'selected countries of the WHO European region', so not very global). It finds that cigarette smoking among 13-15 year olds has declined in nearly every country studied, but there are some telling remarks in the press release.

New WHO report reveals that while smoking continues to decline among European adolescents, the use of electronic cigarettes by young people is on the rise

How can this be when the WHO reckons that vaping is a gateway to smoking? Or could it be that the fall in smoking is partially related to the rise of vaping?
Please Follow Britain's Guidance – Brad Rodu
I sent the following message to Canadian smokers.  It appeared in a Maclean's magazine health supplement, with sponsorship by the Canadian Vaping Association (available here).

You may wonder why an American professor accepted an invitation from the Canadian Vaping Association to author an article about e-cigarettes. In part, it's because I want to apologize to you for the way my government, which is engaged in a coordinated, expensive campaign to create a tobacco-free society, has wrongfully destroyed the prospect of a smoke-free future for millions. Don't listen to American health officials, who emphasize only the negatives, untruths, and urban myths. Don't let their campaign stop you from stepping away from the fire.
---
Visit Nicotine Science & Policy for more News from around the World

---