Vapers Digest 8th December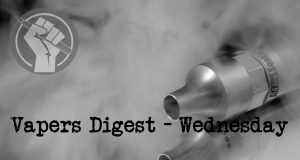 Wednesday's News at a glance:
In this post you'll find quick summaries of the E-Cig Summit, day 2. Also see E-Cig Summit Part 1.

Contents
---
Dr. Konstantinos Farsalinos: "Cherry picking, mispresentation, and misinterpretation of science is a major issue in e-cigarette research." pic.twitter.com/g5YR0CJSy6

— The Vaping Today (@VapingToday) December 8, 2021
---
Good Question. I know my answer. What's yours? Is it OK to tell kids anything we think will stop them from doing something we don't want them to do, even if it's not the truth? #ecigsummit pic.twitter.com/WNxtzAiQrt

— Skip Murray (@imaracingmom) December 8, 2021
---

---
THREE from Dave Cross, Planet of the Vapes
The UK Vaping Industry Association (UKVIA) welcomes a public health watchdog's backing of vaping as legitimate method for helping people to quit smoking. It says the government health watchdog NICE's newly published guidance on use of vaping within NHS settings and smoking cessation services is yet another win for advocates of e-cigarettes' effectiveness in helping people quit combustible tobacco while promoting harm reduction.
While initial responses to the plans to ease the registration process for medically licenced vapes was positive, there has been a negative kickback too. Complaints have been made about "upstart e-cigarette makers" and Patient Magazine has given space to the alarmist opinions of Doctor Verity Biggs.
Questions about tobacco harm reduction and a debate surrounding the Tobacco Control Plan have been conducted in Parliament. Alexander Stafford MP asked about the meeting of targets, Baroness Merron pressed for further outdoor restrictions, while Bob Blackman MP and Mary Kelly Foy MP supported further restrictions on vaping.
---
---

---
thatgotmethinkingblog
Healthy Ireland released their annual report today, Dec 7, 2021. This report covers key health indicators such as smoking, alcohol intake, and social connectedness.

"The survey was conducted annually since inception in 2015; five waves, from 2015-2019, were completed using face-to-face interviews with approximately 7,500 people per annum and are available on the Healthy Ireland website"
On December 6, the Denver City Council voted in favor of a ban on sales of flavored "tobacco products"—including flavored e-liquids and vaping products. The ordinance, which has been vehemently opposed by the vaping community and local small business owners at a series of fiery hearings, will take effect on July 1, 2023.
---
Vaped Crusader
So, we all know SMOKING is evil, yeah. For me I've known smoking was evil, way back to the 1980's when there were those superman posters with him battling "Nick O' Teen" – an 80 a day or so smoker, quite possibly Irish with that surname who, for some reason, wanted to get everyone smoking….
But exaggerates risks and fails to discuss about smoking – Dr Farsalinos
As you all know, I have a strong opinion against the use of diacetyl and acetyl propionyl in e-liquids. In the study we published last year, we made this clear and we analyzed the potential risk from the use of these compounds at high levels (basically, when used as ingredients, or are present as contaminants but at high levels). We emphasized the fact that none should deliberately add these compounds in e-liquids and tests should be conducted to detect potential sources of contamination…
---
Visit Nicotine Science & Policy for more News from around the World

---