Vapers Digest 10th December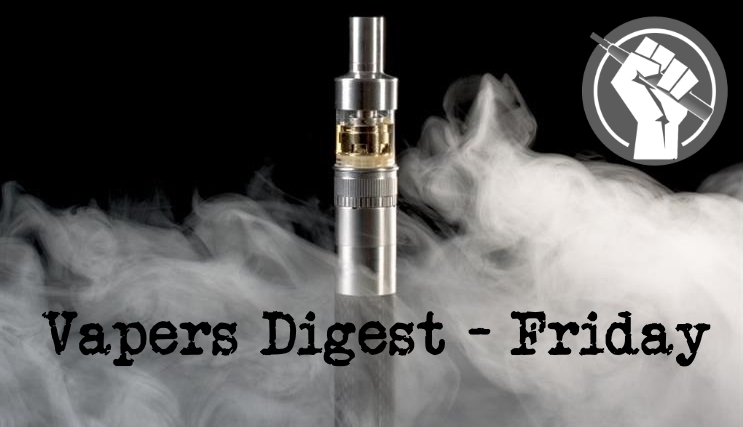 Friday's News at a glance:
Register for the 9th Global Forum on Nicotine – Tobacco prohibition coming to New Zealand – Legal Child Abuse: Terrorizing Children About Nicotine – Democrats Remove Nicotine Tax from BBB Bill – Flavour ban 'uncertainty' – The geography of Harm Reduction – Research Identifies "Dry Puff" Conditions – The WHF's Blinkered Demands – Working For The Clampdown – Unintended Consequences in Oz – New Zealand puts Australia to shame – Smokefree Action Plan fails to elevate vaping – Action plan a 'game-changer' – Serious concerns about smokefree 2025 policies – A Study Was Claimed to Link Vapes to Cigarette "Relapse" – U.K. Vaping Hits Record High as Smoking Drops – E-cigs with cigarette-like nicotine delivery – How have MEPs changed in their views – Breaking down nicotine addiction – Nicotine Science and Policy Daily Digest
Warsaw & Online: 16 – 18 June 2022
To register to participate in #GFN22 please complete the form below. Registering will give you free access to the content on the conference website, the opportunity to submit your 'GFN Five', and access to the event stream.

If you intend to participate online, enter your name, email and set a password. If you intend to participate in person in Warsaw, please also complete your address details for invoicing purposes.
Christopher Snowdon, Velvet Glove Iron Fist
New Zealand's irritating prime minister Jacinda Ardern has made it very clear that she is running a two-tier country when it comes to Covid vaccinations. Part of her legacy will be to create a two-tier society for smokers too. From 2027, most adults will be allowed to buy cigarettes but younger adults won't. Eventually, old adults will be allowed to buy cigarettes but middle-aged people won't.

Note that way that this is framed as a crackdown on the tobacco industry rather than on ordinary men and women who enjoy smoking. It is a conceit has served the anti-smoking lobby well for many years.
---

---
Kevin Crowley, Vaping Links
Does it concern you that legal child abuse and terrorizing children about nicotine has become acceptable, ethical and permissible? Is convincing other children to bully and shame each other now mainstream? Is fear-based embarrassment and coercion promoted by adults suitable for children?

The recent reported physical and mental child abuse, and terrorizing children about nicotine has me asking questions.

Oh, and it's pissing me off.
Jim McDonald
The nicotine tax that passed the House of Representatives as part of the Build Back Better Act has now been dropped from the version of the bill being considered in the Senate. But until the bill actually passes without the tax, it could be added again.

The Wall Street Journal reported Thursday evening that Nevada Senator Catherine Cortez Masto, a Finance Committee member, pushed for the tax to be deleted from the almost $2 trillion legislation. The nicotine tax would have provided about $9 billion in revenue over 10 years—essentially a drop in the bucket of revenue needed to fund the huge spending bill.
From Senate Plan as They Negotiate Bill Details – Andrew Duehren, Richard Rubin
Senate Democrats are dropping a proposal that would have imposed taxes on vaping, removing a $9 billion provision backed by some public-health advocates from the party's healthcare, education and climate-change bill, people familiar with the matter said.

Lawmakers made the decision as they wrap up the details of the $2 trillion Build Back Better package and attempt to get it through the Senate before Christmas. Sen. Catherine Cortez Masto (D., Nev.), a Finance Committee member in a tough re-election race, pushed to remove the tax and helped force its deletion.
---
---
Clouds BECA tobacco harm reduction win – Snusforumet
A special committee of MEPs has adopted language acknowledging tobacco harm reduction as part of a sweeping set of recommendations to guide the EU's fight against cancer. But concerns about a widened flavour ban remain.

"It's great that MEPs have started to recognize the difference between cancer-causing cigarettes and reduced-risk products," says Patrik Strömer, Secretary General of the Association of Swedish Snus Manufacturers.

The harm reduction language was included as part of a sweeping list of compromise amendments voted on by the Special Committee on Beating Cancer of the European Parliament (BECA) on December 9th.
While snus and chewing tobacco are distributed worldwide, the literature is incomplete and deceiving
The widespread availability of safer nicotine delivery systems without the harms from tobacco, as has been demonstrated for Swedish snus and some other forms of smokeless tobacco products, is a route to ending smoking in the not too distant future as we are already witnessing in Sweden and Norway. A clear distinction needs to be made between the safer snus and refined smokeless tobacco products used in Sweden, Norway and increasingly in the US, and the far riskier unrefined SLT products used in Asia, Middle East and Africa

Four from Dave Cross, Planet of the Vapes:
Researchers in the Netherlands have identified an algorithm that eliminates "dry puff" measurements from vape research. It has long been stated that this phenomenon lies at the heart of studies which produce poor findings.

The researchers at the Centre for Health Protection, National Institute for Public Health and the Environment, and the Division of Human Nutrition and Health, Wageningen University, say: "Assessments of the health risks associated with e-cigarettes rely heavily on measurements of the levels of harmful components in the emissions. Many studies have been published on this subject, and the majority of researchers agree that e-cigarettes are less harmful than regular tobacco cigarettes."
The World Heart Federation (WHF) is demanding governments around the globe implement strict regulations on e-cigarettes. Its policy brief relies on half-truths and lies to push for a "determined effort to stop the e-cigarette epidemic in its tracks."

The WHF says: "Electronic cigarettes, also known as e-cigarettes, have become an increasingly popular alternative to conventional cigarettes, particularly among young people. This is primarily due to aggressive marketing strategies and misleading claims by manufacturers, which have led to a widespread belief that e-cigarettes are a healthy option compared to regular tobacco cigarettes. These claims, however, appear to ignore the growing number of studies that link e-cigarettes to a range of health issues, including an increased risk of cardiovascular disease."
Trading Standards officers have been busy around the country as they clampdown on illegal vapes. Multiple reports of raids and confiscations indicates that Trading Standards has identified the supply of dodgy vaping products as a pre-Christmas initiative.

Walsall shops were targeted by officers as they conducted intelligence-led strikes to uncover over £14,000's worth of disposables.

The types of products were either classified as counterfeit devices or contained illegal nicotine concentrations that rendered them in breach of MHRA registration rules. Some products contained over five times the legal permittable volume of nicotine.
The Land of Oz is a magical country, populated by some influential individuals without brain, heart, or fortitude of spirit. Consequently, Australia has enacted the most regressive approach to vaping out of any which otherwise ought to be following Britain's lead. The hurdles it's placed in the path of smokers hoping to switch is now paying dividends – not by reducing rates but increasing problems.

Criminalising vapers and vendors for trading products the UK broadly accepts is a reduced harm alternative to smoking was always going to end one way – the charging of someone in possession of vapes.
---

---
Dr Colin Mendelsohn
New Zealand (Aoteaora) has today released an 'aggressive' action plan to be smoke-free by 2025. The goal is to reduce daily smoking in all population groups to 5% or less.

The plan involves three main approaches:

The plan explicitly supports smokers who cannot quit to switch to less harmful alternatives such as vaping. It places aggressive restrictions on smoking while giving a significant advantage to vaping.
Fails to elevate vaping – AVCA
"Vaping has been key to reducing our national smoking rate. Encouraging more smokers to switch to much safer and less expensive nicotine alternatives is critical to achieving smokefree. Sadly, on that score, the just-released Smokefree Aotearoa 2025 Action Plan fails to acknowledge this fact," says Nancy Loucas, co-founder of Aotearoa Vapers Community Advocacy (AVCA).

Before the action plan's long-awaited release, ministerial diary records showed Associate Health Minster Dr Ayesha Verrall held teleconferences with the likes of ASH, Hapai te Hauora, the NZ College of Physicians, and vaping industry representatives.
---
---
The Smokefree Aotearoa 2025 Action Plan was launched on Thursday and seeks to implement "bold new measures".

These include slashing availability and reducing the nicotine allowed in tobacco.

Associate Health Minister Dr Ayesha Verrall said: "We want to make sure young people never start smoking so we will make it an offence to sell or supply smoked tobacco products to new cohorts of youth. People aged 14 when the law comes into effect will never be able to legally purchase tobacco.
Newstalk ZB
A tobacco control expert says she has serious concerns about new smokefree 2025 policies.

They will reduce the amount of nicotine allowed in cigarettes and limit the number of retailers who can sell them.

Director of the Centre of Research Excellence, Dr Marewa Glover, says the new measure will demonise smokers and discriminate against the most vulnerable.

To Cigarette "Relapse"—Let's take a Look – Kevin Garcia
In October, Journal of the American Medical Association published a study that claimed e-cigs were not an aid to help smokers stay off combustible cigarettes. That led to a press release claiming that vaping nicotine actually made former cigarette smokers "more likely to relapse." This was then picked up widely by vaping opponents and mainstream media.

There is overwhelming evidence that vaping is an effective tobacco harm reduction tool and quitting aid.

Not only did the takeaways from the JAMA study misrepresent its actual findings, but the study itself was flawed. In a field where misinformation is rife, it's worth looking into how this happened.
May help some people stop smoking cigarettes – Emily Henderson
Electronic cigarettes with cigarette-like nicotine delivery may help some people stop smoking cigarettes, according to a new study by Penn State College of Medicine and Virginia Commonwealth University researchers. By switching to e-cigarettes, the researchers said tobacco users may reduce their exposure to certain carcinogens, or cancer causing substances.

For six months, the research team followed 520 smokers who were looking to reduce their cigarette consumption by at least 50% but had no plans to quit. They observed whether the use of various electronic nicotine delivery systems (ENDS) – used by around 10 million U.S. adults – led to reduced cigarette consumption.
As Smoking Drops – Tobacco Reporter
The number of people who vape in the U.K. has risen to its highest level since records began while the number of U.K. adults who smoke has fallen below 14 percent for the first time in years, according to just released government figures.

The Office for National Statistics (ONS) has published its annual report into smoking prevalence in the U.K., which includes figures on the number of adults who vape, just one month after the Department of Health's announcement that vaping devices could soon be prescribed to smokers through the National Health Service.

In 2014, when data on the number of U.K. vapers started being collected, 3.7 percent of the population reported using e-cigarettes. In 2020, that had risen to 6.4 percent, equivalent to around 3.3 million people.
May help cigarette smokers quit
Electronic cigarettes with cigarette-like nicotine delivery may help some people stop smoking cigarettes, according to a new study by Penn State College of Medicine and Virginia Commonwealth University researchers. By switching to e-cigarettes, the researchers said, tobacco users may reduce their exposure to certain carcinogens, or cancer-causing substances.

For six months, the research team followed 520 smokers who were looking to reduce their cigarette consumption by at least 50% but had no plans to quit. They observed whether the use of various electronic nicotine delivery systems (ENDS) – used by around 10 million U.S. adults – led to reduced cigarette consumption. Participants randomly received an ENDS containing 0 mg/mL (placebo), 8 mg/mL or 36 mg/mL nicotine, or a cigarette substitute with no nicotine, electronics or aerosols.
Public Health Schism Over E-Cigarettes | RegWatch
Momentum toward tobacco endgame
Tobacco endgame policies are being considered all over the world1, but creating a tobacco-free world will not come without strong public policy, which cannot happen without communication between tobacco control advocates, lawmakers, and the public. Communication is vital in shaping tobacco control conversations and turning the public's attention toward a tobacco endgame. Endgame-oriented tobacco control advocacy groups such as Action on Smoking and Health (ASH) and the American Heart Association (AHA) prioritize communications work to bolster support of endgame goals.
On flavored smoking products
Denver Mayor Michael Hancock vetoed a bill that would have banned the sale of most flavored tobacco and vaping products in the city in 2023, saying the ban wouldn't do enough to curb teen use of vaping products and would harm small businesses.

Hancock sent a letter Friday morning to City Council explaining his decision and calling the proposed ban flawed.

Hancock said a Denver ban would not shield children from using nicotine and tobacco products because they would be available in surrounding counties. It would be more effective and appropriate to pursue a statewide ban through the legislature, he wrote.
About new nicotine products?
Members of the European Parliament (MEPs) are due to vote on amendments to a report on Beating Cancer presented by the Special Committee on Beating Cancer (BECA) on 6th December which may set policy direction for the European Union over many years. Among the many areas in which the BECA has been active – including food, alcohol, and chemical materials – tobacco is one of the most important as it is identified as one of the areas which can contribute most significantly to reducing cancer rates. Within this, one of the main topics for debate will be the role played by new nicotine products and how their sale and use should be regulated.
Dr Prem Kumar Shanmugam
CIGARETTE smoking is a public health concern in Malaysia. According to the Health Ministry, up to one in five Malaysian adults are current smokers. It is estimated that 4.8 million Malaysians aged 15 years and above currently smoke.

Cigarette smoking remains the leading cause of preventable diseases and premature death worldwide. The annual global death toll due to smoking is four million, and is expected to rise to a staggering 10 million by 2030.

In Malaysia, almost one in two of current smokers made an attempt to quit smoking in the past 12 months. Among smokers who try to quit smoking, less than 5% quit successfully at any one time.
---
A look back at how things have moved on or otherwise….
Dave Asprey, daveasprey.com
Nicotine and your brain! Don't worry, we aren't talking about cigarettes.

Today's guest on Bulletproof Radio is Dr. Paul Newhouse. Dr. Newhouse has a broad background in human cognitive medicine and neuroscience and has 40 years of studying cognitive models in humans under his belt. He has spent a lot of that time studying nicotine's effects on the brain.

He's the director of the Vanderbilt Center for Cognitive Medicine in the department of Psychiatry and behavioral science at Vanderbilt.

Dave Asprey and Dr. Newhouse get into how cognition works and how specific receptors are important for things like Alzheimer's Disease or ADHD.
The Sunday Mail
Combustible tobacco products are harmful not only to smokers but their smoke has prejudicial effects on non-smokers, says Professor David Nutt, an English scientist specialising in drug research.

Prof Nutt made the observation in his presentation entitled "Estimating the harms of nicotine products in the 21st century" at the recent Global State of Tobacco Harm Reduction (GSTHR)-Burning Issues virtual conference.
---
Visit Nicotine Science & Policy for more News from around the World

---