Vapers Digest 13th December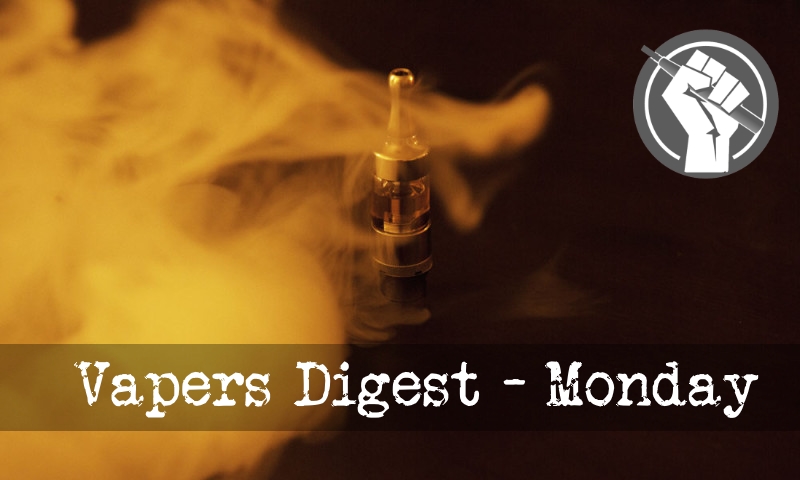 Monday's News at a glance:
Vape News From Scotland -ONS Smoking and Vaping Figures Announced – Desperate to Win the Smokefree Race, New Zealand Resorts to Prohibition – National Preventive Health Strategy – Does Vaping Help Smokers Quit? – Open letter to the New Brunswick Medical Association – Even with all our anti-smoking policies, I'm still buying cigarettes – Senate Democrats Nix a Regressive, Unhealthy Vaping Tax – Harm reduction is the way to a smoke-free future – Acceptability And Use Of THR Products Must Increase – Nicotine Science and Policy Daily Digest
Dave Cross, Planet of the Vapes
Trading standards officers have conducted raids in Cumbernauld, a town just ten miles out from Glasgow. In some reports, the raids were linked to cases of teens "coughing up blood" after vaping. Elsewhere, Dr Sandesh Gulhane MSP has been meeting with electronic cigarette manufacturers to discover if vaping is a key to getting rid of smoking for good.

North Lanarkshire Trading Standards received reports from concerned parents that children were able to buy disposable vapes that looked like "highlighter pens".

The raids focussed on these types of ecigs that contain illegal amounts of nicotine, something that has become problematic across the UK of late.
Dave Cross, Planet of the Vapes
Smoking rates in Great Britain continued to spiral down in 2020, according to the latest findings produced by the Office for National Statistics (ONS). It comes as the industry announces updated figures and market information.

GB smoking rates have now fallen from 2019's figure of 15.8% to 14.5% last year. This means there are now around 7.6 million smokers, which is down from the peak figure of 27 million four decades ago. The overall rate temporarily rose to 16.8% due to the impact of the Covid-related lockdowns.

The government has announced that it is aiming to have a "Smokefree Britain" by 2030 and the ONS' findings prompted a spokesperson to say the end of smoking is "finally in sight".
---

---
New Zealand Resorts to Prohibition – Marewa Glover
Bhutan was the first country to ban the import and sale of tobacco, in 2004. But New Zealand is held up as the country to watch.

In the global race to eliminate tobacco smoking, New Zealand was first out of the stalls with its 1990 Smoke-free Environments Act. The law banned smoking inside public buildings such as schools, in workplaces and on public transportation. It extended restrictions on advertising and established an agency to replace tobacco-industry event sponsorship It remains a milestone achievement that the law became an exemplar during the writing of the United Nations' Framework Convention on Tobacco Control.
Fails smokers, vapers and Indigenous people – Colin Mendelsohn
The National Preventive Health Strategy 2021 launched today by health minister Greg Hunt has failed to deliver for Australia's smokers, vapers and Indigenous people.

The Strategy identifies tobacco smoking as the leading cause of preventable death and disease in Australia but offers little to help Australian smokers quit, doubles down on discouraging vaping, the most effective quitting aid, and aims for a small reduction in smoking rates.

In 2019, the adult daily smoking rate was 11.6%. Today, Mr Hunt announced a 'new' target of <10% adult daily smoking by 2025.  This is the same target set for 2018 in Australia's National Tobacco Strategy in 2012.
---
---
Marshall Keith
On a segment of "The Doctors" the question was raised does vaping help smokers quit? What's interesting to note, the only Dr on the panel was Dr Michael Siegel. The others were anti vaping activist including Matt Myers the founder of Tobacco free kids.

Dr Siegel rightfully brought up the Random Controlled Study published in the New England Journal of Medicine that shows that it clearly does. Matt Myers Founder of Tobacco Free Kids countered with Population based studies say otherwise. Where does he get this? My guess is long time "discredited" anti smoking/vaping activist who has a long history of playing fast and loose with the numbers.

Dr John Oyston
The New Brunswick Medical Association (NBMA) recently published "Physicians pleased with new restrictions on vaping products".

As a physician, I would l like to make it clear that I am NOT pleased with New Brunswick's ban on flavoured vaping products. This is an open letter I have written to the NMBA, the Canadian Cancer Society; the New Brunswick Lung Association; and Dr. Kerrie Luck, Ph.D. and Dr. Jeff Steeves, Past President, New Brunswick Medical Society:
---

---
I'm still buying cigarettes – Jessica Lindsay
I am among the one in five people in the UK who smoke, contributing packet by packet to the £18billion we spend yearly on tobacco products.

My parents have kept the habit their whole lives, as did both sets of grandparents before them. Having started in my early 20s and maintained a box-a-day addiction ever since, in many ways I'm a walking target for tobacco companies.

In theory, that should also make me a target for health interventions, too. But I see the gory pictures on the box and ignore them, I pay the extra duty each time it's upped, and I continue to light up despite knowing the implications.
Unhealthy Vaping Tax Endorsed by the House – Jacob Sullum
Senate Democrats have nixed the idea of imposing a new federal tax on nicotine vaping products, which would have disadvantaged a potentially lifesaving alternative to cigarettes and violated President Joe Biden's pledge to avoid raising taxes on American households that earn less than $400,000 a year. The Wall Street Journal reports that Sen. Catherine Cortez Masto (D–Nev.), a member of the Senate Finance Committee, "pushed to remove the tax," which was included in the House version of the Build Back Better spending package, and "helped force its deletion."

To a smoke-free future – Idris Jala
Since early 2020, the world has been living under various degrees of lockdown measures due to the coronavirus pandemic. I have personally found this period to be one of the most challenging times I have faced. But I have also found some self-enriching moments as I spend more time on self-reflection, planning, strategising and, thankfully, a lot of invaluable companionship with my family.

Without question, this pandemic has been a trying and stressful experience, even for the best of us. I know that the prolonged lockdown and various demands that the pandemic has caused are placing a tremendous strain on people's mental health, which has led to a host of other health risks.

Must Increase To Reduce Number Of Tobacco-Related Deaths
James K. Glassman
Around 1.14 billion people use tobacco. The impact of widespread tobacco use is felt in increased health costs and premature deaths. Annually, an estimated 8 million die of tobacco-related ailments, and 200 million years of life are lost.

The World Health Organisation Framework Convention on Tobacco Control (WHO-FCTC) was created in 2003 to address increasing tobacco users. Unfortunately, our Commission Report (fightagainstsmoking.org) finds that current tobacco control efforts have not been effective.
---
A look back at how things have moved on or otherwise…
James Dunworth, Ashtray Blog
When I first launched a vape predictions post in 2012, I had no idea what a mammoth post this would end up being.

I did consider shortening it considerably this year and asking fewer people to share their predictions. But that would lose the invaluable perspective I think we can gain when people from diverse fields, countries and perspectives look at the current state of vaping.

This post is structured differently, however. I've broadly grouped people by specialism. If you don't have the time to read the whole post, this should allow you to navigate to the section most relevant to you. I've also created separate posts for longer predictions, and linked out to them from an excerpt.
Tobacco Research: GroupThink & Group Authorship
Dr. Brad Rodu, Tobacco Truth
I recently critiqued a study by Dr. John Pierce and 35 co-authors of the FDA's Population Assessment of Tobacco and Health (PATH) data that found, per their press release, "E-cigarettes Don't Help Smokers Quit."  My analysis showed their data supported a finding that e-cigarettes are as helpful as medicines and other aids promoted by anti-tobacco crusaders.

In my blog post, I advised that investigators at New York University, Ohio State, Georgetown and Columbia, led by Dr. Allison Glasser, concurrently co-authored another study finding that "…consistent and frequent e-cigarette use and increasing use over time, as well as flavors and device type, are associated with smoking cessation among adult smokers."  Glasser was not a co-author of Pierce's "Don't Help" study, but two of Glasser's colleagues were.
---
Visit Nicotine Science & Policy for more News from around the World

---