Vapers Digest 15th December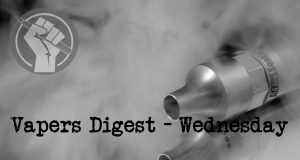 Wednesday's News at a glance:
Hi Dear Friends,

it is always a pleasure to greet you. If you like to check out our Executive Director Charles Gardner talking with Nick "Grimm" Green and awarding publicly his harm reduction advocacy to save lives at his show "TBN" you can do it here.
---
Damon Miles, Spectator Australia
New Zealand this week banned smoking for the next generation.

Those under 14 will never be allowed to legally smoke in their lifetime. Australia is not far behind with health experts calling on the government to also completely ban retail cigarette sales to curb smoking. Yet these experts and the Australian government don't seem to realise that banning goods off the market only makes them spread like wildfire.
---
The motion to override Mayor Hancock's veto of the Denver flavor ban has failed! THE VETO STANDS! Congratulations to all Denver businesses and vapers, your flavors are safe. Not today CTFK! https://t.co/r4cNYBtd4S

— Amanda Wheeler (@amandawheeler32) December 14, 2021
---

---
TWO from Dave Cross, Planet of the Vapes
New Zealand's government has announced its Smokefree Aotearoa plans and has prompted British campaigners to announce similar measures. The action taken will change who is allowed to buy cigarettes, what is in them, and where they can be stocked. Action on Smoking and Health have demanded similar action from the UK government.
Consumer group AVCA have responded to New Zealand government's Smokefree Action Plan, saying it fails to elevate vaping. A leading vaping advocate says the Government's smokefree action plan has failed to fully recognise vaping as a viable alternative for Kiwi smokers keen to quit.
---
---

---
---
A look back at how things have moved on or otherwise…
Brent Stafford, RegWatch
Another hammer has dropped on the Canadian vaping industry. The Federal government announced it is moving to restrict nicotine levels to a maximum concentration of 20mg/mL for vaping products manufactured, imported, or packaged for sale in Canada.

For many Canadian vapers, the proposed new limit would slash (by half for some) the amount of nicotine consumed when vaping and (by Health Canada's own projections) cause some vapers to return to smoking.
Center of Excellence for the Acceleration of HArm Reduction (CoEHAR), Catania Conversation
The European Commission and its Scientific Committee on Health, Environmental and Emerging Risks (SCHEER) has recently published a preliminary Opinion on electronic cigarettes.

The report mainly focused on adverse health effects and the risks associated with e-cigarettes.

Following the publication, three leading scientists contesting the conclusions of the report.
---
Visit Nicotine Science & Policy for more News from around the World

---