Vapers Digest 17th December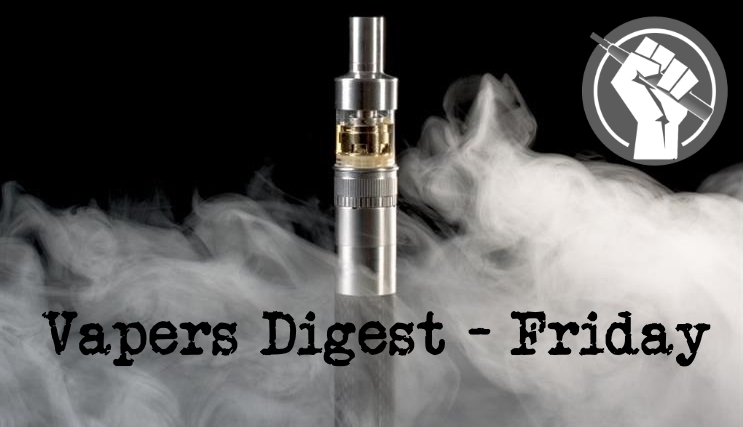 Friday's News at a glance:
7 Big Themes For Vaping In 2022 – Incorporating e-cigarettes into your Stop Smoking Service – Federal Data Show Sharp Decrease in Teen Drug Use in 2021 – Marc Gunther & Clive Bates – Philippines Senate Passes Comprehensive Vaping Bill – US Senate committee ditches nicotine tax – WVA Believes in Consumer Voice Power – Parliament – Poor journalism falsely claims that vaping causes impotence – Because Most HIV-Positive Smokers Never Quit – Why is the WHO Taking Advice from Iran? – Africa: Can Tobacco Harm Reduction Make its Way Through – The Case for Flavours in THR – Misinformation and Infotainment – Nicotine Science and Policy Daily Digest
James Dunworth, Ashtray Blog
For the past 9 years we have run a predictions post, with experts from different fields and different regions sharing their perspective on the future of vaping. This year's, which will be published next week, is better than ever, with some truly superb write-ups and analysis from our predictors.

It's a big article, though, and not everyone will have time to read the whole thing. So for this post I've pulled out 7 key themes from the predictions, which provide an overview of the big ideas for vaping in 2022.
Your Stop Smoking Service: – NCSCT (PDF)
The purpose of this document is to help English stop smoking services to make e-cigarettes (vapes) available to their clients. It makes the case for providing e-cigarettes as an option for your clients alongside medicinally licenced stop smoking products, addresses common misconceptions and concerns, and offers a checklist for the types of things to consider when deciding how your service will provide clients with access to vaping products.

Expert support from a local stop smoking service (LSSS) gives smokers the best chance of quitting for good. Depending on the area, services can be based in a range of settings including integrated lifestyle services, community pharmacies and GP surgeries. Stop smoking services are free and offer a choice of one-to-one or group behavioural support from a trained stop smoking advisor together with effective quitting aids.
---

---
In Teen Drug Use in 2021 – Alex Norcia
On December 15, the National Institute on Drug Abuse (NIDA)—a federal research agency in the United States Department of Health and Human Services—published new data showing a significant decrease in drug use among adolescents in 2021. It's the largest overall drop in teenagers' illicit drug use reported in the country since 1975.

The annual Monitoring the Future survey, conducted by researchers at NIDA and the University of Michigan's Institute for Social Research, measures the "substance use behaviors and attitudes" of eight-, tenth- and twelfth-graders.
American Vapor Manufacturers
Journalist and philanthropy expert Marc Gunther and tobacco harm reduction researcher Clive Bates join AVM's Amanda Wheeler to discuss the latest news on the court challenges to the FDA's marketing order denials, staffing changes at the FDA, and the war between prohibitionists and harm reductionists. Plus, the Media Lapdogs of the week.
---
---
Jim McDonald, Vaping 360
The Philippines Senate today passed a bill that would legalize and regulate vaping and heated tobacco products, and eliminate the Philippines FDA's authority over the products. The Vaporized Nicotine Products Regulation Act (SB 2239) was approved by a vote of 19-2, with two senators abstaining.

The Philippines House of Representatives overwhelmingly passed a similar bill in May. The two bills will now go to a conference committee where they will be reconciled, and both houses will vote on the final version. Then the unified bill will go to President Rodrigo Duterte to sign into law or veto.
Tobacco Intelligence
The US Senate Finance Committee has made "targeted improvements" to president Joe Biden's $2tn social spending package – including removing the proposal of a federal tax on tobacco alternatives.

The revised version of the Build Back Better Bill released by the Senate does not include any reference to the tax, which would have applied to nicotine pouches.

Democrat Catherine Cortez Masto of Nevada was one of the many senators who objected that the proposed tax of $100.66 per 1,810 mg of taxable nicotine would hit people on lower incomes.

Two from Dave Cross, Planet of the Vapes:
The World Vapers' Alliance says consumer voices have been central to the European Parliament's decision to support harm reduction. It welcomed the European Parliament voting to support reducing the harm caused by smoking, as part of Europe's Beating Cancer plan, but remains concerned that vapers' hands will be tied when it comes to flavour choices.

The World Vapers' Alliance says it has been representing thousands of vapers voices around Europe as it called for flavours to be part of Europe's Beating Cancer plan during its Back Vaping Beat Smoking European tour.
Baroness Merron asked Her Majesty's Government just when the delayed Tobacco Control Plan is going to be published. She was also interested to know what assessment has been made as to whether revenues from a 'polluter pays' charge on the tobacco industry could be used towards the delivery of their Smokefree 2030 programme (which includes promoting vaping to smokers), and if the plan will include this charge.

Lord Kamall, Parliamentary Under-Secretary of State for Innovation at the Department of Health and Social Care, informed her: "We are undertaking further policy development to support the Tobacco Control Plan, which will be published in due course."
---

---
Vaping causes impotence – Colin Mendelsohn
Alarmist media reports recently suggested that vaping causes erectile dysfunction (ED or impotence). However, any increase in ED was almost certainly caused by previous smoking, not vaping.

In the US study, men were asked if they would like to answer a question about ED. Of the 13,700 volunteers, 4.8% vaped. The study found that vaping was 'associated' with ED – the rate of ED was twice as high in vapers as in non-vapers.

This is not surprising as most vapers are current or former smokers who are vaping to quit smoking or as a safer alternative. Past and current smoking is a well-known cause of ED.
Tim Murphy
Even though she's a grandmother in San Diego and I'm a childless gay man in New York City, Cinnamen Kubricky and I have a few things in common. We're both 52. We're both living with HIV—her since 1993, me since 2000. We've both put hard drugs behind us.

And even though we both know that HIV and smoking is a particularly bad combination—putting us at higher risk of heart disease, cancer, serious lung diseases, and infections such as pneumonia than those without HIV who smoke—well, we both smoke.

Jason Reed
Last month, media cycles were dominated by COP26, the UN's global climate summit held in Glasgow. But behind the scenes, another wing of the United Nations was also meeting to decide the future of a crucial area of public policy: the World Health Organization (WHO).

COP9, hosted by the WHO's Framework Convention on Tobacco Control (FCTC), took place virtually. Attendees discussed public health policy, with a particular focus on smoking and vaping. But where COP26 was broadcast around the world, featured eye-catching speeches from world leaders and generated countless headlines, COP9 was hidden away behind closed doors. It passed without a whisper.
Make its Way Through a Powerful and Complex Cultural, Political and Economic System?
The E-cigarette summit – science, regulation, and public health, took place on the 7th and 8th of December, 2021.

A growing number of scientific studies show that heated tobacco and electronic cigarettes among other innovative alternatives are potentially less harmful than traditional cigarettes.

Many consider these as low-risk alternatives to smoking that can prevent millions of premature deaths and cases of major disease.
Konstantinos Farsalinos
Smoking is one of the most lethal addictions, with more than 8 million premature  deaths being recorded annually from smoking-related diseases, according to the  WHO(1). While nicotine is the main substance linked to dependence, harm is predominantly caused by combustion products or other harmful compounds present in cured tobacco(2). Due to the difficulty in quitting smoking and the relatively low effectiveness of smoking cessation medications(3), the concept of tobacco harm reduction, a strategy of providing nicotine through less harmful products, has generated a lot of interest.
Catania Conversation
The number of people using tobacco has not declined for nearly a decade, causing almost eight million death worldwide every year. Yet despite the lack of progress, official bodies and posters on social media channels continue to push back against THR with inadequate and flawed scientific research.

Health misinformation is impacting inappropriate responses by governments and public health institutions at every level. Moreover, the public is seriously misinformed on many areas of protecting their health by the massive spreading of fake news and misleading information, whilst reliable scientific information is lost in cyberspace.
Pushing to restrict cigarettes and vapes are quietly investing in tobacco giants
 Kimberly Leonard
Weeks before the coronavirus pandemic became a public-health crisis in America, Congress was fixated on another respiratory calamity.

A mysterious lung illness was killing dozens of people and sickening thousands more. It seemed to be linked to counterfeit vapes — particularly those containing THC, the high-inducing compound in marijuana.

That drove Congress to action. The Democratic-led House passed a bill to ban all flavored tobacco, including menthol cigarettes and all kinds of e-cigarettes meant to offer smokers tasty alternatives.
---
A look back at how things have moved on or otherwise….
Göran Hedenstierna, Luni Chen, Magnus Hedenstierna,

Robert

Lieberman,

David H.

Fine, Science Direct
It has long been suggested that NO may inhibit an early stage in viral replication. Furthermore, in vitro tests have shown that NO inhibits the replication cycle of severe acute respiratory syndrome coronavirus. Despite smoking being listed as a risk factor to contract Covid-19, only a low proportion of the smokers suffered from SARS-corona infection in China 2003, and from Covid-19 in China, Europe and the US. We hypothesize, that the intermittent bursts of high NO concentration in cigarette smoke may be a mechanism in protecting against the virus.
John Xydou, Global Banking and Finance
On Wednesday, December 9th, Minister Christian Dubé announced his proposed policy to further regulate vaping. Minister Dubé cited increased youth vaping rates and the American lung illness outbreak EVALI as the rationale for the prohibitive restrictions. The Canadian Vaping Association (CVA) has repeatedly shared the science with the Government of Quebec and health authorities demonstrating the outbreak was not caused by nicotine vaping
Michael Landl, World Vapers Alliance, The Parliament Magazine
Cancer is the second leading cause of death in the EU. 1.3 million people die from cancer each year. Therefore, the upcoming European Beating Cancer Plan is a historic opportunity to improve public health in Europe, but to be successful the EU must be brave enough to endorse new approaches. Vaping must finally be endorsed to beat cancer, writes World Vapers' Alliance's Michael Landl.
---
Visit Nicotine Science & Policy for more News from around the World

---