Vapers Digest 20th December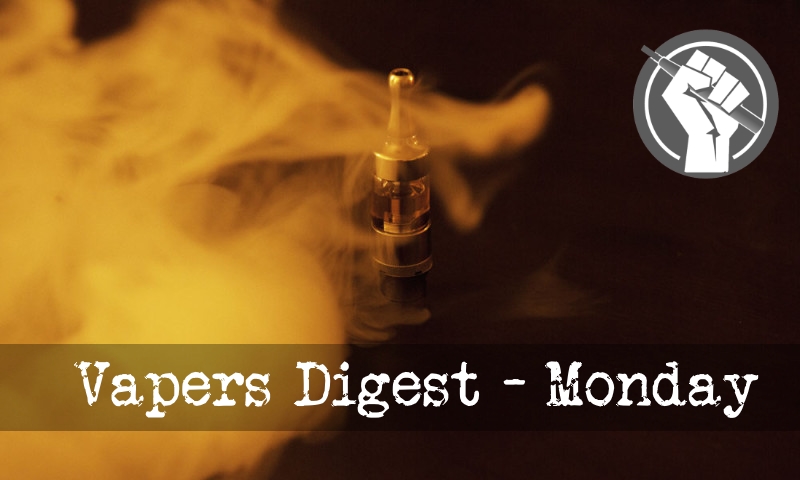 Monday's News at a glance:
Vape Predictions 2022 | 18 Experts Share Their Thoughts – Will It Help People To Quit Smoking – AVAIL Vapor Has Sold or Closed 100 Vape Shops – The unrelenting assault on vaping is taking a toll – A New RCT – 2021 First Quarter Flashback – Absurdly Flawed Reporting from Vanity Fair – No more doubts: e-cigs are less toxic than traditional cigarettes – Ex-WHO Director Slams Its THR Denial – Do e-cigarettes help quit smoking? – Health Canada's proposed ban on flavoured vapes – Harm Reduction Approach to Quit Smoking – China's new regulation on e-cigarettes – Nicotine Science and Policy Daily Digest
18 Experts Share Their Thoughts – James Dunworth
Our 10th annual vape predictions post brings together expert views from across the world to help us get a glimpse into what 2022 holds for us.

We aim for a global perspective, and this year you'll find predictions for many parts of the world, from Africa to South America and from the UK to the US.

This is always a long post, so for those short of time, you can find a summary of the big themes in vaping for 2022 here. You can also use the contents below to navigate to the areas that are of most use to you. I encourage contributors to keep predictions short, but where they are longer we have linked to a separate post. Without further ado, here they are…
If we give out free E-Cigarettes through homelessness services?
Smoking is a leading cause of early death. Adults who are homeless are four times more likely to smoke than the UK average, but show the same interest in quitting. Things that help people to quit, like nicotine gum, patches, and support services are not highly regarded by many people experiencing homelessness.

Very little research has been done on what does help people stop smoking if they are homeless. Evidence shows e-cigarettes are now the most popular route to quitting in the UK, but start-up costs get in the way for people with less money.

Our aim was to learn if people accessing homeless centres would take part in a 6-month study to compare a free e-cigarette starter kit with the usual options, and how they would get on with one way of quitting compared to the other.
---

---
100 Vape Shops and Other Assets – Jim McDonald
One of the largest independent vaping businesses in the United States is selling off assets and closing the vape shops it hasn't already sold. AVAIL Vapor, based in Richmond, VA, at one time owned over 100 branded vape shops, a regulatory compliance and consulting business, and a major wholesale distribution company.

The company's founder and CEO blames the FDA's chaotic attempt to regulate the vaping industry, along with the COVID-19 pandemic. "It's completely just a mess with FDA policy making and policy strategy," AVAIL CEO James Xu told Richmond BizSense. "It just did not make any sense from day one."
---
---
Marc Gunther
Kim "Skip" Murray smoked for 46 years. "I tried to quit so many times that I quit trying to quit," she says. Only after her son, Tom, a former smoker who had suffered a heart attack, gave her an e-cigarette did she break her two-pack-a-day habit. Murray now owns a vape shop in Brainerd, MN, where she helps smokers give up combustible cigarettes for vapes, which are safer than smoking.

"My mom died from smoking. My uncle died from smoking. My grandparents died from smoking. I hate smoking," she tells me. "Being involved with this technology has been a privilege."

It is no longer: Her vape shop, Lakes Vape and Rec Supply, will close at the end of the year. Sales have fallen by more than half for a number of reasons, including campaigns against vaping that spread unwarranted fears, Covid-mandated shutdowns and FDA bans on vaping products.

Two from Dave Cross, Planet of the Vapes:
The majority of smokers accessing the current best treatments continue to smoke so researchers aimed to test how e-cigarettes compared to nicotine replacement treatment (NRT) to help such smokers to reduce smoking. The team included Professor Peter Hajek, responsible for the first ground-breaking efficacy study showing vaping was three times better than NRT at helping smokers quit.

"Among smokers seeking help, most do not achieve smoking cessation even with intensive treatments. Some 80% of smokers treated in clinical trials where various selection criteria apply and more than 80% of those receiving intensive treatment in routine care smoke 1 year later," the authors of the study state.
News from America created a negative beginning, depressingly so as Covid rates ensured that the government shut down all the UK brick and mortar stores again. Negative stories flooded out but the news from home remained positive. It set the bar for the year to come.

Dr Farsalinos kicked off January by launching two defamation cases against articles written by The Investigative Desk and published by VPRO (a Dutch public broadcaster) and French national newspaper Le Monde.

He wrote: "Bloomberg disgrace. They hate studying nicotine (NRTs!!!) for COVID, so they hire 'journalists' (who hide their sponsoring) for ad hominem attacks with LIES against me, Changeux and other researchers! Mafia-like tactics! Science is NOTHING to them!"
---

---
Martin Cullip
The World Health Organization's reputation took another big hit at a conference in London earlier this month that discussed global vaping policy. The E-cigarette Summit featured a keynote address by Professor Robert Beaglehole. As well as being emeritus professor of public health at the University of Auckland, he was formerly director of the Department of Chronic Diseases and Health Promotion at the WHO.

Deeply critical of the WHO's opposition to tobacco harm reduction, his speech was all the more pointed considering his WHO past.

He argued that saving millions of smokers' lives through a "smoke-free world" depends on the availability of safer alternatives to smoking, such as vapes—not on aiming for a nicotine-free world, as the WHO would like.

American Vapor Manufacturers
An article published December 16th in Vanity Fair by reporter Vanessa Grigoriadis has to rank as one of the sloppiest and most error-riddled pieces we have ever encountered in a mainstream publication. Nearly every paragraph contains a factual mistake, false assumption, or an obvious omission. Sadly, the piece does serve as a good example of the lazy, rumor- and misinformation-fueled discussion about vaping policy that so often characterizes mainstream journalism on the subject. We would encourage our members and followers to zero in on flaws that they can spot but here are some of the more glaring examples that we compiled right off the bat.
E-cigs are less toxic than traditional cigarettes
CoEHAR researchers replicate the most relevant studies on the topic, demonstrating lower toxicity of nicotine-releasing electronic devices.

Link: https://www.nature.com/articles/s41598-021-03310-y

International Replica project network validated the conclusion of the most important studies on ecigs. It also confirmed the lower toxicity of aerosol produced by electronic cigarettes in comparison to conventional ones.

Shantanu Guha Ray
The global e-cigarette summit has just got over in the United Kingdom and some interesting, forceful trends are emerging across the world.

It will be interesting to see what the world is saying.

I would say the initial signals on vaping have remained quite consistent. A handful of initial reviews gave some evidence of benefit of e-cigs for quitting, but with low certainty. And now, it has moved to moderate certainty. The reason for only moderate certainty is the low number of studies.
On flavoured vapes has opponents decrying impact on former smokers
The smell of cotton candy and blue raspberry wafted outside the Château Laurier in late November as Canada's 44th parliament opened its first session nearby — and no, there wasn't a fair in town to celebrate.

Instead, dozens of vapers — enough to displace sidewalk traffic in front of the grand hotel, directly across from the temporary Senate chambers at 2 Rideau St. — were gathered to express their discontent about Health Canada's push to ban aromatically sweet varieties of vape pods for consumer purchase.
Abby Friedman
THE current Covid-19 pandemic requires sustainable behavioural change among people from all walks of life, in order to reduce the impact of the virus.

The outbreak has taught us that harm reduction approaches benefit public health greatly.

If you cannot avoid taking the risk of potentially contracting the virus, steps must be taken to greatly decrease the possibility of infection and development of severe symptoms.
Evokes heated discussion – Xu Hua
E-cigarette makers have been pitching in their two cents, after China expanded its Tobacco Monopoly Law last month to include vaping devices.

On December 2, China's State Tobacco Monopoly Administration (STMA) released a draft of "Administrative Measures for E-Cigarettes," which subjects e-cigarettes to the same regulations as traditional cigarettes. The administration is seeking public opinion on regulating the growing industry.

Heated discussions have been underway among over 1,000 participants at the 5th International E-cigarettes Industry Summit held in Shenzhen, where most of China's e-cigarette factories are located, on Friday.
---
A look back at how things have moved on or otherwise…
Diane Caruana – Vaping Post
Last October, ETHRA, an association bringing together 22 European groups representing consumers of safer nicotine products, launched a questionnaire that aims to gather data pertaining to nicotine use behaviours within Europe. The questionnaire will close at the end of this month on December 31st and is available in ten languages. ETHRA is urging European consumers to take part, calling for maximum participation and assistance in distributing the survey by sharing it on social media.

Another aim of the survey is gathering public opinions about possible changes in regulations for safer nicotine alternative products within the EU. Currently, the European Commission (EC) is preparing proposals to amend two European Union directives: the infamous Tobacco Products Directive (TPD), and the Tobacco Excise Directive (TED).
While Smoking, Drinking, Getting Drunk More – Brad Rodu
Just-released 2020 Monitoring the Future survey results (here) indicate that all forms of vaping among high school seniors declined (as seen in chart at left), even as alcohol use, getting drunk, and cigarette smoking all increased.

Prior to this year, the rate of current smoking (i.e., past 30 days) had been on a precipitous decline.  Smoking rates fell by half from 2015 to 2019, from 11.4% to 5.7%.  Unfortunately, smoking rose to 7.5% in 2020.  At the same time, general vaping declined from 31% to 28%, and nicotine vaping also dropped.

Past 30-day alcohol increased from 29% to 33%, accompanied by a similar rise in getting drunk.  The only good news for intoxicating drugs was a single percentage point decline in marijuana use.
---
Visit Nicotine Science & Policy for more News from around the World

---