Vapers Digest 4th June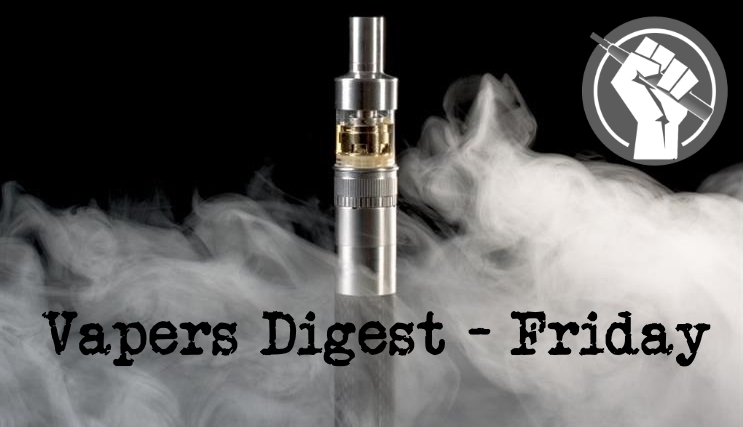 Friday's News at a glance:
Clive Bates: "We must restore the confidence of consumers lost because of misinformation" – Ethan Nadelmann on Tobacco Harm Reduction – EU TPD a 'wasted opportunity' to learn from Sweden – Nicotine Pouches Face Attacks – European Commission weighs up the benefits and risks – Nicotine flavor ban – NNA Writes To Government – ETHRA Addresses APPG Inquiry – AVCA Celebrates World Vape Day – Researchers Tackling Misperceptions – WHO Report Slammed – Smokers Condemned To Death – Nicotine misperceptions – Taxes Keep Smokers Smoking – Will China Bring Vapes Under the Country's Tobacco Monopoly? – Did the CDC's Lack of Transparency – Quebec Coalition for Tobacco Control – India Missed A Public Health Opportunity – Consumer advocates to tackle lies about vaping – Kenya's ban of oral nicotine increased smoking – US Nicotine Vaping Product SimSmoke – World Vape Day 2021 – Nicotine Science and Policy Daily Digest
Of consumers lost because of misinformation
Clive Bates, Catania Conversation
Catania Conversation contacted Mr Bates to discuss the state of THR in the United States, which has recently seen a new surge in the numbers of smokers during 2020 after a period of increasing decline in the consumption of conventional cigarettes. A restrictive regulation on smoke-free products, an aggressive media campaign against it, together with unreasonable bias by lawmakers inflicted a huge blow on the opportunities given by those products. While the new President of the United States, Joe Biden, recently inaugurated a new approach on Harm Reduction and reduced risk devices, the country still has a long way to reach a comprehensive and effective strategy.
Brad Rodu, Tobacco Truth
Ethan Nadelmann is a world-class, eloquent, passionate expert.  Spend 18 minutes watching his inspirational speech, "We've Seen This Before: Tobacco Harm Reduction Opponents Mimicking Old Drug War Tactics and Rhetoric."

Nadelmann founded the [Alfred] Lindesmith Center, which honors the Indiana University sociology professor who pioneered drug harm reduction research and policy development.  Nadelmann, who also founded the Drug Policy Alliance and was described by Rolling Stone as "The driving force for the legalization of marijuana in America," was the keynote speaker at last month's E-Cigarette Summit.
---

---
A 'wasted opportunity' to learn from Sweden – Snusforumet
The TPD 2021 Application Report, published by the European Commission on May 20 as required under the Directive, singles out novel tobacco products as posing "specific regulatory challenges".

The report describes the market for tobacco and nicotine products as "more diverse and challenging to regulate", claiming that new product categories "circumvent existing regulations" and can't be fully addressed by existing TPD provisions.
As Their Popularity Grows – Jim McDonald
Earlier this year, New York State Assembly member Linda Rosenthal—a staunch vaping opponent—introduced a bill that would add nicotine pouches to the list of nicotine products that cannot be sold in flavors other than tobacco. The bill hasn't left committee yet, but it may signal the start of a wave of restrictive laws on what is certainly the most innocuous of all nicotine products.

Nicotine pouches contain no tobacco, and some don't even contain tobacco-derived nicotine. They don't emit smoke or vapor, and don't contain any ingredient except nicotine that isn't also found in processed foods.
---
Authors of BMJ article have NOT disclosed funding from Bloomberg via Univ of Bath. FOIA document: https://t.co/60v3krbzhr
My response titled "False and personally damaging allegations made by journalists with undisclosed conflict of interest" still not published. Editors notified

— K. Farsalinos (@FarsalinosK) June 3, 2021
USA@CDCgov "has strongly linked THC products containing vitamin E acetate [VEA] to 68 deaths — including three in Michigan — and more than 2,800 hospitalizations nationwide."

That was in 2019. Two years later, one state may ban VEA. #Duh.https://t.co/AwClI0Vqy9

— Charles A. Gardner, PhD (@ChaunceyGardner) June 4, 2021
---
Of e-cigarettes – Seth Dervey
E-cigarettes are promoted in many countries as a safer alternative to tobacco. However, in the EU, there has been a long-running debate about the health effects of these products.

As e-cigarettes are so new, the Commission has been cautious when it comes to how they are regulated across the bloc.

At the moment, they are covered by the Tobacco Product Directive as they contain nicotine. However, a new report says they could fall under pharmaceutical regulation in the future.
A lesson in why a bill should not become a law – Jeff Stier
A few years ago, a liberal law professor friend in New York asked me to help her with a lesson. I was tasked with coming up with a public health policy that students across a wide ideological spectrum could agree upon.

I suggested a policy promoting public health education explaining how vaccines work, as part of an educational campaign to support more widespread acceptance of essential vaccinations.

This proposal met some key criteria in that it was not intrusive, it was based on science as well as common-sense, was always timely and was consistent with broad-based public health goals.

Five from Dave Cross, Planet of the Vapes
We are writing to follow up our letter of 29 October 2020, setting out why and how Brexit could help achieve the government's Smoke-free 2030 goal and contribute to levelling up. Thank you for the reply of 6 November 2020, which we appreciate. We understand a new Tobacco Control Plan will be announced later this year. We believe this will of necessity go beyond the scope of the recent consultation on the implementation of tobacco regulations and raises questions of strategy that we would like to address. This letter and attached submission are to provide a more comprehensive set of proposals and should be read in conjunction with the evidence set out in our October letter.
The European Tobacco Harm Reduction Advocates (ETHRA) group has written to the All-Party Parliamentary Group for Vaping (APPG) as part of its inquiry that will feed into the Tobacco and Related Products Regulation (TRPR) review. The review closed on 27 May and the report on the submissions will be published by the APPG in due presently.

The APPG says: "The intention is to propose regulatory divergence from the EU to ensure that UK legislation aligns with the Government's position on tobacco harm reduction, improves public health, and strengthens the UK's standing as the world's most progressive nation on tobacco harm reduction.
Aotearoa Vapers Community Advocacy (AVCA) says Kiwi ex-smokers and vaping advocates celebrated World Vape Day (Sunday, 30 May). This was the first WVD since New Zealand legislated and regulated vaping. However, it believes, much more effort is required to achieve Smokefree Aotearoa with submissions on the Government's action plan set to close, say tobacco harm reduction proponents.

AVCA was formed in 2016 by vapers across New Zealand wanting their voices heard in local and central government. All members are former smokers who promote vaping to help smokers quit – a much less harmful alternative to combustible tobacco products.
Researchers have looked at how effective expert videos are at tackling smoker misperceptions about electronic cigarettes and vaping. Madeleine Svenson, James Green, and Olivia Maynard found that carefully designed public health information videos are good at combatting the "pervasive misperception".

The study published in the latest edition of Nicotine & Tobacco Research (1) comes from the researchers who work at University of Bath's Department of Psychology and School of Psychological Science and the University of Bristol's Integrative Epidemiology Unit.
A World Health Organization report that recommends limiting the number of different vape products has been slammed by Asia Pacific's leading tobacco harm reduction advocacy group. The Coalition of Asia Pacific Tobacco Harm Reduction Advocates (CAPHRA) says it is deeply disturbed by the World Health Organisation's recently released 'Tobacco Product Regulation Report'.

CAPHRA says WHO's negative and obstructive approach towards safer nicotine vaping products continues to impact smoking cessation rates, costing lives globally.
---

---
By Anti-Vaping WHO Say the Experts – Neil Humber
A group of leading health experts say the anti-vaping policy of the WHO means millions of smokers are condemned to death and preventable diseases.

The panel led by tireless vaping advocate Clive Bates, calls for the World Health Organization to scrap its ridiculous and dangerous stance and accept vaping as a safe way to quit lit tobacco.

It's a hard hitting and extremely detailed letter laying out the true scientific facts about vaping as a harm reduction tool, and tackles the WHO policy with 9 key points.
Lead to More EVALI Deaths? – Lindsey Stroud
Since the onset of the COVID-19 pandemic, many Americans are starting to self-evaluate the nation's public health agencies, including the Food and Drug Administration (FDA) and the Centers for Disease Control and Prevention (CDC), to determine their role in preventing and suppressing the pandemic. If prying into the FDA and CDC's previous reactions to other epidemics provides any insight, our national leading health agencies lack transparency, and have in fact harmed the public by their failure to provide truthful evidence.
Need to be corrected – Maria Gogova
Three things are needed to advance tobacco harm reduction, according to Maria Gogova, vice president and chief scientific officer of Altria Client Services.

"Advance innovation to bring to the market a portfolio of non-combustible products backed by science and evidence. Deepen understanding of consumers' motivations as well as barriers for conversion, particularly misperceptions about nicotine. Finally, develop a pragmatic regulatory framework that encourages innovation while protecting the youth," she said.
---
The Advocates Voice, or TAV, has a growing following among Tobacco Harm Reduction (THR) supporters and the public. Sunday's episode will be simulcast on CAPHRA's Facebook page at https://www.facebook.com/caphraorg. Questions from viewers to the panel are encouraged.

Hosted by Asia Pacific's coalition of consumer THR organisations, CAPHRA (Coalition of Asia Pacific Tobacco Harm Reduction Advocates), TAV's sixth episode will premiere at 12.00pm Hong Kong Time or 4.00pm New Zealand Time.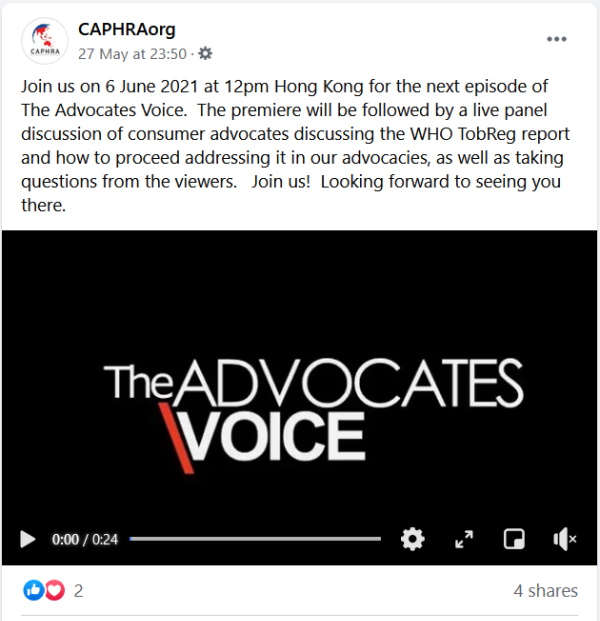 ---
Under the Country's Tobacco Monopoly? – Alex Norcia
At the end of March, China said that it would soon regulate vaping products like cigarettes. That means nicotine vapes would fall under the control of the country's tobacco monopoly—a development with huge implications in China and potentially the rest of the world. The nation produces roughly 90 percent of the planet's e-cigarettes.

In China, the government and Big Tobacco are one and the same. The State Tobacco Monopoly Administration and China National Tobacco Corporation—run by the Ministry of Industry and Information Technology and colloquially known as "China Tobacco"—is both the agency in charge of tobacco regulation and the manufacturer of tobacco products.
Continues to deny the science on vaping
Quebec Coalition for Tobacco Control issued a release advocating for the implementation of a flavour ban and a nicotine ceiling in Quebec. The Canadian Vaping Association (CVA) cautions the Government of Quebec, that while these measures are well intentioned, they will result in increased smoking rates and harm public health.

For decades, governments around the world have relied on quit smoking hotlines, online resources, and low efficacy cessation products to end the tobacco pandemic. Despite limited success with this model, it continues to be the 'right way' to quit smoking.
Derek Hosford
The Tobacco Tax Equity Act of 2021 (TTEA) was introduced at the end of April in both Houses of Congress by U.S. Senators Dick Durbin (D-IL).Ron Wyden (D-OR), and Representative Raja Krishnamoorthi (IL-D-08). If passed, the bill would establish new tax rates on both e-cigarette and tobacco products potentially causing an increase in the smoking rate among American adults.

TTEA would equalize tax rates on all tobacco products including e-cigarettes, which are currently untaxed at the federal level whereas combustible cigarettes are taxed at just over one dollar per pack. TTEA's proponents claim imposing an equal rate to tobacco products on e-cigarettes "would help reduce youth tobacco use"

Janet Street-Porter
Who gave the dictatorial busybodies on our Nanny State councils the right to tell people they can't even light up in the open air anymore?

I'm not going to mince my words – smoking is a disgusting habit. But should that entitle the Health Police in our town halls to ban citizens from exercising their right to smoke outdoors? Were we consulted before this draconian decision was taken? Of course not – once again the nanny-state-knows-best mob are acting on our behalf.
With The Ban Of ENDS or E-cigarettes
In September 2019, the Indian government announced a complete ban on electronic nicotine delivery systems (ENDS), popularly referred to as electronic cigarettes or e-cigarettes, citing the potential health risks of e-cigarettes on the youth. Announcing the decision, Union Finance Minister Nirmala Sitharaman had stated that while vaping is meant to help people quit smoking, it has become an addiction in itself. However, this decision drew criticism from the e-cigarette industry and from some public health experts who argued that it deprived smokers in India of safer options.
Complete 3-Hour Show | RegWatch (Live)
A recent surveyed showed that Kenyan smokers had turned to nicotine-free e-cigarettes and oral pouches to quit smoking, before their sale was suspended by the Ministry of Health.

The survey on behalf of Campaign for Safer Alternatives (CASA) was done on 64 users of nicotine pouches aged between 18- and 44 to measure the attitudes and impact of the current suspension imposed on sale of alternatives to nicotine products.
Dr Ian Irvine, Professor Economics
Can be saved by extending NRT
The cigarette use costing a whopping US$3.85 billion to 15 million smokers in the medical bill in Pakistan, can be saved, if the government extends an efficient cessation service including Nicotine Replacement Therapy (NRT) in government healthcare facilities aided by Harm Reduced Products (HRPs).

This has been stated by the Quality Belligerence, an Islamabad-based policy advocacy Organization, here on Thursday, during an interaction with the media.

Many imported HRPs after paying 20 percent customs duty have made inroads in Pakistani markets capturing all high-, middle- and low-income groups.
Simulation Model: The Effect of Vaping and Tobacco Control Policies on Smoking Prevalence and Smoking-Attributable Deaths
The public health impact of nicotine vaping products (NVPs) is subject to a complex set of uncertain transitions between NVP and cigarette use. Instead, we apply an indirect method to gauge the impact of NVP use on smoking prevalence and smoking-attributable deaths (SADs) using the well-established SimSmoke tobacco control policy simulation model. Upon validating the model before NVPs were more widely used, we project a No-NVP (i.e., in the absence of NVPs) while controlling for the impact of cigarette-oriented policies. The net impact of NVPs on smoking prevalence is inferred by comparing the projected No-NVP smoking trends to corresponding trends from two US national surveys.
---
A look back at how things have moved on or otherwise….
Australian Tobacco Harm Reduction Association
NEW ZEALAND Parliament is moving forward with sensible, balanced vaping regulations designed to help adult smokers switch to vaping while restricting access to young people.

The proposed regulations were released by the Health Committee today and will be presented to Parliament for consideration.
Deborah Hart, MSN Lifestyle
New Zealand is not succeeding in enabling and supporting people to quit smoking at the scale required to achieve Smokefree 2025. ASH's Deborah Hart outlines what we need to do.

Most parents have experienced the plaintive cries from the back seat, "Are we there yet?" The heart drops. You wonder how on earth you can deal with the situation … again.
---
Visit Nicotine Science & Policy for more News from around the World

---