Vapers Digest 2nd June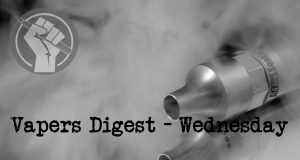 Wednesday's News at a glance:
---

---
THREE from Dave Cross, Planet Of The Vapes
Aotearoa Vapers Community Advocacy (AVCA) says that the New Zealand government's budget missed an opportunity by not providing extra funding to support 'vape to quit' programmes. But, it adds, there were positive moves which can be built on to promote vaping and reduce tobacco related harm.
The demand for menthol e-liquid has risen one year on from ban of same flavoured cigarettes indicating that many menthol smokers have switched. A survey by the UK Vaping Industry Association (UKVIA) reveals that 70% of vaping retailers have seen a surge in demand in the wake of the Government's menthol cigarette ban. The trade body has called upon the Government to "recognise the important role" vaping plays in reducing smoking numbers.
The first Global Forum on Nicotine "Fives" are now live on its website with a lot more coming as they get processed – ready for the GFN'21 conference in Liverpool during June. The event focusses on the role of safer nicotine products and The GFN Fives are a new way to play an active part in the conference.
---
New Delhi: The World Health Organisation has spent a little over three and a half discussing ways to handle the big tobacco crisis. Now, in 2021, scientists and thinkers are discussing the possibility of reducing nicotine in cigarettes to non-addictive levels, triggering a fundamental change in the tobacco industry and public health.
---
The Sun Daily
PETALING JAYA: More than 80 practitioners attended the 11th National Conference on Addiction Medicine (11thNatCAM) which was organised by the Addiction Medicine Association of Malaysia (AMAM) and the Federation of Private Medical Practitioners' Association Malaysia (FPMPAM) on the May 23.
European Tobacco Harm Reduction Advocates, ETHRA
ETHRA's monthly roundup of news, from a very busy month. Headline news –  publication of the TPD implementation report – the Dutch caretaker government rams through a vaping flavour ban – WHO announces that COP9 will be online – EU tax consultation ending soon – UK's Royal College of Physicians' new report seeks to further integrate vaping into UK health policy.  Read on for more about those and much more.
May was a busy month for reporting on tobacco harm reduction and vaping in particular. A lot of the news from around the world has been bad, with policy makers pushing for restrictions or outright prohibition. People are questioning the ethics of these policies at an increasing level though, as the reporting is starting to reflect. That can be expected to continue with the consequences of prohibition under the spotlight right now.
---

---
Says Dr Derek Yach – Vitality Institute:
VITALITY Institute head Derek Yach on Tuesday urged doctors to promote electronic (e)-cigarettes to their smoking patients, saying they offered a safer alternative to traditional tobacco products. Tobacco products kill six million people a year, according to the World Health Organisation (WHO)….
ACSH:
Instead of the WHO's "World No Tobacco Day," we'd be better off with a new event: "World No Tobacco Control Day," says ACSH's Gil Ross on Science 2.0. "Public health's" focus on prohibition of all tobacco and nicotine is harmful to benefiting health by harm reduction…
---
Visit Nicotine Science & Policy for more News from around the World

---