Vaping Digest June 3rd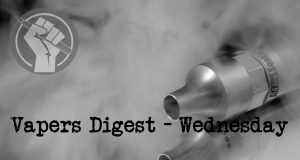 Wednesday's News at a glance:
New Zealand leads the way with new vaping regulations ~ Our best chance to stamp smoking out ~ Evidence Is Clear: Vaping Helps Smokers Quit, Saves Lives ~ In the UK National Health Service, Staffers Benefit From Subsidized Vapes ~ WHO would miss key international objectives for reducing cancer, heart, lung disease caused by tobacco: Experts ~ Harry's Blog #101: The New Colonials ~ 'Grassroots' Anti-vaping Efforts Pushing People Back to Cigarettes ~ EU Countries Propose Excise Tax For Vaping and Heated Tobacco Products ~ Govt misses huge opportunity to achieve Smokefree 2025 – AVCA ~ From Smoking to Vaping ~ CAPHRA's Pinoy Call~ CAPHRA ~ EU Vape Tax ~ MAGERO: Time to look at nicotine with new eyes ~ Public Health Expert: US EVALI Outbreak "Was A Public Health Fiasco" ~ Alberta introduces vaping legislation to ban minors from buying e-cigarettes, flavours still allowed ~ 'Jeckyll And Hyde' Vaping Bill Leaves Clean-up Job For Regulators ~ Top Vape-Related Articles from May 2020 
Australian Tobacco Harm Reduction Association
NEW ZEALAND Parliament is moving forward with sensible, balanced vaping regulations designed to help adult smokers switch to vaping while restricting access to young people.

The proposed regulations were released by the Health Committee today and will be presented to Parliament for consideration.
Deborah Hart, MSN Lifestyle
New Zealand is not succeeding in enabling and supporting people to quit smoking at the scale required to achieve Smokefree 2025. ASH's Deborah Hart outlines what we need to do.

Most parents have experienced the plaintive cries from the back seat, "Are we there yet?" The heart drops. You wonder how on earth you can deal with the situation … again.
Dhaval Gogate, Health Wire

Nicotine is a habit-forming stimulant along with alcohol, which means withdrawing from its use is difficult. We want to be addiction-free in an ideal world, but if we must choose between our addictions, we will always prefer the less harmful option. Lot of people pick sugar-free sweetener over table sugar to stay healthier. In tobacco products too, there are varying levels of risk, with vaping at the lower end of the harm spectrum.
Michael McGrady, Filter
Vaping is perceived differently across the pond. Instead of portraying it as a trap to lure kids to a nicotine-dependent life and pave the way to smoking, British public health authorities see what vaping can be. It was Public Health England (PHE) that commissioned the critical 2015 review that found vaping to be about 95 percent safer than smoking, adding impetus to tobacco harm reduction efforts worldwide.
heart, lung disease caused by tobacco: Experts
Experts say they are exasperated by WHO's dogmatic hostility towards new technology and fear UN health agency will squander opportunity to avoid millions of premature deaths that will be caused by smoking

For World No Tobacco Day 2020, an international group of independent experts with no conflicting links to the tobacco or vaping industry has sharply criticised the World Health Organisation for its backward-looking approach to innovation and new technology, such as vaping products.

---
Harry Shapiro, Nicotine Science and Policy
There exists a bunch of pirates, ostensibly independent NGOs and medical and public health organisations who, flying under a flag of convenience called 'tobacco control' are sinking the evidence base for tobacco harm reduction (THR), in the process denying potentially life-saving products for millions of current smokers who can't or do not want to give up nicotine while knowing full well the damage caused by cigarettes.
---
Elizabeth Sheld, Real Clear Policy
New data from tobacco company Altria reveals that older vapers are returning to their deadly cigarette habit. The switch follows a months long media ambush driven by well-funded "grassroots" anti-vaping efforts. States began regulating retail e-cigarette outlets, often banning vape devices, making the products difficult to access.

Older smokers who had switched to e-cigarettes are turning back to traditional cigarettes because of negative news coverage and regulatory crackdowns on vaping, Marlboro maker Altria Group Inc. said Thursday.
Diane Caruana, Vaping Post
EU member states have asked the European Commission (EC) to include e-cigarettes and heated tobacco products in the EU Tobacco Excise Directive, which would tax these products just like their combustible counterparts.
Aotearoa Vapers Community Advocacy (AVCA), VOXY
"A huge opportunity has been missed to make risk-reduced vaping products more accessible to smokers in order to reach the SmokeFree 2025 goal set by government," says Nancy Loucas, Director of the Aotearoa Vapers Community Advocacy (AVCA).

Her comments follow Parliament's Health Select Committee tabling its report on the Smokefree Environments and Regulated Products (Vaping) Amendment Bill.
---
Joseph Magero, Daily Nation

The Covid-19 pandemic has changed the way we look at the world in countless ways. One of the most surprising switches in perspective has been how some scientists are now promoting nicotine (but to be clear, not cigarettes) as a potential lifesaver.

Several studies, including the only one to have been peer-reviewed, have suggested that smokers are far less likely to be admitted to hospital with Covid-19.
---
Diane Caruana, Vaping Post
In a post on his blog page The Counterfactual, former director of Action on Smoking and Health (ASH) Clive Bates, said that in his opinion the attribution of the EVALI outbreak to vaping, "has been as bad as the worst 'merchants of doubt' operations of Big Tobacco in the 1970s."

Dean Bennett,
Alberta has introduced new legislation on vaping that would include a ban on anyone under 18 from using e-cigarettes.

Health Minister Tyler Shandro says there is mounting evidence on the health risks of vaping and statistics show more young people in Alberta are indulging.
---
A Bill reported back to Parliament yesterday has the explicit purpose of switching smokers to vaping, but strange new clauses leave cigarettes more widely available than vapes and prevent people talking about the benefits of vaping
Saddle Horse Blues
Another month, another fantastic line-up of vaping and tobacco harm reduction related articles. While most of the round-up is from May, we couldn't resist starting off the reading list with an article published on June 1st from the EH News Bureau. The article sums up sentiments around the WHO's anti-vaping agenda and its very real consequences. In more must-read content, see Jim McDonald's article A Look Back at CDC's Award-Nominated "EVALI" Response, complete with timeline. Jim examines the absurdity of nominating Dr. Peter Briss and the CDC Lung Injury Response team for a Service to America medal after their disastrous handling of the so-called EVALI crisis.