Vaping Digest 5th June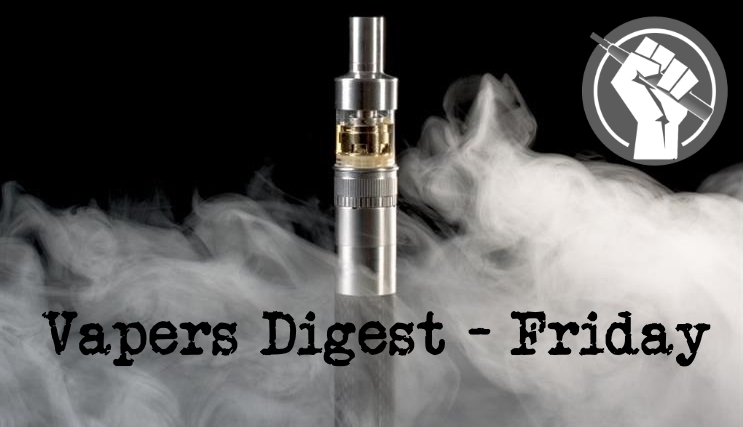 Friday's News at a glance:
European Vaping Manifesto Launched – WHO Uses World No Tobacco Day to Attack Vaping – The European Union Will Impose a Vape Product Tax – EU Member States Pushing EU-wide Vapor Tax – Vaping and COVID – Dr Yach and the Framework Convention on Tobacco Control – Efficacious Vapes – Snussing Out COVID – The Tooth of the Matter –  Experts accuse WHO of encouraging smoking – What lessons might be learned from India's e-cig ban? – Nicotine and SARS-CoV-2: COVID-19 – Finalized Vape Bill Counterproductive to Achieving Smokefree 2025 – Alberta's new vape laws – Nicotine Science and Policy Daily Digest
Neil Humber
Plans to ban flavours and introduce tough new vape legislation challenged by advocates. Vape advocates are ready to take on the might of the WHO and its World No Tobacco Day, with the launch of a European vaping manifesto.

The manifesto declares the 'rights' of all safer nicotine product users and says tobacco harm reduction – THR – is a human right.

It's a timely release given vaping is under threat not just around the globe, but also closer to home on mainland Europe.
To Attack Vaping – Diane Caruana
Contradicting all the scientific research indicating the benefits obtained by switching from smoking to vaping, the World Health Organization (WHO) has used World No Tobacco Day to push its anti-vaping agenda.

In total contrast with other health entities such as Public Health England (PHE), instead of encouraging smokers to switch or quit smoking via safer alternatives, the World Health Organisation's World No Tobacco Day (31 May 2020) attacked low-risk alternatives to smoking. This has once again compelled several international health experts to criticize the agency's stance and agenda .
---

---
Jim McDonald, Vaping 360
It's now all but certain that the European Union will impose a tax on vaping products in the future, after the Council of the EU on Tuesday "approved conclusions setting out political guidance and priorities" on tobacco taxation, and asked the European Commission for legislative proposals.

The Council of the EU, or EU Council, is a forum in which ministers from EU member states plan legislative priorities. The European Commission (EC) is the executive branch of the EU. It carries out the wishes of the EU Council.
Ulrik Boesen
In late May, EURACTIV (a media company focusing on EU policy and politics) reported that member states would ask the European Commission (EC) to include novel nicotine products such as heated tobacco products and vapor products in the EU Tobacco Excise Directive. Novel products are currently regulated under the EU Tobacco Products Directive but are not included in the Tobacco Excise Directive, which has not been updated since 2011. In 2018, the EC decided against implementing a tax on novel products because it lacked sufficient data.
---
---
Of encouraging smoking to waste more lives
E-cigarettes are battery-powered smoking machines. They have cartridges filled with a liquid that usually contains nicotine, flavours and chemicals. The fluid is heated into a vapour which the person inhales.

The professionals, who claimed independence in a statement, said they were angered by WHO's alleged 'dogmatic hostility' towards new technology, fearing that the United Nations agency would "squander the opportunity to avoid millions of premature deaths that will be caused by smoking."
What lessons might be learned from India's e-cig ban?
India's blanket ban on e-cigarettes, summarily imposed by the federal government last September, is proving somewhat ineffective – as you might expect in a socially and geographically diverse, inconsistently policed country of more than 1.3bn people. (To put that in perspective, that's four times the population of the US in a country just over one third of the size.)

Evidence from the street suggests that neither e-cigs nor the ban are issues that many people in India feel strongly about, which makes it unsurprising that compliance and enforcement of an edict handed down from on high should be weak.

Five from Dave Cross, Planet of the Vapes
The UK government has rapidly released its advice on vaping during the COVID-19 pandemic, just four months after the first confirmed case of COVID-19 and 10 weeks after the national lockdown commenced. The position remains unchanged that vaping is preferable to smoking to reduce potential harm despite the nonsensical closure of vape shops. The government states:

"E-cigarettes (vapes) can be an effective aid to stopping smoking and staying smokefree. The evidence on the health risks of e-cigarettes is still developing. However, it is clear that vaping is far less harmful to the respiratory system than smoking. There is very little evidence on vaping and COVID-19 and it is unknown whether vaping makes you more susceptible to severe disease if you become infected. If it does, the risk is likely to be much less than if you smoke.

"Vaping remains much less harmful than smoking for most people and it is very important that you avoid returning to smoking.
Swedish researchers have joined the growing body of people investigating whether nicotine can help mitigate the symptoms of COVID-19. They say that it appears smokers may be less likely to undergo the more severe symptoms of the pandemic and believe that Sweden has seen the same thing with snus users.

Last year, Mark Oates of the New Nicotine Alliance spoke about the proven benefit for snus to be used as a harm reduction tool. He was referring to it combating the blight of tobacco-related harm at the time, but it appears the same could be said for the coronavirus.
Dr Derek Yach helped develop the World Health Organization (WHO) Framework Convention on Tobacco Control (FCTC) – now he's asking for it to enter the 21st century. The global health expert and anti-smoking advocate has published a paper detailing how updating its articles can maximise the public health outcomes.

Derek Yach is a former WHO cabinet director and executive director for noncommunicable diseases and mental health. According to the Foundation for a Smoke-free World, he "is also the former chief health officer of the Vitality Group, executive director of the Vitality Institute, Senior Vice President, global health and agriculture policy at PepsiCo, director of global health at the Rockefeller Foundation, and a professor of global health at Yale University."
Another study, recently published in Drug & Alcohol Review, shows that vaping was successful for a cohort of smokers in the United Kingdom. The researchers discovered that even those who 'dual-fuelled' by smoking and vaping were more likely to end up as ex-smokers.

The team from the Institute of Psychiatry, Psychology and Neuroscience at King's College London (Erikas Simonavicius, Ann McNeill, and Leonie Brose) noted that by 2017 there were fewer smokers than ex‐smokers in the UK, and that the nation was experiencing a rapid surge in people switching to vaping.
"We chose subjects for the study who do everything right," said Purnima Kumar, a professor at the College of Dentistry at The Ohio State University. Everyone that is except for the selection of the research team that managed to conclude that it is better to smoke than to vape.

Kumar, a professor at the College of Dentistry at The Ohio State University and one of the study's authors, said: "[Our subjects] eat healthy, they have normal body weight, they have no systemic disease. I am an oral surgeon, and when these patients sit in my chair, I wouldn't be clued in to think that something is the matter. It is all happening at the molecular level."
---

---
May be a disease of the nicotinic cholinergic system
As of 20 April, almost 1.7 million people globally have been diagnosed with Corona Virus Disease 2019 (COVID-19), a pandemic that has evolved from the emergence of a new coronavirus strain, acute respiratory syndrome coronavirus 2 (SARS-CoV-2), in China. More than 170,000 deaths have been reported, while there are certainly many more cases of milder disease that have not been diagnosed and officially confirmed due to limited testing capacity in most countries. The pandemic is a global emergency due to the rapid transmission of the disease and the potential to overwhelm the healthcare systems, and is expected to have considerable economic and health impacts.

To Achieving Smokefree 2025 – Diane Caruana
In the past months, several Kiwi health entities have sent their comments to the Government with regards to the imminent Smokefree Environments and Regulated Products (Vaping) Amendment Bill, as in its proposed form it seemed to favour Tobacco Companies. Sadly, this bill has now been finalized without the necessary amendments.

"A huge opportunity has been missed to make risk-reduced vaping products more accessible to smokers in order to reach the SmokeFree 2025 goal set by government," said Nancy Loucas, Director of the Aotearoa Vapers Community Advocacy (AVCA). Her comments followed the Parliament's Health Select Committee finalized report on the Smokefree Environments and Regulated Products (Vaping) Amendment Bill.
Will discourage smokers from making the switch
Alberta's new vaping regulations are a huge step backwards for harm reduction, and ultimately public health. This week, Health Minister Tyler Shandro announced that Alberta – in an attempt to curb youth vaping – will move to regulate vaping in the same manner as cigarettes, which includes age restrictions, restrictions on where consumers can vape, where advertising can be displayed, and possibly a ban on flavours.

It should be clearly said that vaping products are harm reduction tools for adult smokers, and that curbing youth access is a noble and worthy cause. That said, beyond the age restriction, Alberta's approach to vaping is bad public policy.
---
A look back at how things have moved on or otherwise….
Faye Flam, Bloomberg
Whether they're warning us about the risks of fat, salt, alcohol or electronic cigarettes, public health authorities tend to mislead – with the best of intentions! – by presenting a black-or-white oversimplification. They equate big risks, small risks and hypothetical risks under one umbrella as "unsafe." In the case of electronic cigarettes, recently declared an "epidemic" and a "public health crisis," the misleadingly dire message deprives people of information we need to balance potential risks against potential benefits.
Staff, Manilla Standard
Smoking remains a worldwide public health problem because it is very difficult for smokers to quit and smoking cessation medications have limited effectiveness, according to a harm reduction expert.

Dr. Konstantinos Farsalinos said for smokers unable or unwilling to quit with approved smoking cessation medications, tobacco harm reduction could be a third-line option.
Harry Shapiro, Nicotine Science and Policy
Author, journalist and outspoken socialist Upton Sinclair, noted for his exposure of corruption in government and business, wrote that "It is difficult to get a man to understand something when his salary depends upon him not understanding it". He used this line in speeches and the book I, Candidate for Governor: And How I Got Licked about his campaign for governor of California as a way to explain why the editors and publishers of the major newspapers in California would not treat seriously his proposals for old age pensions and other progressive reforms.
---
Visit Nicotine Science & Policy for more News from around the World

---