Vaping Digest 8th June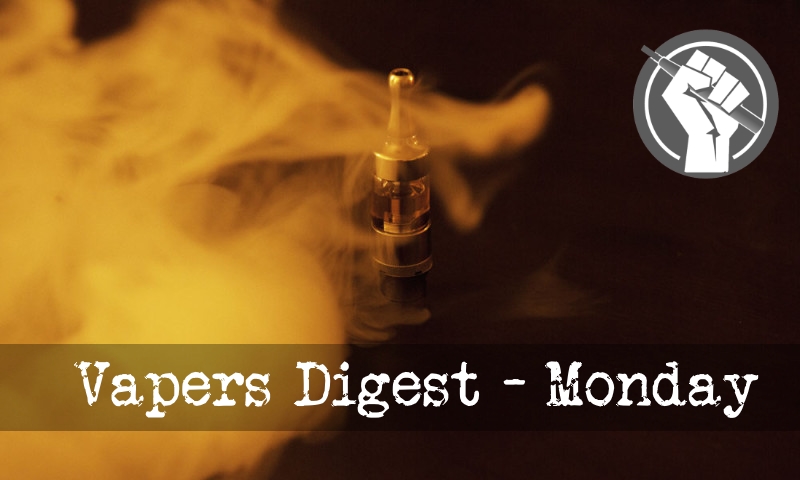 Monday's News at a glance:
When Should Force Be Used To Protect Public Health? – More evidence smokers are at less risk of Covid-19 – Vaping In The News ~ June 7th – Tobacco cessation experience a success at Olten Help Center – No Flavour Gateway – This Week Down Under – Australian public grossly misinformed about vaping – Smoking and vaping on hospital grounds in Scotland – Anti-Drug Warriors' Crocodile Tears – Regulations on vaping causing smokers to return to cigarettes – Associations of Flavored e-Cig Uptake – Trends and predictors of exclusive e-cigarette use
To Protect Public Health? – Jacob Sullum
During an April 2 interview with Chris Wallace on Fox News, Surgeon General Jerome Adams compared deaths caused by COVID-19 to deaths caused by smoking and drug abuse. "More people will die, even in the worst projections, from cigarette smoking in this country than are going to die from coronavirus this year," he said.

Wallace questioned the analogy. "Dr. Adams," he said, "there's a big difference between opioids and cigarettes, which are something that people decide to use or not to use, [and] the coronavirus, which people catch. It's not an individual choice."
Of Covid-19 – Vanessa Chalmers
Smokers are less likely to be diagnosed with Covid-19 compared to those who have never touched a cigarette, another study has claimed.  An array of research carried out since the pandemic began has shown smokers are at lower risk of getting the coronavirus.

Now researchers in Mexico have added more weight to the evidence, which experts have called bizarre and said warrants further investigation.

Scientists analysed data from almost 90,000 patients and found smokers were 23 per cent less likely than non-smokers to get diagnosed with Covid-19.
---

---
Kevin Crowley, Vaping Links
Vaping In The News covers media stories on smoking, vaping, snus, heat not burn, e-cigarettes, exposing tobacco control, public health, government, regulations, policies and more worldwide. "The largest threat to Public Health is an informed consumer."

Ray Yeates ~ Global Forum on Nicotine ~ Harry's Blog #101: The New Colonials ~ In the UK National Health Service, Staffers Benefit From Subsidized Vapes ~ WHO Uses World No Tobacco Day To Attack Vaping ~ Experts accuse WHO of encouraging smoking to waste more lives
---
The @WHO is very worried about kids being exposed to adult stuff like vaping. So their south east Asia group are hosting a panel tonight including Sunny Leone. Sunny Loene the former pornstar, that is.

So good they are thinking of the children. https://t.co/GiXlLobwBC

— Dick Puddlecote (@Dick_Puddlecote) June 7, 2020
Update: we are now at over 1,000 people registered for #GFN20 this Thursday and Friday – thank you if you're among them, we are looking forward to seeing you! Not yet registered? The event's free to access, open to everyone and sign up is simple. Head to https://t.co/sLi9d6r8Io pic.twitter.com/HHJrVEaMge

— Global Forum on Nicotine (@GFNicotine) June 8, 2020
---
At Olten Help Center – Philippe Poirson
Launched at the end of December 2018 , the smoking cessation program using vaping in Olten, in the canton of Solothurn, is a success. Despite attacks by the local Lung League, backstage pressure and multiple fear campaigns against vaping in the media, the Addiction Help Center was able to help hundreds of participants from this city of 18,000. These people received advice with regular appointments to follow up on, as well as free vaping materials and liquids. "Among those who had the clear objective of quitting smoking, 17.5% succeeded," says Reno Sami, of SuchtHilfe Ost (SHO) .

Two from Dave Cross, Planet of the Vapes
Abigail Friedman and SiQing Xu, researchers at the Yale School of Public Health, have produced a paper that has just been published in the journal Substance Use and Addiction. In 'Associations of Flavored e-Cigarette Uptake With Subsequent Smoking Initiation and Cessation', they found that 'child friendly' eliquids do not increase the chance of smoking initiation in never-smoking vapers.

America has been hyping up a link between teen vaping and progressing on to smoking cigarettes for a number of years, known as 'The Gateway Effect'. This has led to anti-vaping zealots creating a fictional bracket of juices they say come in 'child friendly flavours'. Many states suffering from declining tobacco revenue have either banned or are looking to ban flavours other than menthol or tobacco.
---
NNA Webinars
---
The COVID pandemic will have little impact on the vape brick and mortar store trade according to the Vaping Trade Association of New Zealand. The Aotearoa Vapers Community Advocacy believes World Vape Day opens up opportunities for the government.

"Having a 'bricks and mortar' presence will remain critical as people love to interact with retail staff, see product, and seek advice," says Ben Pryor, Co-owner of Vapo and Alt New Zealand – the largest Kiwi-owned vape company. His comments follow stores reopening nationwide now the country is in Alert Level 2 – which allows all retailers to operate with ongoing respect to social distancing and public health.
---

---
Colin Mendelsohn – ATHRA
THE PUBLIC remains badly misinformed about vaping according to the recently published NSW Smoking and Health Survey 2019. The level of misinformation is increasing each year.

The survey of 3,058 adults in NSW was conducted by the Cancer Institute NSW in 2019 and was published recently.

Only 44% believed "e-cigarettes are healthier than smoking tobacco cigarettes"
In Scotland – consultation response
On Friday the Scottish Government published the results of a consultation concerning the ban on smoking outside hospital buildings. You probably won't remember but I wrote about it here.

To be honest I was a bit confused because I was under the impression that smoking had already been prohibited outside hospital buildings in Scotland – by a distance of 15 metres – so I didn't fully understand the need for yet another consultation on the matter. The purpose, it turned out, was to determine three things:
Campaign for Tobacco-Free Kids – Michelle Minton
There is a lot to say about the heinous killing of George Floyd by Minneapolis police officers on May 25 and no shortage of opinions being offered. Many, particularly those from black voices, are worth reading, watching, and listening to. More than a few statements, however, have been naked attempts to boost brand image or political agendas. But of the disingenuous offers of sympathy with the black community, there is one type that should be rejected: those coming from anti-drug warriors, a group of  people and organizations that have contributed to destroying generations of black lives and families.

Causing smokers to return to cigarettes – Russell Kent
New data from tobacco company Altria reveals that older vapers are returning to their deadly cigarette habit. The switch follows a months-long media ambush driven by well-funded "grassroots" anti-vaping efforts. States began regulating retail e-cigarette outlets, often banning vape devices, making the products difficult to access.

Older smokers who had switched to e-cigarettes are turning back to traditional cigarettes because of negative news coverage and regulatory crackdowns on vaping, Marlboro maker Altria Group Inc. said.
With Subsequent Smoking Initiation and Cessation
In this cohort study with 17 929 participants, multivariable analyses of nationally representative, longitudinal survey data evaluated differences in smoking initiation and cessation subsequent to vaping uptake among those who used flavored vs unflavored e-cigarettes, separately by age group. Relative to vaping tobacco flavors, vaping nontobacco-flavored e-cigarettes was not associated with increased youth smoking initiation but was associated with an increase in the odds of adult smoking cessation.
Exclusive smoking anddual use among youth in Canada
Background:Few studies have examined predictors of exclusive e-cigarette use, exclusive smoking and dual useamong youth. We investigated whether frequency of e-cigarette use and cigarette smoking predicted involve-ment in different usage groups after a 1- and 2-year follow-up among a sample of Canadian youth.Methods:A longitudinal sample of youth who participated in three waves of COMPASS [Wave 1 (W1) 2015/16,Wave 2 (W2) 2016–17, Wave 3 (W3) 2017/18] was identified (N = 5,704). Multinomial logistic regression wasused to examine whether frequency of e-cigarette use and cigarette smoking at W1predicted involvement indifferent usage groups at W2and W3.
---
A look back at how things have moved on or otherwise…
Brad Rodu, Tobacco Truth
Federal authorities insist upon the existence of a teen vaping epidemic, based on results of the 2018 National Youth Tobacco Survey (NYTS). They claim that current (past-30-day) use of e-cigarettes surged 78% in 2018, resulting in over three million high school vapers.

Federal officials ignore two other 2018 estimates from a commercial online panel that are representative of the U.S. population. It's called KnowledgePanel, and it's a product of the German firm GfK (Growth from Knowledge). While both of these published studies focus on JUUL use, I will examine only their e-cigarette estimates.
Should be encouraged to vape – Gaelle Walker
Pregnant smokers should be encouraged to use vaping devices to help them quit tobacco, the Royal College of Midwives (RCM) has recommended.

While vaping devices such as electronic cigarettes (e-cigs) do contain some toxins, they are at "far lower levels than found in tobacco smoke," a new RCM position statement said.

"If a pregnant woman who has been smoking chooses to use an e-cig and it helps her to quit smoking and stay smokefree, she should be supported to do so," it said.
---
Visit Nicotine Science & Policy for more News from around the World

---