Vaping Digest 10th June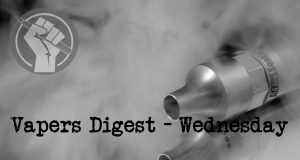 Wednesday's News at a glance:
Australian smokers denied a safer alternative ~ Nameless, Faceless TGA Bureaucrats Side With Cigarettes ~ TGA DECISION A MISSED OPPORTUNITY TO IMPROVE HEALTH OUTCOMES FOR AUSTRALIAN SMOKERS ~ International experts denounce WHO for lacking innovation ~ UK Vape Firm Finally Wins Lawsuit With Clothing Giant Hugo Boss ~ R.J. Reynolds Wants Out of Historic Tobacco Settlement With Florida Government. Who Will Foot $100M Bill? ~ NNA Zoom Webcast with Clive Bates ~ No Waffle From Belgium ~ Butthurt Stan ~ Positive signs for snus in the UK? ~ FDA Warns Vape Company for Bizarre Medical Claims
Australian Tobacco Harm Reduction Association (ATHRA)
THE THERAPEUTIC GOODS ADMINISTRATION has failed Australia's smokers by rejecting an application for heated tobacco products to be made available in Australia.

In its interim decision today, the TGA has ignored the scientific literature and international experience that heated tobacco products (HTPs) are significantly safer than combustible cigarettes.
Legalize Vaping Australia (LVA)
Legalise Vaping Australia (LVA) has today slammed the Therapeutic Goods Administration's decision to reject any moves towards legalising reduced risk  alternatives to cigarettes, labelling the decision as a slap in the face for Australia's 3  million smokers and their families.
TO IMPROVE HEALTH OUTCOMES FOR AUSTRALIAN SMOKERS
Australian Retail Vaping Industry Association (ARIVA)
The decision by the Therapeutic Goods Administration (TGA) to ban safer electronic cigarettes but to continue allowing the sale of highly lethal traditional cigarettes is a missed opportunity to help reduce Australia's smoking rate.

Russell Zimmerman, spokesperson for the Australian Retailers Association (ARA) and the Australian Retail Vaping Industry Association (ARVIA), said today's decision is disappointing but retailers remained committed to advocating for safer alternatives to traditional cigarettes to be made legal.

---
Park Ga-young, The Investor
A group of independent experts has criticized the World Health Organization for its stance on new technology in the tobacco and vaping industry, calling the organization backward-looking and saying it lacks innovation.

The experts, who claim no conflicting links to the tobacco or vaping industry, said that the WHO's focus on fighting the tobacco and vaping industry could threaten the lives of those who would continue using cigarettes rather than smokefree alternatives.
Diane Caruana, Vaping Post
---
You're invited to the online GFN20 on 11 – 12 June for presentations from top speakers on 'Nicotine: science, ethics and human rights'. Free and open to all – check out the programme https://t.co/QAiARLxIhV and please share widely! pic.twitter.com/aH98OVwOjC

— Global Forum on Nicotine (@GFNicotine) May 7, 2020
---
---
New Nicotine Alliance, NNA
Back in October, the NNA issued a press release calling on policymakers to lift the counterproductive and unnecessary EU-wide ban on snus. This followed a decision by the FDA in the United States – based on a rigorous assessment of the available science – to categorise snus to be "appropriate for the protection of public health".
Jim McDonald, Vaping 36o
If you wanted to design a vaping product that was likely to get the FDA's attention, you probably couldn't do a better job than the folks who make STEMJUICE. The Southern California-based e-liquid manufacturer just received a warning letter from the federal regulators, citing its "false and misleading" claims.
---

---
A look back at how things have moved on or otherwise…
Dave Cross, Planet of the Vapes
Ferrari has removed Philip Morris International (PMI) Mission Winnow branding for Formula 1 races in France and Canada. The move follows similar action by the factory Ducati MotoGP team for a French race. A senior PMI executive has slammed those who claim the Mission Winnow logo has been designed to be reminiscent of Marlboro packets.

Those who don't follow Autosport will probably not have heard of Mission Winnow – and even those who do might not appreciate what it is. The official site doesn't shed much light: "Mission Winnow has a simple goal: drive change by constantly searching for better ways of doing things.
Who should be doing it? And is it safe?
Vaping Facts is brought to you by the Ministry of Health — Manatū Hauora and the Health Promotion Agency/Te Hiringa Hauora.

Vaping has the potential to help people quit smoking and contribute to New Zealand's Smokefree 2025 goal.
---
Visit Nicotine Science & Policy for more News from around the World

---