Vaping Digest June 10th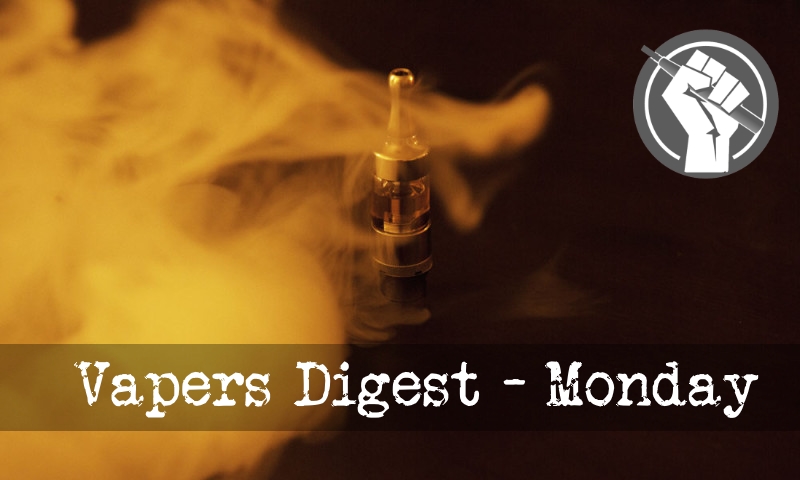 Monday's News at a glance:
Gap grows between New Zealand and USA, Australia as Kiwi government backs vaping – Vaping In The News – June 8th – ERS: Quit Or Die – Spirit Airlines passenger banned for life after vaping on flight – New campaign by NZ Ministry of Health to promote vaping – Vaping's here. But what is it? – Asthma organisation hindering Smoke Free 2025 – Joe Hildebrand. Vaping is the only way I could quit – Meharry Medical College to study vaping – Debate On E-cigarettes In India – ENDS: Way to quit smoking – Vaping has 'not re-normalised' smoking – Nicotine Science and Policy Daily Digest
Australia as Kiwi government backs vaping – Fergus Mason
There's good news from New Zealand this week, as the government continues to move towards a sensible position on vaping. The health department plans to launch a campaign later this summer urging smokers to switch to e-cigs, acknowledging that they're a safer alternative. Unfortunately the news from the USA is less positive, with local politicians continuing to push for bans and a major e-cig manufacturer facing a new legal challenge.
Kevin Crowley, Vaping Links
Is There a Role for E-Cigarettes in Smoking Cessation for Patients With Cancer? ~ The E-Cigarette Debate: What Counts as Evidence? ~ RCM Supports Vaping ~ Teen vapers are using eBay to dodge age restrictions – And cigarettes, too ~ How Big Is the So-Called Teen Vaping Epidemic? ~ The American Liars Association ~ Gang Related ~ Flavor Bans Are Good for Smoking
---

---
Dave Cross, Planet of the Vapes
Ferrari has removed Philip Morris International (PMI) Mission Winnow branding for Formula 1 races in France and Canada. The move follows similar action by the factory Ducati MotoGP team for a French race. A senior PMI executive has slammed those who claim the Mission Winnow logo has been designed to be reminiscent of Marlboro packets.

Those who don't follow Autosport will probably not have heard of Mission Winnow – and even those who do might not appreciate what it is. The official site doesn't shed much light: "Mission Winnow has a simple goal: drive change by constantly searching for better ways of doing things.
Dave Cross, Planet of the Vapes
The European Respiratory Society (ERS) Tobacco Control Committee (TCC) is taking a new tactic to oppose vaping. In its new position paper on vaping and tobacco harm reduction, the TCC argues that tobacco harm reduction is a failing strategy and lacks evidence to justify the approach.

The ERS says it is dedicated to sharing scientific knowledge, fighting lung disease and promoting lung health, but the position paper on tobacco harm reduction demonstrates it is very selective in what scientific knowledge it recognises.
---
Carol McGruder of the AATCLC misleading and deceiving the San Francisco Supervisors about the deaths caused by vapor products. pic.twitter.com/dw7cui0tGT

— StefanDidak (@StefanDidak) June 8, 2019
---
After vaping on flight – Ray Sanchez, CNN
A 30-year-old Spirit Airlines passenger on a flight from Detroit to New Orleans recently got himself banned for life after deciding to take a smoke break in the plane's bathroom.

An attendant on Flight NK 985 told a deputy on Tuesday that she saw him take a drag from an e-cigarette and exhale into a bag, said Jefferson Parish Sheriff's spokesman Capt. Jason Rivarde. She admonished him.
The St. Petersburg, Florida, resident then got up and headed for the restroom, according to a report filed with the sheriff's office. While he was in the bathroom, the plane's smoke alarm went off.
---

---
Colin Mendelsohn, ATHRA
The New Zealand Ministry of Health has launched Vaping Facts, a new website and campaign to inform smokers of the facts about vaping and to encourage them to make the switch.

The progressive, evidence-based approach to vaping in New Zealand is a harsh rebuke to Australian regulators who are increasingly out of touch.

The key message is that vaping can help some smokers quit and is much less harmful than smoking and much cheaper. However it is not completely harmless and is not for non-smokers. The campaign advises vapers to eventually quit vaping too, but only when you know you won't go back to smoking.
Who should be doing it? And is it safe?
Vaping Facts is brought to you by the Ministry of Health — Manatū Hauora and the Health Promotion Agency/Te Hiringa Hauora.

Vaping has the potential to help people quit smoking and contribute to New Zealand's Smokefree 2025 goal.
Scoop Media
The Asthma And Respiratory Foundation's overt criticism of the Government's Vaping Facts website, and vaping generally, puts them in direct conflict with many senior health organisations and significant international evidence," says Ben Pryor, co-founder of VAPO and Alt New Zealand.

Mr Pryor's comments follow the Associate Health Minister yesterday launching the website https://vapingfacts.health.nz/ which includes information on vaping versus smoking and vaping to quit smoking.

Joe Hildebrand
Well known journalist and TV presenter Joe Hildebrand vapes on Sky News and explains to Ben Fordham how vaping helped him quit. He hasn't had a cigarette for two and a half years. 'Its a no-brainer for me' he says.

Joe says that for many of his friends it was also the only way they could quit.
With $7.5 million grant from e-cigarette manufacturer Juul
Meharry Medical College is launching a study of vaping, smoking and other nicotine products with a $7.5 million grant from the e-cigarette company Juul, college officials announced Friday.

The funds will also allow the college to create the new Meharry Center for the Study of Social Determinants of Health. This will be the first study undertaken by the center.
Riccardo Polosa
The debate has intensified in India about the merits of ENDS (electronic nicotine delivery systems) with passion displayed on both sides of the argument. Despite it being a relatively contemporary debate, research has been undertaken for over ten years and it is clear that these new technologies do not pose significant health risks.

Nonetheless, ENDS are incorrectly viewed as equally harmful as conventional cigarettes. However, an objective review of the evidence is unequivocal in the benefits of the category. They can play a critical role in solving a major public health crisis in India and the world.
Sunny Parihar
As ICMR has recommended a complete ban on E-cigarettes, the debate on e-cigarettes is gaining momentum in India. This year On World No Tobacco Day, ICMR released a White Paper on Electronic Nicotine Delivery System (ENDS) stating that use of ENDS is as harmful as smoking a cigarette.

ICMR did a review of around 250 medical research published around the world relevant to the use of ENDS among smokers or non-smokers.
Sabrina Barr
Increased popularity in vaping has not encouraged more teenagers to take up smoking tobacco cigarettes, a new study has found.

Over the past few years, vaping has become a popular practice among people trying to quit smoking.

According to the NHS, an estimated 2.9 million adults in the UK currently use e-cigarettes, more than half of which have completely stopped smoking tobacco cigarettes.
---
A look back at how things have moved on or otherwise….
Dick Puddlecote
Remember I've said for years that one day the lies of tobacco controllers will come back and bite them on the arse? Well, I kinda relished how they seemed unable to cope with e-cigs. I always presumed that it would be that kind of harm reduction which would expose them, simply because they are too dim to understand the nuances of a concept where smokers are gently encouraged to switch – when they are ready – to something which would evolve into a valid and satisfying alternative…
Mawsley, Planet of the Vapes
Vapers are used to seeing nonsense written about something they know has benefited their health, and harm reduction advocates are accustomed to witnessing science being distorted – but sometimes the coverage goes overboard and is nothing more than a hysterical mess. Step forward Kate Pickles and the Daily Mail.

"E-cigarette timebomb," screamed the headline. "Vaping is highly addictive and could cause a major health crisis in decades to come, warn lung experts," wrote the journalist. Worryingly, Pickles is the Mail's 'health reporter'!
Department of Health and Social Care
Setting out actions for meeting the aims of the tobacco control plan for England and how progress will be monitored.

This delivery plan will monitor how the aims of the tobacco control plan for England are being met. The tobacco control plan was published in July 2017. The delivery plan sets out specific milestones and what is expected at national and local levels.
---
Visit Nicotine Science & Policy for more News from around the World

---