Vaping Digest 1st June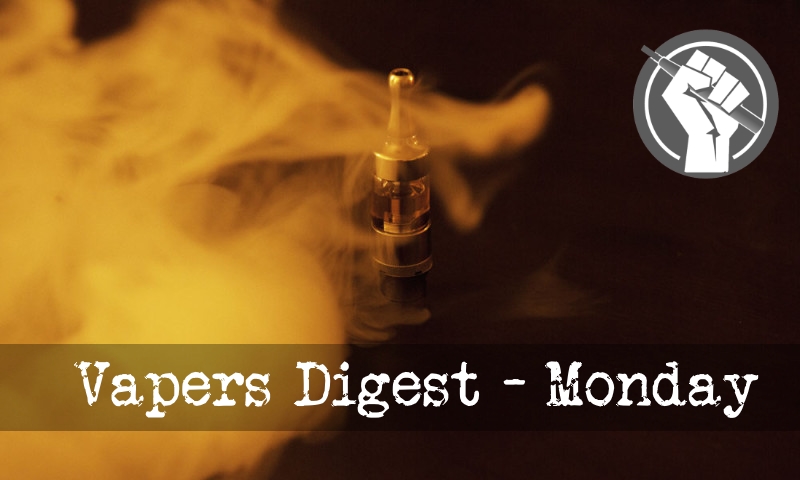 Monday's News at a glance:
International experts in tobacco policy say WHO is blocking innovation – Tobacco Prohibitionists Not Letting This Pandemic Go to Waste – UK: IBVTA Issues Guidance on Reopening Vape Shops Safely – Tips For Smokers Switching to Snus – Scary Stories About Vaping Aren't Helping Anyone – GFN 2020 Registration Open – WHO – Finnish Off Vaping – FSFW Transparency – Comprehensive Chemical Characterization – Message on World Vape Day – A Randomized Trial of E-Cigarettes Versus Nicotine-Replacement Therapy
Say WHO is blocking innovation and wasting opportunities to save millions of lives
Clive Bates, The Counterfactual
As the World Health Organisation's World No Tobacco Day takes aim at low-risk alternatives to smoking, several international experts have made critical comments in response.

The initiative is coordinated by Attorney General Miller's office. AG Miller was a leading figure in the US states' historic lawsuit against the tobacco industry leading to the Master Settlement Agreement. He has retained an interest in the issue, with a particular focus on the interest of consumers. See AG Iowa press release.
Not Letting This Pandemic Go to Waste – Brad Rodu
Anti-tobacco forces are callously abusing COVID-19-driven anxiety, pain and suffering as they spew their unique brand of science-free propaganda.  A good example is a video interview, titled "The Dangers Of Vaping and Smoking During Coronavirus," with Matt Myers, head of the Campaign For Tobacco-Free Kids (here).  Following are selected Myers quotes, with my observations (in bold).

The interview opens with a question on new research suggesting that nicotine might protect smokers from developing COVID-19 illness:
---

---
On Reopening Vape Shops Safely – Diane Caruana
The IBVTA is the only trade association in the UK focused on the independent vape industry, which by definition (being independent of affiliations with the tobacco industry) prioritises the wellbeing and safety of customers and staff. When in March, vape shops were forced to close due to the current COVID-19 crises, the association had made some advice and useful links available on its website for its members.

Subsequently, now that vape shops have been given the go ahead to reopen on the 15th of June, the IBVTA has issued a guidance on how to reopen vape stores safely. The guidance document has  been even shared with (and therefore approved by) Public Health and Business Ministers, Public Health England and local authority Directors of Public Health, and Trading Standards.
Diane Caruana
In a post on his blog page, which is devoted to correcting myths and misconceptions about tobacco harm reduction, smoking cessation expert Professor Brad Rodu, is offering some tips to smokers who are considering switching to smokeless tobacco products.

Brad Rodu is a Professor of Medicine at the University of Louisville in Kentucky and senior scientist at its James Graham Brown Cancer Center. He has been part of extensive research on tobacco harm reduction, which he promotes on his blog Tobacco Truth. He has also written a book about the benefits of switching from cigarettes to smokeless tobacco, tiled "For Smokers Only: How Smokeless Tobacco Can Save Your Life."
---
---
Aren't Helping Anyone – Jacob Grier
They say a lie will go 'round the world while truth is pulling its boots on, but today's debates over vaping may make you wonder if truth should even bother tying its laces. No matter how thoroughly they've been debunked, scare stories about the widespread lethality of e-cigarettes keep seizing the imaginations of journalists, politicians, and concerned parents.

The latest example is Quit Vaping, a new book by the Los Angeles–based "certified intervention specialist" Brad Lamm. Just looking at the front cover, you can see signs that Lamm's approach may be less than scientifically rigorous.

Three from Dave Cross, Planet of the Vapes
The organisers of the Global Forum on Nicotine (GFN), KAC Communications, are launching an online version of GFN20 which will take place on Thursday 11 and Friday 12 June following the cancellation of the face-to-face event in Warsaw due to the COVID-19 pandemic. Registration is now opened for anybody with an interest in vaping and tobacco harm reduction.

Since 2014, the Global Forum on Nicotine has brought together a hugely diverse range of stakeholders involved with new and safer nicotine products, from consumers to policy analysts, public health experts to parliamentarians, and academics to manufacturers. The unique, inclusive nature of the GFN provides a platform for debate of often-contentious issues, made possible by the commitment of all who attend it to do so with an open mind and to examine the evidence in making decisions and judgements.
As the World Health Organization (WHO) gears up for its World No Tobacco Day, the agency idiotically celebrates "strong legislation" that "helps defeat e-cigarettes in Finland". Article 1d. of its constitution states it should support reducing harm, yet it pretends it doesn't exist every time it attacks vaping.

Finland, according to the WHO, has struck a blow against the tobacco industry by preventing smokers from switching to vaping. This is a good thing according to those who know better than you or experts because the use of e-cigarettes is "an issue which has become a public health dilemma for the tobacco control community in recent years."
The Foundation for a Smoke-Free World (FSFW) has posted its 2019 financial reports, downloadable from the FSFW website. It calls 2019, "a successful and impactful year", and states that "the reports reflect our commitment to research and initiatives that expedite the end of toxic tobacco products".

The FSFW is frequently accused by tobacco controllers of being a front for Big Tobacco and secretly running a PR campaign to promote smoking products. As it has frequently pointed out, its terms of operation prohibits Philip Morris International, its sole contributor, from having any say in what it does – and the aims of the charity are clear, to reduce tobacco-related harm.
---

---
Versus Nicotine-Replacement Therapy
Peter Hajek, Anna Phillips-Waller, Dunja Przulj, Francesca Pesola, Katie Myers Smith, Natalie Bisal, Jinshuo Li, Steve Parrott, Peter Sasieni , Lynne Dawkins, Louise Ross, Maciej Goniewicz, Qi Wu, Hayden J McRobbie
We randomly assigned adults attending U.K. National Health Service stop-smoking services to either nicotine-replacement products of their choice, including product combinations, provided for up to 3 months, or an e-cigarette starter pack (a second-generation refillable e-cigarette with one bottle of nicotine e-liquid [18 mg per milliliter]), with a recommendation to purchase further e-liquids of the flavor and strength of their choice. Treatment included weekly behavioral support for at least 4 weeks. The primary outcome was sustained abstinence for 1 year, which was validated biochemically at the final visit. Participants who were lost to follow-up or did not provide biochemical validation were considered to not be abstinent. Secondary outcomes included participant-reported treatment usage and respiratory symptoms.
Of the Aerosol Emissions of a Vaping Product Based on a New Technology
James Nicol, Rory Fraser, Liam Walker, Chuan Liu, James Murphy, Christopher John Proctor
Around 10 million people in the United States and 3 million people in the United Kingdom are estimated to use vaping category products. There are some estimates that there will be 75–80 million vapers worldwide by 2020. Most of these products are based on coil-and-wick technology. Because the heating and aerosol formation are separate processes, the system can lead to dry-wicking and elevated emission of carbonyls if designed and/or manufactured poorly. Low-nicotine and low-power coil-and-wick devices have also been linked to increased exposure to formaldehyde due to compensatory behavior by users.
Simon Clark, Taking Liberties
The WHO's World No Tobacco Day (May 31) is now preceded by World Vape Day (May 30) organised by 'grassroots consumer organisations from around the world'.

It's quite a good idea to piggy-back on WNTD although the prospect of more anti-smoking propaganda is a bit nauseous.

I know many vapers will say they're not anti-smoking, and it's true, but that's not how initiatives like this come across.

With USA Vape Lab to Donate 5000 Gallons of Hand Sanitizers
The vape industry duo announced their partnership to produce over 5000 gallons of hand sanitizer for the US. "The hand sanitizers will be donated to the emergency and healthcare workers caring for patients on the frontlines of the current COVID-19 public health crisis," says Abe A., President, Chubby Gorilla. "As COVID-19 continues its spread across the country it is abundantly clear our country is going through unprecedented struggles and monumental uncertainty. Our aim is to provide hope during this challenging period."
How Heated Tobacco Products Are Disrupting the Cigarette Industry
A new study shows that the entry of heated tobacco products (HTPs) triggered a remarkable reduction in combustible cigarettes sales in Japan. "The decline in smoking rates among adults in Japan is astoundingly impressive when you realize that this has only come about rapidly with the introduction of HTPs," said Nancy Loucas, Executive Director of the Coalition of Asia-Pacific Tobacco Harm Reduction Advocates (CAPHRA).
Preeti Soni
Rahul (name changed), a 15 year old boy wanted to try smoking but he was afraid it would damage his lungs. So he thought of giving e-cigarettes and vaping a try. But there was a slight problem — India had just banned the sale of e-cigarettes to protect the health of thousands of others like him.

He called his best friend Sonu (name changed), also 15, who assured him getting e-cigarettes or any vaping devices is no "big a deal" and the ban "doesn't matter".He gave at least three suggestions of places where Rahul can find e-cigarettes easily.
---
A look back at how things have moved on or otherwise…
James Dunworth
Jonathan Main, from MHA MTaxco, is leading an ambitious challenge to slash VAT on vaping products from 20% to 5%. We caught up with Jonathan to find out what's involved, what he thinks the chances of success are and why he's looking to sign up vape companies…

Jonathan, where did the idea for the VAT challenge come from?

My partner, Alison Care, and I have worked together for many years and have been aware of previous unsuccessful challenges to the VAT liability of e-cigarettes. We started our own tax consultancy business in 2017, which gave us the luxury of more time to concentrate on VAT issues of particular interest to us.
Royal College of Midwives (PDF)
Across the UK there is much to be done to reduce rates of smoking amongst pregnant women. 15% and 16% of pregnant Northern Irish and Welsh smokers respectively continue to smoke throughout their pregnancy, and over 10% of women in England are recorded as smoking at the time of delivery.

There is significant variation in maternal smoking rates, depending on age, ethnicity and socio-economic status. Rates of smoking in pregnancy in the most deprived areas of England are 5 times those in the least deprived areas (20% and 4% respectively)

According to the Scottish Index of Multiple Deprivation (SIMD), 29.8% of pregnant women in the most deprived quintile are smokers at booking, compared to 6.0% in the least deprived SIMD quintile.
---
Visit Nicotine Science & Policy for more News from around the World

---