Vaping Digest May 31st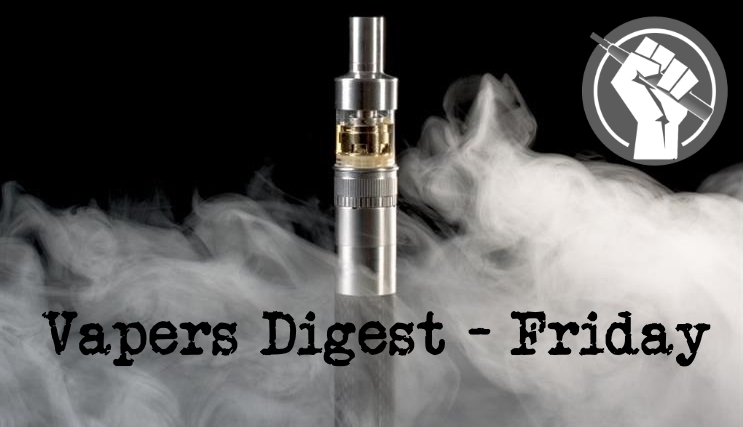 Friday's News at a glance:
Could This Man Slash VAT On Vaping? – Support to Quit Smoking in Pregnancy – Health officials in Texas and California lose their minds – Manipulation of the Truth – Anti-THR, anti-vaxx, disease denial – Why haven't e-cigarettes stubbed out cigarettes? – World No Tobacco Day – Vaping Better Than NRT – Heart Research Full Of Wu – Kids Spurn Cigarettes – Massachusetts AG Aims for JUUL – Changing Perceptions of Harm – Why W.H.O Should Consider Harm Reduction – Health Ministry Put Checks on Publishing – Vaping can be valuable. So why is it illegal? – Tobacco Control Expert Questions Budget – The smoker's guide to why vaping is the first step – Nicotine Science and Policy Daily Digest
James Dunworth
Jonathan Main, from MHA MTaxco, is leading an ambitious challenge to slash VAT on vaping products from 20% to 5%. We caught up with Jonathan to find out what's involved, what he thinks the chances of success are and why he's looking to sign up vape companies…

Jonathan, where did the idea for the VAT challenge come from?

My partner, Alison Care, and I have worked together for many years and have been aware of previous unsuccessful challenges to the VAT liability of e-cigarettes. We started our own tax consultancy business in 2017, which gave us the luxury of more time to concentrate on VAT issues of particular interest to us.
Royal College of Midwives (PDF)
Across the UK there is much to be done to reduce rates of smoking amongst pregnant women. 15% and 16% of pregnant Northern Irish and Welsh smokers respectively continue to smoke throughout their pregnancy, and over 10% of women in England are recorded as smoking at the time of delivery.

There is significant variation in maternal smoking rates, depending on age, ethnicity and socio-economic status. Rates of smoking in pregnancy in the most deprived areas of England are 5 times those in the least deprived areas (20% and 4% respectively)

According to the Scottish Index of Multiple Deprivation (SIMD), 29.8% of pregnant women in the most deprived quintile are smokers at booking, compared to 6.0% in the least deprived SIMD quintile.
---

---
Lose their minds; Washington vapers lose money – Fergus Mason
Evidence has emerged that health officials in Texas are openly lying to children about supposed risks of vaping. Using a combination of exaggeration, misrepresented anecdotes and straightforward untruths, at least one Houston County health officer is going to extreme lengths to portray vapour products as being as dangerous as cigarettes. This comes against a background of yet another study finding that youth smoking rates are falling faster than ever and no "gateway" effect seems to exist. New taxes continue to hammer US vapers though, with Washington the latest state to launch a cash grab at harm reduction products, while California retains its crown as home of the most insane anti-vaping propaganda in the developed world.
Kevin Crowley, Vaping Links
Last evening I recognized Manipulation of the Truth. While all in the wording, the Truth Manipulative ® is strong. Everything is not as truthful as it appears, and should make you skeptical at best to the information allowed to be filtered to the public by the end of this blog.

It may surprise you, this isn't just about vaping products. It's about choice, and population level harm reduction. It's as if they've taken everything (we've) known and packaged it into one PDF. Then, they deleted it, repackaged it and manipulated the truth.
---
---
And the political science of institutional "knowing" of falsehoods
Carl V. Phillips – Anti-THR Lies
There are quite a few takes out there comparing anti-THR activists to antivaxxers. These make for stinging attacks, like comparing someone's position to that of the Nazis. Most of the loudest anti-THR voices despise antivaxxers, so it is fun to make the comparison. However, despite being a cute barb, comparing anti-THR to anti-vaxx is a terrible analogy.

The two positions have basically just one thing in common: Every expert agrees that the anti position is bad for people's health and based on false pseudo-scientific claims. But, *yawn*. That is also true of ten thousand other views that a lot of people hold strongly. It is a lousy basis for suggesting two political positions are similar. (And, yes, political positions is the right description.)
Lindsey Pike
There are an estimated 3.2 million e-cigarette users in Great Britain, and the majority of users have switched from smoking to vaping in search of a less harmful alternative to help them quit. In a recent study, people who used e-cigarettes to quit smoking were more likely to be smoke-free after one year compared to people who used more traditional methods such as nicotine patches. So, why are some smokers reluctant to try e-cigarettes, and why have some people been unable to quit smoking using them? The media, researchers, public health officials, and the general public have all played a role in discouraging some smokers from vaping.
---

---
Four from Dave Cross, Planet of the Vapes
The World Health Organisation (WHO) is promoting this year's World No Tobacco Day by asking people "why you don't waste a breath on tobacco and tell us what takes your breath away". International health "experts" will be celebrating by attending a conference in Pretoria, hoping to influence South Africa's anti-vaping draft Control of Tobacco and Electronic Delivery Systems Bill.
Lead author Sarah Jackson, Daniel Kotz, Robert West and Jamie Brown at the Department of Behavioural Science and Health, University College London (UCL), have published a new study in the journal Addiction. The paper finds that vaping is three times more effective than nicotine replacement therapy (NRT).
Nearly three million people use some form of electronic cigarettes in the United Kingdom. Virtually all vapers used to be smokers or are currently using vaping as a way of reducing and eliminating their tobacco use.
"Flavourings may increase heart disease risk", says the release from Joseph C Wu's Stanford press office. News outlets grabbed all the salacious pieces from that headline but missed out on the 'may'. The study falls flat as it failed to compare any risk identified with that posed from smoking.
Joseph Wu has an exceptionally impressive CV full of high-level education, influential positions and a raft of awards. He sits on an FDA Advisory Committee and frequently presents to his peers; Wu gave three presentations of his work at this February's Society for Research on Nicotine and Tobacco conference in San Francisco.
Research by The Institute for Social Marketing demonstrates that kids' see smoking as "unappealing and unacceptable". A national report on "Student Health and Wellbeing In Wales" also finds that teens are continuing to turn away from tobacco – and only current or ex-smokers vape.
The Institute for Social Marketing's study has just been published in the British Medical Journal's Tobacco Control. Although the study looked at teens noticing cigarettes displayed at points of sale and brand awareness linked to smoking susceptibility, it demonstrates that vaping has not normalised or glamorised smoking.

Jim McDonald, Vaping 360
Almost a year after announcing an investigation into JUUL Labs, Massachusetts Attorney General Maura Healey has sued vape manufacturer Eonsmoke for selling products online without proper age verifications and marketing its JUUL-compatible pods and devices to minors. Eonsmoke is not affiliated with JUUL.

The complaint alleges that Eonsmoke violated the Massachusetts Consumer Protection Act by targeting minors with "marketing and advertising intended to appeal to youth." The AG also says Eonsmoke failed to verify the legal age of online purchasers. The complaint demands Eonsmoke pay "restitution, civil penalties, attorneys' fees, and costs as well as other equitable relief as the court may determine is appropriate."
Chelsea Boyd
Americans are bombarded with information about the harm and risk of e-cigarette use—much of which is confusing or conflicting. This is because the e-cigarette debate has become fractured and polarized, resulting in mixed messages from public health organizations, media and government agencies. In light of this, if adults are going to be able to make informed decision about e-cigarettes, it is imperative that public health messaging must accurately portray not only absolute but also relative harm.
Joseph Magero
World no tobacco day has been observed for decades now, intended to encourage a 24-hour period of abstinence from all forms of tobacco consumption around the globe. There are nearly 1 billion smokers worldwide, with about 7 million of them dying from smoking related diseases every year. Today, smoking kills 1 person every 4 seconds and is the leading cause of preventable deaths.

Even as smoking rates drop in high-income regions, they have risen at least 50% in Africa. A country like Lesotho for example, has seen a significant spike in smoking from 15% of its population in 2004 to 54% in 2015.
Dr Colin Mendelsohn
Australia is the only western democracy to ban the sale and use of nicotine for vaping.

Vaping is contributing to rapidly falling smoking rates in the US and UK. However, in Australia, smoking rates have stagnated since 2013, despite Australia having the highest cigarette prices in the world, plain packaging and strict tobacco control measures.

Most experts agree that vaping is a far less harmful alternative to smoking for adult smokers who are unable or unwilling to quit nicotine with conventional treatments.
AUCKLAND, May 31, 2019 – One of New Zealand's most renowned tobacco control researchers is questioning the merit of the apparent Budget decision to keep raising the excise duty on tobacco.

Budget 2019's tax forecasts included another 10% increase in tobacco excise on 1 January 2020. This would be the latest in a series of annual increases that began in 2010 and have since almost tripled the cost of a single cigarette to around $1.50, according to Stats NZ, of which around 83 cents is tobacco excise.
Or Discussing Research on E-Cigarettes – Anoo Bhuyan
New Delhi: The Union health ministry issued a circular earlier this month, cautioning other government departments, to hold off on publishing any research, reports or studies on e-cigarettes and other devices which release nicotine – posed as an alternative to tobacco addiction – without prior consultation of the ministry.

They also suggest prior consultation for any workshops or events which other government departments may want to hold on e-cigarettes.
Anti-tobacco activists accuse me of 'deliberate misinformation'
Ivo Vegter, Daily Maverick
Five members of a shadowy propaganda group calling themselves the Tobacco Control Advocacy Alliance launched a scathing attack on my recent column about e-cigarettes. They accused me of 'many unsubstantiated and inaccurate claims' and 'deliberate misinformation'. Not only are they wrong, but their own claims are unsubstantiated and contradicted by the evidence.
Vaping is the first step in the road to quitting cigarettes
"A cigarette in my hand, I felt like a man" – was the catchy rock jingle, doing the rounds on cable TV when I was a kid, exhorting people to stop smoking. It showed the slow and steady decline of a young man who gets into smoking in his teenage years, and eventually ends up destroying his life, finally reconsidering the choices of his youth in a cancer ward. Clearly, the messaging didn't work on me, because the first thing I did with my new-found freedom in college was to smoke a cigarette at the nearest tapri. And by glob, it felt good!
---
A look back at how things have moved on or otherwise….
New Nicotine Alliance
At the beginning of May, the World Health Organisation issued a draft report on its approach to non-communicable diseases (NCDs), meaning illness arising out of making unhealthy choices rather than the traditional understanding of disease.

The report recognised the "lack of progress" towards tackling NCDs, spoke of fears that the WHO's targets might not be met in this area, and invited responses to a consultation on the matter. The NNA submitted a response which addressed concerns raised by the WHO in their preamble.
Dick Puddlecote
If you thought this place was dormant, you'd be wrong. Yes it's been quiet but – as mentioned previously – there are potentially life-changing things going on at Puddlecote Inc and I'm also not long back from a week on a boat in Norfolk with an angry Scottish ex-squaddiefrustrated at not having wifi to talk to his Argentinian girlfriend. Still, I'm a survivor so got back safe and sound.
Steve Birr, The Daily Vaper
A giant of the vaping market is blasting global health regulators for ignoring the benefits of harm reduction technologies for smokers.

Representatives for Fontem Ventures, makers of the popular e-cigarette brand, blu, are calling on the World Health Organization (WHO) to acknowledge the role alternative technologies can play in reducing smoking rates. Officials at the WHO should seize the opportunity offered by the upcoming World No Tobacco Day to expose smokers to the benefits vaping has to offer, instead of undermining the industry with misinformation, the company argues.
---
Visit Nicotine Science & Policy for more News from around the World

---