Vaping Digest June 3rd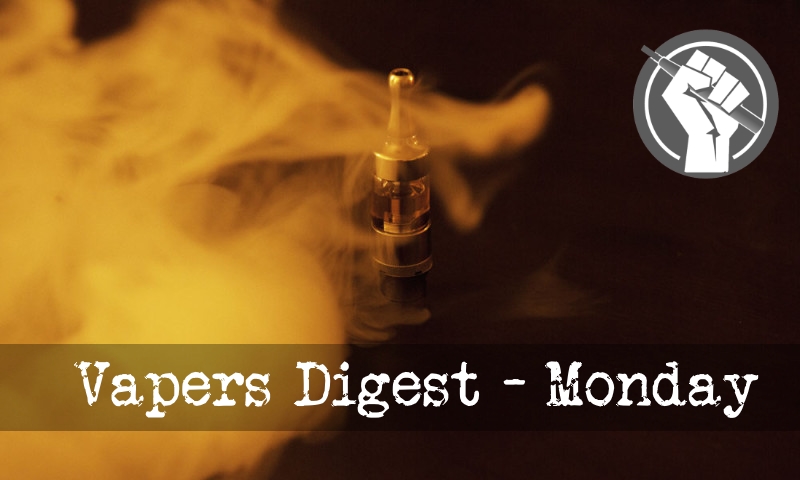 Monday's News at a glance:
Calm before the storm, NNA May newsletter – More health claims as FDA comes under pressure to be even tougher – Global Forum on Nicotine 2019 – OYP Emulates OCP – Vaping In the News – June 1st – Smugglers import 2,200 kilos of snus – Smoking or vaping: e-cigarettes as a lesser evil – Is There a Role for E-Cigarettes in Smoking Cessation for Patients With Cancer? – Ban on e-cigarette forgoes opportunity to curb tobacco death – IARC supports risk-based taxation of vapor products – Nicotine Science and Policy Daily Digest
NNA May newsletter
May has been relatively quiet on the harm reduction front but there are looming threats from the WHO and the EU coming down the track that we need to stay alert for. Here is what the NNA has been up to this month, but also some preliminary information on what we fear could be a sinister and science-free attack on alternative nicotine products in the next year or so via the revisited EU Tobacco Products Directive (TPD3) and the unelected WHO's Framework Convention on Tobacco Control (FCTC).
As FDA comes under pressure to be even tougher – Fergus Mason
A new paper by US scientists claims vaping can increase the risk of heart disease – but, despite the dramatic headlines, it's just another study of cell cultures in a dish, and doesn't chime with the real-world evidence. Meanwhile the Massachusetts state attorney general is suing an online e-cig shop for "marketing to children", while a senior senator is urging the FDA to crack down even harder on tobacco harm reduction. It looks like US vapers have a lot more fighting ahead of them.
---

---
Dave Cross, Planet of the Vapes
The Global Forum on Nicotine – the only place where science and policy meet – takes place in Warsaw, Poland, next week. The 6th annual forum runs from the 13th – 15th June and is the only international conference to focus on the science, policy and the role of safer nicotine products (e.g. vapes, heat-not-burn devices and snus) that help people switch from smoking.
At this year's event at the Marriott Hotel Centrum, "It's time to talk about nicotine".
Dave Cross, Planet of the Vapes
Omni Youth Programs (OYP) is a non-profit organization based in Sacramento County, California. It aims to "cultivate lifestyles free of alcohol, drugs, and violence among teens and families", but it's branched out to repeat Tobacco Free California lies about nicotine.

OYP receives its funding from the Sacramento County Department of Health and Human Services Alcohol & Drug Services Division. Is the money drying up as the State's revue from tobacco takes a dive? Could this be provoking OYP's move into attacking tobacco harm reduction and vaping?
---
---
Kevin Crowley, Vaping Links
Do the properties of cinnamon change when it is present in e-cigarette liquids? ~ Busting myths about smoking ~ E-cigarette minimum legal sale age laws and traditional cigarette use among rural pregnant teenagers ~ Great news for tobacco farmers! ~ FDA Admits No Causality Between Vaping And Seizures ~ Tobacco stocks tumble as cigarette sales decline ~ While The World Vapes Our Government Chokes ~ Educating OUR Children ~ Vaping products and gang activity ~ Rats, low voltage and their testicles ~ Truth Manipulative
Finland
Finnish Customs suspects two men in their 30s of smuggling and distributing more than 2,200 klos of snus, an orally-ingested tobacco product, in the greater Helsinki area.

Customs officials said the excise duty on the cache would have amounted to 850,000 euros. The men used social media to reach out to potential customers, including other distributors and buyers.

The pair made made more than 30 snus-buying trips to a shop in northern Sweden between last summer and early this year. They were remanded by police in January after officials seized some 150 kilos of snus from their van.
---

---
In Smoking Cessation for Patients With Cancer?
During the past 15 years, a drastic shift has taken place in the marketplace for nicotine delivery devices. From a societal perspective, the most important change has been the evolution and increased use of electronic nicotine delivery systems, predominantly in the form of several successive generations of electronic cigarettes (e-cigarettes). The popularity of e-cigarettes, combined with the paucity of evidence about their health effects, has generated considerable debate about the potential benefits and harms of these products. The complexity of these issues is magnified by the potential impact of e-cigarette use among youth and adult addicted smokers.
Alexander Freund
Smoking's out, steaming's in. Both are indisputably unhealthy, but is one better than the other? Supporters of smoke alternatives say they aren't as bad as traditional tobacco cigarettes. But is there any truth in that?

It's best not to inhale any tobacco whatsoever. That's what most people agree on. But some smokers of electronic cigarettes say there are advantages to vaping over traditional tobacco smoking.

What are they? Here's nine potential advantages (with caveats, of course).

May just be a sign of caffeine or nicotine withdrawal
Caffeine and nicotine withdrawal is being mistaken among intensive care patients for more sinister conditions, researchers fear. They said doctors may be wasting both time and money by sending patients who have gone cold turkey for extra tests if they are worsening. Giving up nicotine and caffeine can cause the shakes and nausea – symptoms that can mimic life-threatening illnesses such as meningitis.
To curb tobacco death
The organisation says rather than imposing a ban the government should think towards regulating and putting tax compliance on e-cigarettes, reports PHILIP VARGHESE

Association of Vapers India (AVI), an organisation that represents e-cigarette users across the country has strongly opposed the recent ban on electronic nicotine delivery systems (ENDS), or e-cigarettes, by Maharashtra government. The was imposed on World No Tobacco Day on May 31.
Philip Gambaccini
A new Study by the World Health Organization's International Agency for Research in Cancer (IARC) has endorsed the use of risk-based taxation as a means of reducing the harm caused by tobacco use.

The report, "Reducing Social Inequalities in Cancer Evidence and Priorities for Research", cites the important role of taxation in lowering the number of deaths from diseases caused by smoking tobacco. Where tobacco products cause similar levels of harm it is an appropriate strategy to tax them in a comparable way to ensure that "increases in taxes and prices do not result in the substitution of cheaper categories of products."
---
A look back at how things have moved on or otherwise….
Is a missed opportunity – New Nicotine Alliance
Speaking on World No Tobacco Day 2018, the New Nicotine Alliance (NNA) called upon the World Health Organisation to show leadership in highlighting the considerable public health potential of reduced risk products.

"E-cigarettes are a proven safer alternative to smoking which a great many people find an acceptable substitute. They have contributed to record falls in smoking prevalence in the UK.", said Sarah Jakes, chair of NNA.
Lora Jones, BBC News
For travellers looking forward to their summer holidays, what to pack can be a source of stress. But did you know that taking an e-cigarette with you to countries such as Thailand could land you with a fine – or even time in jail?

Countries including the Seychelles and Brazil have also banned the sale of e-cigarettes, but spending on them globally is going up.

These charts tell the story of a growing industry – but how many people vape, how much is being spent on e-cigarettes and why do people buy them?
To COPD and laryngeal cancer – Dr Farsalinos
The biological and clinical evidence that e-cigarettes are really bad for health are rapidly growing. Now, the first evidence linking e-cigarettes with chronic obstructive lung disease (COPD) and laryngeal cancer is raising serious concerns about users of these products and has the public health community sending warning messages to everyone that not only there is no proof that e-cigarettes are less harmful than smoking but that they may very well be even more risky.
---
Visit Nicotine Science & Policy for more News from around the World

---