Vapers Digest June 1st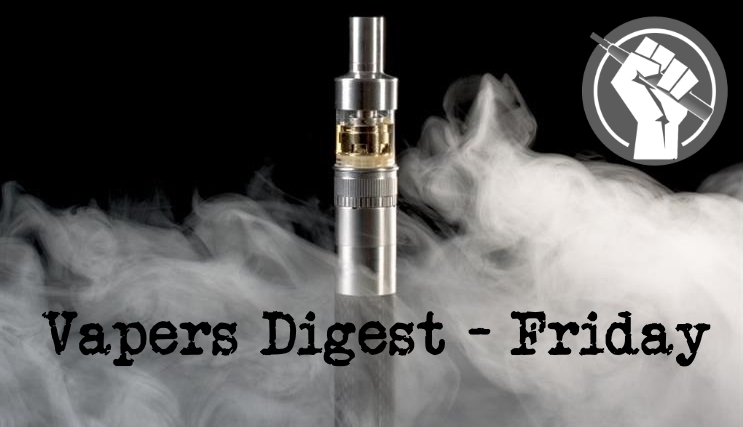 Friday's News at a glance:
WHO World No Tobacco Day is a missed opportunity – Vaping – the rise in five charts – First evidence linking e-cigs to COPD and laryngeal cancer – The deadly campaign against vaping – Reclassifying and Taxing Vaping – Smoking Cessation Clinical Trials…and Tribulations – Cole-Bishop Throws Vapers Under the Bus – Tobacco Control Cares About The Industry – Chicago Proposes An E-Liquid Flavor Ban – Snus finally arrives in New Zealand! – Smokeless products are key – Ideas for risk-proportionate regulation – Poor regulation puts your store at risk – Smoking decline rates in Australia stall – Nicotine Science and Policy Daily Digest
Is a missed opportunity – New Nicotine Alliance
Speaking on World No Tobacco Day 2018, the New Nicotine Alliance (NNA) called upon the World Health Organisation to show leadership in highlighting the considerable public health potential of reduced risk products.

"E-cigarettes are a proven safer alternative to smoking which a great many people find an acceptable substitute. They have contributed to record falls in smoking prevalence in the UK.", said Sarah Jakes, chair of NNA.
Lora Jones, BBC News
For travellers looking forward to their summer holidays, what to pack can be a source of stress. But did you know that taking an e-cigarette with you to countries such as Thailand could land you with a fine – or even time in jail?

Countries including the Seychelles and Brazil have also banned the sale of e-cigarettes, but spending on them globally is going up.

These charts tell the story of a growing industry – but how many people vape, how much is being spent on e-cigarettes and why do people buy them?
To COPD and laryngeal cancer – Dr Farsalinos
The biological and clinical evidence that e-cigarettes are really bad for health are rapidly growing. Now, the first evidence linking e-cigarettes with chronic obstructive lung disease (COPD) and laryngeal cancer is raising serious concerns about users of these products and has the public health community sending warning messages to everyone that not only there is no proof that e-cigarettes are less harmful than smoking but that they may very well be even more risky.
Christopher Snowdon – CapX
Reading the latest story about vaping in today's newspapers, you could be forgiven for thinking that it was still 2011. When e-cigarettes first became mainstream products, concerns were expressed about them being a "gateway" to tobacco and "re-normalising" smoking. As the years passed it became clear that these fears were unfounded. Every country that has embraced e-cigarettes has seen smoking rates decline among both adults and children.
---

---
Mawsley, Planet of the Vapes
INNCO, the collective voice for nicotine-consumer organisations, has taken the step of warning about a European consultation exercise on tax reform. It advises that the news should be considered in conjunction with moves by the World Customs Organisation (WCO) to reclassify electronic cigarettes as tobacco products.
The International Network of Nicotine Consumer Organisations (INNCO) has advised the public that moves are afoot to examine the possibility of placing an excise tax on "novel tobacco products"
And Tribulations – Brad Rodu, Tobacco Truth
The medical establishment has transformed a behavior, cigarette smoking, into a disease, and now defines how smoking should be "treated" and "cured".

The ramifications of this scheme were laid bare last week in a New England Journal of Medicine report on a smoking cessation clinical trial (here).  The article, "A Pragmatic Trial of E-Cigarettes, Incentives, and Drugs for Smoking Cessation," demonstrated one important fact:
---
---
CASAA
On May 17th, 2018, Congressman Sanford Bishop (D-GA 02) released a statement on Facebook (here) stating that he was "pleased that the committee passed my Cole-Bishop amendment that maintains the availability of harm reducing nicotine vapor products, while also keeping them out of the reach of children through robust advertising and labeling rules, enhanced shipment age-verification, battery standards, and FDA funding for education and outreach."
Tobacco cigarettes are the killers, smokers deserve every possible help to quit
May 31, 2018, the World No Tobacco Day. This is an(other) day to be reminded about the deadly effects of tobacco cigarette smoking. This global problem is not only related to the fact that 50% of smokers die prematurely (losing on average 10 years of life) from smoking related disease. It is even more importantly related to the large prevalence of smoking worldwide. There are more than > 1 billion smokers globally. And this is not only a problem of the developing world. The European Union still has a smoking prevalence of 26%, while Greece has a prevalence of almost 33% (according to my latest study).
---

---
Not About You (Part 1) – Carl V. Phillips
The apparent uptick in UK smoking following the implementation of "plain" (i.e., de-branded) packaging has produced a spate of pieces about how the policy "failed." I previously reported how this "plain packaging" policy, along with recent attacks on e-liquid packaging and similar policies, are not really about reducing consumption. They are about reducing industry profits, even if that means increasing consumption. That was met with some incredulous comments, and it is easy to understand why…
Jim McDonald, Vaping 360
According to proposed Ordinance 02018-4150, "'Flavored Liquid Nicotine Product' means any liquid nicotine product that contains a constituent that imparts a characterizing flavor. As used in this definition, the term 'characterizing flavor' means a distinguishable taste or aroma, other than the taste or aroma of tobacco, imparted either prior to or during consumption of a liquid nicotine product including but not limited to tastes or aromas of menthol, mint, wintergreen, chocolate, vanilla, honey, cocoa, anv candy, anv dessert, any alcoholic beverage, anv fruit, any herb, or anv spice."

Ideas for risk-proportionate regulation
World Smokefree Day is an apt day on which to propose some ideas that may greatly increase momentum for the achieving Smokefree Aotearoa 2025. Tobacco and vaping products such as e-cigarettes vary greatly in their likely adverse health effects and overall impact on population health. Reflecting this, the Ministry of Health announced in May that it will investigate 'risk-proportionate' regulation for tobacco and vaping products.
NZ Smokeless Tobacco Co
NZ Smokeless Tobacco Co (NZSTC) is proud to present NZ SNUS. www.nzsnus.co.nzis the one and only online retail outlet that will start selling snus on World Smoke Free Day (31st of May).

Miles Illemann, Co-Founder of NZSTC, said, "we have had enough waiting around for healthier alternatives to smoking. Vaping isn't for everyone and if we want to achieve the national Smokefree 2025 goal, we need to act now!"
And health advisor throws weight behind vaping
A leading GP and anti-smoking campaigner in Whanganui is now actively promoting vaping as an option for people trying to quit smoking.

Dr John McMenamin is the clinical director of Whanganui's Stop Smoking Service (Ngā Taura Tūhono) and a GP at Wicksteed House Medical Centre.
To NZ's smoke-free future
A recent report by The New Zealand Initiative Smoke and Vapour: the changing world of tobacco harm reduction calls for a range of smokeless nicotine delivery products (e-cigarettes, snus, and heat-not-burn) to be made available to smokers wanting to cut down or quit.

Research Fellow and report author Jenesa Jeram says: "In order to help people quit smoking, policymakers first have to understand why people smoke in the first place.
---

---
As experts argue over e-cigarettes
It comes as the president of the Australian Medical Association defended the government's strict policy against changing its stance on e-cigarettes.

Experts from the University of New South Wales' School of Public Health and Community Medicine and the Australian Drug Law Reform Foundation, along with GPs and addiction specialists have joined forces to form the Australian Tobacco Harm Reduction Association (ATHRA).
betterRetailing.com
TPD 2 legislation came into force last May and required e-liquids containing nicotine to include child safety measures, banned certain chemicals and made health warnings mandatory.

However, those without nicotine remain a largely unregulated "grey area" with many retailers who spoke with Retail Express unsure of the age restrictions, legality and origins of many of the products on the market.
Mawsley, Planet of the Vapes
This week, Reynolds Tobacco is reported to be funding the fight against the San Francisco flavour ban to the tune of $12 million. In Pakistan, it's reported that there's a surge in teen vaping in Rawalpindi and Islamabad. A Kuwaiti drug dealer has been arrested for ecigs that don't contain drugs. So he isn't a drug dealer. In the UK, vapers are being told 'don't vape and drive' while the Doozy Vape Co gets listed in Asda.
---
A look back at how things have moved on or otherwise….
Dick Puddlecote
You may remember anti-smoking tax spongers telling us that they'd found out kids don't like ugly things, which is true but has nothing to do with whether they'll take up smoking or not at some point. They also said that smokers had said an ugly packet might make them ring a quitline, but not whether they would actually quit smoking.
With destruction of the vaping market – we respond
Clive Bates, The Counterfactual
Earlier in May, eleven Democrat senators appeared to be channelling talking points from the Campaign for Tobacco Free Kids when they wrote a letter to the incoming FDA Commissioner Dr Scott Gottlieb.

Together with my co-conspirator, Sally Satel from the American Enterprise Institute, we have responded firmly but fairly with an article in Forbes: Senators' Letter To FDA Commissioner Gottlieb Perpetuates Misconceptions About E-Cigarettes [pdf]
For Killing The Livestock – Dick Puddlecote
Today is World No Tobacco Day and to mark the occasion the Brussels-based Smoke Free Partnership – whose members include ASH and Cancer Research UK – held a lunchtime event at the EU parliament.
The keynote speaker was Vytenis Andriukaitis, the Lithuanian Health Commissioner. If you are a vaper, you may be staggered as to what he said. Here is an edited excerpt of the speech which you can read here.
---
Visit Nicotine Science & Policy for more News from around the World

---