Vapers Digest June 4th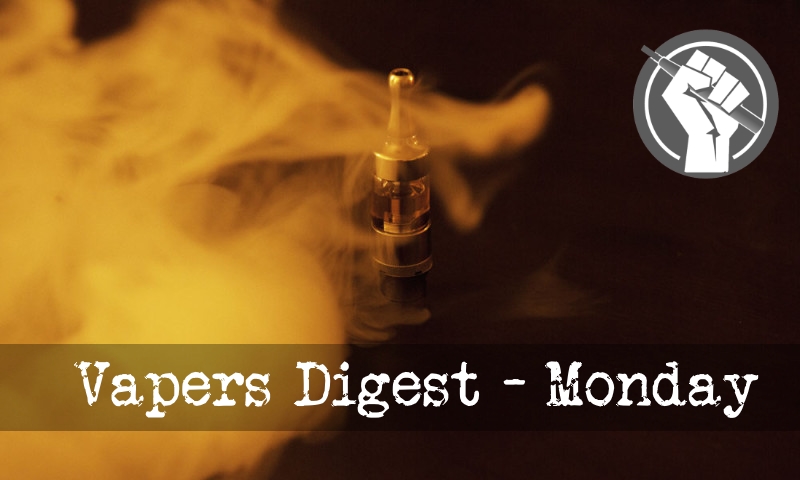 Monday's News at a glance:
Charity blasts WHO "abuse" – How You – the Vaper – Can Prevent An EU Vape Tax – Second-hand Vape Fears Stoked – Rendez-vous with Samrat Chowdhery – Why Harm Reduction is Necessary – CASAA Newsletter – May 2018 – Juul Warns It Will Fight Israel – Global and local perspectives on THR – Vapers hold Philippine summit – Higher taxes won't lower smoking rate – E-cigarettes, vapes available in PHL – Missoula County expected to consider ban – Vaping In The News – June 2nd – Nicotine Science and Policy Daily Digest
As vaping opponents launch new attacks – Fergus Mason
A UK harm reduction group has accused the WHO of abusing its own rules to silence criticism of its anti-harm reduction policies, following a bungled public consultation by the UN health agency. The WHO's move follows a series of other recent attacks on vaping linked to World No Tobacco Day, including a veiled threat of criminalisation in the Philippines, Meanwhile new data from France shows that vaping continues to be the most effective solution for millions of smokers around the world.
Neil H, ECig Click
If you don't want the EU to start taxing all things vape then YOU need to act now and have your say!

And yes this includes vapers from the UK because the way things are going Brexit – our leaving the European Union – looks to be further away than we might think!
---

---
Mawsley, Planet of the Vapes
A team from the Hellenic Cancer Society, Greece, and the Catalan Institute of Oncology, Spain, has produced a study that ramps up fears of passive vaping/second-hand vape. Unfortunately, their flimsy results fail to support any such conclusion.
"The adverse health effects of passive exposure to conventional cigarette smoke have been extensively studied and are well documented," writes the Greek/Spanish team. "After 10 years of experience with electronic cigarettes it is known that its active use is associated with immediate adverse health effects."
---
---
Philippe Boucher
June 3, 2018 Rendez-vous #11 with Samrat Chowdhery
Samrat is one of the co-founders and directors of Association of Vapers India  (AVI). You can also visit them also on Facebook and Twitter.
Thank you Samrat for accepting this rendez-vous.
Joseph Magero
Combusted tobacco products inhaled into the lungs are the greatest cause of health-related harms resulting from use of tobacco products. Though not welcomed by all tobacco control authorities, there has been support for including harm reduction strategies as one of the many traditional strategies for reducing the death and disability caused by tobacco use, particularly cigarette smoking. Nicotine, at the dosage levels smokers seek, is a relatively innocuous drug commonly delivered by a highly harmful device, cigarette smoke.
---

---
May began with a "blitz" of enforcement action from the FDA and FTC against e-liquid manufacturers that use artwork which closely mimics or otherwise is directly appropriated from food, candy, or beverage products marketed to young people. Although intellectual property ("IP") theft is not necessarily the domain of federal regulators, deceptive marketing (i.e., a nicotine product that looks like a beverage or food or candy) is. While we can certainly debate the appeal of certain images and branding to adult consumers, the reasons behind the actions taken by the FDA and FTC are no mystery.
Over Potential Ban on Its E-cigarettes – Ronny Linder-Ganz
The government and Juul, the U.S. maker of electronic cigarettes, are gearing up for a legal showdown after Deputy Health Minister Yaakov Litzman said over the weekend he planned to ban sale of the devices.

"The ministry's stance is that a product that contains a concentration of nicotine that is almost three times the level permitted in the European Union constitutes a danger to public health and justifies immediate and authoritative steps to prevent it from entering the Israeli market," Litzman said.
Vaping is still (way) safer than smoking – Nicolas John
Well-intentioned as it may have been, the U.S. Food and Drug Administration's recent crackdown on retail sales of the popular JUUL vapor device to minors is a misguided strategy that will likely do more harm than good in the quest to reduce the incidence of smoking-related illness and death.

Recent studies and statements from the American Cancer Society and the National Academies of Sciences state that e-cigarettes and vapor products are less harmful than traditional, combustible tobacco products.

An interview with Sharon Cox – Kyle Adair
Harm Reduction Journal recently published its thematic series, "Global and local perspectives on tobacco harm reduction". I spoke to Guest Editor of the series, Dr Sharon Cox, who is a Research Fellow at London South Bank University's Centre for Addictive Behaviours Research. Sharon has a special interest in tobacco harm reduction, particularly its impact on disadvantaged groups.
Filipino vapers gathered together in Quezon City on May 28 for the 1st Summit on Harm Reduction and pushed for their right to safer alternatives to smoking.

The summit organized by The Vapers Philippines at Sulo Riviera Hotel discussed the need for regulation and cooperation among players in the electronic cigarette sector. Vaping is an act of inhaling and exhaling the vapor produced by an e-cigarette—a battery-operated device which vaporizes a flavored liquid made of water, nicotine, propylene glycol, glycerol, and flavorings.
---

---
Higher excise on tobacco do not necessarily lower smoking rates, but e-cigarettes or vaping would.

This was the observation of Nancy Sutthoff, spokesperson of the International Network of Nicotine Consumer Organizations, who was recently in the country to address the first Summit on Harm Reduction held at the Sulo Riviera Hotel in Quezon City.

Citing the case of New Zealand where she is from, Sutthoff said the government increased the excise of tobacco by 10 percent every six months.
Do not have FDA registration
Food and Drug Administration (FDA) Director Ana Rivera, Center for Cosmetics Regulation and Research, said Thursday that all e-cigarettes advertised as smoking-cessation devices are technically illegal, as not one brand has successfully applied for a Certificate of Product Registration.
Missoula County commissioners are being asked to follow the City of Missoula's lead in approving rules banning the use of e-cigarettes indoors.

Missoula approved the addition to the city's smoking ban earlier this spring and now the Missoula City Council Health Department is asking the commissioners to follow suit.
Kevin Crowley, Vaping Links
David Goerlitz: Model Citizen ~ First evidence linking e-cigs to COPD and laryngeal cancer ~ PrEP advocate Damon Jacobs: Vaping can be harm reduction ~ Tobacco Control Cares About The Industry, Not About You ~ Another Journal Misinterprets Randomized Vaping Trial ~ Cole-Bishop Throws Vapers Under the Bus ~ World Health Organization Slammed For Misleading Smokers
---
A look back at how things have moved on or otherwise….
For Better Regulation on the worst regulation in the EU – the snus ban
Clive Bates, The Counterfactual
Eighteen of us have just written a detailed letter to Mr Frans Timmerman, the EU's Commissioner for Better Regulation (amongst other things) drawing his attention to one of the worst regulations in the EU, the ban on oral tobacco, better known as snus. This ban is now facing challenge in the Court of Justice of the European Union (case C 151/17) by a producer, Swedish Match, and the consumer group, New Nicotine Alliance (see NNA background on the case).
While Dems pressure new FDA chief
Fergus Mason, Vaping Post
There are confusing signs coming out of Australia right now as one government politician says the country plans to stick with its tough vaping ban while another promises a review of the situation. Meanwhile a group of US senators are demanding that the FDA doesn't delay or review its own crackdown. However there's been a further blow for antis as a new study confirms that vaping doesn't seem to cause cancer.
But patients and visitors aren't – Hull Daily Mail
Hospital staff have been ordered not to use e-cigarettes anywhere on site in order to maintain a "professional image" – but patients and visitors are exempt.

Workers are said to be "agitated" by the ban, which came into force yesterday. If they break the ban, they have been told they will be disciplined.
---
Visit Nicotine Science & Policy for more News from around the World

---