Vapers Digest 2nd June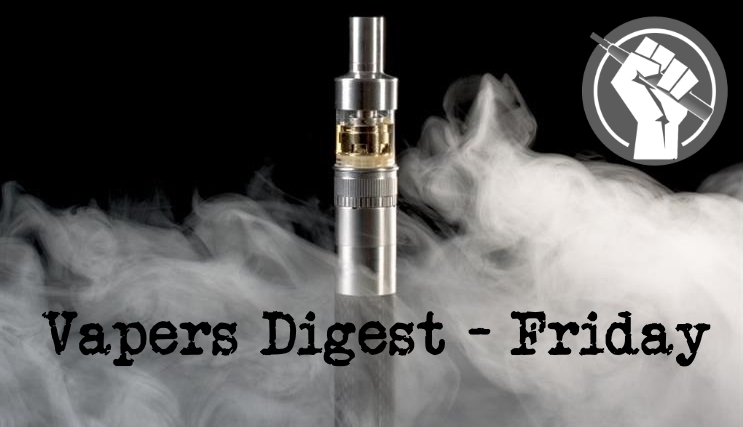 Friday's News at a glance:
Letter to European Commissioner for Better Regulation – Australia contradicts itself on vaping ban – Hull hospital staff are banned from vaping – Two years for vaping – E-cigarettes are a lot safer than smoking – California needs to think twice – Warning Issued to Wrexham e-Cig Retailers – Marlborough sees increase in e-cigarette use – Vaping helps father quit cigarettes – Nicotine Science and Policy Daily Digest
For Better Regulation on the worst regulation in the EU – the snus ban
Clive Bates, The Counterfactual
Eighteen of us have just written a detailed letter to Mr Frans Timmerman, the EU's Commissioner for Better Regulation (amongst other things) drawing his attention to one of the worst regulations in the EU, the ban on oral tobacco, better known as snus. This ban is now facing challenge in the Court of Justice of the European Union (case C 151/17) by a producer, Swedish Match, and the consumer group, New Nicotine Alliance (see NNA background on the case).
While Dems pressure new FDA chief
Fergus Mason, Vaping Post
There are confusing signs coming out of Australia right now as one government politician says the country plans to stick with its tough vaping ban while another promises a review of the situation. Meanwhile a group of US senators are demanding that the FDA doesn't delay or review its own crackdown. However there's been a further blow for antis as a new study confirms that vaping doesn't seem to cause cancer.
---

---
But patients and visitors aren't – Hull Daily Mail
Hospital staff have been ordered not to use e-cigarettes anywhere on site in order to maintain a "professional image" – but patients and visitors are exempt.

Workers are said to be "agitated" by the ban, which came into force yesterday. If they break the ban, they have been told they will be disciplined.
---
---
Tobacco Reporter
Those caught smoking or vaping in parks in the Malaysian state of Selangor face a maximum fine of RM10,000 or up to two years' imprisonment, according to a story in The Star.

The punishments will be meted out under the Control of Tobacco Product (Amendment) Regulations 2017, which came into force yesterday.

Selangor Health director Datuk Dr. Zailan Adnan said that enforcement would be carried out in stages.
Tobacco is arguably one of the biggest man-made contributors of mortality, with the current research showing that it kills at least 13 000 people around the world every year.

May 31 marks World No Tobacco Day, and the World Health Organization(WHO) uses this day is to highlight the threats of tobacco to the development of nations worldwide, and to call on governments to implement strong tobacco control measures.
---

---
About banning flavored e-cigarettes 
Carrie Wade, The Hill
California—especially the Bay Area—has been a leader in promoting proven methods to reduce death and disease among people who use drugs. When California's first needle-exchange program opened in 1988 in San Francisco, the operators faced arrest if they were caught. The blossoming of legal needle-exchange programs has resulted in San Francisco now having lower HIV transmission rates than the national average.
Sellers and retailers of e-cigarettes and e-liquids are warned to be wary of callers pretending to be from Wrexham Council's Trading Standards team.

The warning, which has gone out to retailers and businesses in Wrexham, was issued following a recent incident in which a town centre retailer was contacted by someone purporting to be from Trading Standards, advising the business that its stock of e-liquids was now illegal as a result of recent changes in the law.
---

---
Oliver Lewis
Waffles with a hint of butter, blue grape bubblegum, just two of the myriad of flavours e-cigarette or vaporiser users are breathing in and blowing out in clouds.

Vaping is taking off in New Zealand: there are dedicated Facebook communities, vape days in major centres, and online reviews and tutorials for the uninitiated.
Laurel Stowell
Joel Liva Benegas used to smoke 60 cigarettes a day and once rode 17 kilometres through Sweden on a child's bicycle to buy more when he had run out.

But he's cut down dramatically since taking up vaping, and his son's health has improved as a result. He says others can do the same _ as long as they want to.
---
A look back at how things have moved on or otherwise…
Well, not quite… Robert Innes – Vaping Post
In an interesting turn of events, a complaint from The New Nicotine Alliance UK (NNA UK) and the Electronic Cigarette Industry Trade Association (ECITA) against Lancashire County Council was upheld by the UK Advertising Standards Authority (ASA)… The advert itself asked, "Have you ever used an e-cig? Did you know they're not risk free?"
For third year running – Suzanne Cass – ASH Wales
"It is great to see smoking rates gradually decreasing on average by 1% every year for the past 3 years after remaining stubbornly static from 2007 to 2012, decreasing by just 1% over the entire 6 years. No doubt this is partly due to the surge in e-cigarette use among those wanting to quit tobacco or reduce their harm."
Frank Davis
A month or so back I wrote to my MP about smoking bans in prisons. More recently I reported on escalating prison violence. I wrote:

Prisoners are now being forced to stop smoking. We are constantly told that nicotine is highly addictive – so isn't this like imposing cold turkey on heroin addicts (something we don't do)? It amounts to cruel and unusual punishment being inflicted on them, over and above the sentences they are already serving.

It would appear that any barbarity is now permissible in the name of "health".

I've now received the response of the Department of Justice, the body of which I reproduce below:
New England Journal of Medicine
Mr. O'Malley is a 29-year-old man whom you are seeing for the first time for a routine health check-up. He has a medical history of obesity, hypertension, and childhood seizures. During the visit, he mentions that he is interested in quitting smoking. He started smoking cigarettes when he was 15 years old, while "hanging out" with his friends, and in those days smoked about half a pack a month.
---
Visit Nicotine Science & Policy for more News from around the World

---