In the News June 2nd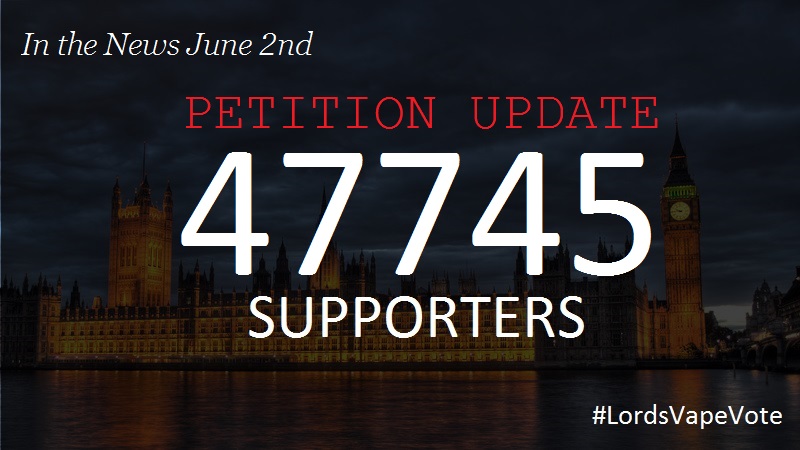 Thursdays News at a glance:
Advice from Lancashire County Council: Well, not quite… Smoking rates in Wales fall  – A Government Response – E-Cigarettes and Smoking Cessation – Cancer survivor and cancer researcher start e-cigarette shop – Tobacco Control or Eradication: – Vapour Trails TV – Centers for Disease Control Tom Frieden – Clueless Legislators Deter Smokers From Vaping – Democrats Work With Big Tobacco and Big Pharma – Doctor's trick for how to quit cigs – Government in e-cigarette push – FDA Snubs Senate Inquiry as Expected – 3 Lawsuits Filed Against FDA – Nicotine Science and Policy Daily Digest – Thursday, 2 June 2016
Well, not quite… Robert Innes – Vaping Post
In an interesting turn of events, a complaint from The New Nicotine Alliance UK (NNA UK) and the Electronic Cigarette Industry Trade Association (ECITA) against Lancashire County Council was upheld by the UK Advertising Standards Authority (ASA)… The advert itself asked, "Have you ever used an e-cig? Did you know they're not risk free?"
For third year running – Suzanne Cass – ASH Wales
"It is great to see smoking rates gradually decreasing on average by 1% every year for the past 3 years after remaining stubbornly static from 2007 to 2012, decreasing by just 1% over the entire 6 years. No doubt this is partly due to the surge in e-cigarette use among those wanting to quit tobacco or reduce their harm."
Frank Davis
A month or so back I wrote to my MP about smoking bans in prisons. More recently I reported on escalating prison violence. I wrote:

Prisoners are now being forced to stop smoking. We are constantly told that nicotine is highly addictive – so isn't this like imposing cold turkey on heroin addicts (something we don't do)? It amounts to cruel and unusual punishment being inflicted on them, over and above the sentences they are already serving.

It would appear that any barbarity is now permissible in the name of "health".

I've now received the response of the Department of Justice, the body of which I reproduce below:
New England Journal of Medicine
Mr. O'Malley is a 29-year-old man whom you are seeing for the first time for a routine health check-up. He has a medical history of obesity, hypertension, and childhood seizures. During the visit, he mentions that he is interested in quitting smoking. He started smoking cigarettes when he was 15 years old, while "hanging out" with his friends, and in those days smoked about half a pack a month.
---

---
Start e-cigarette shop in Burton – Burton Mail 
TWO men who gave up smoking against the odds have told how e-cigarettes saved their lives.

Just a few years ago, Graham Edkins was suffering from throat cancer and Dr Robert Lees was a respected cancer researcher – but still neither of them could kick the habit.
Are ENDS part of an endgame? – William Savedoff
Is the tobacco epidemic more like smallpox or HIV? It's an important question. If it is like smallpox, then we can pursue strategies to eradicate tobacco as a risk to human health. However, if it is like HIV, we instead need to be thinking in terms of controlling and managing the epidemic. I have tended to favor the idea of eradication. But this "World No Tobacco Day," I find myself reconsidering.
Tonight, the topic of topics is Allen Carr. However, Dave will also be looking at the Hell's Gate Mod, the Smok TF-RTA and Matt might well make an appearance with a juice review.
Dismisses helping Americans switch with e-cigs – Kevin Crowley – Blasting News
Blatantly ignoring research, Dr. Frieden is failing the public by dismissing e-cigarettes as another alternative for smokers to kick their habit. If the Centers of Disease Control's (CDC) Director wants even less tobacco use for the U.S. citizens, he certainly isn't looking in the right direction.
Jacob Sullum – Reason
On May 4, the day before the Food and Drug Administration officially classified e-cigarettes as "tobacco products," California did the same thing. Gov. Jerry Brown signed SBX2 5, which expands the definition of tobacco product under several statutes to include "an electronic device that delivers nicotine or other vaporized liquids to the person inhaling from the device."
To Choke the Vaping Industry – Monica Showalter
Meet the strange bedfellows against vaping: drug and tobacco companies, health advocates and Democratic lawmakers. A convergence of interests among these four lies behind the Food and Drug Administration's (FDA) announcement on May 5 that e-cigarettes will be regulated as rigorously as tobacco beginning in August.
---

---
Dr Murray Winiata has gone out on a limb to promote a controversial quit-smoking technique to his patients. The 39-year-old South Auckland GP took up "vaping" on e-cigarettes to quit smoking himself and now recommends them to patients who are struggling to give up the habit.

"They are the only discussion you can have with someone who says they don't want to quit," he told the Herald ahead of World Smokefree Day today.
Maiki Sherman
As the Government rolls out its plan for tobacco plain packaging, Newshub can reveal it is also eyeing up legalising nicotine e-cigarettes.
Senior ministers want to make tobacco alternatives vaping and e-cigarettes legal in New Zealand. Currently if the products contain nicotine or claim to help people give up smoking, they are illegal.
To lead studies on tobacco policy, e-cigs –  David Quick
Do government policies geared toward reducing smoking tobacco really work? If so, will those policies drive more people to use vaporized nicotine products, such as "e-cigs?" And is that necessarily a good thing from a public health standpoint? Those are $15 million questions….
Steve Jackso – Smoky Mountain Vapes
The deadline for the Food and Drug Administration's response to an inquiry from the U.S. Senate Committee on Homeland Security and Governmental Affairs requesting justification for a defacto ban on vapor products that would end an industry of an estimated 30,000 small businesses, came and went yesterday at 5pm eastern time with nothing reported by the Committee on their website or by the news media.
In the three weeks since the U.S. Food and Drug Administration (FDA) released the final tobacco deeming regulations to regulate all cigars, pipe tobacco, e-cigarettes, vapor products and hookah tobacco, three lawsuits have been filed seeking to either enjoin and overturn the entire set of deeming regulations..