In the News June 3rd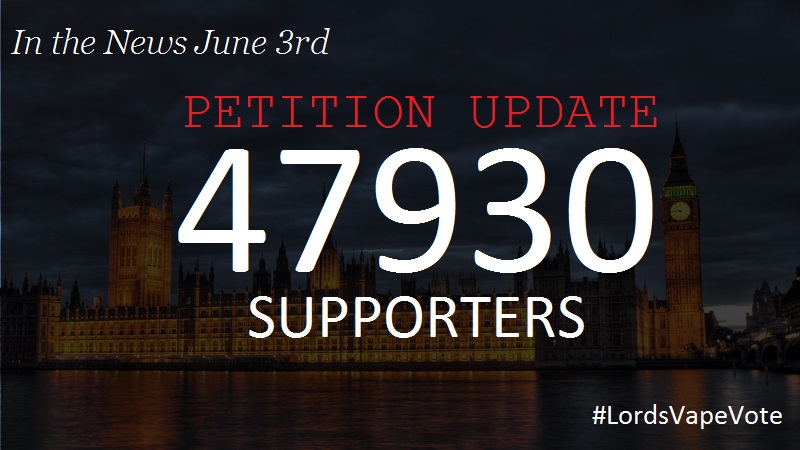 Fridays News at a glance:
TPD Vote Next Week Plus Big Opinion Poll – Vaping bans fail or face challenges, but FDA assault continues – Calm Down Old Chappers – History repeating: snus and e-cigarettes – Blindness Causes Smoking – Scottish Tobacco Control – Understanding ecig politics – Italy: 2 millions vapers – Vaping rules expose FDA bias – 'Nicotine is not a demon – Smokers develop resilience to anti-cigarette policies – Judge allows state vaping law to move forward – End of vaping in Hong Kong? – Nicotine Science and Policy Daily Digest – Friday, 3 June 2016
3 JUN 2016 — The vote on Lord Callanan's motion to block the TPD is scheduled to happen next week between the 6 and 10 June.

We will send you the exact date as soon as we know it and we will also be sending you the results of a big opinion poll being conducted this weekend by the independent agency Populus on what vapers think about the TPD.
But FDA assault continues – Fergus Mason – Vaping Post
There was some good news for vapers last week as the momentum behind bans and restrictions seemed to falter.

The Welsh Assembly's Labour group finally accepted that its proposed ban on vaping in public places had failed, while MEPs asked for closer scrutiny of the EU's newly imposed regulations and pressure mounted for the legalisation of nicotine-containing e-cigarettes in New Zealand. However, things aren't so rosy in the USA….
Dick Puddlecote
If you haven't already seen it, this 3 minute film from the Property Rights Alliance handily debunks all the wild claims that you may have heard about how brilliant and successful plain packaging has been in Australia.

As we have come to expect from the tobacco control industry, the facade of unbridled triumph is little more than the usual mendacious torturing of statistics and shifting of goalposts, aka just a load of old nonsense. Watch out for the increase in child smoking factoid that was published here and which stung Simple Simon so badly.
Christopher Snowdon – Velvet Glove Iron Fist
Dick Puddlecote has been having some fun raking over the mountain of correspondence between ASH and their friends/donors in government. E-mails reveal the vigour with which the vaper's suppposed friends at this state-funded sockpuppet lobbied for e-cigarettes to be regulated as medicines and then, when that failed, were determined to see Article 20 of the Tobacco Products Directive passed without amendment.
Robert Innes – Vaping Post
Associate Professor Simone Dennis from the Australian National University (ANU) has, for a long time now, been looking at the effects, or rather, the lack of effect of graphic warnings on cigarette packets. Her work has been published in a book, "Smokefree," which documents the experience of smokers in Australia since the introduction of measures supposedly 'designed to curb the habit.'
---

---
Pushes Ecigs plain packaging – Simon Rosselat – Vaping Post
"The Union calls for a 'plain packaging' approach to e-cigarettes – this burgeoning industry is increasingly owned by tobacco companies renowned for targeting children with powerful marketing campaigns."
All comes back to snus – Carl V. Phillips – Anti-THR Lies
Chris Snowdon has a very nice post today, recounting the history of the UK quango, ASH, in getting snus banned in Britain (and as a result, all the rest of the EU, save Sweden). His thesis is that the attacks by ASH and others on e-cigarettes are history repeating. On this page, I have frequently made the same point more generally. In particular…
370% more than in 2015 – Stefano Caliciuri – VapItaly
Today vapers in Italy amount to approximately 2 millions, 370% more than in 2015. The astonishing figurew show how the vaping market is going back to what it was in 2013. 3.9 of the Italian population habitually or occasionally uses ecigarettes; it was 4.2% in 2013 and 1.1 in 2015.
Gary Wood
With over a decade of medical and scientific research, and millions of personal success stories from former smokers, given to the FDA to study over the past year they have instead concluded vaping products must be more strictly regulated than any other nicotine delivery system. The question has to be asked why the FDA findings are so vastly different from the Royal College of Physicians and Public Health England.
---

---
Vaping is much less harmful than smoking – Dr Murray Winiata
A south Auckland GP and "vaper" wants medical colleagues to upskill on electronic cigarettes and lobby politicians to ease restrictions on the products.

All doctors are stakeholders in tobacco control and smoking cessation, and should be looking at the New Zealand policy, says Murray Winiata of Mangere Family Doctors.
Tom Lowrey
New research into the habits of smokers has found many are unaffected by anti-smoking policies like plain packaging, and in some cases are actually encouraged to smoke.

Associate Professor Simone Dennis from the Australian National University (ANU) spent a decade studying the changing experience of the modern-day smoker, and the effects of plain packaging, graphic warnings and increased tobacco prices.
Bad news from Indiana…
A Marion County judge has ruled a state law regulating the manufacturers of vaping "e-liquids" can take effect July 1, shutting down an attempt to get a preliminary injunction on the law that they say will put them out of business.

Vaping advocates called Thursday's decision by Marion County Superior Court Judge Cynthia Ayers "a dark day."
VCCLive Ep. 3 – Is Unity a Pipe Dream?, FDA: The Aftermath, and more…
Government plans to ban import and sale of e-cigarettes – Elizabeth Cheung
A bill banning the import and sale of electronic cigarettes will be submitted to the Legislative Council in the next legislative session, a lawmaker revealed after meeting a top health official.