In the News June 1st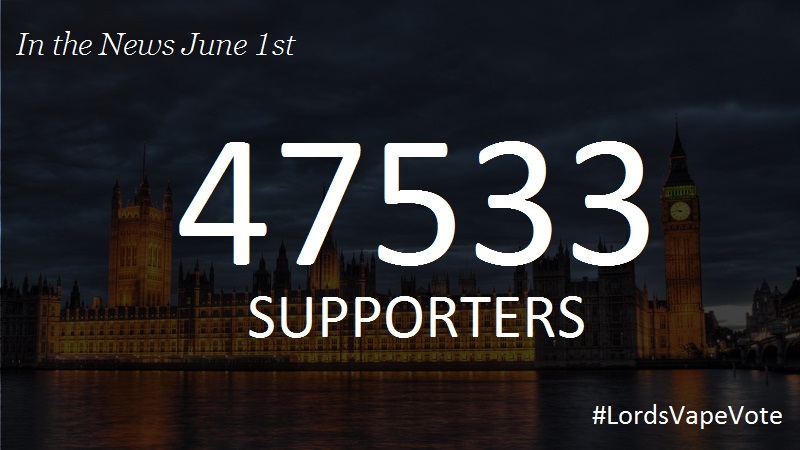 Wednesdays News at a glance:
#LordsVapeVote Update And Its Origins – Wales Drops Ecig Ban Plan – You Scratch Our Back – Nicotine without smoke: tobacco harm reduction – Vapers Helping Smokers Switch – Time to Get Writing (again)! – Norway status update: – The growing gulf of sanity – E-vapor research: From unsubstantiated fear to misleading information – Fraud, Corruption, Harassment  – The consumer war against the government on e-cigarettes – Ballantyne Joins Forces With the VTA – E-Cigarette Battery Hazards – FDA Wanted to Ban E-Liquid Flavors
Dick Puddlecote
I recently highlighted a 'fatal motion' proposed by Lord Callanan to kick out the Statutory Instrument for a pretty awful EU Directive. The response so far has been very impressive. The petition is approaching 50,000 signatures and all the Lords have received a letter, with almost 40% having been contacted more than once at time of writing (Excel), If you haven't yet contributed, do follow the guide here as to how to go about it, it's surprisingly simple.
Mawsley – Planet of the Vapes
Mark Drakeford was left with egg on his face following the ban bill he championed being defeated in the last act of the Welsh assembly. Questions remained whether he would seek to put it back on the table after the election for the new assembly. Those questions are now answered. ..
Dick Puddlecote
Responding to the Minister's award, Deborah Arnott, chief executive of ASH, said:
"Despite relentless tobacco industry lobbying the Public Health Minister made sure that the government proceeded with the introduction of standardised 'plain' packaging of cigarettes. Her commitment to tackling the harm caused by tobacco is unquestionable and we are delighted that her work has been recognised by the World Health Organisation."
Tobacco harm reduction – RCP report on e-cigarettes.
The Royal College of Physicians' new report, 'Nicotine without smoke: tobacco harm reduction', has concluded that e-cigarettes are likely to be beneficial to UK public health. Smokers can therefore be reassured and encouraged to use them, and the public can be reassured that e-cigarettes are much safer than smoking….
Your stories needed! – New Nicotine Alliance
In the now (almost) immortal words of Professor Gerry Stimson, 'vapers and vape shops are the new front line in smoking cessation services'. Typically this is an informal process with vape shops doing their best to help their customers to understand the products and how to use them…
---

---
New Nicotine Alliance
Make no mistake about it, Action on Smoking and Health (ASH) are lobbying very hard to rally opposition against Lord Callanan's fatal motion, which, if it were passed, would kill the Statutory Instrument (SI) which transposes the TPD into UK law.

Read Dick Puddlecote's blog here for some of the history of ASH's lobbying on the e-cigarette issue, and here for some background to the motion. Also, read Clive Bates' take on the situation here.
Plain packaging and e-cigs regulated as tobacco – Vaping Giraffe
During the first half of June, the Norwegian government will propose a revised Tobacco directive here in Norway. On a press conference yesterday, on the world no tobacco day, Health Minister Bent Høie talked about some of the changes that will be made. Norwegian newspaper Dagbladet reported from the press conference held at the Cancer Society yesterday.
In Tobacco Control – Paul Barnes – Facts Do Matter
We at The Lancet believe it is our moral imperative to empower research and to grow the social impact of science. Improving lives is the only end goal that matters, and research is only relevant when it has impact on human lives. We therefore select only the best research papers, based on their quality of work and the progression they bring: the best science for better lives….
From unsubstantiated fear to misleading information – Jérôme Harlay – Vaping Post
A recent study by researchers from the Faculty of Medical and Human Sciences of the University of Manchester investigated lung inflammatory processes in presence of e-vapor. The authors' concerns about safety appear unsubstantiated and media coverage clearly misleading.
Charges Rise Inside World Health Organization – Drew Johnson – Daily Caller
The World Health Organization is reeling after an internal audit discovered that reported incidents of fraud, corruption, harassment, failure to comply with professional standards and sexual harassment skyrocketed in 2015.

According to the audit, which was released by the United Nation's Office of Internal Oversight Services, "2015 saw an increase of 66 percent in the demands for investigation of suspected wrongdoing."
---

---
The consumer war against the government on e-cigarettes – Kevin Crowley – Blasting News
The raging war against e-cigarettes by the U.S. government is being fought with unbridled consumer passion. Empowered with knowledge, vapers readily share their information. They found switching to e-cigarettes reduced or eliminated tobacco from their lives. In their continued quest for education, they search harder for the "worst" scenarios than most self-proclaimed "experts" can make up….
With the Vapor Technology Association
Ballantyne Brands today announced it would join forces with the Vapor Technology Association (VTA) to advocate for the vapor technology and e-cig industry in Washington, D.C. and across the country. Ballantyne Brands is the parent company of Mistic® E-Cigs, a conscious-minded brand of high-quality vapor products that are sold in approximately 70,000 retail outlets across the country…
Minuscule and Overblown – Brad Rodu – Tobacco Truth
Breathless reports of e-cigarette battery explosions have appeared recently in the Journal of the American Dental Association (here) and Cornea (here).  The latter article, alluding to a "number of media reports," claimed that "e-cigarettes pose a significant public health risk."  Clive Bates labeled that claim "inappropriate and alarmist" in his excellent PubMed Commons comment (here).
Jim McDonald – Vaping 360
The FDA planned to remove flavored e-liquids from the market as part of its deeming regulations, announced on May 5. The original draft of the regulations called for all flavored products to be eliminated 90 days after the August 8 effective date. The "redline" version of the regulations shows all changes made at the White House after receiving the original draft.