Vapers Digest 5th June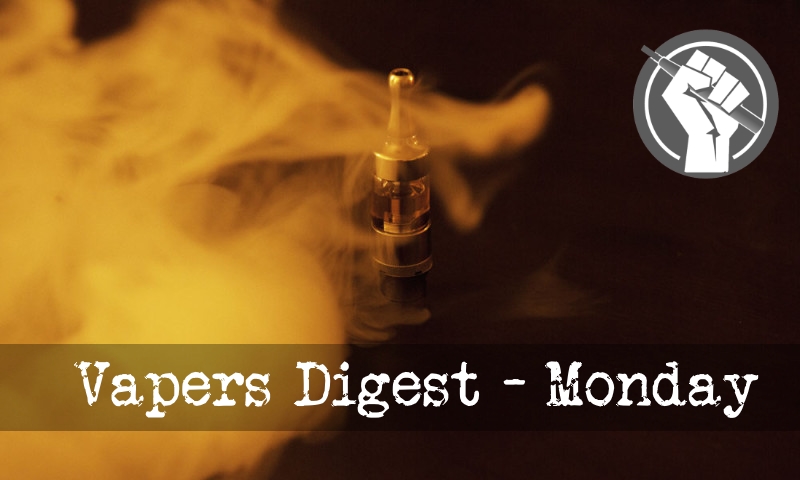 Monday's News at a glance:
Still Angry – And Getting More So! – Plain Packaging STILL Doesn't Work – The health department head compounds his sins – Vape advocacy: what is worth supporting? – I've Got a Question about CONtrol – 4 Research Studies That are Shut-Up Calls for Vape Haters – E-cigarettes in the workplace – The Effect of E-Cigarette Indoor Vaping Restrictions – Vaping In The News–June 3rd, 2017 – Nicotine Science and Policy Daily Digest
Geoff Cliff
For a variety of reasons, I haven't added to this blog for a long time. It might be thought that I am less angry than I was, but that is far from the truth. In fact, I don't think I've ever been as angry as I am these days. I'm angry at the government, at the National Health Service, the European Union, the World Health Organisation, the United Nations – and, above all, the international body that was created by – and which now appears to own – all of the foregoing, known as the Framework Convention on Tobacco Control.
Plain Packaging STILL Doesn't Work – Paul Barnes
As with most debates from tobacco control, plain packaging there remained one, quite crucial, point that was conspicuous by its absence. No one could categorically say that plain packaging would work. Not one person could stand up and claim that drab, olive-green packs with larger warnings would amount to much of a decrease in smoking prevalence. Well, except Debs, but then she's always had her head in the clouds (it'll be responsible for 300,000 smokers giving up the 'deadly weed' of course. Bravo Bollocks).
Compounds his sins – Terry Barnes
As we reported just last Tuesday, having been caught out by leaked documents and interrogating senators as defying the wishes of his own Minister, Greg Hunt, and having landed the government he serves in a pool of steaming Mediscare merde by pursuing a hospital funding policy anathema to the elected government of the day, it seems Bowles also has been a tad economical with his accuracy in making assertions on public health policy to the Senate.
---

---
Electronic Cigarettes and Personal Vaporisers in Australia
Following a referral on 25 May 2017 from the Minister for Health, Aged Care and Sport, The Hon Greg Hunt MP, the Committee will inquire into and report on the use and marketing of electronic cigarettes (E-cigarettes) and personal vaporisers in Australia.

The Committee invites interested persons and organisations to make submissions addressing the terms of reference by Thursday, 6 July 2017. Information that may assist in preparing a submission to the Committee may be viewed here.
What is worth supporting? – Jim McDonald
Five years ago, the vaping advocacy world was a lot simpler. CASAA was there; of course they've been around since 2009, representing consumers without much fanfare — and, sadly, very little money. As far as industry, the only real game in town was NJOY, whose government affairs pros Pamela Gorman and Brian Fojtik ranged across the country, tamping down threats and training lobbyists. They helped a lot of beginning vape advocates get started too.
---
---
Skip Murray
I've been wondering about some things…. Wasn't the purpose of Tobacco CONtrol organizations to help reduce the number of people who smoke? Isn't their job to educate others of the dangers of smoking?  Is it just me, or is it true that the reductions in the number of people who smoke have gotten low enough that the folks over at Tobacco CONtrol are getting a little nervous about keeping their funding and their jobs? Smoking Rates Drop To Record Low (article)
That are Shut-Up Calls for Vape Haters
You will find news headlines, social media posts, viral website stories and a lot more bashing vaping in one way or the other. There are so many common lies people tell you about e-cigarettes. Now it's up to us to start changing the public perceptions of vaping. You don't need to believe in just one poorly done study and its finding lashing at vaping and totally ignoring how vaping is bringing changes in lives of public.
---

---
An employer's guide to vaping – Sarah Silcox
In July 2007, England introduced its smoking ban, following the rest of the UK in banning the use of cigarettes in indoor workplaces. Ten years on and employers are sometimes unsure how to approach electronic cigarettes, which are not covered by the ban. In this good practice guide to e-cigarettes in the workplace, Sarah Silcox looks at the evidence on vaping, policy and practice, and the legal considerations.
---

---
Restrictions on Adult Prenatal Smoking and Birth Outcomes
Michael Cooper, Michael F. Pesko
We estimate the effect of county-level e-cigarette indoor vaping restrictions on adult prenatal smoking and birth outcomes using United States birth record data for 7 million pregnant women living in places already comprehensively banning the indoor use of traditional cigarettes. We use both cross-sectional and panel data to estimate our difference-in-difference models.
What is science saying as of today?
Over the past few years, electronic cigarettes (often called a personal vaporizer, e-cigarette, or many other trendy descriptions–I'll abbreviate them as EC, just to save space) have become a popular alternative to tobacco cigarettes. They originally were developed as a tool to quit cigarette smoking, which is factually linked to lung cancer and other respiratory diseases
Kevin Crowley, Vaping Links
A Vaper's View ~ California ~ Cotton Candy ~ Heat Not Burn ~ Smokers ~ Australia ~ AVA ~ Bill Godshall ~ ECVA ~ Vape Advocacy ~ Insurance ~ Batteries
---
A look back at how things have moved on or otherwise…
But FDA assault continues – Fergus Mason – Vaping Post
There was some good news for vapers last week as the momentum behind bans and restrictions seemed to falter.

The Welsh Assembly's Labour group finally accepted that its proposed ban on vaping in public places had failed, while MEPs asked for closer scrutiny of the EU's newly imposed regulations and pressure mounted for the legalisation of nicotine-containing e-cigarettes in New Zealand. However, things aren't so rosy in the USA….
Dick Puddlecote
If you haven't already seen it, this 3 minute film from the Property Rights Alliance handily debunks all the wild claims that you may have heard about how brilliant and successful plain packaging has been in Australia.

As we have come to expect from the tobacco control industry, the facade of unbridled triumph is little more than the usual mendacious torturing of statistics and shifting of goalposts, aka just a load of old nonsense. Watch out for the increase in child smoking factoid that was published here and which stung Simple Simon so badly.
Christopher Snowdon – Velvet Glove Iron Fist
Dick Puddlecote has been having some fun raking over the mountain of correspondence between ASH and their friends/donors in government. E-mails reveal the vigour with which the vaper's suppposed friends at this state-funded sockpuppet lobbied for e-cigarettes to be regulated as medicines and then, when that failed, were determined to see Article 20 of the Tobacco Products Directive passed without amendment.
---
Visit Nicotine Science & Policy for more News from around the World

---