Vapers Digest June 6th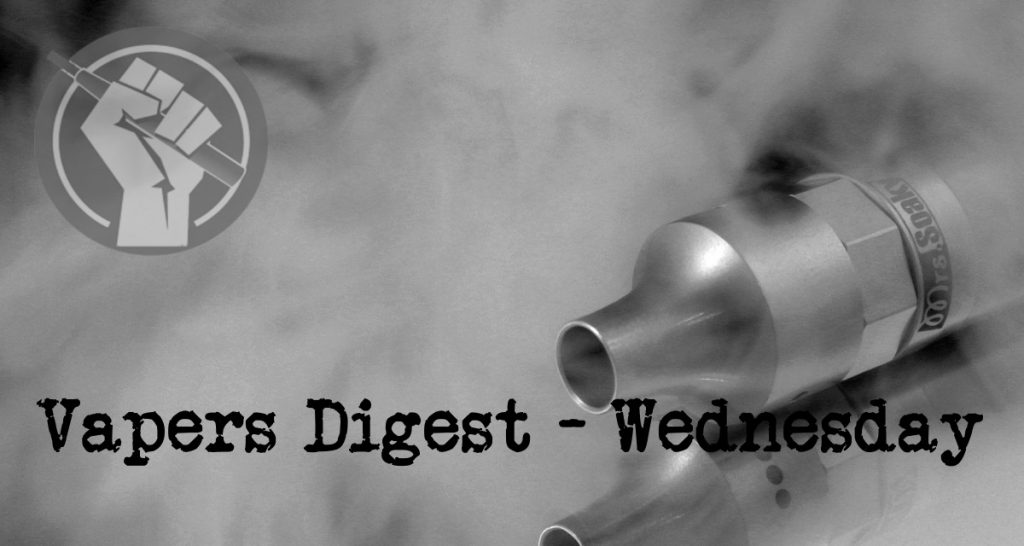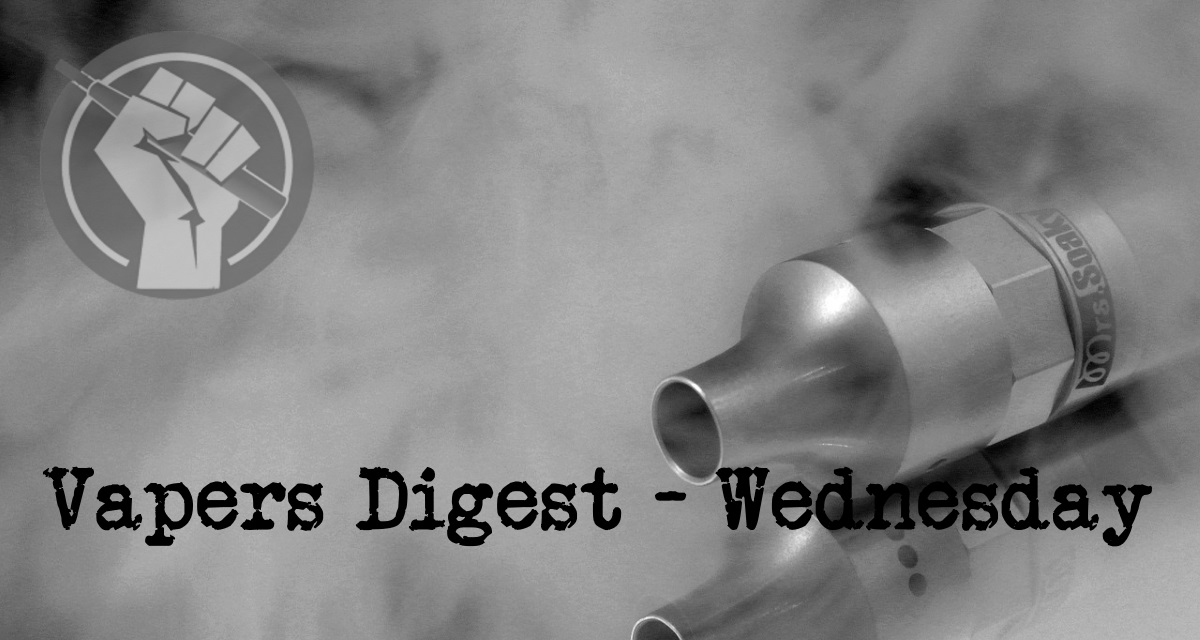 Wednesday's News at a glance:
Tobacco Control Contradicts Itself With Attacks On Vaping ~ WHO Missed A Trick With World No Tobacco Day ~ Wikipedia – encyclopaedic or idiotic? ~ Harry's blog 61: The shiny blue moon of Kentucky ~ Harry's blog 61: The shiny blue moon of Kentucky ~ London Fire Brigade Safety Warning ~ New project aims to encourage people to quit smoking ~ The State of Vaping ~ VAEPology Learning Centre (video) ~ Health advocates save San Francisco's flavored-tobacco ban, but vote will harm public health ~ San Francisco Votes To Make It 'Harder For Adult Smokers To Quit' ~ San Fran Flavour Ban
Carl V. Phillip, The Daily Vape
Tobacco controllers will say basically anything they think furthers the particular message they are delivering at the moment, without regard to accuracy. Being loquacious and dishonest is a tricky combination to pull off. It is not terribly difficult to stick with a single lie, taking it as a premise whenever you address the topic and following through its implications. But when you cover a wide variety of subtopics and each have their own collection of rhetoric, untruths and exaggerations, it is a recipe for contradictions. Contradictions in tobacco control claims are frequently noted, but it may not be obvious just how contradictory the three core pillars of their anti-vaping attacks are.
Neil H, EcigClick
The World Health Organization Taken To Task By Sarah Jakes and the NNA

World No Tobacco Day – that annual multi million dollar campaign to get smokers off the cancer sticks – hardly set the world alight and the main losers are sadly those looking to quit and make the switch.

Despite using the theme that tobacco is bad for the heart the WHO continued its snub of vaping and Snus both of which have literally no ill effect on heart health.

Indeed their total disregard of both smoking alternatives bordered on criminal given the sheer amount of smokers the world over making the switch to e-cigarettes.

The number of users of lit tobacco are tumbling here in the UK and US and last week France reported than 1million smokers had quit with many turning to vaping.
Fergus Mason, Heat Not Burn
Everyone's familiar with Wikipedia – "the encyclopedia that anyone can edit". It sounds like a great idea, doesn't it? A vast, sprawling reference work that everyone in the world can add their knowledge to, with administrators and fact-checking mechanisms to make sure nobody's contaminating it with nonsense. In theory at least, it should end up containing all the open-source information in the world and be constantly checked for accuracy by thousands of dedicated users.

The trouble is that's not exactly how it works. If the topic of an article isn't controversial, Wikipedia is generally pretty reliable. Apart from the odd intentional vandalism or clumsy editing by a well-meaning newcomer, both of which usually get removed pretty quickly, articles about places, objects or anything else straightforward tend to be accurate and informative. I do research every day and I regularly use Wikipedia; the articles themselves give a good overview, and there's a handy list of references at the bottom so you can dig deeper and verify facts.
---

---
Harry Shapiro, Nicotine Policy
Because of the dominance of the tobacco economy in the state, Kentucky has not exactly covered itself in glory regarding tobacco control. You can smoke where you like (apart from in government buildings and schools); it has higher-than-national average adult smoking prevalence; it positions tobacco at the lower end of the tax bracket compared with other states; and until 1990 it set no minimum age for tobacco sales.

However, the bluegrass state is leading the charge in determining that tobacco taxation should be assessed on risk, a possible global first. In May, the Kentucky legislature passed a tax reform bill that increased cigarette excise taxes from $0.60 to $1.10, while leaving taxes on smokeless products unchanged with no excise tax at all on e-cigarettes. This was in line with the tax regime proposed by Kentucky University's Brad Rodhu and his colleague Nantaporn Plurphanswat.
Mawsley, Planet Of The Vapes
The London Fire Brigade (LFB) has highlighted the danger posed by burning cigarettes causing house fires, and offers up a safer solution to smoking: vaping. According to its spokesperson, vaping isn't just safer for individuals but for properties and other people in shared accommodation too.

LFB highlights that, in the last five years, there's been around 22 fires each week directly linked to tobacco cigarettes. This is 300 times the rate of fires caused by poorly charged or damaged vape devices. It says that smoking has caused 5,978 fires in London, leading to 416 injuries and resulting in 76 deaths.
---
---
News-Medical.net
SmokeFreeBrain brings together experts in toxicology, pulmonary medicine, neuroscience, and behavioral therapy, as well as health economics and health informatics. They are examining the effectiveness of anti-smoking strategies aimed at high-risk groups in high-middle-income countries, such as unemployed adults, people with chronic pulmonary disease and asthma patients – as well as the general population in lower-middle-income countries.

"Smoking is the largest avoidable cause of lung diseases, morbidity and premature mortality worldwide," says project coordinator Panagiotis Bamidis. "The purpose of our project is to deliver new knowledge regarding the cost-effectiveness of innovative smoking cessation interventions. This approach should improve the efficiency of public policy strategies aiming to reduce smoker numbers and therefore help to prevent lung diseases."
---

---
Mawsley, Planet Of The Vapes
Nicoventures Holdings Limited (a British American Tobacco subsidiary) commissioned Ernst & Young LLP (EY) to produce a report detailing the current state of the global vape market. The company has identified what products people use, where they are purchased and what trends are taking place.

Excluding China and the United States of America, the report identifies seven countries as accounting for 75% of global market sales: Britain, France, Poland, Italy, Germany, Russia and South Korea.

It notes three distinct sectors:

Disposables
Rechargeables, and
Modular units, commonly the advanced equipment

Importantly, in the description, it includes a simple fact often missing from other studies: "E-cigarettes do not contain tobacco".

Vaping Advocacy and Education Project Inc.
Free, online and interactive! VAEPology puts a library of vaping science in the palm of your hand! VAEPology is easy for anyone to understand yet provides the depth of knowledge required by healthcare professionals.
---

---
Ann Phelan, R Street
In Tuesday's primary election, San Francisco voters kept in place a law passed by the board of supervisors last year that banned the sale of flavored-tobacco products throughout the city. By a 68 percent to 32 percent margin, voters approved Proposition E, a referendum that would have overturned the tobacco law. With referenda, a "yes" vote keeps the challenged law in place, whereas a "no" vote would have overturned it.

Although the law's stated goal is to improve health, it will have an overall negative effect in that regard. This is because it outlaws the sale of e-cigarettes and other vaping products while ensuring access to combustible cigarettes, according to the R Street Institute, a Washington, D.C.-based think tank that advocates for harm-reduction policies and other pragmatic free-market approaches to public policy.
Steve Birr, The Daily Vaper
Former smokers relying on electronic cigarettes were dealt a blow by San Francisco voters who approved a ban on all flavored nicotine liquid for vapor products Tuesday.

Results from the city's Department of Elections show roughly 68 percent of voters backed the contentious Proposition E, which harm reduction advocates say will limit the options for adult smokers attempting to quit the deadly habit. Proposition E bans the sale of flavored vaping products as well as menthol cigarettes, reports CNN.

The ban, which supporters claim will help prevent teens from using vapor and tobacco products, will likely devastate the small business community. Convenience store and vape shop owners say it will upend their bottom lines without addressing the primary access point to these products for teens, which is through third parties like a parent or sibling.
Mawsley, Planet Of The Vapes
Residents of San Francisco have voted for ignorance, to support lies and to uphold the right to do the stupidest things possible – consigning a safer product to the bin and revisit the failed approach of prohibition. Nearly 70% have voted to support a ban on flavoured eliquids.

The media framed it, as was the desire of those campaigning for the ban, as a battle between Big Tobacco Vs. former New York mayor and billionaire philanthropist Michael Bloomberg – with immoral public health groups also campaigning with Bloomberg for an outcome least beneficial to the health of the public.
---
A look back at how things have moved on or otherwise….
Diane Caruana, VapingPost
Health experts in the UK are concerned, as the rapid growth in the numbers of people switching from smoking to vaping has come to a halt. This is being partly attributed to the negative messages and strict restrictions brought about by the TPD.

An article published last month by the New Nicotine Alliance (NNA), pointed out that for the first time in history, the number of ex-smokers in the UK is larger than the number of smokers. These numbers were confirmed by the annual Action on Smoking and Health (ASH) survey, and this significant drop in smoking has been widely attributed to the advent of electronic cigarettes.

However, the situation is not looking as promising anymore. "The rapid growth in e-cigarette use has come to an end while over a third of smokers have still never tried e-cigarettes, saying the main reasons are concerns about the safety and addictiveness of e-cigarettes. It's very important smokers realise that vaping is much, much less harmful than smoking." said ASH in their press release.
Mawsley, Planet of the Vapes
Doctor Laura Crotty Alexander, a researcher an assistant professor at the University of California at San Diego, according to her employer, answers the question: "The sale of electronic cigarettes is on the rise but how safe are they?" It is a two-year old statement that the University is curiously promoting once more. Many might question the timing, given the research in another of this week's articles, and who it's aimed at, as it makes Sesame Street appear high-brow.

There is overwhelming evidence that the University of California is actively promoting a strong anti-tobacco harm reduction stance and contributing greatly to the misinformation about vaping. This latest contribution is shameful, especially as Crotty Alexander is an expert in the fields of host-pathogen interactions, molecular mechanisms of asthma, microbial pathogenesis in the lung, innate immunity in the lung, hypoxia inducible factor, and extracellular traps.
---
Visit Nicotine Science & Policy for more News from around the World

---